'This is not about Hitler' — Micaela Diamond on the Broadway revival of 'Parade'
The Jewish musical theater star talks playing the role she's always dreamed of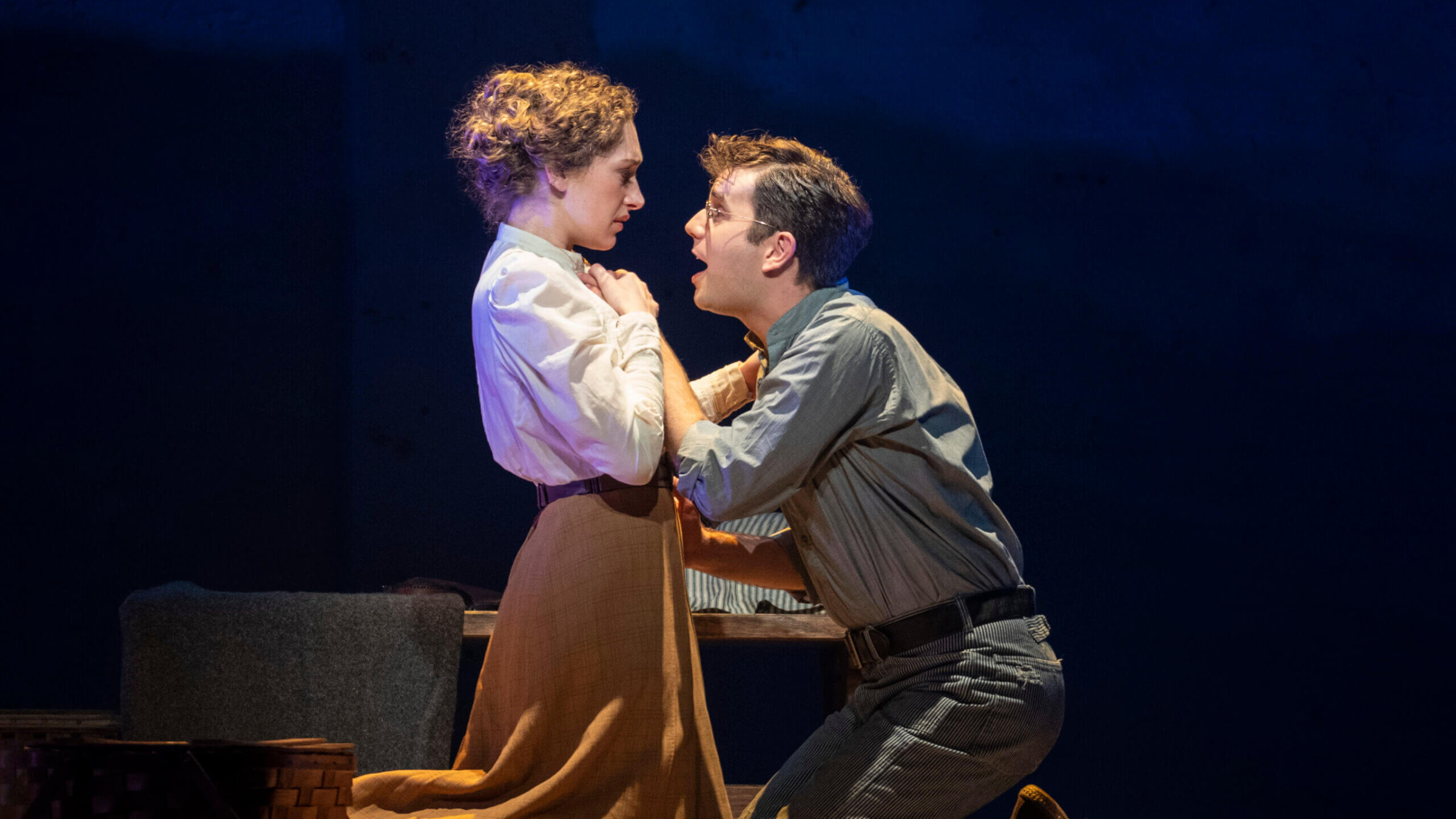 "I think audiences — gentiles — have trouble feeling anything for Jews." Micaela Diamond, star of the recently revived Parade, smiled sadly, cleared her throat and continued. 
"Something I love about Parade is that it has nothing to do with the Holocaust. It is a very specific American hatred of Jews. You can't escape the blame, the atrocity of the American hatred. This is not about Hitler."
Diamond and I were both in sweatpants, on Zoom. She, and her co-star Ben Platt, were several weeks into previews of the 1998 musical Parade, which opened on March 16. Diamond and Platt are the first Jews to fill their respective roles.
Parade tells the story of Leo Frank (Platt), a Jewish factory superintendent in Atlanta, who was accused in 1913 of murdering a 13-year-old factory employee. His trial, conviction and lynching in 1915 were a source of immense trauma for American Jews, igniting the birth of the Anti-Defamation League and a renewal of the Ku Klux Klan.
Diamond plays Frank's wife, Lucille, an Atlanta native (Leo was a Brooklynite). It's one of the very few explicitly Jewish female roles on Broadway, and one that Diamond tells me that she'd dreamt of playing "for a very, very long time." 
In the play, Lucille's primary identity is that of a Southerner. She chides her husband for speaking in a foreign language (Yiddish) and wants him to finish work early so they can watch the Confederate Memorial Day Parade with the rest of Atlanta. Despite her husband's murder, and the vicious antisemitic stereotypes weaponized against him, Lucille never lets go of her Southernness.
Diamond can somewhat relate. She considers her "queerness, feminism and being an actor"  at the forefront of her personality, with being Jewish coming "later on that list." But the experience of playing Lucille has made her reflect more deeply on her own Jewish identity. If being a Jew ultimately dwarfed a lack of evidence or motive in damning Leo Frank, what does it mean in the 21st century when neo-Nazis protest your Broadway show? 
Before seeing the show, I'd feared that Lucille would be a typical wife role, sidelined to the main dramatic action. Diamond obliterated those preconceptions. She portrayed a passionate, sensual and angry Lucille who fought tirelessly for her husband's freedom.
A dream role
The current iteration of Parade on Broadway is impeccably directed, and director Michael Arden never for one moment lets the audience forget that it is based on true events. As new characters come center stage, a projection of their real-life counterpart displays in black and white behind them. The story is gut-wrenching, the music is beautiful, and Diamond is unequivocally the heart of the play.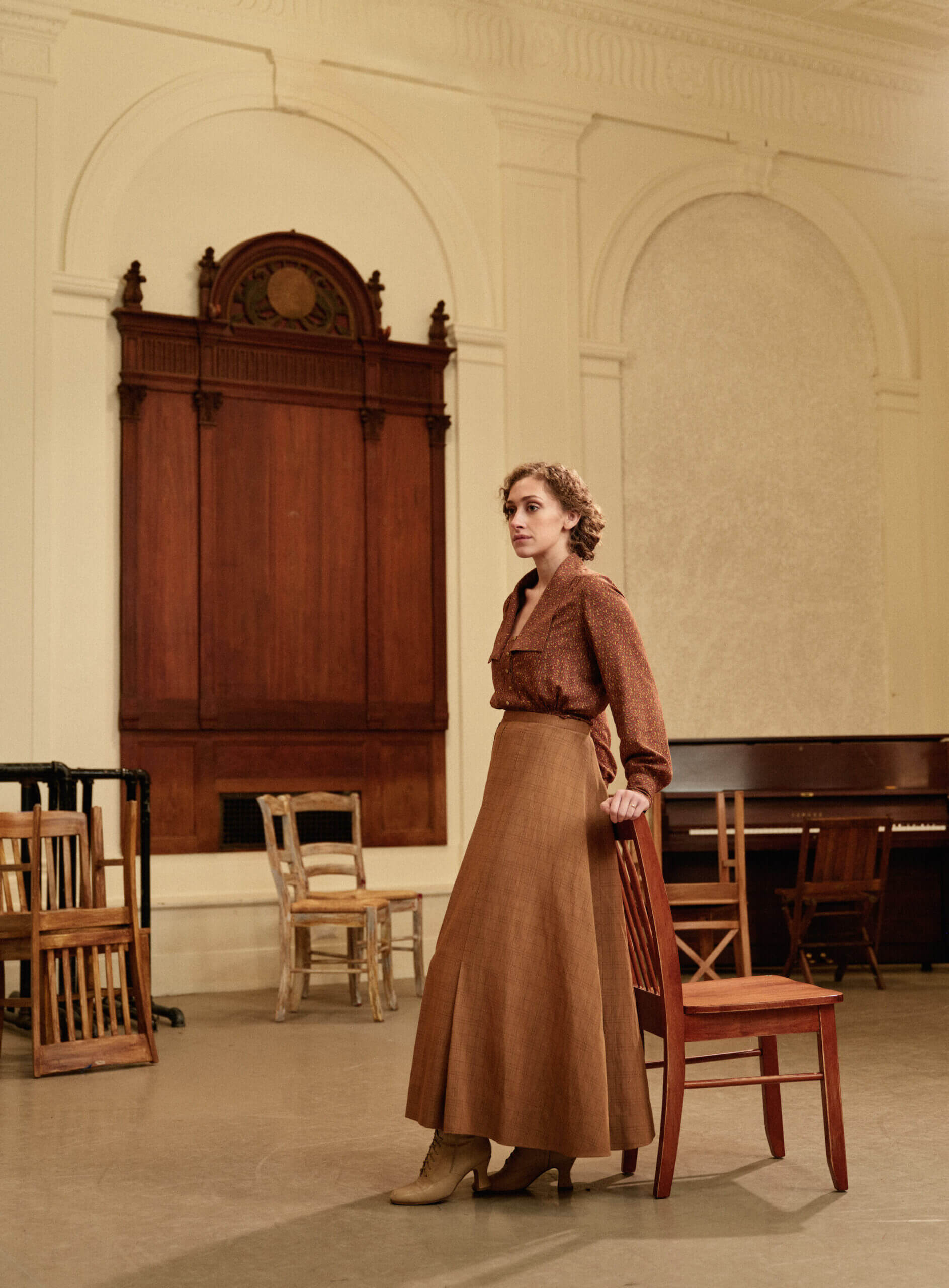 When I asked her which song made her nervous to sing, she immediately answered "Do It Alone" — my favorite in the show — in which Lucille unleashes her frustration with Leo's stubborn insistence that he alone can fight for his freedom in court. 
"There are so many beautiful double meanings in that song," she gushed. Despite its challenging vocal demands, she tries to ground herself in the literal music of it. "It shows all aspects of her. It doesn't underestimate a woman at the turn of the 20th century. She's horny, and she wants to have babies, and she's disappointed in her husband. It's all the things we don't normally see from people at that time."
For most of Diamond's youth, she attended a Conservative shul in Margate, New Jersey, before switching to a Reform one. She performed in musicals at her JCC and her temple, and was in the middle of learning her haftarah portion for her bat mitzvah when she and her mother moved to New York City so she could pursue musical theater. 
"We could just not afford a temple in New York," Diamond said plainly, so she ended up having her bat mitzvah while on her Birthright trip years later. She also found out she landed her debut Broadway role playing Cher in The Cher Show while on Birthright, launching her musical theater career and putting college on hold.
Diamond was part of her Jewish club in high school, and most of her best friends are Jewish. Yet she is still figuring out what place that Jewishness has in her life now. "I have found myself saying in the past, 'I'm a bad Jew', or 'I'm Jew-ish,'" she said. "Lately, I've been kind of reanalyzing what those statements do and and how perhaps they are dangerous."
She does not go to temple anymore, but she and the other three Jewish members of the cast say kaddish each night before the show for Leo Frank.
Watching Parade as a Jewish audience member is another experience altogether. When I saw Diamond and Platt light Shabbat candles together in the beginning of Act II (a detail that had just been added to the show the night I saw it in previews, Diamond told me), I realized how crushingly rare it is to see Jewish stories, told by Jewish actors, on stage. 
A show for right now
Parade contains painful and disturbing material. I wept on the hour-long subway ride home from the performance, and I can't imagine how actors like Diamond recover from playing such intense subject matter nightly.  Diamond explained that while there is a sensitivity specialist to help the cast decompress, the experience of putting her heart into a story that feels "so worthy of telling in this moment," and where she feels that the audience is completely with her, is a cleansing and cathartic experience. "I feel more fulfilled at the end of this show than any show I've ever done."
On the opening night of previews for the show, neo-Nazis protested outside the theater. They harassed audience members waiting in line and held signs claiming that Leo Frank was a pedophile. "We could hear them," Diamond told me, as the company celebrated the Broadway debuts of 18 people in the cast. "Our company so beautifully held both the disappointment and the celebration of that moment, which honestly, I think is such a beautiful metaphor for what our show is."
The protest caught national attention, which left Diamond feeling frustrated with the coverage that followed. "'We must ask about the protesters because that's the biggest thing that's happened to your show,'" she said, imitating some reporters. "We're on Broadway telling an incredible story. The protests can be one of your questions, but it feels like the question."
The protestors only underscored the importance of Parade. It is easy to imagine white supremacists and neo-Nazis are a thing of the past, or specific to Europe. But both the musical and the protestors remind us that antisemitism is an enduring, and American, hatred.
Lucille Frank never remarried, and made only one public statement after her husband was lynched. Six weeks after Leo's murder, on Oct. 1, 1915, the Atlanta Chronicle published Lucille's final comment on the whole bloody ordeal. Her statement began:
"I am a Georgia girl, born and reared in this state, and educated in her schools. I am a Jewess; some will throw that in my face, I know, but I have no apologies to make for my religion. I am also a Georgian, and American, and I do not apologize for that, either … I only pray that those who destroyed Leo's life will realize the truth before they meet their God."
At 23 years old, Diamond is just four years younger than Lucille Frank was when she lost her husband to bigotry and antisemitic prejudice. In Parade, she captures Lucille's defiance and self-confidence. In many ways, the two women share a profound self-knowledge, which only makes them more powerful.
Like Lucille, Diamond has no apologies to make.