FIRST PERSONHow one Black and Jewish family keeps rewriting the Haggadah to reflect their history — and dreams
'Next year in Jerusalem' feels more fraught than ever this season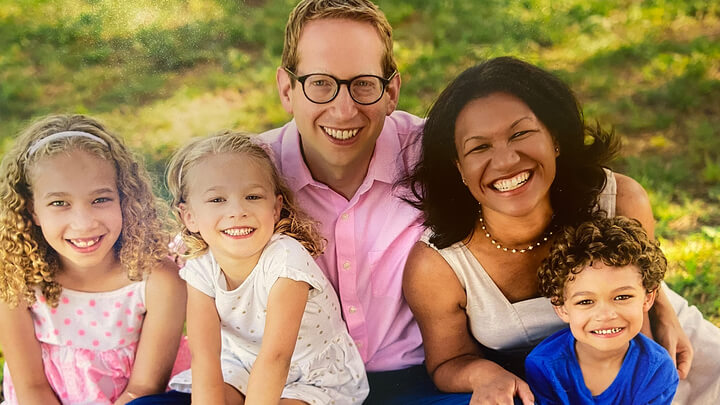 As a half-Black, half-Ashkenazi family, we've always curated our own holiday and life-cycle celebrations. A Catholic judge with deep Jewish roots married us in 2005 under a chuppah draped in Ghanaian kente cloth. To close the ceremony, we jumped over a broom and shattered a glass all in one motion — and, to everyone's surprise, without ending up in the ER. To offset the Christmas-ish programming in our kids' school in suburban Los Angeles, we performed a glorious 20-minute Hanukkah-Kwanzaa crossover extravaganza in 2019. 
And we have always made our own bespoke Haggadah, weaving the sometimes parallel and sometimes overlapping stories of Jewish and African American slavery and liberation.
Hebrew prayers, Black spirituals
At first, our competitive nature led to some heated exchanges as we tried to outdo one another with tales of our respective people's woe, pain, and misery.  If the old Maxwell House standby seems sluggish (surely a ploy to provoke instant-coffee sales), our  pulpy parade of horribles threatened to send guests into cardiac arrest. Dayenu, we said to ourselves and each other, and agreed to tone things down.
Alas, we are two lawyers accustomed to redlining everything from appellate briefs to "happy birthday" texts, so "toning things down" is a relative concept. We agreed that we did not need to name-check either the shuttering of Grossinger's or the premature cancellation of A Different World. Jon suggested skipping some of the old sages to make room for Harriet Tubman and the Rev. Martin Luther King Jr.. Toni interspersed Hebrew prayers with Black spirituals, and strung together passages by Hannah Arendt, Frederick Douglass, Emma Lazarus and Fannie Lou Hamer.  
Our cluttered Seder plate commemorates life not only in ancient Goshen but also antebellum Georgia, with collard greens and a cotton ball dipped in vinegar alongside the traditional shank bone, egg, parsley and the rest.  
Next year in Jerusalem?
One of the few lines we never touched — or even, really, gave much thought to — was "Next year in Jerusalem." Until we did. 
Next year in Jerusalem. Those words of longing and hope at the close of the Seder fortified generations of Jon's people as they were shunted from shtetls to ghettos to camps. That sentiment likewise succorred generations of Toni's forebears as they were trafficked from shipholds to auction blocks to plantations.  
In our Seders during President Barack Obama's tenure, as a young, idealistic couple thrilled by the environmental, socioeconomic and civil rights progress happening right here in America, that line felt less like a wistful goal than a reminder of how far we (seemingly) had come. And any corresponding intimation that we were still toiling in Pharaonic Egypt seemed downright churlish. We and most people we knew believed the United States was on the verge of an even broader rights revolution.
But, alas, mann tracht un gott lacht — man plans, God laughs. Instead of Hillary Clinton, we got the hateful and imperious Donald Trump. And instead of Merrick Garland replacing the right-wing Justice Antonin Scalia, we got an archconservative in Neil Gorsuch.  
In the years that followed, we bore witness to Christian nationalist demonstrations of force; state-sanctioned vigilantism; threats of violence and abuse directed at high officeholders, teachers, public health experts, and election officials; restrictions on reproductive autonomy and sensible gun-control measures; efforts to marginalize disabled and LGBTQ people; blatant campaigns of voter disenfranchisement and suppression; and a bona fide insurrection. 
Tocqueville famously warned that democracy makes every man forget his ancestors. So, too, the absence or suppression of democracy is a powerful reminder of our past.  
So we again took our red pens to our Haggadah.We forced Grammy and PopPop's matzo ball soup to simmer longer in the kitchen while we connected present-day democratic decay to lynchings, pogroms, the Black Codes and the Nuremberg Laws.  
We also gave "Next year in Jerusalem" the attention it always merited. In fact, we researched an exodus plan. Like thousands of families heeding warnings by such scholars of tyranny as Tim Snyder, we renewed our passports. Given Israel's Law of Return, we started wondering — and Googling — "maybe soon in Jerusalem." 
The annual Haggadah tune-up
But yet again, we planned and God laughed. As we take out our Haggadah for its annual tune-up, today's Jerusalem fills us with sadness and anger.
Jerusalem remains, for better or worse, more identifiably the capital of a secure Jewish state than at any other time since the fall of the Second Temple. But instead of a beacon of hope and light, Jerusalem feels like yet another site of persecution and oppression as the government lurches further to the right.  
For Palestinians and Arabs in general, it has been this way for some time. Now, basic freedoms are under threat for Israeli Jews as well.
The government today is seeking to gut the independent judiciary, reimpose the death penalty, annex more land in the occupied West Bank, narrow the aforementioned Law of Return, more severely curtail citizenship rights — all while continuing to coddle and lend legitimacy to extremist thugs close by and overseas. All of which has Jon threatening some provocative revision like "next year in Vancouver" or Accra or Kigali. 
Though these are seriously enticing landing spots, we're far from ready to give up on Jerusalem — or Washington, for that matter. We're not willing to do so lest we turn our backs on those suffering most acutely under oppressive policies here and in Israel. And, we're not willing to do so lest we also turn our backs on our ancestors who demonstrated tremendous patience, resiliency and strength in overcoming tyrants far more imposing than Donald Trump and Benjamin Netanyahu. 
So we'll continue to hack away at what's become a very messy, jumbled Haggadah. Next year, we always promise, we'll tidy it up and make it more legible and accessible for guests.  
And next year, we continue to hope, in the Jerusalem of our imaginations.