The Schmooze
Why Audrey Hepburn refused to play her 'soul sister,' Anne Frank
The two were born in the same year, and lived only miles apart.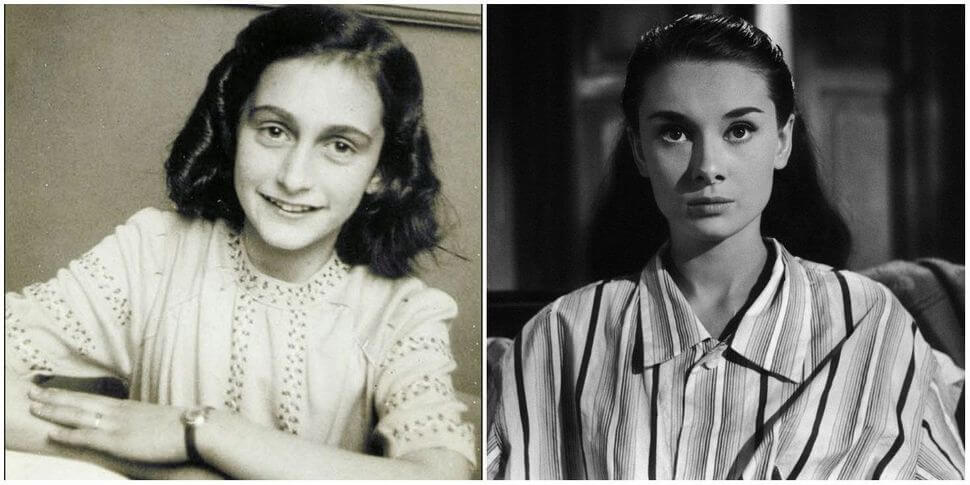 1929 saw the birth of two little girls whose big eyes and brilliant talents would go on to captivate the world.
Anne Frank and Audrey Hepburn lived just miles away from one another in Holland. Their early lives were in some ways parallel, but their destinies were not.
The Frank family famously went into hiding in the secret annex in Amsterdam, where Anne penned her diary before the family was betrayed. Every person in the Annex, except Anne's father, was killed.
The non-Jewish Hepburn family did not face the same risks. The daughter of a Dutch baroness and a British-Austrian father — he eventually left the family, gravitating towards fascism — Hepburn nevertheless suffered during the war. The future actress and her mother avoided bombings by living part-time in a cellar, where Hepburn nearly starved to death due to food scarcity. Her uncle was executed, and her brother was sent to a concentration camp. Hepburn, a talented ballerina, performed in ballets to raise money for the Dutch resistance.
Decades later, when Hepburn was a Hollywood sensation, she turned down the chance to play Anne Frank in the movie about her life, according to a new biography by Robert Matzen. Though Otto Frank himself requested that Hepburn play his daughter, the actress refused. She had read and re-read the diary, Matzen writes, and said that she felt too close to the character and the story to be a part of the film.
"I was so destroyed by it again, that I said I couldn't deal with it," Hepburn said, of being asked to play the title role in the Anne Frank movie. "It's a little bit as if this had happened to my sister . . . in a way she was my soul sister."
Hepburn, who Matzen claims participated directly in the Dutch resistance during World War II, went on to be a UNICEF ambassador, and later to raise money for the organization by creating and performing a piece exploring the diary with composer Michael Tilson Thomas. Hepburn's son has written that his mother was "stunned" by the diary, and that she said to him, "That child had written a complete account of what I had experienced and felt."
Jenny Singer is the deputy life/features editor for the Forward. You can reach her at [email protected] or on Twitter @jeanvaljenny