Community
'Gates of Tears': rabbinical and cantorial students stand for solidarity with Palestinians
'So many of us ignore the day-to-day indignity that the Israeli military and police forces enact on Palestinians.'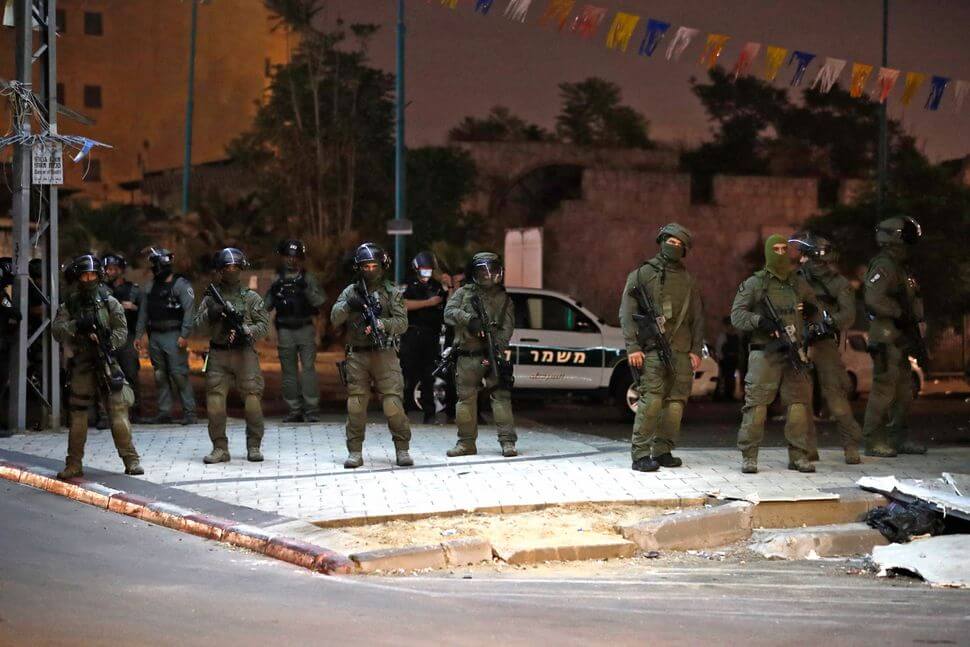 This is a copy of a letter circulating via Google doc that has been signed by scores of rabbinic and cantorial students. On May 19, the Forward published a response to the letter from Rabbi Bradley Shavit Artson, dean of the Ziegler School of Rabbinic Studies at the American Jewish University in Los Angeles.
Editor's note: This article originally contained six bylines. Emily Holtzman's name was removed on May 19, 2022, at her request. Rabbi Holtzman said that "after a year of reflection" she had decided that "the views, framing, and content of this letter no longer express my beliefs."
Blood is flowing in the streets of the Holy Land. Fires are burning on the hills of Jerusalem and buildings are smoldering in Gaza. Violence is spilling onto the streets of Lod and Haifa. With each refresh of the news and each rocket that falls, new images of terror sear themselves into our minds. We find ourselves in tears.
The tears that flow are different for each of us. For some of us, they are familiar tears – we've been moved by similar scenes that have played out for years and years in Jerusalem and beyond. For others, they are newer – coming to terms with the reality on the ground is a journey we all have come to differently. For many, we experience heartbreak over and over again with each new injustice.
"For these things [we] weep" (Lamentations 1:16).
This year, American Jews have been part of a racial reckoning in our community. Our institutions have been reflecting and asking, "How are we complicit with racial violence?" Jewish communities, large and small, have had teach-ins and workshops, held vigils, and commissioned studies.
And yet, so many of those same institutions are silent when abuse of power and racist violence erupts in Israel and Palestine. So many of us ignore the day-to-day indignity that the Israeli military and police forces enact on Palestinians, and sit idly by as Israel upholds two separate legal systems for the same region. And, in the same breath, we are shocked by escalations of violence, as though these things are not a part of the same dehumanizing status quo.
The current reality, in the streets of a land our tradition deems holy, necessitates a spiritual crisis. A spiritual crisis requires more than prayer. It requires heartbreak, which demands reflection, which then demands action.
Rabbi Elazar said, "From the time of the destruction of the Temple, the gates of prayer were locked, but even though the gates of prayer were locked, the gates of tears were not locked. as it is stated [in Psalms]: "Hear my prayer, G-d, and give ear to my pleading, keep not silence at my tears" (Bava Metzia 59a).
We can only make change when we replace our watered-down prayers for peace with tears of heartbreak. We can only build – and rebuild – when we start from our tears. For those of us for whom Israel has represented hope and justice we need to give ourselves permission to watch, to acknowledge what we see, to mourn, and to cry. And then, to change our behavior and demand better.
As American Jews, our institutions tell stories of Israel rooted in hope for what could be, but oblivious to what is. Our tzedakah money funds a story we wish were true, but perpetuates a reality that is untenable and dangerous. Our political advocacy too often puts forth a narrative of victimization, but supports violent suppression of human rights and enables apartheid in the Palestinian territories, and the threat of annexation.
It's far past time that we confront this head on. We can no longer shy away or claim ignorance.
What will it take for us to see that our Israel has the military and controls the borders? How many Palestinians must lose their homes, their schools, their lives, for us to understand that today, in 2021, Israel's choices come from a place of power and that Israel's actions constitute an intentional removal of Palestinians?
How much say do we, American Jews, have? We are here, not there. What can we do?
When we teach about Israel, we can endeavor to tell the messy truth of a persecuted people searching for safety, going to a land full of meaning for the Jewish people, full of meaning for so many other peoples, and also full of human beings who didn't ask for new neighbors.
When we vote, we can vote for leaders who won't continue paying lip service to peace while funding violence. We can use our position as citizens of Israel's biggest benefactor to push to regulate and redirect funds in equitable ways that promote a peaceful and just future.
When we pool our philanthropy and direct our giving, we can pay attention: Is our tzedakah supporting those who build peace or those who sow hate and violence disguised in the name of justice and Jewish continuity? Is it supporting those who plant trees with their neighbors or those who are planting over their neighbors' homes?
We are future leaders of the Jewish community. We are training to teach the Torah and lead the rituals that will hold our joy and our sorrow. And we are full of tears. We implore you, our community – our students, teachers, congregations, employers, funders – to find your tears, too. Tap into the empathy that you need to feel and experience the reality on the ground in this place so that we can work to change it.
The temple has long been destroyed, but the spiritual and ethical soul of the Jewish people still stands. We have the capacity for redemption and call out these abuses of power now. We have the ability "to act justly and to love mercy and to walk humbly with our G-d" (Micah 6:8).
We have the chance to do it, right now, and to keep making that choice each day. When the temple mount is burning, when the alleyways are home to violence, when children lose their parents and parents lose their children, Rabbi Elazar tells us that weak condemnations of violence are not enough; we need something bigger, deeper, rawer, more transformative than that. We need to look at the realities we've been denying, allow ourselves to feel that hurt, and build from there. Because while the gates of prayer may be closed, the gates of tears remain open.
For a full list of the dozens of rabbinical and cantorial students who helped write and sign this letter, click here.