Film & TV
In a stunning new film, a portrait of what it means to be Israeli today
Yael Reuveny's 'Promised Lands' is a documentary filled with memorable images and vexing contradictions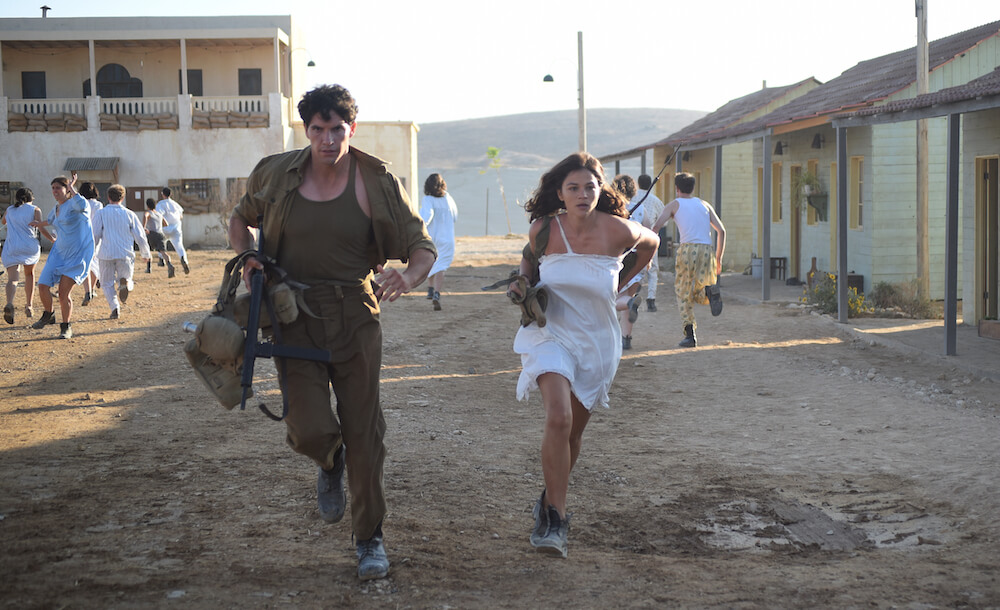 Yael Reuveny's "Promised Lands" is a remarkable documentary, multilayered, subtle, complex and awash in contradiction. In the end, it's a moving exploration of what it means to be an Israeli today, specifically a 40-year-old Sabra. A compilation of interviews, old home movies and grainy black-and-white archival footage, the film is at once poignant and oddly elusive. 
The Israeli-born Reuveny, living in Germany for 15 years with her German husband and his two children, is a central figure in this narrative, forged at least in part to parse her own unsettled emotions as she journeys back to Israel to interview her 1988 classmates. They were 8 years old at the time and Israel was on the cusp of 40. Reuveny asks them to describe their lives and how their connection to Israel or lack thereof has shaped their private and public trajectories. Reuveny was the only one who had not returned home, short of occasional visits.
As she tells it, they were a special generation, the grandchildren of fervent Zionists and/or lost-soul refugees who collectively thrived. Even before statehood, the early settlers grew oranges that found a global market, a symbol of triumph. They had great hope for and put much stock in their children's futures as extensions of themselves and Israel.
Based in Petach Tikva (City of Hope) outside of Tel Aviv, Reuveny and her classmates grew up in the afterglow of victory following the 1967 and Yom Kippur wars. In childhood, theirs was a world of optimism; they sang patriotic songs, celebrating Israel at every turn. In school plays, they promised allegiance to Israel and a commitment to further the country's growth. They represented a new generation of Jews who were strong, tanned, and free of the diaspora stain.
But within the next 15 years it all changed. Prime Minister Yitzhak Rabin was assassinated and the second intifada, resulting in more than 4,000 deaths, mostly on the Palestinian side, shattered the country's sense of well-being. A glorious future for Israel was no longer assured. Reuveny remarks that hers was the first Israeli generation to know hope and the first to lose it. They were the dream and the awakening. Juxtaposition is everywhere. Through one high-rise window you see the sparkling lights of Tel Aviv; from the opposite window, it's a view of the Palestinian West Bank on a stretch of bleak, sunbaked endless desert.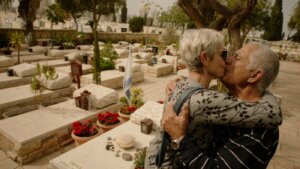 Not everyone in the film supports Israeli politics, far from it. Political alienation and disaffection are evident. But for the overwhelming majority, relocating isn't an option. One woman who left to study medicine in Rome quickly returned, not because she couldn't tackle the course of study but because she couldn't stand being away from home.  Almost all seem intensely bound to their parents. Most striking, a gay ophthalmologist married to a dentist with whom he has three children
matter-of-factly reports that in its values and relationships, his new family is closely allied to his family of origin. A few women, by contrast, admit to feeling restricted and repressed by their conservative, duty-filled upbringings and the stated and unstated demands that come with it. One says she's checked off all the obligatory "to-do" boxes that allegedly bring contentment and still something is missing. One man, also fulfilling the expectations of his family and his country, quips that he never fantasizes about anything; he's a pragmatist.
While there is no discussion of religious conviction among the interviewees, marriage and childbearing are bedrock. Women are still stigmatized if they're not wed and reproducing. To what degree those beliefs reflect traditional notions about appropriate roles for women or Israel's need to propagate in order to survive or both or something else altogether is arguable. Either way the pressure is there.
Even for an outlier like Reuveny, not having had a child is a profound loss. Her unfulfilled maternal instinct coupled with a larger sense of failing her parents (especially her father), Israel, and Jews is a steady, defining undercurrent. She is aware, though she mentions it only cursorily, that her existence in Germany, her German husband, and her German stepchildren may raise eyebrows in some quarters. When her new friends sing "Happy Birthday" to her in German, and their intentions are benign, the effect is disquieting.
As far back as she can remember, she says, "real life existed elsewhere." Fun, freedom, and the potential to become her authentic self, could not transpire in the Israel she knew where her forebears were not at all the pioneer heroes of the Israeli myth. Her Iraqi grandfather and Eastern European grandmother were the most displaced of displaced human beings, never fully acclimating to the weather or the language, and always yearning for their homelands or perhaps, more precisely, some reinvented idyllic vision of their homelands.
Still, if it weren't for Israel her parents wouldn't have met or married. She has a life (literally) because of Israel. The historic and personal threads create an amalgam of emotion. In her comfortable German apartment, Reuveny doesn't feel liberated at all. On the contrary, she's trapped and devoid of identity. Like many immigrants, her sense of who she is and where she belongs is uncertain at best.
Her relationship with her parents is simultaneously strong and slippery. In one snippet, she is speaking with her father on the phone, reassuring him that she will be home for Passover and his response, a refrain one suspects, is that the intervening months are way too long for him to wait. In an even more vivid cinematic sequence, we see her cutting and arranging flowers as Dad leaves a long voice message telling her yet again how much he misses her. She does not take the call.
Some of the portraits are stunning. There's the sporadically employed techno musician, who wishes he worked steadily as a performer, but in the interim says he is satisfied living alone with his cat in his childhood apartment that his parents have long since vacated. And there's the single woman residing with her mother and grateful to have Mom as a roommate and companion. Bullied and shamed because of her weight for most of her life, she's now facing the real possibility of remaining unmarried and without children.
Many scenes are visually compelling, evoking an Israel of profound emptiness and alienation. One shot at a train station, featuring pedestrians and soldiers on benches in various poses or standing listlessly by just waiting, brings to mind an Edward Hopper painting.
 Perhaps the most pointed scene comes toward the end. Here Reuveny interviews her parents, two stoic, world-weary figures, sitting alongside each other and staring directly ahead. Theirs is an embodiment of the 20th and 21st century Israeli experience. Their daughter chose to leave Israel and their beloved son Moishik was killed in a 2002 skirmish with the Palestinians when he was on duty. The apartment is filled with photographs of their deceased child and other bits of memorabilia and miscellany. Since his death, Moishik's friends and their families gather every week in the Reuveny home to eat and drink and have a good time. Moishik is no longer mentioned, but for Mom and Dad his absence is a presence. They can't help wondering how his life might have played itself out had he lived.
In a scene shot in a cemetery, as a commemorative event of some sort is unfolding, we see headstones against a backdrop of endless rows of identical skyscrapers. The effect is sterile, spectral and eerie, but life goes on. As the film concludes we revisit in rapid succession shots of her former classmates going about their business in real time. Reuveny conveys her ongoing struggle that has no resolution. "You try to give it up," she says. "Something in me refuses to be free — you're born in a place you can't leave."
Despite this film's specificity of time and place and history, there's so much here that's universal.
 'Promised Lands' premieres Thursday June 2 at the Israel Film Center Festival