Culture
Yiddish 'Fiddler' is coming back to theaters. Here's how it changed one actor's life
Steven Skybell, who played Tevye in a production scuppered by the pandemic, spent lockdown learning Yiddish songs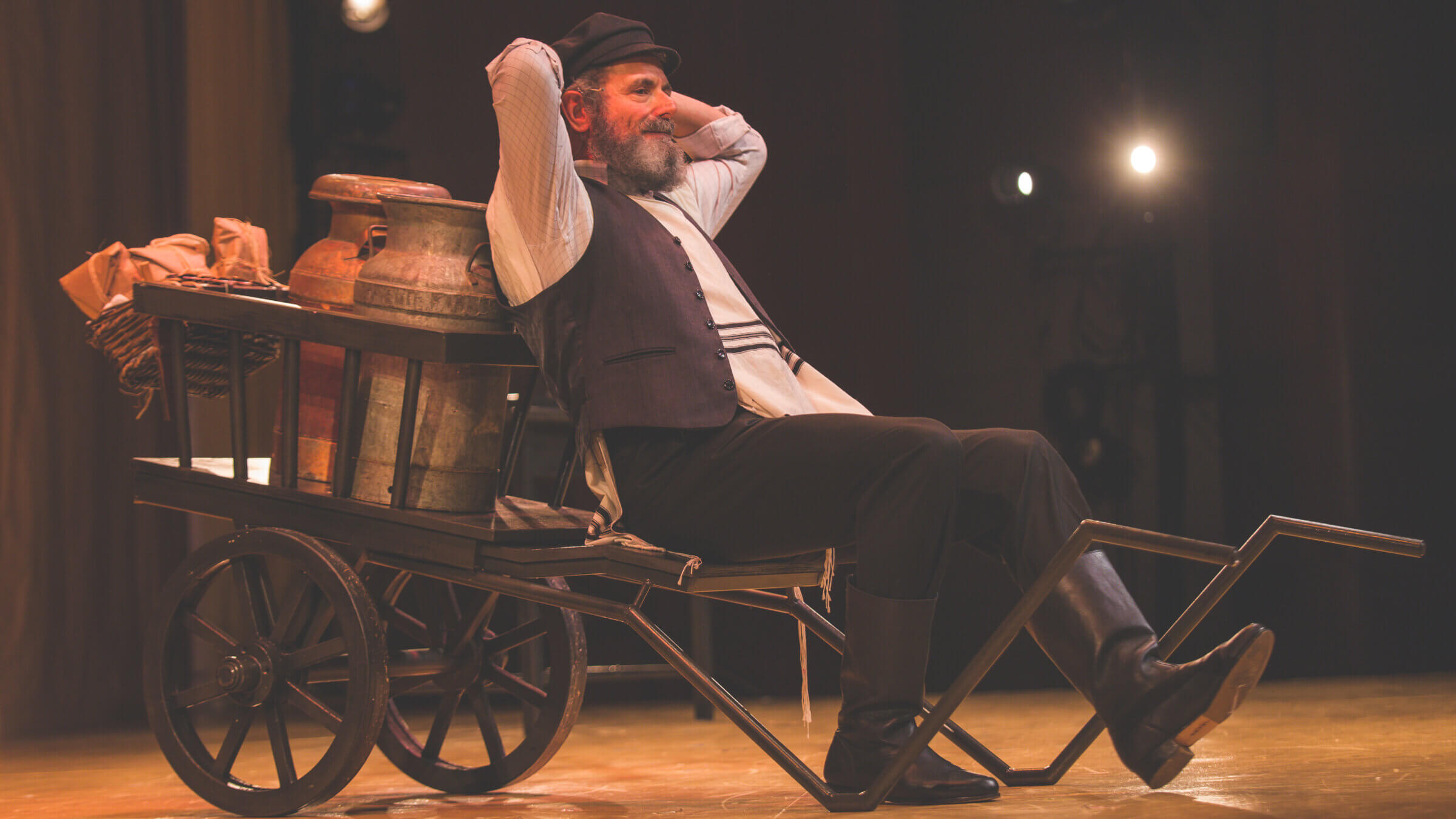 Any Jew with thespian tendencies has likely at some point been in a production of "Fiddler on the Roof." 
My stint came freshman year of college, when I played Chava, the middle daughter of Tevye, the show's main character.
I will never forget working on the show's climactic scene, when Chava tells Tevye she intends to marry Fyedka, a Russian non-Jew. Tevye turns his back on Chava, disowning her, and in a final entreaty, she pleads: "PAPA!!!" It's a moment that could easily have smacked of college melodrama, if the father to whom I appealed hadn't made the sadness feel so real. I was fortunate to be on stage with an exceptionally talented college senior named Steven Skybell.
"Fiddler" would go on to form a major part of Skybell's career. Now a seasoned Broadway actor, Skybell starred as Tevye in the National Yiddish Theatre Folksbiene's all-Yiddish "Fiddler" production, which opened in 2018 to rave reviews and closed abruptly at the onset of the coronavirus pandemic. As pandemic restriction eases and theaters revive, the musical is set to reopen off-Broadway at New World Stages on Nov. 13 — with Skybell back in his trademark role.
I first saw Yiddish "Fiddler" in 2018, before the pandemic but 35 years after our run as college co-stars. Skybell's deeply affecting performance, rendered in seemingly-effortless Yiddish, left me in tears. I congratulated him backstage, but did not see him again until in June 2022, when he was asked to perform for the judges and fellows at a retreat for the Sami Rohr Jewish Literary Institute. The retreat convenes the winners, finalists, advisors and judges of the institute's literary prize for emerging Jewish writers. (I'm a fiction judge.)
Skybell, it turns out, kept his Yiddish exploration alive after "Fiddler" closed in 2020, delving into the language's rich musical tradition. He drew on that education to create a stirring, 75-minute concert, turning songs from the Old Country into timeless snapshots of anguish and ardor. 
Since the onset of the pandemic, Skybell has been meticulously researching, translating and rehearsing Yiddish songs in close collaboration with Zalmen Mlotek, the long-serving artistic director of the Folksbiene. During this particular concert, Mlotek, an authority on all things Yiddish, accompanied Skybell jauntily on the piano, occasionally helping to explain a song's backstory.
In Skybell's post-concert interview with his older brother, Joseph Skibell, (a novelist and 2011 Rohr Choice Award winner, who uses a different surname spelling), he recalled how the pandemic forced him and his "Fiddler" cast mates into isolation. Unlike many of us, Skybell did not opt for sourdough starter kits. Instead, he embarked upon a Yiddish immersion program.  
For Skybell, who grew up as one of very few Jews in Lubbock, Texas, the show clearly triggered an impulse to connect with heritage and history. He'd left Tevye behind, but not the character's vocabulary, choosing to further explore the trove of Jewish composers who have gone largely unsung and unshared. 
During Covid lockdown, Skybell sought out Mlotek to study and sing together in Zoom sessions. Mlotek, 71, had more than enough experience and pedigree to serve as his guide: The son of two famous Yiddish performers, he once dazzled Leonard Bernstein with his conducting skills. More recently, he served as the musical director of the Yiddish "Fiddler" production, where he and Skybell became friends.
The two worked together on Zoom until they developed a repertoire of over 100 songs. The music, Skybell told us, intensified his bedrock pride at being a Jew, particularly in a period of increased antisemitism.
"It feels like I have come home," Skybell echoed in an interview with the Jewish Standard. "It feels so personal to me."
Skybell also embarked on Daf Yomi, a program of Talmudic study, with his brother, reading a page per day and discussing it together on Fridays.
For the Rohr recital, Skybell opened with "Ven Ike volt geven a shnayder" ("If I Were a Tailor"), standing in his now-trademark bow tie while Mlotek played the keyboard in a kippah. 
I noted an unexpected lump in my throat.
The feeling was instantaneous and cellular — as if I'd always carried these songs, heard them before, melodies I hadn't realized were already handed down to me. My relatives were suddenly in the room, with all their tsuris and tzimmes. 
My late Grandma Esther used to soothe me and my siblings to sleep with "Roshinkes mit Mandlen" ("Raisins and Almonds"). Her four sisters, my late great-aunts Molly, Helen, Pearl and Belle, used to feed us and squeeze us while humming Yiddish lullabies; their Eastern European accents are still thick in my ears. I remember my mother humming the ballad her mother sang to her: "Oyfn Pripetchik," or "On the Hearth." 
Skybell's performance reminded me of the Talmudic story about angel Lailah. The lore says that we all know the entire Torah before birth, until Lailah touches the top of our lip — the place known anatomically as the philtrum — and with one gesture makes us forget it, so that we must relearn everything. But the sages remind us we had it from the start; the book was already inside of us.  
That's what it felt like to listen to Skybell's voice — at times caressing, then thunderous, channeling his ancestors and our shared lineage. I heard the melodies that have bound a people together, even when they were being pulled apart, the defiance of survivors whose voices were silenced, a musical language that could not be buried. 
Sometimes Jewish geography is as magical as it is predictable. It wasn't just that Skybell and I had once shared a college stage, along with my twin sister. (She played Fruma-Sarah, the butcher's late wife, back from the dead.) It wasn't that more than three decades later, a literary prize that aims to lift Jewish storytelling tossed me and Skybell's brother Joseph together. 
As I sat in that poorly lit hotel conference room, listening to Skybell sing, I found myself thinking, this rope won't let go. This inheritance is stubborn and connects us, demands that we keep listening. 
"Oh Jews, in tears cry out," Skybell sang in "Lozt Arayn" — "Let Us In." "It's time you heard. The whole world cries out to you."