Culture
Walter Mosley talks about his latest book — and his Jewish mother
His book is about a Black ex-cop investigating a white nationalist. His mom is an abiding influence on his worldview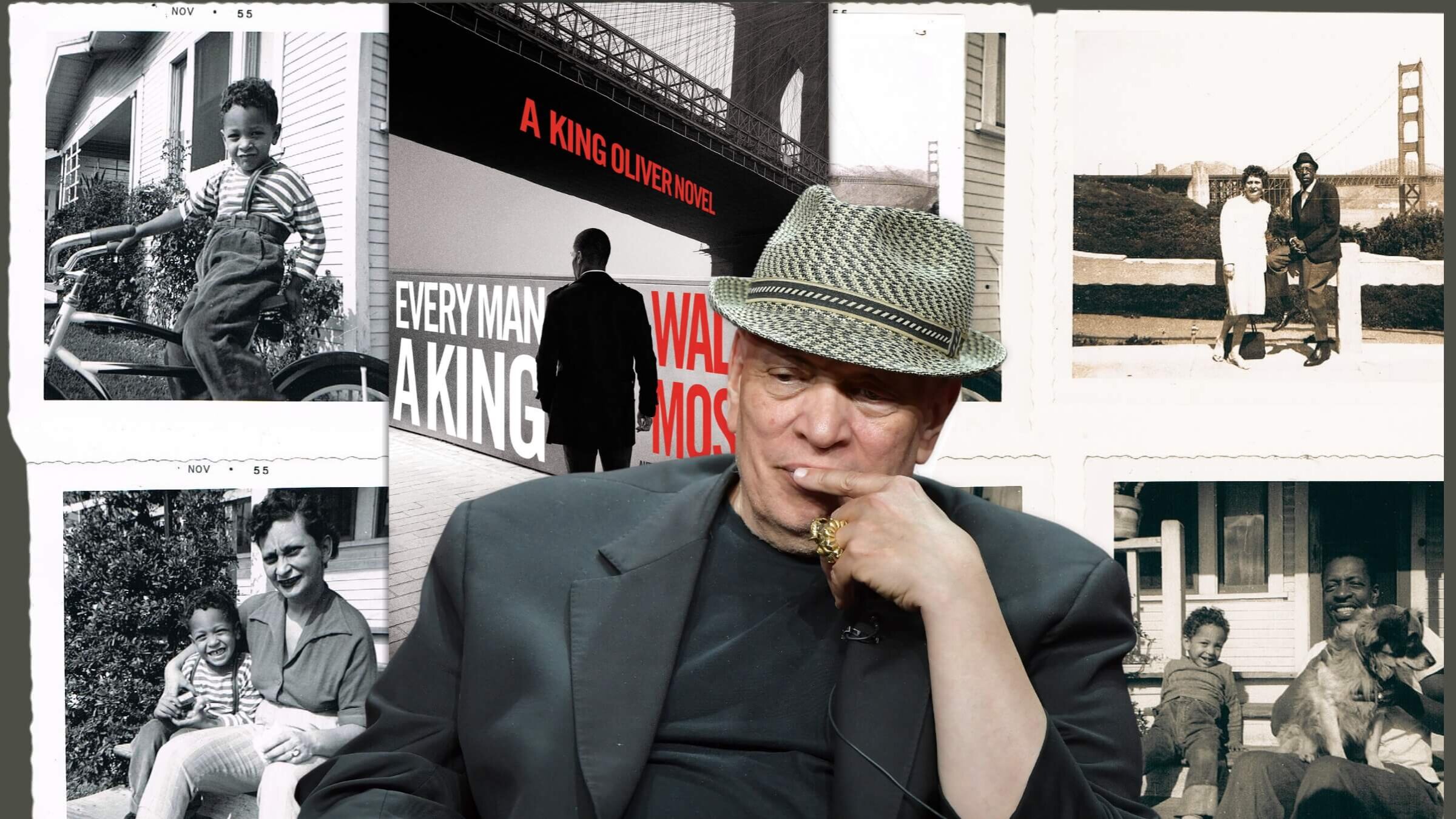 With his 1990 debut novel, Devil in a Blue Dress, crime writer Walter Mosley introduced readers to a new kind of hard-boiled hero: a Black private eye navigating a racist world.
Sixty books and three decades later, Mosley, the first Black man to win the National Book Award's Medal for Distinguished Contribution to American Letters, has published his latest novel, Every Man a King. This time the hero is a Black ex-cop named Joe King Oliver investigating a white supremacist. 
"And it's the same thing, right?" Mosley, 71, told me. "A Black detective in a racist world."
The theme reflects Mosley's own experience as a Black man in America. But Mosley is also a Jewish man whose mother had a profound influence on his politics and the complicated stories he tells about love and loyalty, race and power, wealth and capitalism.
Mosley's Jewish mother
Mosley's mother, Ella Slatkin, moved from New York to LA after college and met Mosley's father in a school where he was a custodian and she was a personnel clerk. Mosley grew up in LA surrounded by his mother's extended family, all immigrants from Russia and other parts of Eastern Europe.
"All of them were intellectuals," Mosley said. "Most of them were Trotskyites — you know, Trotsky was Jewish. And of course they all spoke Yiddish." But Judaism wasn't a "religious thing that drove them. It was a cultural thing. It was also political, and so a lot of the ideas and the politics in my books come out of my mom and what she talked about living in America."
Did his mother's family accept him, a biracial boy? "There was never a moment where I felt ostracized or ignored," he said. "I got along great with them, hanging out with them, doing things with them. They were wonderful." He paused wistfully to remember his favorite, Uncle Chaim, 80 years old and 4 feet 9 inches, who'd been a tailor in the old country: "I just loved him."
The food at those family gatherings was good, too. His mother's cousin Lily made matzo ball soup, roast chicken and knishes — though in the cultural melting pot that was LA, she used wonton skins to wrap the knishes.
Racism and antisemitism
In many ways, Mosley said, it was easier to be Jewish than Black in the 1950s and '60s. "America is such an unbelievably racist country," he said. "At the time that I was born and being raised, it wasn't such an issue if you were Jewish. It is now, but it wasn't then. And so with the police, and the politics, and the schools, we were dealing with me being Black in America, and so I had to relate to things in that way."
Wait — it wasn't an issue to be Jewish then, but "it is now"? Meaning what?
"I mean, there's a lot more realized antisemitism in America," Mosley said. "When I was a kid, Jews didn't belong to certain country clubs. Beverly Hills didn't really want them, which is why [the neighborhood] Cheviot Hills was created. There were certain kinds of exclusions of Jews, but most people just weren't worried about that. They weren't thinking about that. What they were thinking about was the danger of people of color."
Now, he said, "there's a lot of anger about Jews" — and, he adds, Chinese Americans. "Our last president has something to do with that," he said.
Jews and whiteness
Mosley has been quoted in the past as saying that he doesn't consider Jews to be white. These days he's careful to add context. "If you said to my mother that she was white, she would say, 'What are you talking about? I'm a Jew. I'm not white.' Because it's her history. But when I would say things like that, I would get all of this angry mail from Jewish people. I thought it was funny. I was like, 'You think you're white? You can't even join the country club.'"
He believes the notion of race and whiteness was invented by Europeans to justify slavery and the genocide of indigenous peoples in the Americas. To prove his point, he says there's no such thing as a "white country, there's no white language. There's no white religion. None of that stuff exists."
But "the idea of having anybody Jewish thinking that they're white? Just listen to what happened to your relatives less than 100 years ago. I mean, it's kind of crazy to identify with a group of people who identify you as the murderers of Christ."
He then tunefully ad-libbed a line from the Tom Lehrer song "National Brotherhood Week": "The Black folks hate the white folks, the white folks hate the red folks, the red folks hate the brown folks, and everybody hates the Jews."
That call from human resources
As we talked about bigotry past and present, Mosley recounted a situation from 2019 that he wrote about for The New York Times, when he was in a writers' room for a TV series where people were discussing their encounters with the police.
He shared his experience with the group, in which the cops "called me the N-word." The next thing he knew, one of his colleagues had reported him to HR, and he got a phone call. "They said, 'You're in trouble.' And I go, 'I'm in trouble? You mean I can't even say what someone else said?'" he said. "I can't even use the words of my own experience in life."
Quiller, the white nationalist
Every Man a King revolves around a white nationalist named Quiller. Mosley describes him as a "genius-white supremacist-philosopher-and-scientist. He's an interesting character, because, you know, who's the least likely person to find change in their life? You always think that people who have absolutist feelings, who are against you, are the people who will never change. But it's not true."
What are readers to make of Quiller's wife, Mathilda Prim, who is Black? Oliver, the investigator, struggles to make sense of the relationship, at one point telling Prim he finds it "confusing" that a Black woman is married to a racist like Quiller. But near the end of the book, Quiller appears to have reformed. Prim "never tried to convince me that I was wrong," Quiller says, but her refusal to "dignify my arguments with a reply" convinced him that his views were "wrongheaded."
Mosley said he's not asking readers to "forgive" Quiller. But Quiller "pays for the kind of life he's lived. What I'm doing is, I'm talking about the complexity of humanity. And it's not just, oh, these are good people and those are the bad people." 
He added: "Any problem is always much more complex than you're allowed to believe."
If the name Quiller rings a bell, you might be thinking of a film called The Quiller Memorandum, in which a spy named Quiller is sent to investigate Nazis in 1960s West Berlin. Mosley often, without explication, gives his characters names that refer to other people, real or imagined. For example, there was a real-life Joe King Oliver who was an American jazz musician. And in Mosley's Fearless Jones series, the character Paris Minton has a cousin named Ulysses S. Grant IV.
A Mosley-style travelogue
Typical of Mosley's other books, Every Man a King is full of twists and turns. Oliver is hired by his own grandmother's white billionaire boyfriend to find out if Quiller — accused of murder and of selling secrets to the Russians — has been framed. As he gradually unravels the case, he dodges deadly attacks on himself and fears for the safety of his loved ones, who are sequestered in the billionaire's mansion.
Along the way, Mosley takes Oliver on a colorful odyssey that includes a walk across the Brooklyn Bridge, a meeting at the Metropolitan Museum's Temple of Dendur, a hiding place in Van Cortlandt Park in the Bronx, and a secret cell at the Rikers Island jail complex — not to mention a farmhouse in Vermont, a seedy motel in Hoboken, New Jersey, and a tiny town in Kentucky where locals "either sold meth, hootch, ass, or your soul to coal."
Joining the pantheon of great Jewish writers
In 2010, an article in Tablet argued that Mosley belongs on the list of great Jewish writers, right up there with Saul Bellow and Philip Roth. A discussion of Bellow and Roth's relative literary merits also came up in Mosley's recent interview with The New York Times Magazine. But Mosley said the best part of his conversation with the Times was when he told the interviewer that Stan Lee and Jack Kirby, who wrote for Marvel and DC Comics, "are Jewish writers and they're much more important" than Bellow and Roth.
OK, fine, we won't argue with putting the men who created Spider-Man and the Fantastic Four in the pantheon of great Jewish writers (and we'd be remiss if we didn't mention Mosley's tribute to Lee and Kirby, Maximum Fantastic Four). But does he think Walter Mosley belongs on that list, right up there with Bellow and Roth?
"Of course I'm a Jewish writer," he said. "How good I am, I'm not going to talk about that. I love my work. But that doesn't mean everybody else should or could or would."