New York Voices
In a new exhibit on Eldridge Street, an artist dreams of kosher hot dogs
Jewish folk artist Steve Marcus brings his winning weiner drawings to the East Village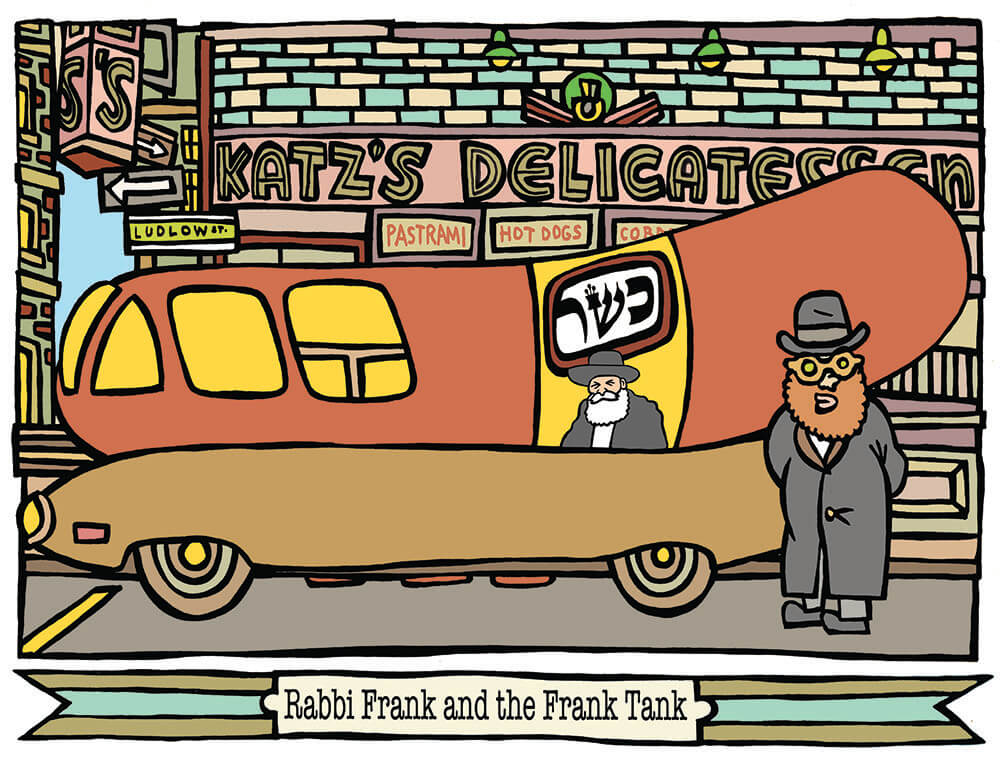 In a new exhibit at the Museum at Eldridge Street, "Steve Marcus: Top Dog of Kosher Pop Art," the artist shows off a series of new drawings which revel in the history of the kosher hot dog, a handheld treat with deep roots in Brooklyn and the Lower East Side. You may chuckle at the tableau of Abraham offering his three heavenly guests a repast typically found in street carts — but you will also walk away with deep knowledge about the Jewish maestros who came to dominate the hot dog game and even learn about how many times mustard is mentioned in the Talmud.
Marcus, 50, was at the opening, a short walk from his studio. He wore a mustard-yellow shirt and ketchup-red leather shoes – though he never, but never, puts ketchup on his hot dog – his long, scraggly beard peeking out from his mask. A longtime New Yorker – in a gray and teal Knicks cap – Marcus spent years illustrating for magazines like Rolling Stone and High Times, and in 2000 he crafted the animations for the Red Hot Chili Peppers' "Californication" tour. But in the last decade or so, he's turned his attention to Jewish art.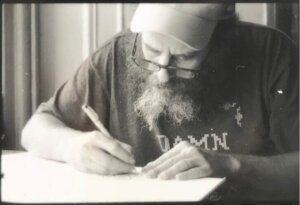 "When I do the work, I like to be able to represent my roots and culture," said Marcus, in his thick tri-state accent — a bit of New Jersey and New York. "At the same time, I try to make it accessible, funny. A lot of times Jewish art is so heavy, it's too intense. And it should be fun."
Wrapping around the museum's gallery wall, Marcus' works, all hand-drawn with pen — thick lines and pops of color reflecting his underground and graffiti roots — are lightly subversive and largely deferential. In one drawing, he reimagines a Lubavitch Mitzvah Tank as an Oscar Mayer Wienermobile, complete with an image of Menachem Mendel Schneerson on the side. Yet the picture next to it, he told me, was drawn to follow the dictates of Halacha. In a street scene of a hot dog vendor giving out free kosher dogs to a minyan of hungry Jews, Marcus noted he left out a depiction of the sun, forbidden by Jewish law, so as not to offend any Orthodox viewers.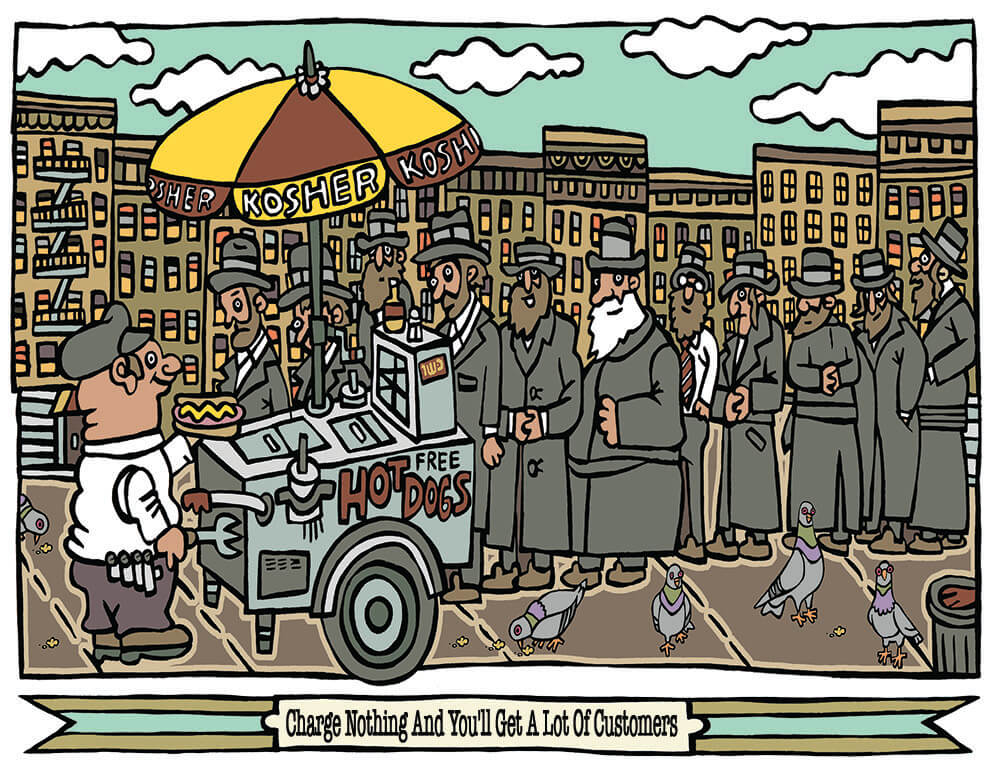 "I'm actually an educated Jew," said Marcus, who studied Torah at Mesivta Tifereth Jerusalem yeshiva right near the museum. "It's not a hipster beard!"
The work is informed by his studies; Gematria is sprinkled throughout the pieces and one work was directly inspired by the Talmudic aphorism "mustard seed is food for doves." But more than that, like any dirty water dog, this exhibit is soaked through with New York history.
In the drawing "Little Nathan's Dream," Marcus imagines a young Nathan Handwerker — of the eponymous Nathan's Hot Dogs — dreaming up his iconic Coney Island stand. If you listen to Marcus' audio guide — and you really must — you'll learn how Nathan achieved that dream by offering a cheaper hot dog near the restaurant of his former employer, Charles Feltman. The roots of Hebrew National also get their time to shine, as do the Four Families of Mustard ("The Mustard Mob"), composed of Feltman and the heads of Gold's, Ba Tampte and Bertman's. The exhibit even shows ties to Eldridge Street Synagogue by way of "Kosher Sausage King of America" Isaac Gellis, once named the richest man on the Lower East Side and a founder of the shul.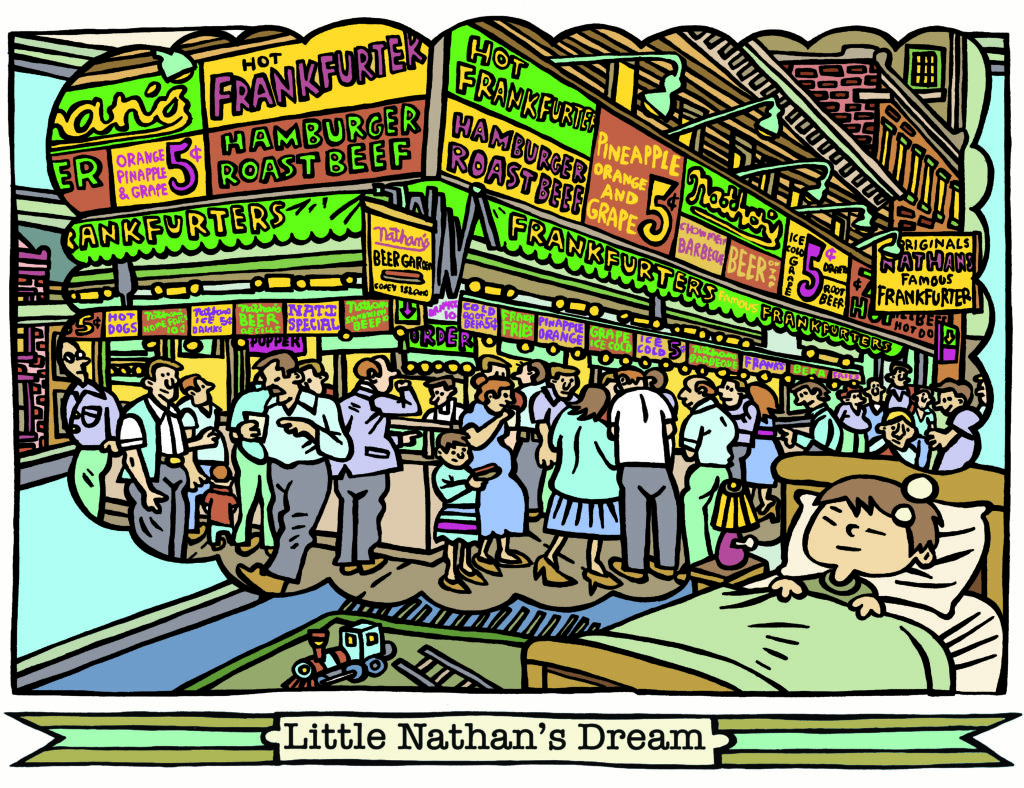 Marcus describes himself as an "alpha nerd," and, an avid collector, he brought in a sampling of his holdings to the exhibit, including an Isaac Gellis Haggadah, a CD of "Kosher Hits" from Hebrew National and a signed photo of Nathan's Hot Dog Eating Contest winner Joey Chestnut, victorious and sweaty from his overindulgence. "This guy's ready to plotz!" Marcus said.
But while the exhibit is propelled by history and, in Marcus' words, "healthy obsession," its origins speak to something more elemental: another Nate's dream.
When Marcus' 6-year-old nephew, Nate Gottlieb, came to visit him at his Catskills getaway, Marcus had hot dogs ready to go.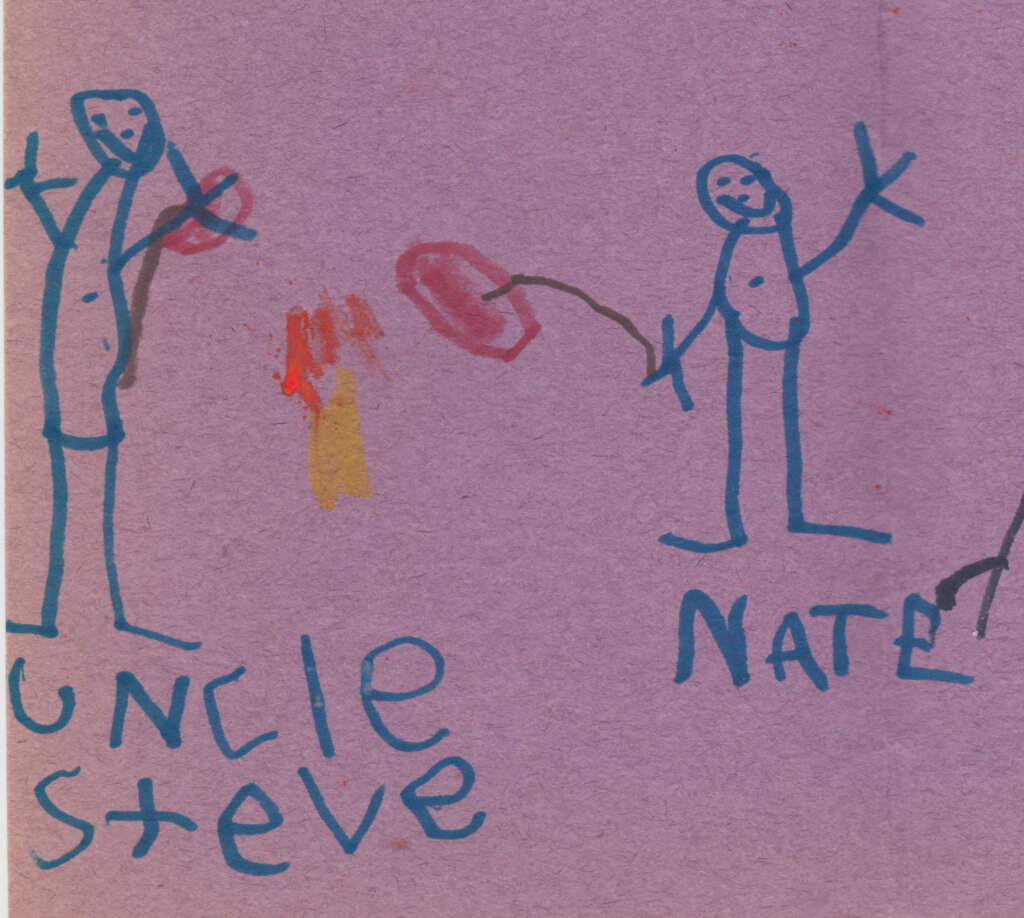 "He's sitting on a rock and he looked over at me while he's roasting a hot dog on a stick; he says, 'Uncle Steve, this is my dream come true.'"
One could chart a direct line from this hot dog hospitality back to Abraham and his mysterious visitors; it is a love of tubed meat that passes l'dor v'dor, from generation to generation.
Marcus' exhibit proves that when it comes to kosher sausage, if you will it, it is no dream.