Fast Forward
Kyrie Irving's 'Jewish conspiracy': What you need to know
The Brooklyn Nets star doubled down in the face of criticism after linking to an offensive film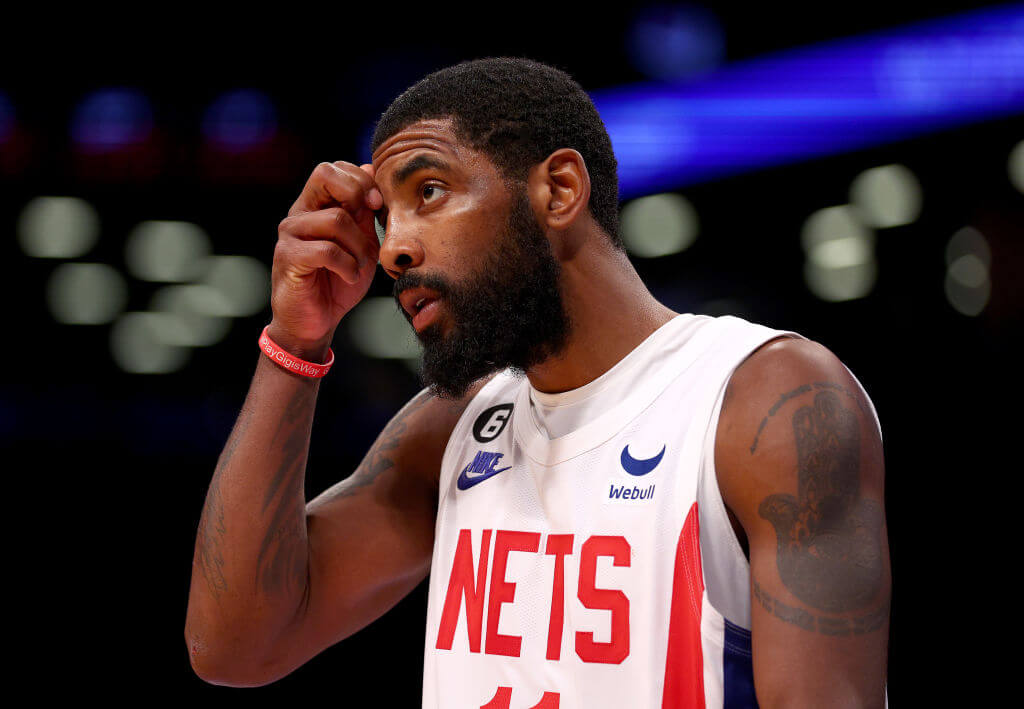 Days after controversial NBA star Kyrie Irving tweeted a link to a film laden with what league officials and others are calling an antisemitic conspiracy theory, he continued to defend the post in subsequent remarks and in a heated exchange with a reporter.
Irving, in his 12th season in the league and his fourth with the Brooklyn Nets, linked to the Amazon page for the 2018 movie "Hebrews to Negroes: Wake Up Black America" without comment on Thursday to his 4.5 million followers. The book asserts that Blacks are the true descendants of the ancient Israelites and claims to "uncover what Islam, Judaism and Christianity has covered up for centuries.
On Saturday morning, Irving took to Twitter to say, "I am an OMNIST" — someone who believes in or respects all religions — "and I meant no disrespect to anyone's religious beliefs. The 'Anti-Semitic' label that is being pushed on me is not justified and does not reflect the reality or truth I live in everyday. I embrace and want to learn from all walks of life and religions."
The tweets were widely condemned in the NBA community — including by Nets owner Joe Tsai, a commentator on his home broadcast, the league office and Kareem Abdul-Jabbar.
Asked about the tweet in a press conference after the Nets loss Saturday night, Irving — who missed much of the 2021-22 season because he refused to get the coronavirus vaccine — denied that he was promoting the film and accused a reporter of trying to "dehumanize" him for pointing out that it was antisemitic.
"I can post whatever I want," Irving said.
"Can you please stop calling it a promotion? What am I promoting?… Don't dehumanize me up here."

Kyrie Irving and Nick Friedell have an exchange during the Nets postgame press conference.

(via @_Talkin_NBA)pic.twitter.com/7oUmmSL05U

— ClutchPoints (@ClutchPointsApp) October 30, 2022
Irving's comments followed weeks of intense blowback against Kanye West, whose antisemitic vitriol — he said he planned to go "death con 3 on Jewish people" and that he couldn't be antisemitic because "Blacks are actually Jew also" — led to West, who legally changed his name to Ye, being dropped by most of his corporate sponsors and being vilified by the public. And only a few days into Elon Musk's ownership of Twitter, the discourse around Irving's post evoked many of the concerns about how the platform might change with radical free speech as its guiding principle.
A gifted player who was picked first overall in the 2011 NBA Draft, Irving's stardom developed alongside his reputation as a "free thinker." He questioned whether the Earth was round in 2018, not long after he made his fifth all-star team. He later apologized.
Yet his cryptic personality has undeniably helped make him one of the league's most popular players. He's one of only a couple dozen NBA players with a signature shoe, and his $11 million per year contract with Nike is one of the biggest endorsement deals in the sport. Nike is expected to part ways with Irving when his contract expires at the end of this NBA season.
In a description of the film, Rolling Stone said it advances the canard that Jewish people orchestrated the trans-Atlantic slave trade, a myth promoted by the Nation of Islam in its book trilogy, "The Secret Relationship Between Blacks and Jews," first published in 1991, that has been widely debunked.
But as ESPN reporter Nick Friedell pushed Irving on the problematic nature of the movie, as well as an earlier tweet about a film made by Alex Jones, the conspiracy theorist, Irving dug his heels in, calling Jones' "New World Order" conspiracy theory true.
"I'm not going to stand down on anything that I believe in," Irving continued. "I'm only going to get stronger because I'm not alone. I have a whole army around me."
The maximum a player can be fined for offensive comments under the terms of the league's Collective Bargaining Agreement is $50,000, which former Miami Heat center Meyers Leonard received in 2021 for saying "kike" while livestreaming a video game. The league can also suspend a player for conduct detrimental to the league.
The Nets issued a statement to The Athletic late Saturday.
"The Brooklyn Nets strongly condemn and have no tolerance for the promotion of any form of hate speech. We believe that in these situations, our first action must be open, honest dialogue. We thank those, including the ADL, who have been supportive during this time."