Fast Forward
'I know Bibi very well': Schumer says Democrats will work closely with Netanyahu's new government
The Senate Democratic leader and Rep. Hakeem Jeffries, the favorite to become the party's House leader, hailed Israel's democracy in wake of the election that saw the rise of extreme nationalists.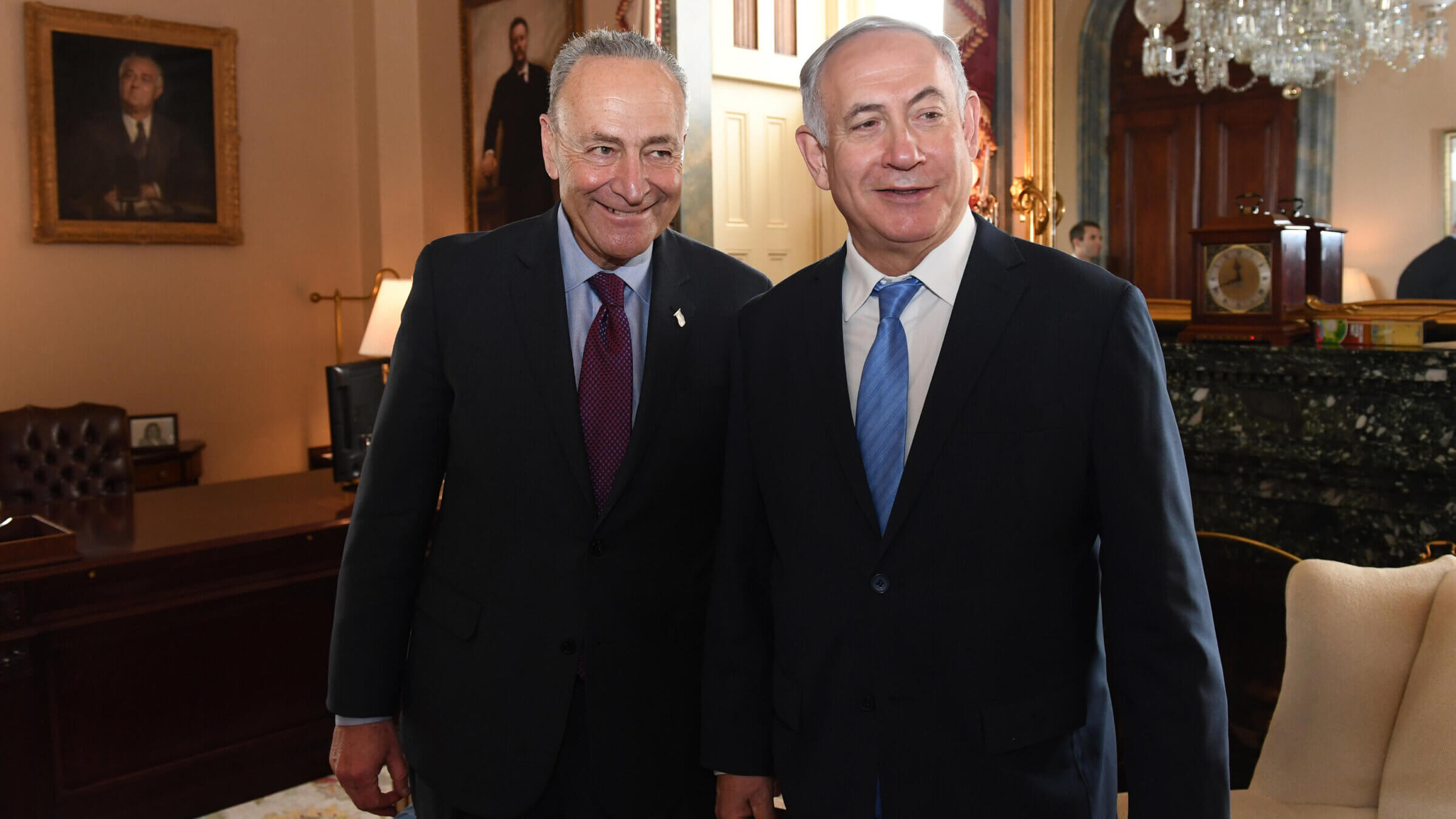 Democratic congressional leaders reiterated their commitment to the strong U.S.-Israel alliance over the weekend in the wake of the Israeli elections that saw the rise of an extremist nationalist party.
The Religious Zionist party, with 15 seats, includes a faction led by Itamar Ben-Gvir, who has invoked racist and extremist views. It is expected to be a key partner in Benjamin Netanyahu's new coalition government.
"As the leader of the Democratic Party, I have a special obligation to keep the Democratic Party pro-Israel," Senate Majority Leader Charles Schumer said during a legislative breakfast hosted by the Flatbush Jewish Community Coalition, an Orthodox advocacy group, on Sunday. "And I don't care who's in the head of the Israeli government."
The bloc led by Netanyahu won 64 seats in last week's election, giving the Likud leader a sixth term.
Schumer said that he has known "Bibi Netanyahu forever," mentioning that his late brother Yoni Netanyahu, who was born in New York, went to Harvard College, which is also Schumer's alma mater. "I know Bibi very well, and so we work together."
Hamodia first reported Schumer's remarks.
Rep. Hakeem Jeffries from New York, the chair of the House Democratic Caucus, echoed the same sentiment in a radio interview on Saturday night. Jeffries, a five-term congressman, is considered a favorite to succeed House Speaker Nancy Pelosi as leader of his party if Democrats lose control of Congress in the midterm elections this week.
Appearing on a pre-election panel hosted by the FJCC, Jeffries noted that he "had the opportunity on at least four occasions to personally be in meetings" with Netanyahu as prime minister. He said that it was Netanyahu who signed the 10-year memorandum of understanding with former President Barack Obama.
"That has been a constant in the relationship and will continue to be as we move forward," he said. "It's a special relationship that is anchored both in our shared democratic values, as well as our shared strategic interests."
A week before the Israeli election, Schumer and Pelosi invited President Isaac Herzog to deliver a speech to a joint session of Congress ahead of the 75th anniversary in the spring of 2023 of the founding of the modern Israeli state next year.
Jeffries, who's visited Israel five times since he was elected in 2012 and calls Jerusalem New York City's sixth borough, said he expects to travel to Israel again next year to celebrate its 75 years of independence.
"Some of the fiercest debates on public policy that you will find in the world take place in the Knesset," Jeffries said. "And that's what democracy is all about. It gives people the power to ultimately determine self-government, and allowing the representatives of the people here in the Congress, or over in Israel in the Knesset, to kind of work through the different perspectives and try to arrive at common ground at the end of the day."
In his remarks on Sunday, Schumer suggested that Netanyahu reluctantly agreed to allow the relocation of the U.S. embassy in Tel Aviv to Jerusalem – confirming Jared Kushner's account of a phone call between Trump and Netanyahu that almost thwarted the move – after Sheldon Adelson's daily paper, Israel Hayom, "started for the first time criticizing Bibi." Adelson, who was the largest single donor for Trump in the presidential election, had demanded that Trump announce the move when he was elected president and assured Trump in several meetings that the nightmare scenarios were "overblown."
Schumer bemoaned the fact that Republicans refused to invite him, as one of the authors of the Jerusalem Embassy Act, to the opening ceremony in 2018 and accused them of seeking to turn Israel into a partisan football. And he took pride that "the 50 Democrats I'm in charge of voted for Iron Dome."
"You cannot make this a political issue, folks," Schumer said. "And my job is to keep it a bipartisan issue. Sometimes it's not easy, but I have so far succeeded and I will continue to succeed because I love Eretz Yisrael."