Fast Forward
In first speech since dinner with West and Fuentes, Trump calls himself 'the best ally' for Jewish people
'How do you do that?' Trump asked Orthodox Jewish group, complaining about the lack of Jewish support in 2020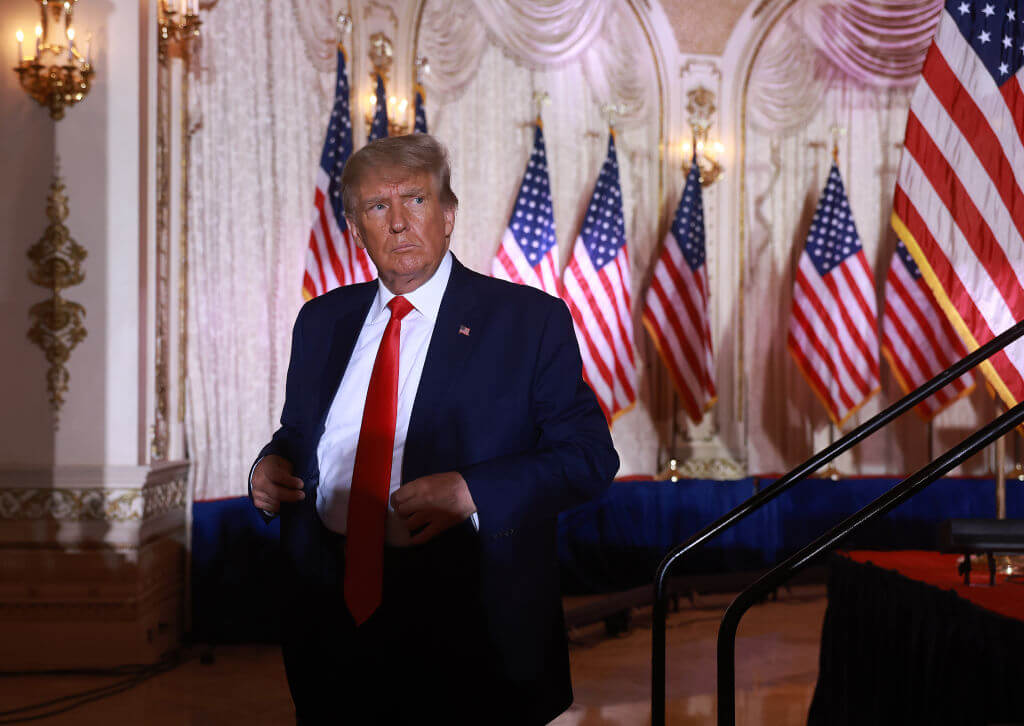 Former President Donald Trump didn't mention his dinner with two prominent antisemitic figures last month in an address to a Jewish group Friday morning, his first public speech since the controversy ensued.
But speaking at a weekend conference by Torah U'Mesorah, an Orthodox educational group from New York, at his National Doral club in Miami, Trump claimed to be "the best ally" the Jewish people "have ever had."
Since he dined with rapper Kanye West, who changed his name to Ye and went on a tirade of antisemitism and Holocaust denial in recent weeks, and Nick Fuentes, a prominent white supremacist, Trump has refused to condemn either of them. Instead, he criticized Jewish leaders and echoed common antisemitic tropes, saying his Jewish critics "lack loyalty" and "should be ashamed of themselves," for not appreciating his pro-Israel policies while he was in office.
Trump spent most of his 30-minute speech — posted on YouTube — citing a recent article by Rabbi Dov Fischer, detailing "the things I have done for my Jewish friends and the Jewish people, and for Israel." He earned the biggest round of applause when he mentioned his commutation of the jail sentence of Sholom Rubashkin, a kosher meat executive who was found guilty in 2009 of 86 counts of bank fraud and sentenced to 27 years in prison in December 2017. Rubashkin, whom Trump referred to as "the rabbi from Iowa" even though he was not a rabbi, had become a cause célèbre in some parts of the Orthodox community.
The former president also said he was confused as to why he got only 26% of the Jewish vote in his failed reelection bid. "It doesn't make sense that Jewish people and people that love Israel" would choose a Democrat for president, he said. "How do you do that? How do you do that when they're really inducing possible destruction of Israel?"
"Somebody in this room may explain it one day," he continued. "But I don't understand it. I am honored to do it but it doesn't make sense." 
While he didn't condemn West and Fuentes, Trump cited a line from his 2019 State of the Union speech, in which he said the U.S. "must never ignore the vile poison of antisemitism, or those who spread its venomous creed. With one voice, we must confront this hatred anywhere and everywhere it occurs." 
Trump also repeated falsehoods he has repeatedly told about the 2020 election, which he denies he lost. "If the election wasn't rigged and stolen" all of the Arab countries would have signed onto the Abraham Accords, the normalization deals with Israel," he said. "We kind of had all waiting in line."
As he started his speech, Trump acknowledged the rabbis in the room, calling  98-year-old Rabbi Shmuel Kamenetsky from Philadelphia, who endorsed him in 2020, "young and beautiful."
"There's something nice about being a rabbi, I think," he joked. 
And Trump concluded his remarks by offering the group "one little piece of advice that I think is very important," which is confronting the Israel critics in Congress. "Congress is almost anti-Israel, I would say," he said, singling out a progressive group of House members known as "The Squad."  He called them "very much opposed to Israel and frankly to Jewish people." 
"You have to treat your friends with respect, you have to treat your friends with dignity and you have to be loyal to those friends," Trump said.
This post has been updated.