Fast Forward
7 killed in Jerusalem synagogue shooting and 2 wounded in subsequent attack
A 13-year-old boy is the suspect in an attack Saturday on Jews walking toward the Western Wall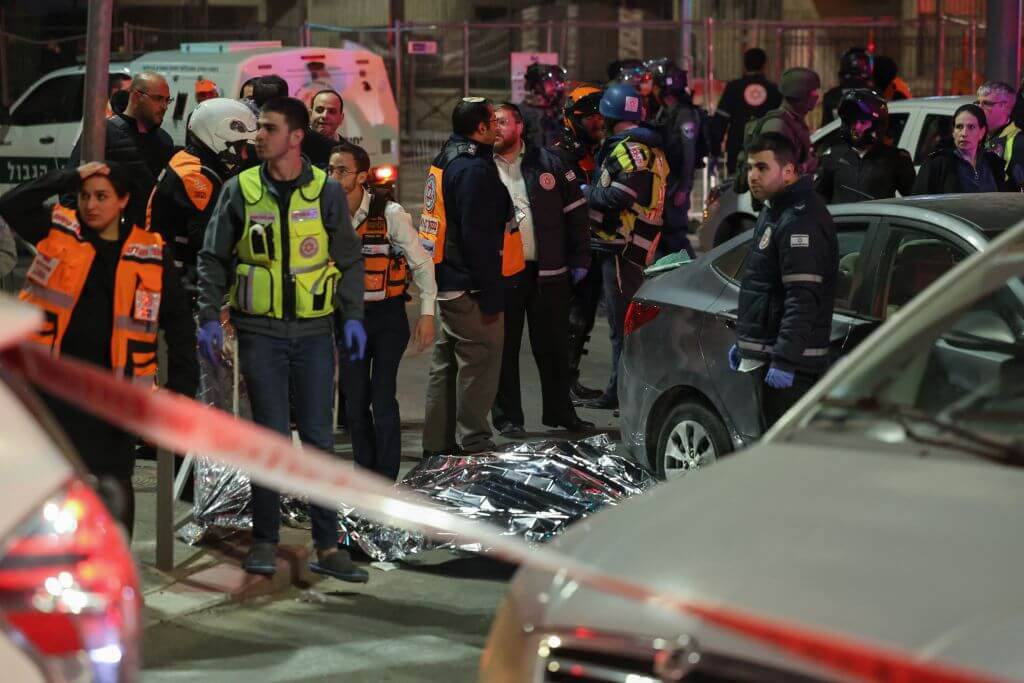 A 13-year-old suspect shot at five Jews walking toward the Western Wall Saturday, wounding a father and son — an off-duty IDF officer who shot back at the suspect. The boy received medical treatment and is conscious, Ha'aretz reported.
That attack followed a shooting in which seven people were killed and three wounded after a gunman opened fire on people leaving an East Jerusalem synagogue after Friday night prayers. The suspect, who police identified as a 21-year-old Palestinian man who appeared to have acted alone, was killed by security forces after attempting to escape in a car.
The attacks came in the wake of the most deadly Israeli raid in the West Bank in years, in which nine were killed Thursday. The spiraling violence challenges a new coalition government that includes ministers who have promised take a hard line in the Israeli-Palestinian conflict.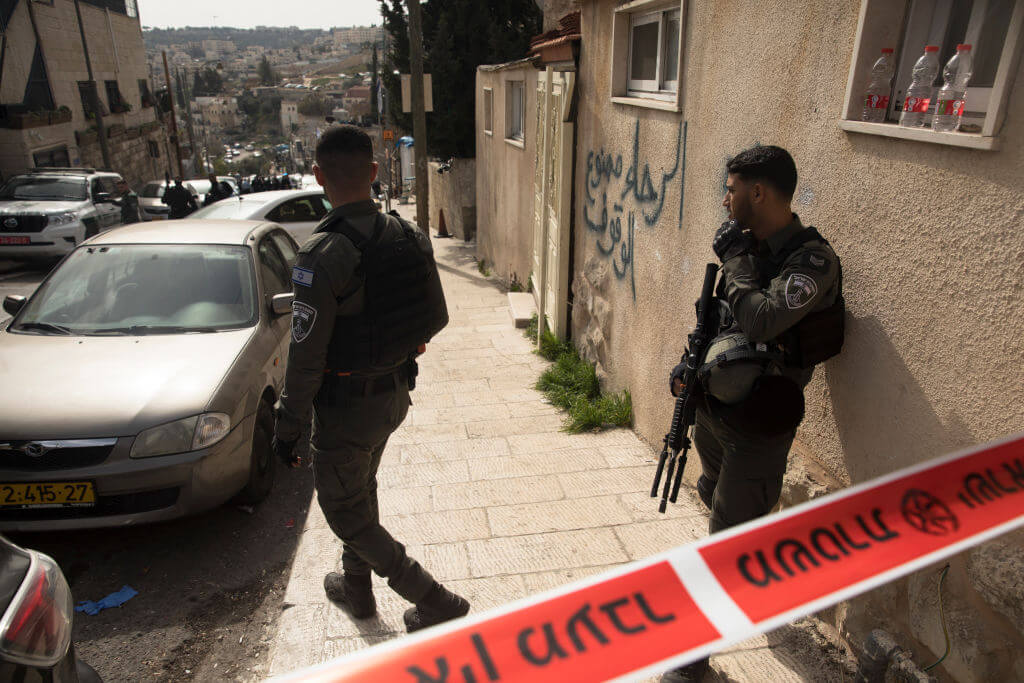 Israel has arrested dozens in relation to the synagogue attack, and the IDF has increased forces in the West Bank.
Two killed outside the synagogue are the first whose identities were released: a married couple, Eliyahu Mizrahi, 48, and Natalie Mizrahi, according to Ha'aretz.
Condemnation came from the U.S., the U.N. Britain, the U.K., France and Jordan.
"We strongly condemn the heinous terror attack that took place this evening at a synagogue in Jerusalem, and are shocked and saddened by the loss of life, including the killing of at least eight innocent victims," read a Friday statement from White House Press Secretary Karine Jean-Pierre. "The United States will extend our full support to the Government and people of Israel."
Horrific act of violence at a Jerusalem synagogue on International Holocaust Remembrance Day. I am shocked and disgusted at this heinous terrorist attack on innocent people, including children. Praying for all of the victims and their loved ones.

— Ambassador Tom Nides (@USAmbIsrael) January 27, 2023
No group has claimed responsibility for the attack, which took place in Neve Yaakov, a settlement in East Jerusalem, but Hamas and Islamic Jihad praised it as retaliation for the military raid, in Jenin. The raid left nine Palestinians dead there with an additional death elsewhere. Israeli officials said it was necessary to prevent a major attack.
Palestinian Authority President Mahmoud Abbas declared three days of mourning and suspended security cooperation with Israel after the raid, increasing worries that it would be more difficult to tamp down mounting tensions.
Protests and clashes with police in the West Bank followed the funeral of one of the Palestinians, a 22-year-old man.
Seven rockets were fired from Gaza into Israel Thursday night, according to Ha'aretz. The Iron Dome missile defense system intercepted four and three fell in open areas. Israeli forces attacked targets in Gaza in response. Islamic Jihad claimed responsibility for the rocket launches. 
State Department spokesperson Vedant Patel told reporters Friday that U.S. officials were in touch with their Israeli counterparts and that Secretary of State Antony Blinken will still make his planned trip to the region this weekend. He intends to travel to Egypt, Israel and the West Bank. CIA chief Bill Burns left for Israel in the wake of the Jenin raid and plans to meet with Abbas in the West Bank city of Ramallah on Saturday.
The political backdrop
The incident was the most serious targeting of Israelis since Prime Minister Benjamin Netanyahu formed a new government in December after a close election and warnings from moderates and progressives that his right-wing coalition partners would inflame the Israeli-Palestinian conflict. The government includes ministers who want to loosen the rules of engagement for Israeli police and to expand Jewish settlements in Palestinian areas. Netanyahu, who headed to the scene of the carnage Friday evening, had promised that he would be calling the shots, not those who would incite violence.
Israel's National Security Minister Itamar Ben-Gvir, known for his far-right views, arrived to a mix of cheers and jeers at the synagogue. Some shouted, "It's now on your watch." Later chants of "death to the terrorists" broke out. In the past, when he was not a government minister, his visits to the scene of terrorist attacks often drew charges that he was seeking to heighten tension to achieve his political goals.
National Security Minister Itamar Ben Gvir welcomed at the scene by a mix of cheers and jeers.

Some shouted, "it's now on your watch."

Later chants "death to the terrorists" broke out. pic.twitter.com/sksiJUAp6x

— Jacob Kornbluh (@jacobkornbluh) January 27, 2023
The Biden Administration is invested in keeping the Middle East quiet while it focuses its energies on assisting Ukraine in repelling Russia's yearlong war on the country. The U.S. and Israeli militaries this week carried out a major joint military exercise widely seen as a signal to Iran, Israel's deadliest enemy, that any major escalation would be met with massive military force.
Neve Yaakov is one of the neighborhoods in East Jerusalem built by Israel after it captured the area in the 1967 War. The aim was to increase the Jewish population in the city's eastern sections, though Palestinians have rented apartments there in recent years. It is located near the barrier between Jerusalem and the West Bank, and near areas controlled by the Palestinian Authority.
The last major attack on an Israeli synagogue was in 2014, when five people were killed by two Palestinian cousins who targeted Kehilat Bnei Torah in West Jerusalem. The dead included four Jews at prayer and a security guard from Israel's Druze minority. The Palestinian Authority condemned that attack but as of Friday night in Israel had not issued a statement on the East Jerusalem attack.
U.N. Secretary General António Guterres said in a statement that it is "particularly abhorrent" that the attack targeted a place of worship, and was perpetrated on International Holocaust Remembrance Day. He expressed worry over the escalation of violence. "This is the moment to exercise utmost restraint."
As Shabbat begins here in the US, our thoughts are with the victims and families of the horrific terrorist attack at the Jerusalem synagogue, a sacred place of worship for Jews. We pray this Shabbat is peaceful in Israel and around the world.

— ADL (@ADL) January 27, 2023
JTA contributed to this story.