Fast Forward
'I wasn't aware of the fact that there are tropes about Jews and money,' Rep. Omar says on CNN
Rep. Ilhan Omar addressed past antisemitic tweets and criticism of Israel as she fights Republican efforts to remove her from key House panel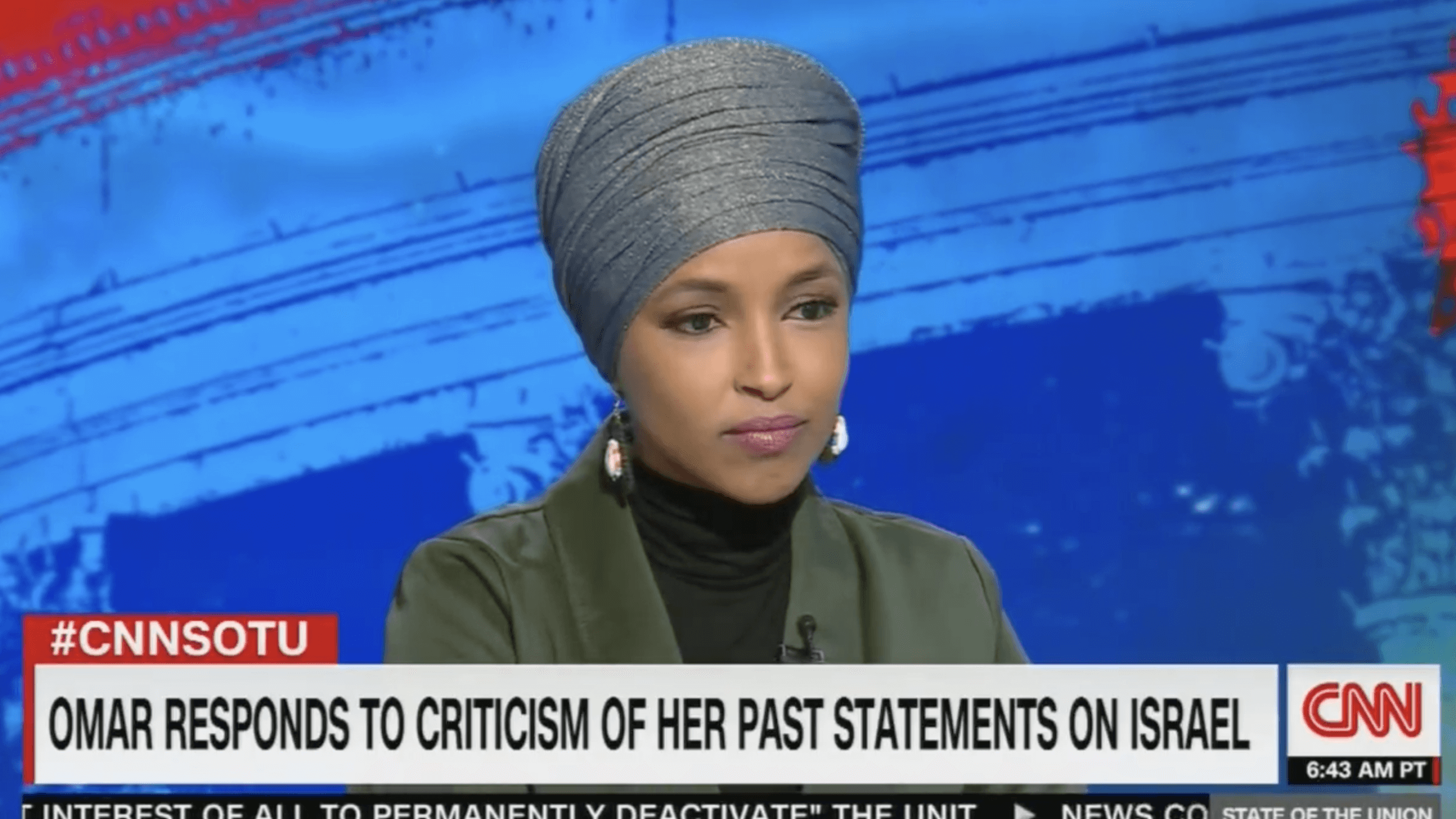 Rep. Ilhan Omar, a Democrat from Minnesota, spoke in detail in an interview Sunday morning about her past social media posts that were perceived as antisemitic. 
"Yes, I might have used words at the time that I didn't understand were trafficking in antisemitism," Omar said in an interview on CNN's State of the Union program. "When that was brought to my attention, I apologized. I owned up to it. That's the kind of person that I am."
The remarks come as Omar fights back House Speaker Kevin McCarthy's efforts to remove her from the House Foreign Relations Committee.
In 2019, Omar came under fire for tweets accusing the American Israel Public Affairs Committee of paying politicians to support Israel. Years earlier, Omar wrote that "Israel has hypnotized the world" during the war with Gaza in 2012. She later apologized for her comments. 
CNN host Dana Bash, who is Jewish, read a list of grievances against Omar that Republicans presented at their conference last week, which they said warrants her removal. "Included in that list is that you said that Israel hypnotized the world," Bash said. "You said Israel is an apartheid regime, that politicians with pro-Israel stance — stances were all about the Benjamins, which you very notably apologized for; that you support the BDS movement, which a lot of people think is rooted in antisemitism; compared the U.S. and Israel to Hamas and the Taliban." 
Asked to respond, Omar said that she was not aware at the time that the word "hypnotize" was an antisemitic trope. "I wasn't aware of the fact that there are tropes about Jews and money," she said. Omar said she has since learned about antisemitism, calling it "very enlightening" and that she voted "for every single resolution" condemning antisemitism. "And I continue to work with my colleagues and my community to fight against antisemitism." 
Ilhan Omar on CNN: "I might've used words at the time that I didn't understand were trafficking in anti-Semitism. When that was brought to my attention, I apologized, I owned up to it. That's the kind of person that I am." pic.twitter.com/4vZ4kqq6ht

— Aaron Rupar (@atrupar) January 29, 2023
Omar also appeared to explain comments she made in 2021, during the 11-day flare-up between Israel and Hamas, listing the United States and Israel alongside Hamas and the Taliban as entities that needed to be held accountable for what she called "unthinkable atrocities." She said she was trying to make a point about the importance of the International Criminal Court. "And if they want to debate political differences, and that's something that we should all have the opportunity to do so." 
McCarthy has repeatedly said he would follow through with his promise to remove Omar from the committee. But the speaker does not have the power to remove a member of a standing committee on his own – it takes a majority vote on the floor – and McCarthy might not have the votes to do that. 
Omar was joined on the CNN program by Democratic Reps. Adam Schiff and Eric Swalwell from California who were blocked by McCarthy last week from being assigned to the House Intelligence Committee. Omar was formally reappointed to the Foreign Affairs Committee by the Democratic leadership on Sunday. 
Schiff, who is Jewish, demurred when asked if he thought Omar's "it's all about the Benjamins" comments were antisemitic.
"I don't want to dignify the pretext that they're giving for any of us," he said, accusing McCarthy of hypocrisy. "What they're doing is really catering to the most extreme members of their conference," he said, mentioning the appointment of Rep. Marjorie Taylor Greene from Georgia, who was stripped of her House committee assignments in 2021 for incendiary comments including some that were antisemitic, to the Homeland Security and Oversight and Reform committees and Rep. George Santos from New York, who lied about having Jewish ancestors, to lower level committees.  
"They're OK with trafficking in their own ways in antisemitism," Omar said about the Republicans. "They are not OK with having a Muslim have a voice on that committee."