Fast Forward
When you're the only Jew in the statehouse, nobody gets your jokes
Esther Panitch on being Jewish in the South, the pressure of being Georgia's only Jewish legislator and her bill on antisemitism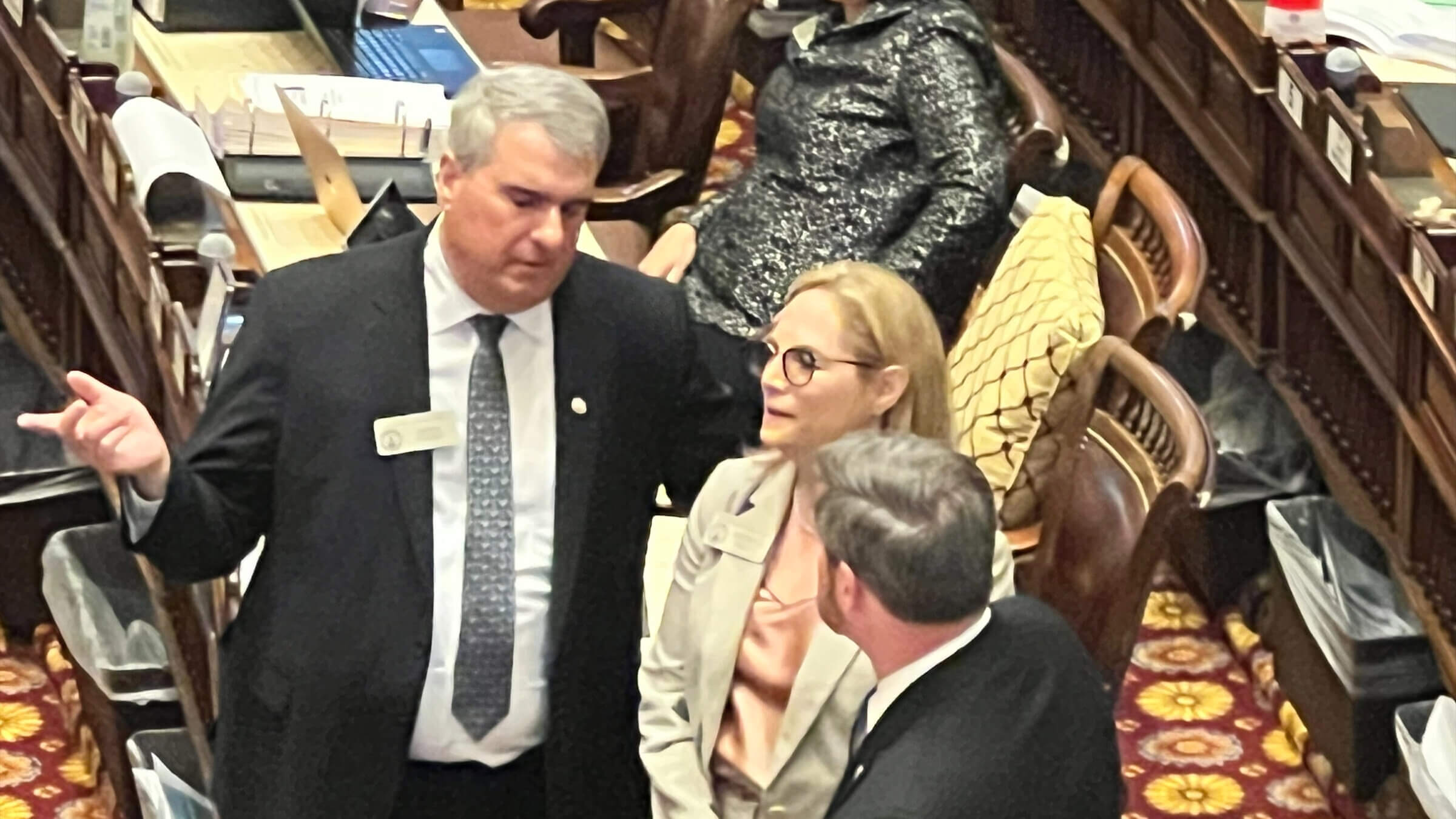 When Esther Panitch stepped to the podium in the Georgia statehouse to address her colleagues on Monday, it was all just a little too perfect: a Jewish woman named Esther, standing up to antisemitism on the eve of Purim.
Speaking to the Forward a few days later, after her colleagues overwhelmingly voted in favor of a bill she co-sponsored that enshrines a definition of antisemitism into law, Panitch said the fortuitous timing was entirely accidental. The bill had come out of committee in February and sat before the rules committee for days before it came to the floor for a vote. During that time, as the only Jewish legislator in Georgia, only recently elected to public office in 2022, Panitch "lost sleep" waiting.
"When I wrote that speech, I was going to be talking about Purim as the following week or two weeks away," said Panitch, who is 51. "I never thought we'd be waiting until Erev Purim. I just couldn't believe the timing, the way it worked out. I had no control."
The bill passed with bipartisan support — and Panitch gives much of the credit for that to her Republican colleague and co-sponsor, John Carson. But it did come under criticism from some of Panitch's fellow state Democrats on the grounds that the bill could be used to silence criticism of Israel or because they believed antisemitic crimes were already covered under an existing hate crimes law. Panitch called the split in her party "incredibly disappointing."
But with the bill passing through the house, Panitch said she believes there's plenty of support from both parties in the Republican-dominated state senate to get this bill to Gov. Brian Kemp by the end of March. 
The following conversation has been edited for clarity and length.
Can you tell our readers a bit about yourself and your Jewish background?
I grew up in North Miami Beach, Florida, which has a large Jewish population. I was raised to be proud of my Jewish identity. I went to Camp Ramah in Massachusetts, probably for two summers, and we used to drive up there. So from South Florida, to Massachusetts, we would drive through the South. And I remember once seeing "No blacks and no Jews" at a restaurant, on a sign. I don't remember where it was but it scared me.
Then I went to debate camp in high school, I went to Wisconsin. My friends and I were talking; somehow being Jewish came up, and a girl started looking at our heads. My friend was like, "Are you looking for our horns? We had our horns clipped this week." And she was like, "Oh, you did a good job." And we were like, like what? You know, she thought we were serious. She had never met someone Jewish before. So it's just things that you kind of come across.
We moved to Atlanta in 2004 for my husband's job. I had no intention of leaving Florida. I took the bar in Florida and I said, "Never doing this again." And all my schooling was done in South Florida, like University of Miami for college and law school. And I had no desire to leave. We thought we were coming right back because the position my husband had was supposed to be up in two years. And then we stayed. We really liked Atlanta. Our kids had already been born in Miami. They were young. But Atlanta was very welcoming, and it has a strong Jewish community, just smaller.
I found out that there would be no Jewish legislators in February of last year but there was a position open in my district, because the person who had it was running for Senate. He had actually called me a few months before that to say that he was running for Senate, was I interested in running for his seat? And I ignored him because I wasn't. But when I found out that there would be zero Jewish representation, that was it. I ran.
Does being the only Jewish legislator in Georgia weigh on you?
Yes, for sure. Definitely my blood pressure has gone up! But yeah, of course, you feel the weight of it, and especially in a community that's being terrorized right now. My house got some of those flyers. It was already after the bill had been introduced. But it was personal. It was and had been going on for months, but then it came to my doorstep, my driveway specifically. And the police didn't do anything. They knew who it was; these people aren't shy. In fact, on Twitter, somebody essentially accused me of making this up for political opportunism. And the Goyim Defense League couldn't even handle that. They tweeted, "No, we did this."
But yeah, it weighs on me. First of all, as a funny line, nobody gets my jokes, which is terrible. But on a serious note, people just don't realize the effect that their laws have on minorities, unless these minorities speak up. And because sometimes it's not hate, it's just that ignorance. And until there's a face or voice in the community, who's a colleague, not just a constituent, but a colleague, then it's hard to know how your laws affect people. So if I can put that voice or that face to my colleagues, which I'm trying to do. They should at least know how certain things affect us.
A similar bill made its way through the Georgia House last year but the session expired before the Senate could vote on it. That was before you were elected. Can you describe your history with trying to pass antisemitism legislation?
I really wasn't involved in it; I really didn't know much about it until I was already elected. This wasn't on my platform, it wasn't on my radar. I actually texted the rep the year before and said, "Isn't there a bill that you tried to pass?" That's when I found out about it.
When I got into session in January, the sponsor, John Carson, who deserves all the credit — he's not Jewish, it's his second year trying really hard to pass the bill; I want to be clear, it is not my bill, this is his — he asked me to join, and I'm grateful that he did. He's a Republican, I'm a Democrat, he didn't know me or if I could be worked with. Everybody comes in here a little suspicious of the other side. But I will always be grateful to him for what he did for me, and this community.
He asked me to sign on to this. And I said, of course, and then it had a hearing in the house judiciary. It was tabled because there was some concern about speech, even though it couldn't be clearer that this is not a speech bill. I was asked in the judiciary committee by a Democrat, "Why is a swastika worse for you than it is for a church?" There had been a church that had been defaced with a swastika, and other horrible, hateful kind of stuff. It turned out that church stood by a Jewish synagogue. We think they were targeted because of their work but we don't really know who's behind it, I don't know if they've been caught. But a rep actually said, "Why is the swastika worse for a Jew than it is for a Black church?" And my jaw just dropped. This is somebody who was involved in passing the hate crime law. He's a minority, and to ask that question shows the level of ignorance even among educated people.
In terms of the actual crafting of the bill, it revolves around the International Holocaust Remembrance Alliance definition of antisemitism. How was it decided to use that as the best definition?
That was a decision made before I got involved. Now that I have learned about it, I've become a subject matter expert on it in order to talk about it. It's the most comprehensive definition. So it takes into account not just ancient conspiracy theories and tropes, but contemporary ones, like when anti-Zionism crosses into antisemitism, which is not all the time. It's probably not even most of the time. But it's some of the time and you can't ignore it. People are using it to say, "You're suppressing Palestinian protests." We're not; we're using it to suppress violence against Jews in the name of Israel.
There are these other working definitions like the Jerusalem Declaration on Antisemitism that are alternatives. Were those ever considered, just given the criticism that the IHRA definition can be used to stifle criticism of Israel?
Yes, but to ignore the new type of antisemitism, we'd have to come back in a year or two to add the IHRA definition anyway, given the trend we're seeing in antisemitism coming from the far left. It's not as predominant as the far right, but it is happening and to ignore it kicks the can. It would give antisemites cover for crimes and I'm not willing to give them any cover.