Fast Forward
A Jewish Georgia legislator named Esther helped pass a law on antisemitism on the eve of Purim
Opponents criticized the bill on free speech grounds before it was passed with an overwhelming majority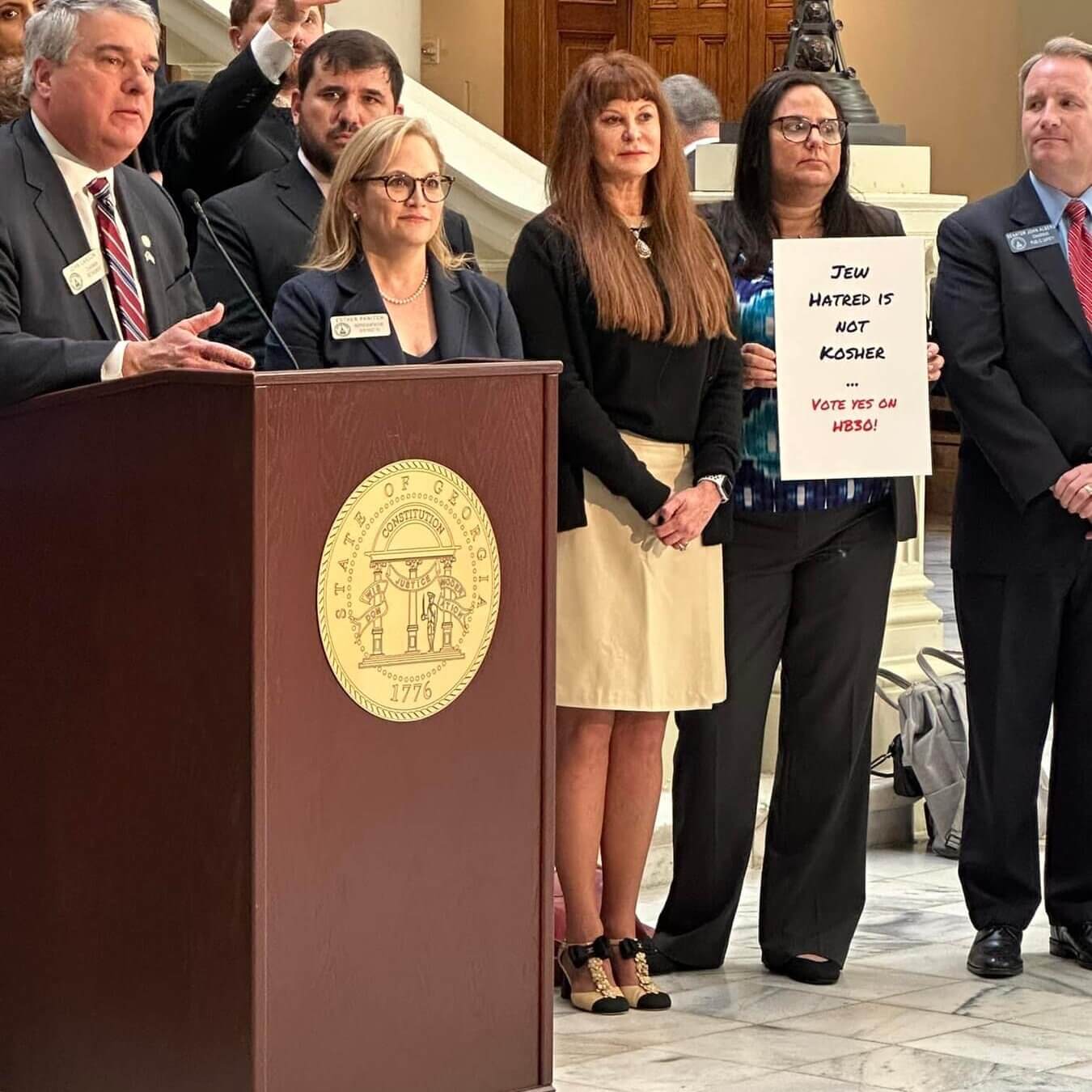 The Georgia House of Representatives overwhelmingly approved a bill defining antisemitism and codifying acts against Jewish people as hate crimes. 
The bill was co-sponsored by a bipartisan group of lawmakers, including Georgia's only Jewish state legislator, Democrat Esther Panitch. It passed by a vote of 136-22 on Monday, shortly before Purim began.
"When my parents named me Esther, they did not imagine me walking the hall of the Georgia capital in the sandal steps of the first Esther," she said. "But perhaps, like that first Esther, it is for this moment that I am here."
Her statement echoed the famous line from the Book of Esther about Esther's destiny as savior of her people, often quoted as: "And who knows but that you have come … for such a time as this."
The bill calls for the state of Georgia to adopt the International Holocaust Remembrance Alliance definition of antisemitism, which is "a certain perception of Jews, which may be expressed as hatred toward Jews. Rhetorical and physical manifestations of antisemitism are directed toward Jewish or non-Jewish individuals and/or their property, toward Jewish community institutions and religious facilities."
While speaking before the vote, Panitch said she "never imagined" the bill would be needed in Georgia but that recent events had made its necessity clear. In February, a month after the bill's introduction, antisemitic flyers were left in the driveways and mailboxes of hundreds of suburban Atlanta Jewish homes, prompting Panitch to give an impassioned speech from the chamber floor about her own family's losses in the Holocaust. On Monday, Panitch mentioned the shootings of two Jewish men outside Los Angeles synagogues, saying the alleged assailant belonged to the same group that distributed the flyers. 
In introducing the bill, Republican co-sponsor John Carson mentioned the flyers and noted that dozens of other states have adopted similar measures, whether by legislative action or executive order.
Carson said the bill does not limit free speech, pointing to language specifying protection of First Amendment rights.
"Antisemitic incidents are on the rise and they keep rising," he said, adding that while Jews make up less that 2% of Georgia's population, they are the target of 60% of hate crimes. 
In her remarks, Panitch made reference to the recent so-called Day of Hate, where some small neo-Nazi groups had vowed to hand out antisemitic flyers and stickers. Few incidents were actually reported.
The bill also included language saying that this definition of antisemitism should be considered when determining whether a law or policy was violated. Georgia criminal law already had a provision allowing for more stringent penalties for crimes motivated by hate towards a protected class, which includes religion. 
Cheryl Dorchinsky, founding executive director of the Atlanta Israel Coalition, was present for the vote. She said the state has seen a marked increase in antisemitic incidents in recent years, including antisemitic graffiti in public schools. She said the response of police was to say that a swastika was a sign of peace.
"But next to it was 'Die Jew,'" said Dorchinsky. "At what point do they step up and offer us the protection we actually need?"
Among those opposing the bill was Democrat Jasmine Clark, who prefaced her statement by saying, "There is no place for hate in our beautiful, diverse state of Georgia" and adding that there is no excuse for antisemitism. But she pointed out that the Georgia hate crime code does not have similar definitions of anti-Black, anti-Asian or anti-Latino racism. 
"Each of these groups could make the argument they've been subjected to an increase in acts of violence over the years. While I certainly do not believe in partaking in oppression Olympics, I do believe a bill such as this may unintentionally have the effect of having each marginalized group wondering where is their definition in the code."
Panitch replied in her own remarks that the bill does not "impinge on the rights or interests of any other group. Protections for Jewish people do not come at the expense of anyone else, except antisemites."
She also defended the bill against accusations that it could be used to stifle criticism of Israel, saying that the IHRA definition of antisemitism specifically says such speech is not antisemitic. But Panitch added that critiques of Israel often spillover into antisemitic speech and actions. A similar bill passed the Georgia House in 2022 but did not make it through the Senate before the legislative session ended.
Panitch did not respond to a request for comment.