Food
I tested five nondairy milks. Guess which makes the best pumpkin pie?
On a quest for the perfect dairy-free kosher pumpkin pie
My quest for the perfect dairy-free kosher pumpkin pie began with a simple phone call. My big brother and I were discussing Thanksgiving plans, and I offered to contribute. Usually, I am relegated to drinks, breakfast the day before, sometimes nothing at all. This year is different. I am being drafted to the major leagues. My brother asked if I would like to make pumpkin pie.
Pumpkin pie! The star of the table (at least during dessert)! Hell yes! No more arriving empty-handed or with a bag full of muffins. It's PIE TIME.
After I hung up the phone, anxiety set in. I am a good baker. My banana bread wins rave reviews at preschool. But I'll tell you a secret, I've never been totally happy with my pumpkin pie. I want perfectly smooth, rich, custard — the kind that is difficult to achieve in a pareve, or nondairy, recipe.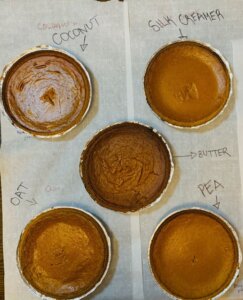 So this was the time to roll up my sleeves and get it perfect. I hatched a crazy plan to bake five pies, with five different fillings, and have my friends and family rank them for the ultimate pareve pie. Let the games begin!
The rules: I set some basic rules. We are sticking with the Libby's pumpkin pie recipe, right off the can. It's a classic, it's delicious, and it's easily executable. I used store-bought gingersnap cookie crust for two reasons. One, it provides standardization — any mistakes I made rolling out or preparing wouldn't affect judging. Two, I love gingersnap crust and strongly encourage it! I didn't add any decorative elements, so we were focused on flavor and texture of filling.
The contenders: Coconut cream, Silk dairy-free soy creamer, Ripple pea milk, Earth Balance and Oatly oat milk. All certified kosher pareve. I skipped nut milks as I don't want my mother to die at Thanksgiving — plus I figure most of you have at least one family member who can't eat nuts.
The judges: I invited my family and friends to participate. The youngest judge is 4 years old to ensure these were kid-friendly. We ranked the pies 1 to 5. One thing to note, all five pies cooked for significantly longer than the Libby's original recipe.
The rankings:
5. Coconut cream (aka "The Total Disaster") I had high hopes for this pie. Coconut cream is common in vegan baking. Sure it has a strong flavor, but maybe it'd be great — like a pumpkin curry vibe. The texture was just wrong. Chalky and off. The flavor of coconut was overwhelming — I couldn't even taste cinnamon. Faces around the table were crestfallen while tasting it. My 4-year-old pushed it aside and politely asked if we could move on.
4. Silk dairy-free soy creamer (aka "Grandma's Way") Instantly better. The pumpkin and fall spice taste was clear, the texture smoother. Yet problems persisted. It wasn't quite the custardy rich dream I had. "It tastes like baby food," complained one judge. "Your judgment is crowded by how awful coconut cream was," said my husband. Onward and upward. Sorry, Grandma.
3. Pea milk (aka "The Hipster") This was the most controversial one. The texture was dreamy, smooth and custardy and rich. The flavor of pumpkin and spice came through. My daughter insists to this day that this is the best one and demands I make "pea pie" again. Others weren't sold. It was very sweet. My husband called it "a sugar bomb." Others felt the vanilla flavor overpowered the cinnamon and spice fondly associated with pumpkin pie. It had a grassy aftertaste that I enjoyed and others abhorred. If you want something to argue about instead of politics, bake pea pie.
2. Earth Balance (aka "The Butterball Turkey") It's so good. It's rich, custardy, creamy heaven. It has an almost browned butter taste. There is unanimous agreement — this pie is delicious. As this is a table full of Jews, debate breaks out. This pie is undeniably good — but is it a pumpkin pie or a butter pie? Are the cinnamon, nutmeg and additional fall spice notes pronounced enough? Does it matter? My husband ranked it No. 1, and he is the only one who actually grew up eating dairy pumpkin pie. There was also no aftertaste, just buttery richness. Bottom line? This pie is an over-the-top rich and buttery crowd pleaser.
1. Oat milk (aka "The Winner") This was the all-around favorite. The texture was gorgeous. Silky, creamy, custardy and rich. It was just perfect. You could taste the pumpkin, the spices and yes, the Oatly oat milk. That said, the oat flavor paired perfectly with warm spices. It was sweet, earthy and nutty, but not overwhelming or distracting. My daughter danced on the chair. Even my husband, the Wisconsin butter-lover, thought this pie was stellar and would be a winner at any table. This is a dream pie. I am eating a slice right now with coffee. It's heaven.
Leftovers
Since I know that many people, including me, bake before Thanksgiving to reserve oven space, I thought it was important to try all the pies again. Also, I couldn't get my friends to take any pie home after I made them eat five slices. I tossed the low-rankers  (no one was willing to eat more coconut) and kept the top three. The tastes did shift a bit. The aftertaste of the pea and the oat faded after the first day. The day after I baked the oat milk it was even more sublime, as the oat taste faded slightly into cinnamon. That said, if you bake on Monday or Tuesday, the cinnamon taste could become overwhelming for younger palates or those who are not fans of strong cinnamon flavors.
Happy Thanksgiving! May your turkey be moist, your stuffing made of challah and your pies pareve and perfect.