Forwarding the News
In her own words: The girl whose bat mitzvah was disrupted at the Western Wall speaks out
Today: Antisemitism spikes on a far-right social media platform, everything to know about Taiwan's Jews and, sigh, rapper apologizes for wearing swastika shirt to music festival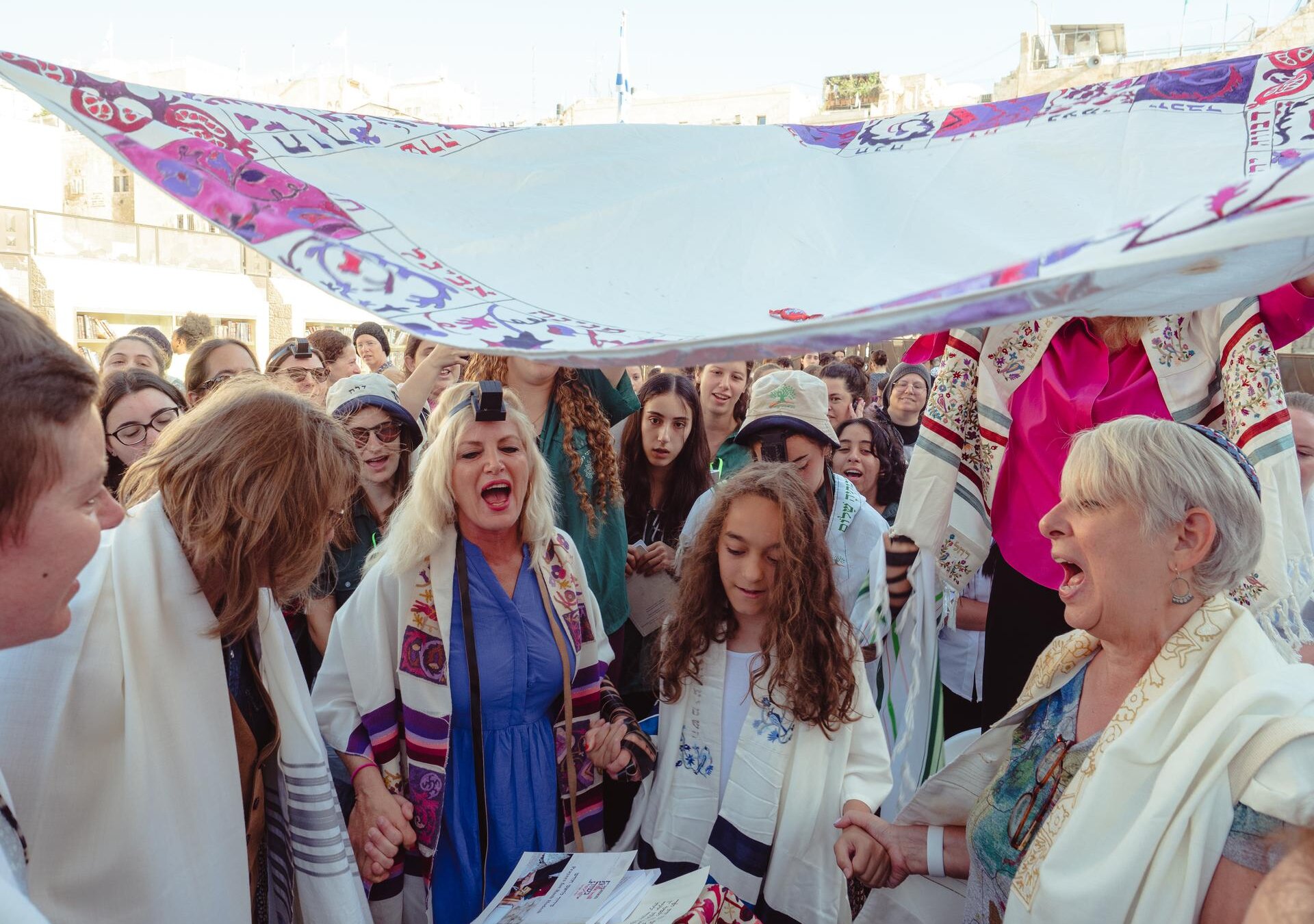 This article is part of our morning briefing. Click here to get it delivered to your inbox each weekday. Benyamin Cohen has the week off, so I'm filling in on the Forwarding desk.

Lucia da Silva was excited to prepare for her bat mitzvah. She thought the hardest part would be learning Hebrew. It turned out to be facing down fellow Jews in Jerusalem who tried to stop her from reading the Torah portion she prepared for her big day. Lucia, who is 13 and plays soccer and basketball, tells the story of that day in a new essay:
"I thought that such a special occasion deserved a special location." While friends back home in Seattle imagined a party with cake and games and dancing, Lucia had other ideas. She decided to observe her Jewish coming-of-age in Israel, at the Western Wall, or Kotel, the holiest site where Jews are allowed to pray.
"I wanted to be part of the movement to gain more rights for women." But not all Jews — at least not any way they want. The ultra-Orthodox Israeli rabbinate controls the site, which is divided by gender, and prohibits women from reading from the Torah there. For decades, a group called Women of the Wall has been protesting the rules, often smuggling Torahs into the Kotel plaza for Rosh Chodesh, the celebration of the new Hebrew month.
"Not just for me but for all the girls to follow." When hundreds of Orthodox men and boys surrounded Lucia and her family at the Kotel, yelling that they were a disgrace to Judaism, she kept herself from giving into fear by imagining that they were there to cheer her on. The Women of the Wall, she writes, "helped make me feel safe and surrounded by love." The group's leader told Lucia, "You're paving the way for your generation and generations to come." 
"I came to the Kotel as a girl to read a portion from the Torah," Lucia writes. "I left as a woman with the responsibility to stand up for everyone's right to recite the prayers of their choice at the place of their choosing."
Doug Mastriano has cut ties with Gab — but hasn't denounced it or its founder. (Michael M. Santiago/Getty Images)

Antisemitism spiked on the social platform Gab after GOP candidate cut ties with it — because of its antisemitism. Doug Mastriano, the Christian nationalist running for governor of Pennsylvania against the state's Jewish Attorney General, was active on the far-right site, which is rife with hate speech. He paid a $5,000 consulting fee to Gab and its founder, Andrew Torba, in April. A wave of public criticism over his relationship with the platform hit after that was reported, and Mastriano disassociated from Gab in response. You can probably guess what comes next: users turned to even more antisemitism. Read the story ➤
As Nancy Pelosi visits, what to know about the Jews of Taiwan. Pelosi's trip, the first by a high-ranking U.S. official in more than a quarter-century, has put Taiwan in the international spotlight. So it's a fine time to learn about the 700-800 Jews who form a tight-knit community there. That community started in the 1950s, and its first resident rabbi died last fall at age 103. Read the story ➤
ICYMI: Tuesday's big news was the assassination of Al-Qaida leader Ayman al-Zawahiri by an American drone strike. Our Rob Eshman has the Jewish take: Israel inspired Zawahiri's jihad. Here's why he failed.
Democratic Rep. Andy Levin, who lost his hotly-contested Michigan primary on Tuesday. (Jemal Countess/Getty)

WHAT ELSE YOU NEED TO KNOW TODAY
The rapper Slowthai — no swastika shirt, this time. (Paul Morigi/Getty)

🙄  A British rapper apologized (kind of) after wearing a shirt depicting a swastika on stage at a Montreal music festival. Slowthai, whose given name is Tyron Kaymone Frampton, said the shirt, on which the word "Destroy" was blazoned over the swastika, was in fact meant to stand against "antisemitism and racism." He apologized, he said, to "anyone who is offended by me wearing an anti-racist/anti-regime T-shirt." (Toronto Star)
😔  A Republican state lawmaker in Indiana who appeared to compare Jewish perspectives on abortion rights to condoning murder faced fallout from Jewish groups. Speaking last week about those whose religion allows for abortion, as Judaism does, State Sen. Michael Young said last week, "It seems to me we can't use our religion to protect life, but they can use their religious beliefs to kill life." On Tuesday, the Indianapolis Jewish Community Relations Council called on Young to retract his words. (Fox 59)
🤔  An antisemitism scandal derailed the major German art exhibition documenta this year, eventually leading to its director's resignation. Now, an expert panel will develop recommendations for how Germany should handle the sensitive issue of antisemitic art — particularly tricky in a country where the right to free artistic expression is constitutionally protected but Holocaust denial and displaying Nazi imagery are against the law. (DW)
✡️  Holocaust survivors in Rhode Island spoke out this week in response to a local restaurant's recent post that referenced Anne Frank and an oven to entice customers during a stifling heat wave. "It always comes back to education, education, education," said Wendy Joering, who directs a nearby Holocaust education center and helped organize the event. (Newport Daily News)
🌊  Have Israeli researchers solved a long-standing seafaring mystery? Experts have wondered for generations how ancient sailors navigated westward on the Mediterranean, against prevailing winds. A group of scholars aboard a painstaking reconstruction of a 2,400-year-old merchant ship appear, after many test voyages, to have found an answer. (Haaretz)
📖  It's time for some breaking news about, uh, Oliver Cromwell? Turns out the Puritan military leader who ruled England for five years in the 17th century, and whose historical legacy has been in part defined by his image as a domestic religious crusader, was actually committed to religious freedom, including for Jews,. He apparently saw Jewish expertise in trade as well worth the price of religious freedom. (Guardian) 
What else we're reading ➤  On being "the only rabbi who has ever gotten to cast an Oscar ballot" … On the Jewish actor who's become Hollywood's "go-to guy for toxic men" … On being a Sephardic musician recording an album in Ladino.
On this day in history (1913): The legendary television comedy writer Mel Tolkin was born, named Shmuel Tolchinsky, in a shtetl near Odessa, Ukraine. Tolkin was the Emmy-winning head writer of "Your Show of Shows," a hit variety sketch series that aired on NBC from 1950 to 1954. The show is now most famous for giving comedians including Mel Brooks, Neil Simon, Carl Reiner and Larry Gelbart their starts in its writer's room. Tolkin's son, Michael, followed in his footsteps in showbiz; he's a screenwriter whose credits include "The Offer," a miniseries on the making of Francis Ford Coppola's masterpiece "The Godfather" that emphasizes its Jewish echoes. Tolkin died on Nov. 26, 2007, at the age of 94. 
Last year on this day, we reported that a Jewish summer camp in Wisconsin closed early due to a COVID outbreak. This year, however, several camps have come to terms with the ongoing pandemic and set up COVID bunks.
In honor of National Georgia Day, check out these 10 Jewish facts about the Peach State.
In 2013, as Women of the Wall celebrated its 25th year of fighting for egalitarian prayer at the Kotel, the Associated Press captured a sense of what all those years of battle at the site had been like. "I think holiness is abundant," said one woman activist. "There's room for all of us here."
–––
Play today's Vertl puzzle (aka the Yiddish Wordle)
Thanks to Jacob Kornbluh and Sarah Nachimson for contributing to today's newsletter.
You can reach the "Forwarding" team at [email protected].


Support Independent Jewish Journalism
The Forward is a non-profit 501(c)3 so our journalism depends on support from readers like you. You can support our work today by donating or subscribing. All donations are tax-deductible to the full extent of US law.
"America's most prominent Jewish newspaper" — The New York Times, 2021