Forwarding the News
The Jewish justice who helped preserve abortion rights in Kansas + What AIPAC had to do with Andy Levin's defeat
Today: One more stab at talks over an Iran deal, alarming polio vaccination statistics and another — yes, really, another — chapter in the Ben & Jerry's West Bank saga.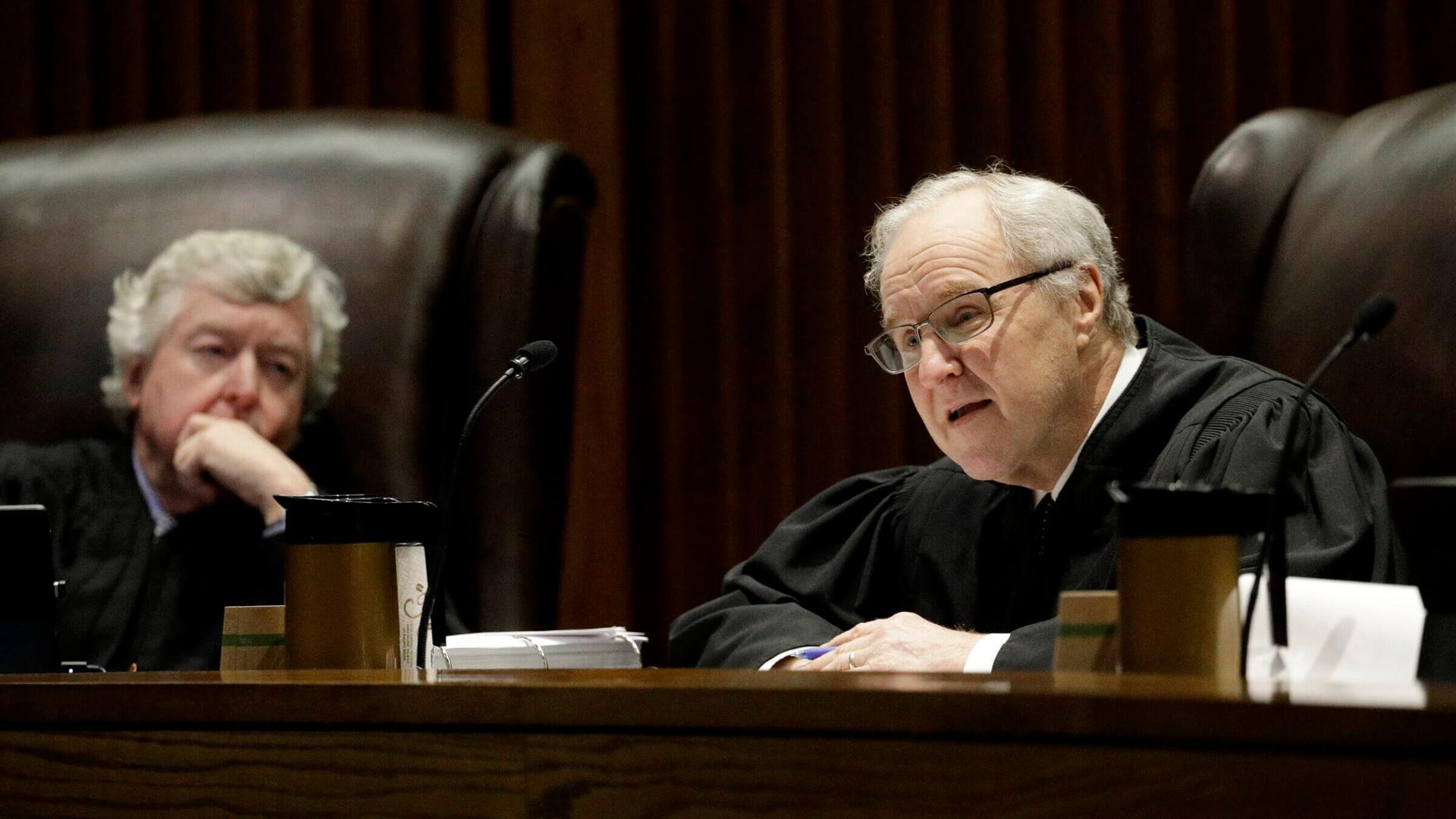 This article is part of our morning briefing. Click here to get it delivered to your inbox each weekday. Benyamin Cohen is off this week, so I'm filling in on the Forwarding desk.

Meet the Jewish judge who helped protect abortion in Kansas. Three years ago, Justice Eric Rosen joined a 6-1 majority of the Kansas Supreme Court in ruling that the state's constitution guaranteed the right to abortion. With Kansas voters overwhelmingly rejecting a ballot measure on Tuesday that would have undone that, our Arno Rosenfeld took a closer look at Rosen, a stalwart of Topeka's Jewish community whose synagogue membership is included in his official court biography. Those who know him say Rosen has a meaningful human touch: "He is attentive to the real world consequences of his decisions." Read the profile ➤
How Andy Levin's defeat was — and wasn't — all about AIPAC. The pro-Israel lobby was quick to celebrate Rep. Haley Stevens's victory over Levin, a first-term congressman from a Michigan Jewish political dynasty — no surprise, given that its Super PAC had pumped $4.2 million into her campaign. But Jacob Kornbluh explains that there were a lot of other factors at play. Redistricting was a key one, along with Stevens' popularity well before the influx of cash from AIPAC and other groups that took issue with Levin, a former synagogue president, over his sponsorship of legislation that would have blocked expansion of settlements in the West Bank and called East Jerusalem occupied territory. Read the story ➤
Alex Jones admitted Sandy Hook was '100% real.' What does that mean for Lenny Pozner and others who lost children? Jones, a far-right radio host, spent years spreading conspiracy theories about the 2012 massacre at a Connecticut elementary school, including that the whole thing was a hoax, and that grieving parents like Pozner — whose son Noah was the youngest of the 26 killed — were paid actors. Jones finally admitted those claims were false on Wednesday, in a defamation trial. It's much too little, much too late for Pozner, who is slated to testify against Jones next month. "He targeted me," Pozner said in a recent podcast. "He created these memes that were just amplified and repeated thousands of times all over the world, things that, to this day, I can't get removed." Read the story ➤
Doug Mastriano fights back against antisemitism accusations, citing use of shofar. Mastriano, the Republican nominee for governor of Pennsylvania, pushed back this week against criticism over his association with Gab, a social media platform rife with antisemitism. He mocked Democrats and journalists who took issue with his campaign announcement, where a man donned a tallit and blew a shofar. "You know, you have too much Jewishness in your events, now you're antisemitic," Mastriano said. "This is bizarre." Read the story ➤
First-person | Preparing bodies for burial showed me how to live a more sacred life: Hannah Lebovits touched a dead body for the first time this year, when she began volunteering for a Chevra Kadisha, or Jewish burial society. The deeply intimate, ritualized yet clinical nature of the work leaves space, she writes, for a very particular kind of honesty, especially because it is mainly done by volunteers without fanfare. Lebovits walks us through each step of a tahara — purification — she performed, each step designed to bring respect and comfort to the deceased. "We do not even pause while setting up the casket to describe to the funeral home manager why we do what we do," she explains. "It is the deceased who own this experience, it is not ours to co-opt." Read her essay ➤
But wait there's more…
•  Suspected Highland Park shooter pleaded not guilty
•  Blake Masters, Republican who once cited a Nazi official, among far-right candidates to prevail in Arizona primaries
WHAT ELSE YOU NEED TO KNOW TODAY
Iran's chief nuclear negotiator, Ali Bagheri Kani (right), arrives at talks in Vienna Thursday morning. (Alex Halada/Getty)

🤔  Talks over a proposed new Iran deal will resume in Vienna, and no one seems optimistic. Josep Borrell, the E.U. official facilitating talks, indicated last week that if the countries involved can't come to an agreement on the most recent iteration of the deal, it's probably doomed. (Washington Post)
🍦  The year is 3022, the planet is mostly swamp, and we are still talking about Ben & Jerry's and the occupied West Bank. The latest: The ice cream producer now says its parent company, Unilever, froze executives' salaries last month to increase pressure after Ben & Jerry's filed a suit to stop the sale of its Israeli business to a licensee who planned to resume sales in West Bank settlements. (Haaretz)  
🤦  Not great: Rockland County, where the country's first polio case in a decade was detected last month, has a way-below-average childhood vaccination rate. New York State health officials say 60.5% of 2-year-olds in the county are vaccinated against polio, compared to a statewide average of 79%. Officials have asked leaders of the area's Orthodox communities to encourage vaccination. (Ars Technica, New York Jewish Week) 
😔  Also not great: Jews, who make up around 1% of Canada's population, were the religious minority most targeted by hate crimes in the country in 2021. Canada's official statistics agency reported that Jews were the victims of 14% of its hate crimes reported last year, and that reports of antisemitic crimes had jumped 47% from 2020. The U.K., France and the Netherlands have all recently reported upticks in anti-Jewish hate crimes. (JTA)
🕵️  File under: Dude, aren't you Jewish? Lloyd Blankfein, former CEO of Goldman Sachs, came under fire for tweeting an odd defense of, uh, Hitler. In an entirely preventable display of weird judgment, Blankfein invoked the Nazi leader in a response to President Joe Biden saying that the U.S. would step in if Vladimir Putin were to deploy chemical weapons in Ukraine. "Worth noting even Hitler didn't permit his military to use chemical weapons, though he had them," Blankfein wrote on Twitter. Um, not really worth noting, though Blankfein is not the first to publicly forget that the Nazis used chemical gas to kill millions of people in concentration camps; former White House press secretary Sean Spicer did the same in 2017. (Daily Beast)
🎥  Hollywood got a shock this week when HBO Max announced it was shelving the nearly-completed "Batgirl," whose pricetag topped $90 million. Now, David Zaslav, the Brooklyn-born studio chief who made the call, is catching flack for it. Zaslav reportedly canned the project to get a tax write-down, a move that, in light of HBO Max's quiet removal of some of its original film projects (RIP, "An American Pickle"), has observers worried a streamer regarded as a prime producer of original content is about to make a worrisome pivot. (Hollywood Reporter, Vanity Fair) 
🤯  Speaking of streaming, taking bets on how long until movie rights to this story get snapped up: Saraleh Sharon, Israel's most notorious Eurovision star, was also a secret agent in the Soviet Union. This story, I promise you, truly does have everything. Perhaps the worst Israeli entry to Eurovision ever! A nervous novice agent staging an impromptu concert to get through a tense airport security check! The late-night exchange of a mysterious heavy object in a subway station! Give the people what we want: This, on our screens, preferably without David Zaslav in charge. (Haaretz) 
What else we're reading ➤  Cynthia Ozick on her correspondence with a German soldier in the wake of WWII … Vivian Gornick on the secretive club of women who were, in 1912, at the "heart of bohemian Greenwich Village" … Rereading the 1983 novel by a Bronx-born Jew that captured "the drama of psychoanalysis."
In this episode, Bintel hears from "Sick & Tired," a COVID-cautious listener who contracted the virus at a family reunion from a relative who insisted her symptoms were from allergies. "I can't help but feel some unwarranted resentment toward this person for not taking the pandemic as seriously as I do," she writes. Our hosts break from their usual advice to talk to the offending relative, advising Sick & Tired to instead look inward. Listen now ➤
A copy of the Zohar on a synagogue shelf in Jerusalem. (Getty)
On this day in history (1558): The Zohar, the religious book at the core of Kabbalistic Judaism, was first printed. A collection of books written by Moses de Leon in medieval Aramaic and Hebrew, the Zohar explores mythical commentary on Torah that the author claims was taught by Rabbi Shimon Bar Yochai. In her 2010 book "A River Flows From Eden," Melilla Hellner-Eshed wrote that "the genius of the Zohar as a book lies precisely in its ability to capture the life of the experiences in Rabbi Shimon's circle."
On the Hebrew calendar, it's the 7th of Av, when the First Temple was invaded in 423 in Jerusalem by King Nebuchadnezzar. The Temple was destroyed two days later, on Tisha B'Av. 

In honor of National Chocolate Chip Cookie Day, try this recipe for a multigrain variety from cookbook author Dorie Greenspan.
Season 2 of the acclaimed FX series "Reservation Dogs," co-created by the Jewish Maori writer, director and actor Taika Waititi, premiered on Wednesday to rave reviews. Curious about the show, which co-stars the Jewish Indigenous actress Sarah Podemski? Check out the season trailer, above.
–––
Play today's Vertl puzzle (aka the Yiddish Wordle)
Thanks to Nora Berman, Jacob Kornbluh and Sarah Nachimson for contributing to today's newsletter. You can reach the "Forwarding" team at editorial@forward.com.