Forwarding the News
A quest for NYC's best kosher pizza + What does Jewish law say about the ethics of killing lanternflies?
Montana gets its synagogue back, Shia LaBeouf says goodbye to Judaism, Wolf Blitzer opens up about being the child of Holocaust survivors, and how do you say National Dog Day in Yiddish?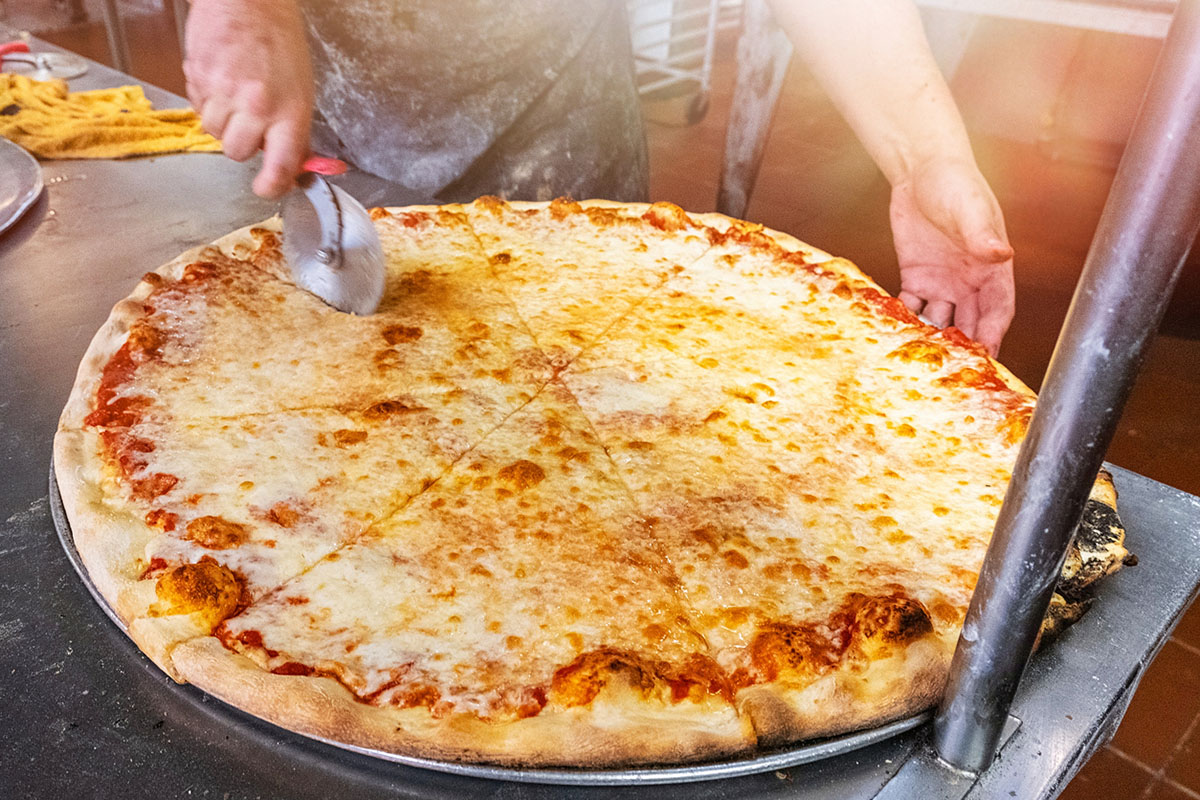 This article is part of our morning briefing. Click here to get it delivered to your inbox each weekday.
Who serves the best kosher pizza in NYC? We found out.
Investigative reporters dive into all sorts of sordid topics: political corruption, legal filings, financial shenanigans. And: pizza. In his first piece for the Forward, Tani Levitt, a master's student in journalism at New York University, set out to find the finest kosher slice in the most Jewish city outside Israel.
The mission: Levitt tasted 18 (chai!) slices of plain across four boroughs, rating them on a scale of 1 to 5 greasy napkins. He considered crust, sauce, presentation and whether the slices were flexible enough to fold and still maintain structural integrity. Apprised of his plans, his concerned mother offered to overnight a box of Lactaid pills. "Foolishly," he writes, "I declined."
A bit saucy: Levitt's pizza peregrination included stops at one place that was lit by "struggling fluorescent lights," and another with a puzzling sign assuring customers that "we do not use apple juice in our dough." Some were so crowded, he had to eat in his friend's Toyota Sienna, a reminder of his high school days. A lot of the joints were cash-only.
Knead to know: Each had its own vibe. The Saturday night scene at Kingston Pizza in Crown Heights, for example, is one of controlled chaos. "Chabad families, teenagers, and yeshiva bochers impatiently waited in line," he writes, "muttering about being hungry while half a dozen portraits of the Lubavitcher Rebbe oversaw it all from the walls."

So which kosher pizza place offered the best slice? Read his story to find out ➤
Park and agricultural officials throughout the mid-Atlantic are encouraging the public to kill the lanternfly. (Flickr)
The lanternfly is a menace. Does Jewish law permit squishing it? Adam Kovac started work as a Forward reporter this week, and for his first byline, he chose the tiniest of subjects: the invasive spotted lanternfly. While officials across the mid-Atlantic are encouraging people to kill these pests, some rabbis are swatting away that idea, citing Jewish law. "If killing one or two of these lanternflies will have no noticeable effect, given our general reverence for life in all its forms," said one Talmud professor, "I see no justification for killing them." Read the story ➤
Opinion | We are two Jewish lawyers fighting for immigration justice in our retirement: Helen and Henry Freedman, a former state court judge and head of a national legal nonprofit, did not imagine they would be spending their golden years inside immigration detention centers. But, spurred by Trump administration changes in immigration policy, they have helped six people successfully petition for asylum over the past five years. Trump is gone, but the caseload has grown, and they're urging other attorneys to volunteer — any member of a state bar can help. "Now that the Supreme Court has affirmed that President Biden has the power to rescind the 'Remain in Mexico' policy," they write, "there's going to be an even bigger need." Read their essay ➤

And one more: He escaped one ghetto only to find himself imprisoned in another
Forwarding the News is now also available on our website. Share it on social media or with a friend simply by clicking on the blue button below.
WHAT ELSE YOU NEED TO KNOW TODAY
Temple Emanu-El in Helena, Montana, was built in 1891. (Wikimedia)
🕍  When the tiny Jewish community in Helena, Montana, could no longer maintain its synagogue building, back in 1935, they sold it to the state, asking that it be used for a "good and social purpose." Temple Emanu-El, completed in 1891, housed the state's social welfare offices, and eventually was taken over by the Catholic Church. Now, the Montana Jewish Project, founded in March 2021, has raised enough money to buy it back and create a community and cultural center. "Helena was one of only four state capitals in the nation without a synagogue or Jewish center," said Julie Bir, who was involved with the project. "We've just changed that." (AP)
✝️  Actor Shia LaBeouf, who was raised Jewish, has converted to Catholicism. LaBeouf, 36, said he found God while living in a monastery of Franciscan friars to better understand St. Padre Pio, whom he portrays in a film that premieres at the Venice Film Festival next week. (YouTube, AP)
😮  A federal investigation found that an Arizona school district failed to respond to five months of antisemitic harassment against a Jewish student. In one video, posted to social media, a fellow student carried a rifle while pretending to speak German and imitating a Nazi soldier. (JTA)
🚓  We noted in Tuesday's newsletter that the Jewish Community of Louisville was facing criticism for hiring as a security adviser a former police officer who as at the scene during the police killings of Breonna Taylor and David McAtee. Now, our partners at the Jewish Telegraphic Agency report, he has resigned because of the backlash. (JTA)
🤦  "We know that the pandemic has killed between one and two Holocausts," Argentine President Alberto Fernández said, making such a comparison about the number of victims, for the second time in two months. Not surprisingly, he was criticized by Jewish groups. (JTA)
🌊  A beach pier in Ocean Grove, N.J., a town that some residents refer to as God's Square Mile, was destroyed by Superstorm Sandy a decade ago. It's now being rebuilt by a local religious organization, but some folks in town are concerned that the proposed design resembles a large cross, which one resident said feels like "Christian bullying." (NJ.com)
What we're watching ➤ CNN will air tonight at 11 pm E.T. a documentary called "Never Again" featuring Wolf Blitzer, the child of Holocaust survivors, visiting the Holocaust Memorial Museum in Washington. It includes recordings of his father's Holocaust survival story.

Long weekend reads ➤  'Wandering Jews': A Reform community in Israel battles for a place to pray … How young Yiddishists are making the language more inclusive … Her grandparents fled the Holocaust and she returned to their homeland after reclaiming their citizenship.
Was this newsletter forwarded to you or are you reading it on our website?
Receive it in your inbox each morning by clicking the blue button below.
In this week's edition of our print magazine: Meet the Jewish professor who chose the Ukrainian war front over the classroom; the strange and winding history of the faux-Hebrew font; the baseball legend who's tweeting with an Orthodox voice; and a rabbi in recovery and a parent of a former addict debunk the myth that nice Jewish kids don't struggle with addiction. Download your copy now ➤
The first televised Major League Baseball game took place at Ebbets Field in Brooklyn. (Wikimedia)
On this day in history (1939): The first televised Major League Baseball game was broadcast, on W2XBS, a station that would become WNBC-TV. It was the Brooklyn Dodgers vs. the Cincinnati Reds, and each team had one Jewish outfielder: Goody Rosen on the Dodgers and Mitch Galatzer for the Reds. Here's 12 of the greatest Jewish feats in baseball playoff history.
On the Hebrew calendar, it's the 29th of Av when, according to the Book of Exodus, Moses carved a second set of tablets. He had destroyed the first set when he found the Israelites building a Golden Calf. 
In honor of National Dog Day, for today's Yiddish Word of the Day, the Forward's Yiddish editor, Rukhl Schaechter, teaches us how to say "dog" and otherwise talk to our mameloshn-speaking canines.

Bonus: Our Mira Fox on why some people give their dogs Jew-ish names. Who's a good boy, Groucho Barx?
–––
Play today's Vertl puzzle, the Yiddish Wordle
Thanks to Nora Berman, Samuel Breslow, Jacob Kornbluh, Lauren Markoe,
Sarah Nachimson and Talya Zax for contributing to today's newsletter.
You can reach the "Forwarding" team at [email protected].