Forwarding the News
How a sex scandal in the Catholic Church is helping a New Mexico synagogue get its building back
Judge rules HIV drug mandate violates religious freedom, ADL releases blockbuster report on far-right group, Netflix's new animated series about Jewish teen, and chia pet guru is major donor to Hillel.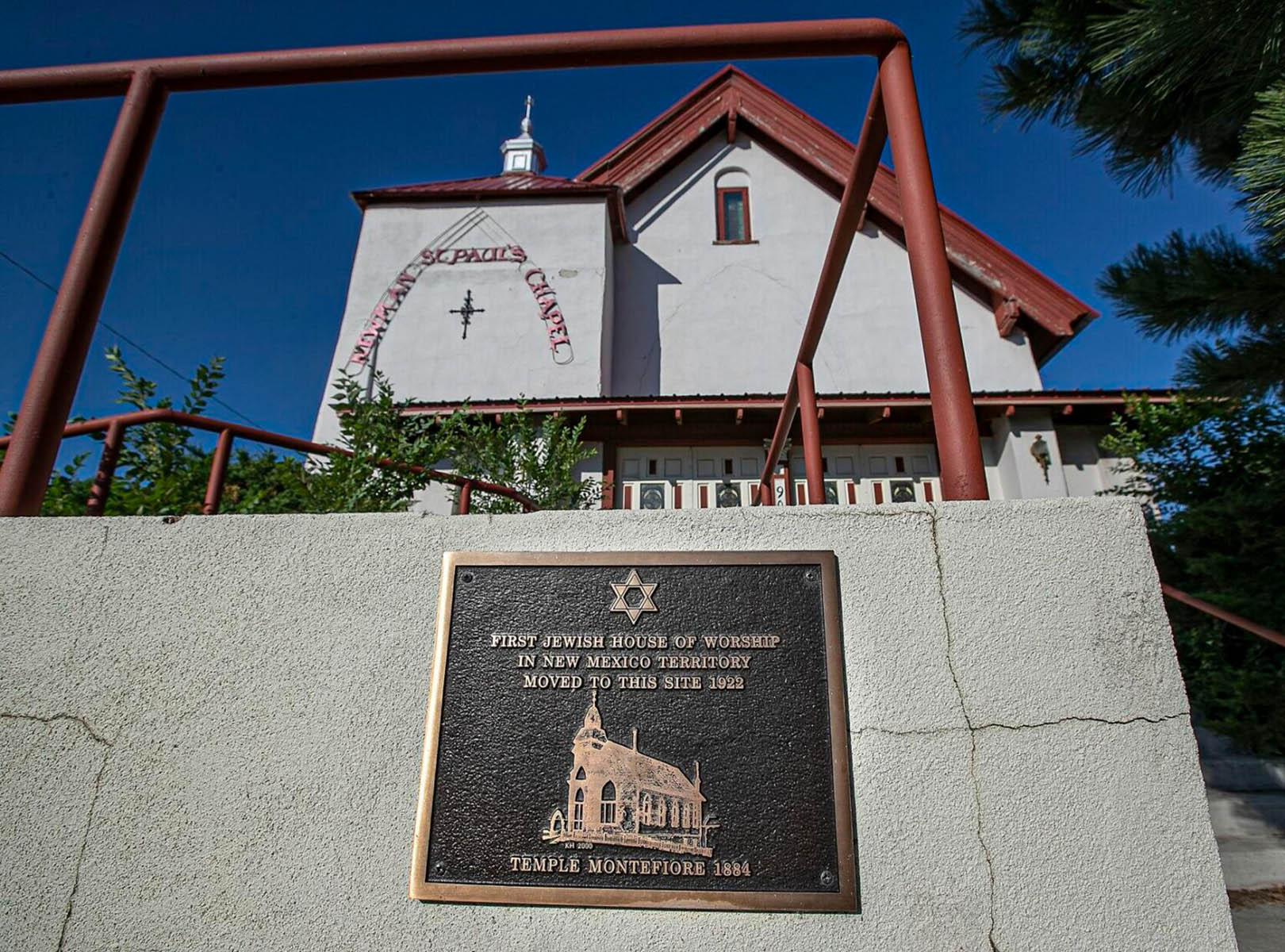 This article is part of our morning briefing. Click here to get it delivered to your inbox each weekday.
They were forced to sell their beloved synagogue to the Catholic Church. Seven decades later, they finally have a chance to buy it back.
Nearly 700 miles east of the glitz and casinos of the Las Vegas strip lies another town with the same name: Las Vegas, New Mexico. It once boasted a large Jewish community and, in 1886, the Temple Montefiore opened its doors. 
Twist of fate: But by the 1950s, the Jewish population had dwindled, and the shul was sold to the local archdiocese. That would've been the end of the story, but a $121.5 million settlement related to a bankruptcy lawsuit and sexual abuse in the New Mexico church has forced a sale of the historic building.
Dialing for dollars: The archdiocese's Aug. 23 bankruptcy agreement gave it 30 days to sell the building. The Jewish community started a GoFundMe aiming to raise $200,000. By this morning it had more than $83,000.
As you'll recall: The situation is in some ways parallel to a recent one in Montana, where the Jewish community bought back its landmark synagogue from the Roman Catholic Diocese of Helena. The plan is to turn it into a community center for Jewish events and interfaith gatherings. 
Sid Caesar in 1998, recreating his role as Coach Calhoun from the 1978 film 'Grease.' (Getty)
Sid Caesar at 100: The centenary of the American Jewish comedian, who was born Sept. 8, 1922, is a fine time to look at how Yiddishkeit influenced his artistry. Some of his oldest friends and colleagues discounted the Jewish aspect of his comic spirit. Mel Brooks, who worked for Caesar as a writer, said in a 2014 appearance on Conan O'Brien's talk show that Caesar "was not even a Jew or a person; he was a force." Read the story ➤
Opinion | Israel's non-apology on Shireen Abu Akleh sends a message that Palestinian lives don't matter: The Israeli military now says it was "highly probable" the prominent Al-Jazeera journalist was shot by an Israel Defense Forces weapon, but that it was an accident and the soldier involved would not face any discipline. Our contributing columnist, Muhammad Shehada, who is from Gaza, notes that Israeli forces have killed dozens of Palestinians since Abu Akleh was slain in May. "The only exceptional thing about Abu Akleh's killing is that because she holds American citizenship and had a high profile, Israel was pressured to give an answer," he argues. "And this week's conclusion of Israel's probe merely shows a continuation of a pattern of deflecting responsibility and relentless audacity rather than a genuine pursuit of revealing the truth and serving justice." Read his essay ➤ 
But wait there's more…
Forwarding the News is now also available on our website. Click on the blue button below to share it on social media or send to friends.
WHAT ELSE YOU NEED TO KNOW TODAY
A member of the Oath Keepers in front of the Supreme Court the day before the Jan. 6 attack on the Capitol. (Getty)
😮  The Anti-Defamation League reports that a leaked list of 38,000 members of the far-right Oath Keepers group includes "hundreds of elected officials, military members and law enforcement officers." (Axios)
🏫  From our colleagues at the Times of Israel: "A Jewish day school in New York secretly continued to employ a staff member whose resignation it had announced in the fallout of a child sex abuse scandal that rocked the community a year ago." (TOI)
💊  A federal judge in Texas agreed Wednesday with a group of Christian conservatives that Affordable Care Act requirements to cover HIV prevention drugs violate their religious freedom. (CBS News)
👶  Separately, another federal judge ruled that New York cannot require a Christian adoption agency to serve unmarried or same-sex couples. This follows a similar case in which Tennessee judges dismissed a lawsuit filed by a Jewish couple who said a state-supported Christian agency discriminated against them as they sought to adopt a child. (AP, JTA)
✍️  An Oakland mayoral candidate, angry at being excluded from an upcoming forum at a synagogue, emailed antisemitic messages to local reporters and public figures, calling Jews "evil" and "corrupt." (J. The Jewish News of Northern California)
💸  Sheldon Adelson and his wife, Miriam, were once the Republican party's biggest donors: they gave $524 million to the party's candidates and campaigns between 2011 and 2020. But after Adelson's death in January 2021, his widow, who spends much of her time in Israel, has donated just $5 million this election cycle. (Bloomberg) 
🍇  Israeli vineyards, making wine in the arid desert, are developing techniques with global applications as vintners around the world cope with a warming climate. (New York Times)
Shiva call ➤  Ilse Scheuer Nathan, 98, and Ruth Scheuer Siegler, 95 – two sisters who survived the Holocaust – died in Alabama 11 days apart.

What else we're reading ➤  Israeli UFC fighter encourages Jews to learn self-defense against antisemitic attacks … How faith groups helped pass the climate law … Ruth Bader Ginsburg's fashion collar to be auctioned for children's charity.
Was this newsletter forwarded to you or are you reading it on our website?
Receive it in your inbox each morning by clicking the blue button below.
Marj Dusay (Kara), Leonard Nimoy (Spock) and William Shatner (Kirk) in an early episode of 'Star Trek.' (Paramount)
On this day in history (1966): Star Trek made its debut on NBC. The show, which followed a crew searching for new civilizations in space, starred two Jewish actors: William Shatner as Captain Kirk and Leonard Nimoy as Mr. Spock. Shatner grew up in Montreal in a kosher home and attended Jewish summer camp. Nimoy, the son of Orthodox Jewish immigrants from Ukraine, said in a video for the Yiddish Book Center that his Jewish identity informed much of his approach to Spock. The two actors' Jewish history has become well-known — not least because of Adam Sandler's famous "Chanukah Song," in which he sings, "You can spin a dreidel with Captain Kirk and Mr. Spock — both Jewish." Read our 'Star Trek' coverage ➤
Also on this day in history (1977): The chia pet, the furry phenomenon marketed by Joe Pedott, was introduced. Pedott, 87, is a major donor to Hillel.
On the Hebrew calendar, it's the 12th of Elul, the birthday (in the year 1194) of Moses ben Nachman, more widely known as Nachmanides.

In honor of National Ampersand Day, check out all of our coverage about Ben & Jerry's.
"Armageddon Time," director James Gray's follow-up to his space opera "Ad Astra," takes an autobiographical turn, following a Jewish family in Reagan-era Queens. Starring in the film are a Who's Who of non-Jewish actors, including Anthony Hopkins. He plays an immigrant zayde who escaped the Holocaust and deploys both the words "mensch" and a more risqué Yiddish term that rhymes with "luck." Also featured in the trailer is Jessica Chastain as Maryanne Trump, Donald's sister. Watch the trailer above and read more about the movie here ➤
–––
Play today's Vertl puzzle, the Yiddish Wordle
Thanks to Rob Eshman, Jordan Greene, PJ Grisar and Talya Zax for contributing to today's newsletter. You can reach the "Forwarding" team at [email protected].