Forwarding the News
Nation's capital marks first night of Hanukkah + Trump breaks silence on Kanye West controversy
Netanyahu to present new government, Ukrainians light menorah amid blackouts, King Charles dances with Anne Frank's stepsister, and a Jewish Elvis sings on 'Saturday Night Live.'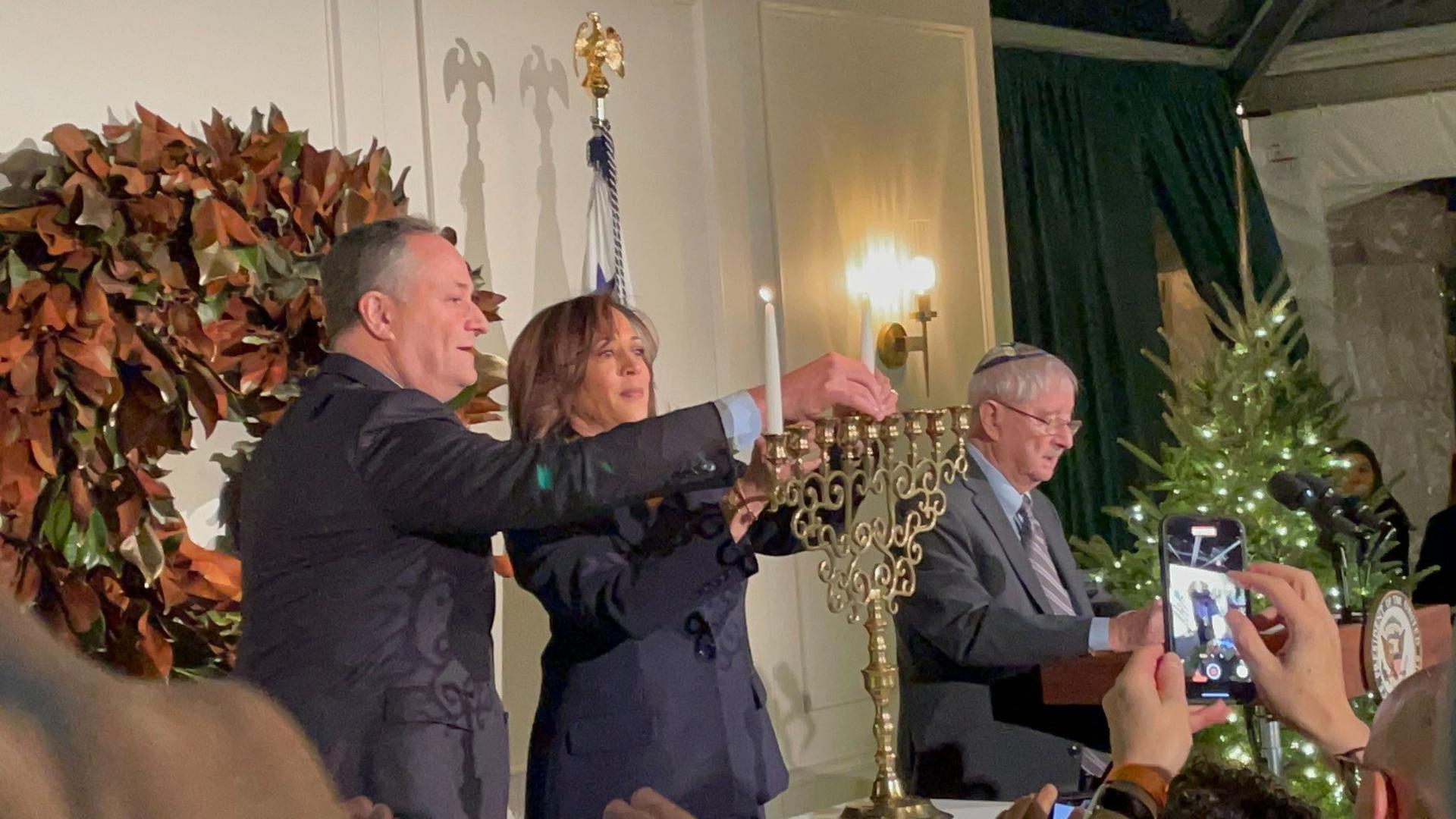 This article is part of our morning briefing. Click here to get it delivered to your inbox each weekday.
Our senior political reporter, Jacob Kornbluh, shares what's in his notebook… 
Senior administration officials joined Jews nationwide in celebrating the start of Hanukkah Sunday evening, even as a new report documented a surge in antisemitic hate crimes in major U.S. cities. The report by the Center for the Study of Hate and Extremism says New York, Los Angeles and Chicago all saw more anti-Jewish hate crimes this year than the record-level numbers of 2021. 
Attorney General Merrick Garland headlined the annual lighting ceremony of the National Menorah outside the White House, while Vice President Kamala Harris and her husband, Doug Emhoff, hosted a reception at their residence.
In New York, Gov. Kathy Hochul hosted Jewish leaders at the governor's mansion, New York City Mayor Eric Adams lit the first candle of one of the world's largest menorahs, at Grand Army Plaza near Central Park in Manhattan. 
(Courtesy the White House)
And at their Hanukkah party tonight, President Joe Biden and First Lady Jill Biden will unveil a menorah that will become part of the permanent White House archives. In past years, presidents used borrowed menorahs for their Hanukkah receptions. 
This menorah was created by the White House's carpentry shop with wood recovered from the foundation of the building during a 1950's renovation and handmade silver cups for the candles. "Its beauty reminds us of the Hanukkah miracle," the First Lady said in a statement, "and the joy it inspired."
Related from The Wall Street Journal: The history of presidential Hanukkah traditions

Fun fact: Shelley Greenspan, who manages the guest list for the Hanukkah party as the White House Jewish liaison, is a newlywed who met her husband at an Amazon holiday party in 2017 where they were both wearing ugly Hanukkah sweaters.
And speaking of Hanukkah fashion, a photo of Biden's granddaughter in menorah-print pajamas went viral this weekend.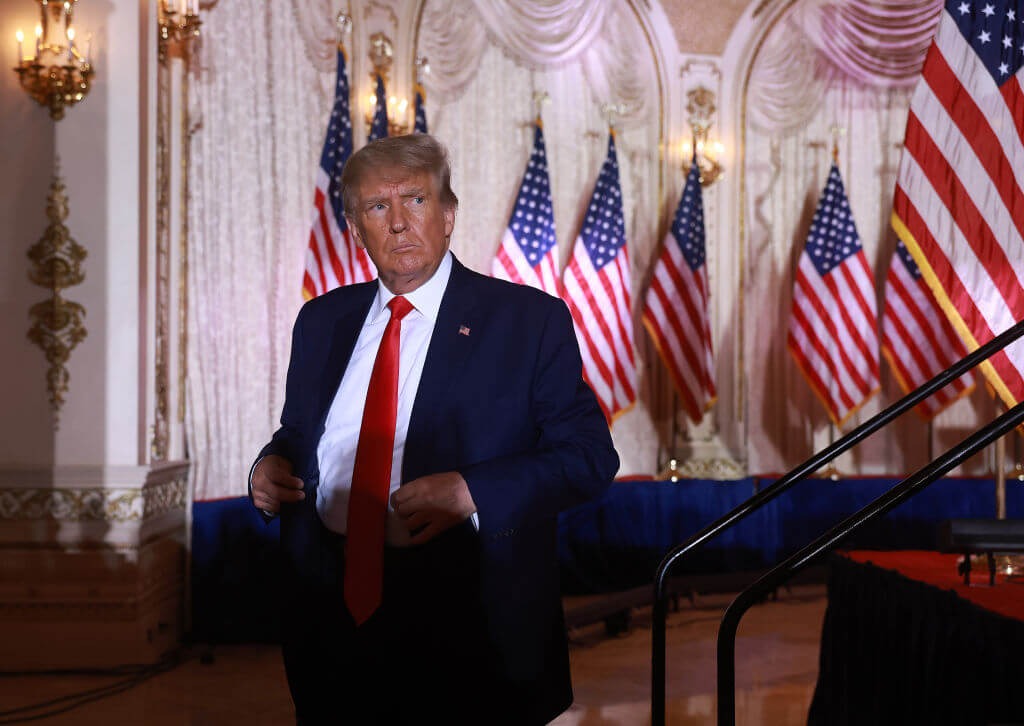 Meanwhile, former President Donald Trump has finally tried to distance himself from the antisemitic statements of his recent dinner companions Kanye West and Nick Fuentes. He said in an interview with Breitbart News on Friday — 23 days after the dinner at Mar-a-Lago — that people such as them have no place in the Republican Party. "We don't want ill will," he said. But he also lamented that the media had made "a big deal" of it.
Also on Friday, Trump said in a speech to an Orthodox education group that he is "the best ally" Jews have ever had and that he is confused at the lack of Jewish support for his reelection bid in 2020. He also called 98-year-old Rabbi Shmuel Kamenetsky, who endorsed him in 2020, "young and beautiful," adding, "There's something nice about being a rabbi." Read more here ➤
And a bipartisan group of House members introduced a resolution condemning the rise in antisemitic rhetoric by celebrities and public figures. It calls on clergy and influencers to "join with current and former elected leaders to use their platforms to speak out against antisemitism." On Sunday, Sen. Kirsten Gillibrand, a Democrat from New York, met with a group of Holocaust survivors in Brooklyn and outlined her plans to counter antisemitism and bolster security for Jewish institutions. 
Rabbi Charlie Cytron-Walker, who became an international hero after being taken hostage in his former Texas synagogue during a Shabbat prayer service in January, wrote in a recent OpEd that he's worried about the impact antisemitism in the public sphere can have on people later carrying out hateful acts. 

Meanwhile in Israel: Benjamin Netanyahu is expected to inform President Isaac Herzog this week that he has managed to cobble together a coalition government, more than six weeks after the Nov. 1 election. The New York Times editorial board declared on Saturday that the new government "is a significant threat to the future of Israel — its direction, its security and even the idea of a Jewish homeland."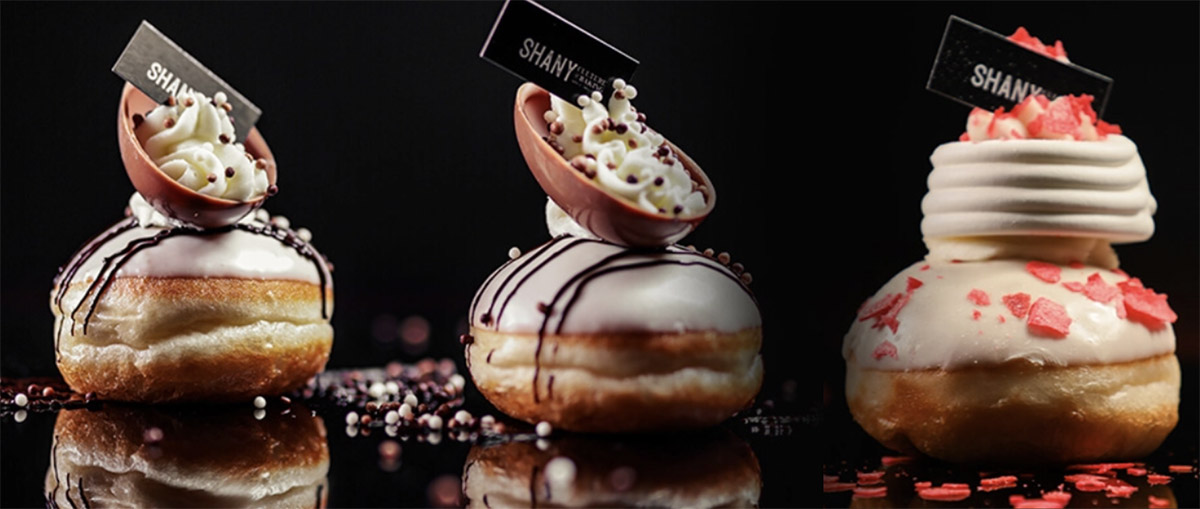 Israelis take their sufganiyot very seriously: Bakeries roll out their seasonal creations much like designers unveil their new clothing lines. At least one store, with high-end flavors like pistachio mousse with nut brulée, calls its Hanukkah offerings a "collection." One near Jerusalem sells 1,000 donuts a day this time of year. And, of course, there are those who insist on making them at home. "I don't like to buy them in stores," one woman told us, adding, and seemingly oblivious to the Hanukkah irony, "because they use too much oil." Read the story ➤
Opinion | Iran is a Jewish issue. Why is the community silent? It's been three months since Iran erupted in protest over the death of a woman at the hands of the morality police for "improperly" wearing her hijab. Thousands of Iranians are in the streets day after day, chanting their slogan "Women, Life, Freedom." Yet the American Jewish communal response has been negligible writes Matthew Nouriel, a queer Iranian-American activist. Read the essay ➤
Related: Artist Nidaa Badwan escaped a repressive regime in Gaza. Now, she's working on a piece about the Iranian protests. "Every part of my body wants to talk about this story," Badwan told our editor-in-chief, Jodi Rudoren, for her latest column.
But wait, there's more…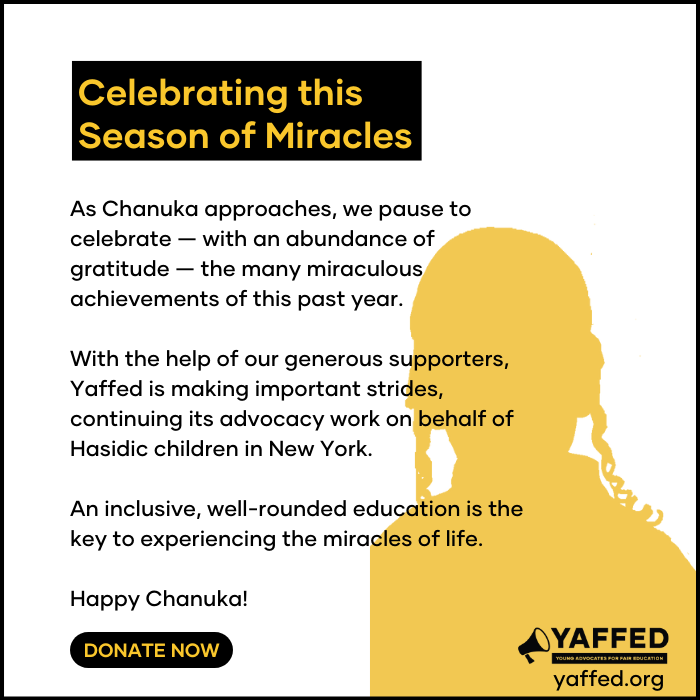 WHAT ELSE YOU NEED TO KNOW TODAY
King Charles surprised Holocaust survivors by attending their Hanukkah party in London this weekend, and ended up dancing with a group that included Anne Frank's stepsister, Eva Schloss, 93. See a video from the event, and read why the monarch has been described as a mensch for all seasons. (Courtesy Royal Family)
🕎  Dozens gathered in war-battered Kyiv to light the first candle of what local Jewish leaders say is Europe's tallest menorah. "We are actually now living through the same situation," said Rabbi Mayer Stambler, drawing a parallel between the Maccabees' fight against the Greeks and the blackouts today's Russian bombardments have caused. "This is a war between darkness and light." (AP)
📚  A children's book about Shabbat was returned to a Florida school district's shelves after being temporarily banned for about a year. Another book with Jewish themes, The Misadventures of the Family Fletcher, remains under review. (JTA)
🎨  "Jews Not Welcome" was spray-painted on a sign outside Walt Whitman High School in Bethesda, Maryland, a close suburb of Washington, D.C. The American Jewish Committee said antisemitic graffiti was also discovered this weekend on a bench in a nearby mall. A few weeks ago, swastikas and hangmen were found on the Bethesda Trolley Trail. (Washington Post)
🔥  More than 1,000 Jewish studies scholars are headed to Boston for a conference this week, but their hotel won't allow Hanukkah candle-lighting. "Thus began a MacGyver-like scramble," writes Philissa Cramer, "to hack a Hanukkah solution that would comply with both halacha, Jewish law, and the Sheraton Boston's interpretation of Massachusetts fire code." (JTA)
🙏  Pope Francis on Saturday declared as martyrs a Polish couple who were executed by German police during World War II for hiding Jews in their farmhouse. The move would permit the couple to be beatified, the last formal step before possible sainthood. (AP) 
🪐  A mother was quoted in The New York Times complaining that her son was taught at his Hasidic yeshiva that planets revolve around the Earth instead of the sun. Someone at NASA saw the article and sent educational materials to the family. (Twitter)
Shiva calls ➤  Albert Reichmann, a Canadian philanthropist who helped enable the Refusenik revolution and built up the Jewish community in the former Soviet Union, died at 93 … Leonard Wisse, a Jewish communal leader and husband of Yiddish scholar Ruth Wisse, died at 92 … Milton Viorst, a journalist who chronicled the Middle East conflict and authored 10 books, died at 92 … Philip Pearlstein, one of the most prominent American painters of the second half of the 20th century, died at 98. 

What else we're reading ➤  How Egypt's last Jews will mark Hanukkah …  Israeli housing prices climbed more than 20% since last year … Finally, someone made a Hanukkah sweater for reptiles.
Austin Butler, who's nominated for a Golden Globe for his portrayal of Elvis, hosted Saturday Night Live this weekend, so we weren't surprised that there was an Elvis skit. But little did we know it would be about Jewish Elvis. "I'm schvitzing like a hounddog here," said Sarah Sherman,  who took on the titular role. (Butler was an awe-struck bubbe in the audience.) Watch the skit above, and read more here about the secret Jewish history of the real Elvis.
–––
Thanks to Nora Berman, Jacob Kornbluh, Matthew Litman and Talya Zax for contributing to today's newsletter. You can reach the "Forwarding" team at [email protected].