Forwarding the News
Jewish GOP candidate 'baptized' as 'Messianic believer of Christ' + Netflix lets down Jews of color
Israeli travel firm gives 'Fauda' tours, ADL's surprising new podcast host, nearly a third of Americans align with Christian nationalism, and remembering a bagel tycoon on National Bagels and Lox Day.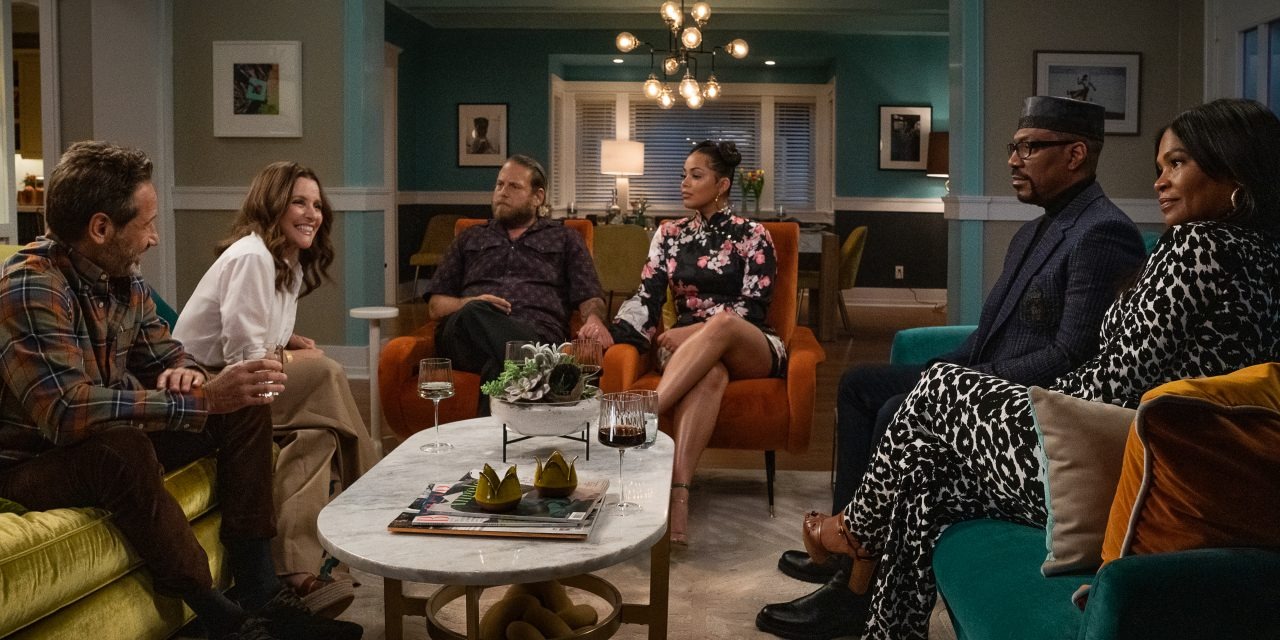 This article is part of our morning briefing. Click here to get it delivered to your inbox each weekday.
Opinion | Instead of giving us a contemporary Black Jewish story, 'You People' erases Jews of color: Ilana Kaufman, CEO of the Jews of Color Initiative, was excited to see Netflix's new rom-com You People, expecting a modern retelling of Guess Who's Coming to Dinner. But she was dismayed to discover that the film was full of stereotypes of both Black and Jewish Americans — and that the existence of Black and brown Jews were completely absent. "Jews of color are not mysterious and unknown," Kaufman writes, "and yet their erasure from You People, when an actual Black woman with Jewish heritage is in a leading role, is painfully paradoxical." Read her essay ➤

An evangelical Christian cattle farmer is the first to challenge Trump for the GOP nomination — and he has a lot of Jewish friends: In an interview, Steve Laffey, 62, the former mayor of Cranston, Rhode Island, gave our senior political reporter Jacob Kornbluh the rundown on his controversial stance on the Israel-Palestinian conflict. "He is hawkish on the Jewish state to the point that he expressed doubt over the existence of a Palestinian people, and labeled liberal Jews who critique the Jewish state as 'self-loathing,'" Kornbluh wrote. Read the interview ➤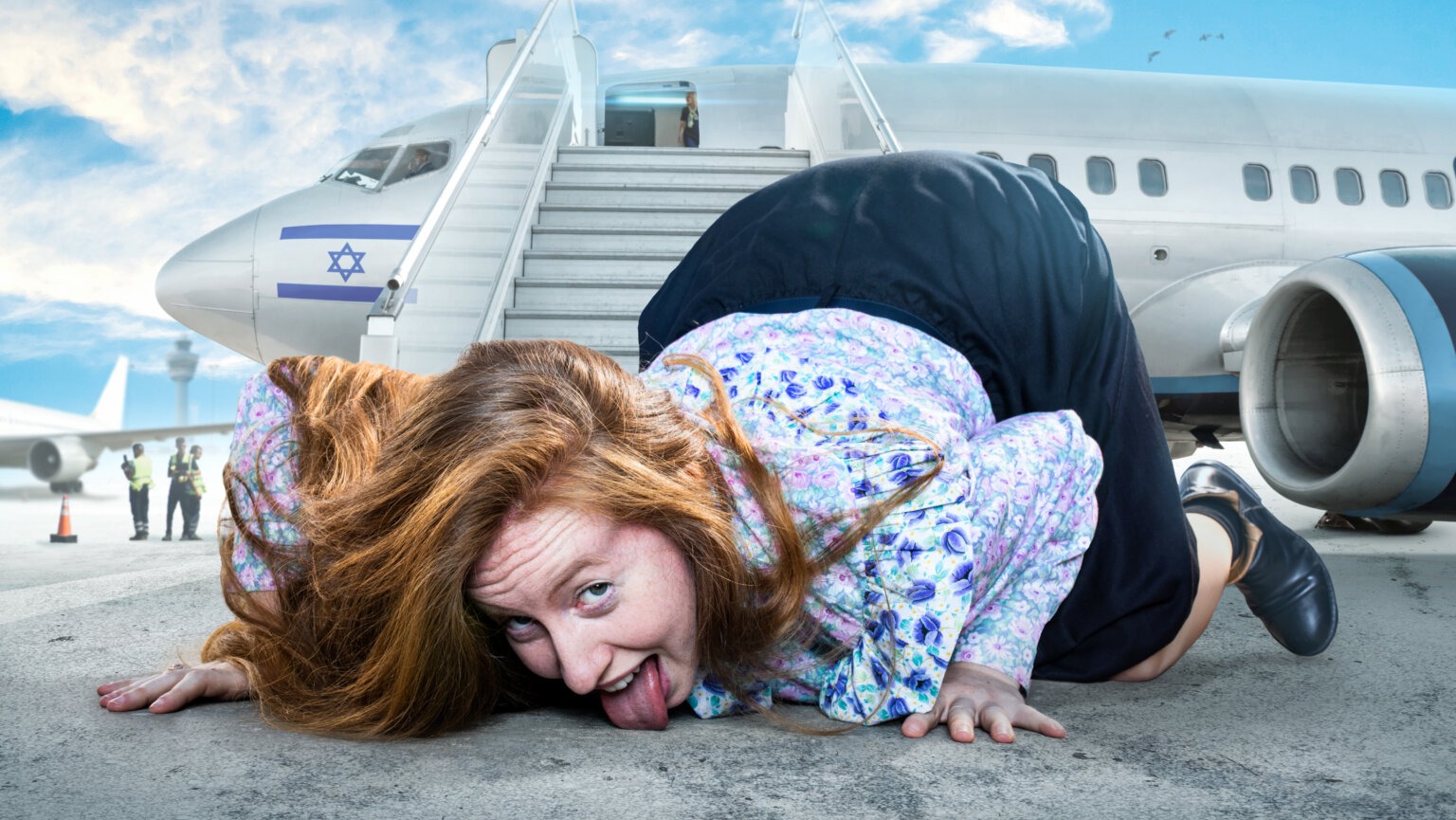 In her new series, actress Aleeza Chanowitz is pretty excited to get to the Holy Land. (Courtesy)
On a witty new TV show, American Jews lust after Israel — literally: Chanshi is a nice religious girl from Brooklyn with one not very Orthodox desire: to sleep her way through the IDF. The eponymous new series Chanshi follows her misadventures — at one point she walks down Jerusalem streets screaming for "tall dark Israeli men." It's hilarious, writes our Mira Fox in a review, and it's also a smart look at the rough experience many American Jews have as they attempt to reconcile their idealized — and slightly fetishized — visions of the Holy Land with an often grimy, rude reality. Read her review ➤

The Michelin guide is coming to Israel. What took so long? Israel's tourism minister announced that the famed French restaurant guide is bringing its internationally recognized star rating system to Tel Aviv. But Israeli food and chefs have been renowned for years. So, why did Michelin ignore the local restaurant scene for so long? Read the story ➤
But wait, there's more…
An Israeli tourism company wants to show you what it bills as the reality behind Netflix's popular series Fauda. The travel package includes visits to the city where the hit drama is filmed and meetings with former intelligence officers.


Abigail Salisbury won a special election for a seat in Pennsylvania's House of Representatives Tuesday, becoming the only female Jewish legislator in the state.


Anti-Defamation League CEO Jonathan Greenblatt unveiled a new podcast with an unlikely co-host: the actor Nick Cannon, who made headlines for his antisemitic remarks in 2020. Cannon said the idea for the podcast came from the relationship he and Greenblatt built in the years since the scandal.
Spread the word! Invite someone
to sign up for this newsletter.👇
WHAT ELSE YOU NEED TO KNOW TODAY
Lena Epstein during her 2018 campaign for Congress. She's now running for chair of the Michigan GOP. (Getty)
🤦 Lena Epstein, who is running for chair of the Michigan Republican party, said that she has been "baptized" and is now a "Jewish Messianic believer of Christ." During a 2018 congressional run, Epstein highlighted her roots in the Detroit-area Jewish community. But she sparked controversy when she appeared onstage with a Messianic "rabbi" and then-Vice President Mike Pence after the shooting at the Tree of Life synagogue in Pittsburgh. (JTA)
🕍 More than a year after it abruptly terminated its popular assistant rabbi, Manhattan's Park East Synagogue was again the scene of a heated squabble on Sunday, when a candidate to succeed the Orthodox congregation's 92-year-old spiritual leader faced backlash over past statements he'd made opposing same sex relationships. (NY Jewish Week)
😞 A Chabad emissary who spent two months on life support after an accident that killed her baby daughter died Wednesday night. Henya Federman, 40, was left in a critical condition after trying to save her child from drowning in St. Thomas, part of the U.S. Virgin Islands. (Chabad, Times of Israel)
✝️ A new survey found that nearly a third of Americans qualify as Christian nationalists. The term describes a belief system based on the premise that the United States was founded by God to be a Christian nation. (Religion News Service)
✂️ Barcelona's mayor severed ties with Tel Aviv, formerly its twin city, citing claims that Israel is guilty of "apartheid," and "flagrant and systematic violation of human rights." (JTA)
🎥 Guy Nattiv and Zar Amir Ebrahimi are set to make history by becoming the first Israeli and Iranian filmmakers to co-direct a feature film. "This is more than a movie to all of us," said Nattiv, an Oscar winner. "It's a creative statement to the world as thousands of innocent Iranian people are paying with their lives for freedom." (Hollywood Reporter)
👑 After a new Miss Texas USA was crowned this weekend, antisemitic comments she allegedly made are resurfacing online. The pageant queen has denied making the remarks. (Fox 26 Houston)

What else we're reading ➤ What it's like to eat at the most expensive restaurant in Tel Aviv … The Indian government asks people to hug cows on Valentine's Day to promote Hindu values … As non-Orthodox movements weaken, a rabbi's new book asks what's next.
NATIONAL BAGELS AND LOX DAY
Left to right: Harry Lender, Murray Lender, Michael Lender, Sam Lender and Marvin Lender. (Carl Lender/Flickr)
We've teamed up with Old Jewish Men, a fun social media account about, well, old Jewish men, to bring you a story from our Forward 125 list of the Jews who helped shape American history, one for each year since our newspaper's founding in 1897.
Since today is National Bagels and Lox Day, we're highlighting Harry Lender, our choice for 1927, who immigrated to the United States from Poland in August of that year. After working in a New Jersey bagel shop, Lender purchased his own bakery in New Haven, Connecticut, for $600. Lender's bagel bakery was one of the first in the United States to be established outside of New York City.
Harry died in 1960, and the bakery became "Lender's Bagel Bakery" in 1965, run by his sons who grew the business to become the bagel behemoth that it is today.
Related…
The Beatles arriving in New York City in 1964. (Library of Congress)
On this day in history (1964): The Beatles made their first appearance on The Ed Sullivan Show, reaching 73 million viewers. The broadcast, which launched American "Beatlemania," was arranged by the band's Jewish manager, Brian Epstein, whose Liverpool home was converted into a Beatles-themed hotel in 2003. As the band's fame skyrocketed in the following years, John Lennon reportedly said "show business is an extension of the Jewish religion."
Last year on this day, our colleagues at JTA reported that the true story of a New Jersey rabbi who murdered his wife in 1994 was being turned into a stage musical. It ran for five weeks last summer at a Los Angeles theater.
A Mesopotamian-style gold bead believed to be around 1,600 years old was found during an excavation of a Roman structure in Jerusalem's "City of David," the Israel Antiquities Authority revealed on Wednesday. "Throughout all my years in archaeology, I have found gold perhaps once or twice," said Dr. Amir Golani, an ancient jewelry expert. Read the story ➤
—
Thanks to Nora Berman, Mira Fox, Rebecca Salzhauer and Talya Zax for contributing to today's newsletter. You can reach the "Forwarding" team at [email protected].