Fast Forward
Jewish congressman introduces his colleagues to 'real' bagels at House Bagel Caucus meeting
Dozens lined up in halls of Congress for New York City bagels offered by Rep. Dan Goldman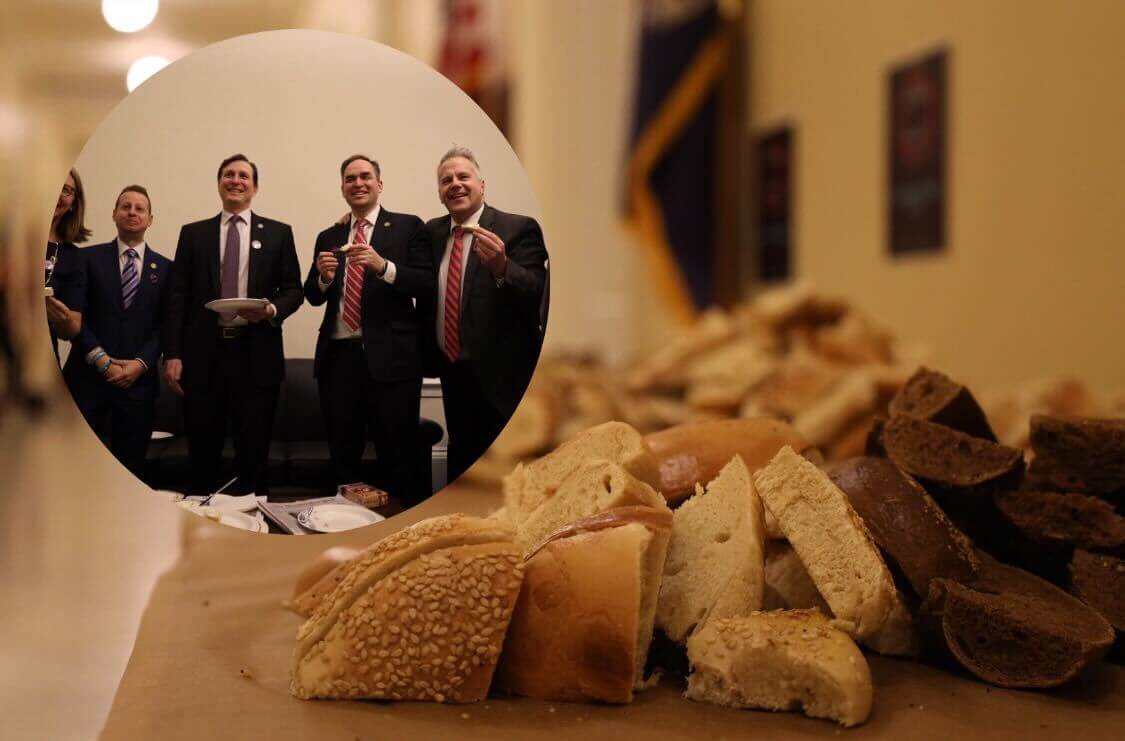 Dozens of people lined up in the halls of Congress Thursday for genuine New York City bagels offered by Rep. Daniel Goldman, a freshman Democrat who represents Brooklyn and the Lower East Side.
Goldman's office said he created the House Bagel Caucus to "ensure that every Representative, reporter, and staffer on Capitol Hill has the opportunity to eat a real (read: New York) bagel." The caucus was launched Thursday to mark National Bagels and Lox Day.
Hill staffers and reporters congregated outside Goldman's office with lines stretching the length of the Cannon House Office Building hallway.
The free bagels were cut into quarter pieces by Goldman's senior staffers. The bagels came from five locations in Goldman's district: Russ & Daughters, Davidovich Bakery and Kossar Bagels and Bialys in Manhattan, and Olde Brooklyn Bagel Shoppe and Shelsky's of Brooklyn, according to Simone Kanter, Goldman's spokesperson. The spread included cream cheese, lox, whitefish salad and other toppings.
"We're extremely proud to be the home of the world's best bagels and were thrilled to spread the bagel love to our friends from around the country," said Goldman.
Line for the #bagelcaucus outside @RepDanGoldman's is deep. Almost the length of the Cannon house office building hallway. pic.twitter.com/GU3kIvUvzg

— Kent Nishimura (@kentnish) February 9, 2023
Goldman, who is Jewish, represents New York's 10th congressional district, which has a large Jewish population. The district includes the Lower East Side and East Village in Manhattan, as well as the Borough Park and Park Slope neighborhoods of Brooklyn. 
Goldman, who appointed himself as chairman, is the sole member of the bagel caucus, though several colleagues have expressed interest, Kanter said. Last year, in a candidate forum co-hosted by the Forward, Goldman said he orders his bagels from Russ & Daughters – "regular, lox with cream cheese, but you got to add the capers." Russ & Daughters is a venerable institution on the Lower East Side, founded in 1914. 
In an email sent last week to House Democratic chiefs of staff and reported by Punchbowl News, Goldman's chief of staff Haley Scott said the congressman came up with the idea after learning that many members do not know what a real bagel is. She said members are invited to join the Goldman staff on fly-out days (when the House recesses and members return to their districts) to experience it for themselves.
Goldman posed for pictures with some of his Democratic colleagues, Reps. Val Hoyle and Suzanne Bonamici from Oregon; Kathy Manning from North Carolina, and Haley Stevens from Michigan. Maxwell Frost and Jared Moskowitz from Florida also showed up to the meeting
The Bagel Caucus when @RepMaxwellFrost brings up steamed bagels pic.twitter.com/cdFykFH9Yb

— Congressman Jared Moskowitz (@RepMoskowitz) February 9, 2023
Mom-and-pop bagel stores are still found in many neighborhoods of New York City. Locals tend to look down on bagels from elsewhere and studies have been done attributing the unique taste and texture of New York bagels to the city's water supply, which comes from watersheds in the Catskills.
But the event highlighted some division within the Democratic Party over the best bagels claim.
"I'm impressed my NY colleague @danielsgoldman has started a Bagel Caucus but if he wanted to showcase the best he would've crossed the river and gotten them from New Jersey," Rep. Bill Pascrell Jr. tweeted. @NJGov, New Jersey's official Twitter account that has gone viral in recent years, proclaimed New Jersey the "bagel capital of the world." Their New York counterpart hit back on Wednesday and called them "trash."
Editor's note: This story has been updated with details.