Forwarding the News
A Jewish teen, a Christian school and a fracas over a Messianic Jewish speaker
Today: Sen. Dianne Feinstein announces her retirement, a candidate for the most lavish Jewish wedding of all time and the latest episode of our podcast, Playing Anne Frank.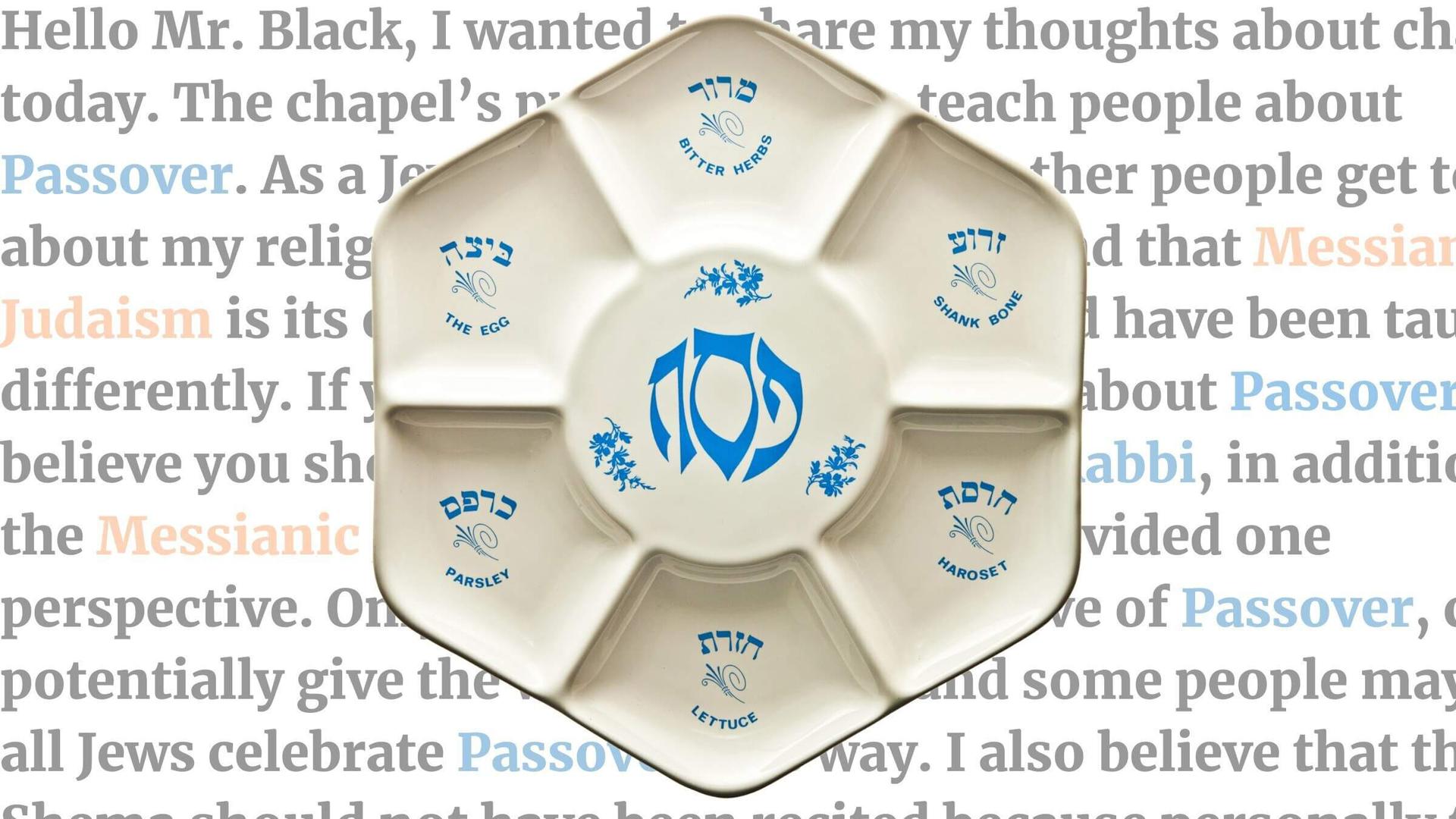 This article is part of our morning briefing. Click here to get it delivered to your inbox each weekday.
For this Jewish teen at a Christian school, a Messianic Jewish speaker crossed a line. Aden Kosoi, a senior at Oaks Christian School in Westlake Village, California, was surprised last year when he learned the school would host a guest speaker for Passover. But he was more surprised when the speaker "turned out to be a Messianic Jew, preaching about the divinity of Jesus Christ," our Adam Kovac writes in a new story.
Clash of principles: While Oaks Christian admits non-Christian students, it says on its website that it aspires to introduce all students "to Jesus Christ and to encourage them to follow Him." The principal said that after Kosoi took issue with the speech, the administration responded by affirming "what OCS believes … and teaches at this school." But Kosoi, who recently wrote a blog post describing the incident, said that the school's response made him feel like he was "going to hell."
"Cultural appropriation": Jewish students are a tiny minority at Oaks Christian — Kosoi estimated there are 15 to 30, in a student body of 1,300. That's part of why he found the talk so concerning: It obscured the boundaries between Jews and Messianic Jews, he said, when most students at the school already don't know much about Jewish life. (Mainstream Judaism has long disavowed Messianic Judaism.)
Inappropriate, or only reasonable?: In a moment when antisemitism is on the rise — and at a school that, Kosoi said, has seen other recent antisemitic incidents — he felt the Passover speaker was a step too far. But there's an open question of what private religious schools owe to students of different faiths. A representative of the Anti-Defamation League said the incident was disappointing, but not necessarily a violation: "a private faith-based school has the prerogative to determine its own curriculum."
Sen. Dianne Feinstein, a Democrat from California, on Sept. 13, 2022. Photo by Eric Lee/Bloomberg via Getty Images
Sen. Dianne Feinstein, a Jewish stalwart of the Senate, to retire: Feinstein, 89, the senior senator from California, announced on Tuesday that she would not seek reelection in 2024. It's news that has been long anticipated, as Feinstein's health has come under increasing scrutiny and multiple prominent California Democrats announced campaigns for her seat before she formally shared her intention to step back. Read the story ➤
PLUS: Our LA-based reporter, Louis Keene, speculated about the campaign to replace Feinstein in a recent edition of his weekly "California Briefing" newsletter. (Subscribe here!)
Who is that Israeli guy in Nikki Haley's campaign launch video? Haley, who announced her campaign for the Republican presidential nomination Tuesday, featured Danny Danon, former Israeli ambassador to the U.S. in her announcement video. The quick cameo played into Haley's reputation as a devoted advocate for Israel, writes our senior political reporter, Jacob Kornbluh. "If Nikki Haley was running for president in Israel she would have won easily," Danon said. Read the story ➤

PLUS: More on how Haley built herself into "a star in the pro-Israel community."
And: In the new episode of our podcast Playing Anne Frank, Millie Perkins describes what made her stand out from 10,000 actors who wanted to star in the 1959 film of The Diary of Anne Frank; George Stevens Jr., son of the director of the Oscar-winning film, remembers what it was like to tour the secret annex; and another actor from the movie takes what he learns from appearing in the film to join the fight for civil rights in America. Listen here ➤
Spread the word! Invite someone
to sign up for this newsletter.👇
WHAT ELSE YOU NEED TO KNOW TODAY
A view of settlements in the occupied West Bank. (MENAHEM KAHANA/AFP via Getty Images)
😔 A Palestinian who was shot and paralyzed by an IDF soldier died at 25. Harun Abu Aram was shot in the neck during a 2021 confrontation over the IDF's attempts to remove a home generator in the West Bank. Separately, Israel jailed an IDF soldier who a viral video showed beating the Palestinian activist Issa Amro, who has written for the Forward. (Haaretz, JTA)
😨 Arson was likely behind two fires at a Jewish camp, Canadian police say. The fires did approximately $450,000 U.S. dollars of damage. (JTA)
👀 The U.S., Canada and several European countries declared opposition to the Israeli government's retroactive authorization of nine settler outposts in the occupied West Bank. "We strongly oppose unilateral actions which will only serve to exacerbate tensions between Israelis and Palestinians and undermine efforts to achieve a negotiated two-state solution," a joint statement said. (Reuters)
😒 President Joe Biden withdrew the nomination of a law professor who used social media to accuse a congressperson of being "Bought. Purchased. Controlled" by pro-Israel lobbyists. James Cavallaro had been put forward for a role with a human rights commission. (The Hill)
🙄 Rep. George Santos, who has lied about his Jewish heritage, described himself as "halachically Jewish" at a campaign event last fall. A new report also shows that Santos' campaign failed to account for how it spent $365,000 in campaign funds. (Jewish Insider, New York Times)
🇧🇷 Brazilian police arrested a teenager they say was planning an attack on a school. He had Nazi propaganda at home and was wearing a Nazi armband at the time of the arrest. (Associated Press)
👏 An Orthodox Jewish disability activist had a New York Fashion Week to remember. Lily Brasch, 22, who modeled in a show for the brand Randhawa, became only the second model with muscular dystrophy to appear in a NYFW show. (New York Jewish Week)
Mazel tov ➤ To Sen. Chuck Schumer, who welcomed his third grandchild.

What else we're reading ➤ You've never seen a Jewish wedding like this "gay Great Gatsby meets Beauty and the Beast" bonanza … New York's favorite crisis communications pro is "a combination of a Jewish mother and Whitey Bulger" … Inside Ben & Jerry's prolonged internal war.
A 2017 revival of 'The Little Foxes' starring Laura Linney, left, and Cynthia Nixon. (Joan Martin)
On this day in history (1939): Lillian Hellman's play The Little Foxes premiered on Broadway. Hellman, a firebrand writer born to a Jewish family in New Orleans, eventually declared herself to be "tired of" the play, one of her most famous works. But a 2017 Broadway revival made the play's relevance to the fractured modern era clear. "Having defined themselves away from each other in service of their own personal 'isms,'" our critic wrote, the characters are "doomed to remain, forever, ambitious and adrift."
On the Hebrew calendar, it's the 24th of Shevat when, in 354 B.C.E., the prophet Zechariah predicted the rebuilding of Jerusalem, as recorded in the biblical Book of Zechariah.

In honor of National Wisconsin Day, check out 8 Jewish facts about the Badger State. (Did you know that's where Israeli Prime Minister Golda Meir grew up?)
We love to see it: Indiana Jones is back, and still punching Nazis.
—
Thanks to Benyamin Cohen for contributing to today's newsletter. You can reach the "Forwarding" team at [email protected].