News
For this Jewish teen at a Christian school, a Messianic Jewish speaker crossed a line
A Messianic Jew's lecture on Passover raises questions about how Christian schools treat Jewish students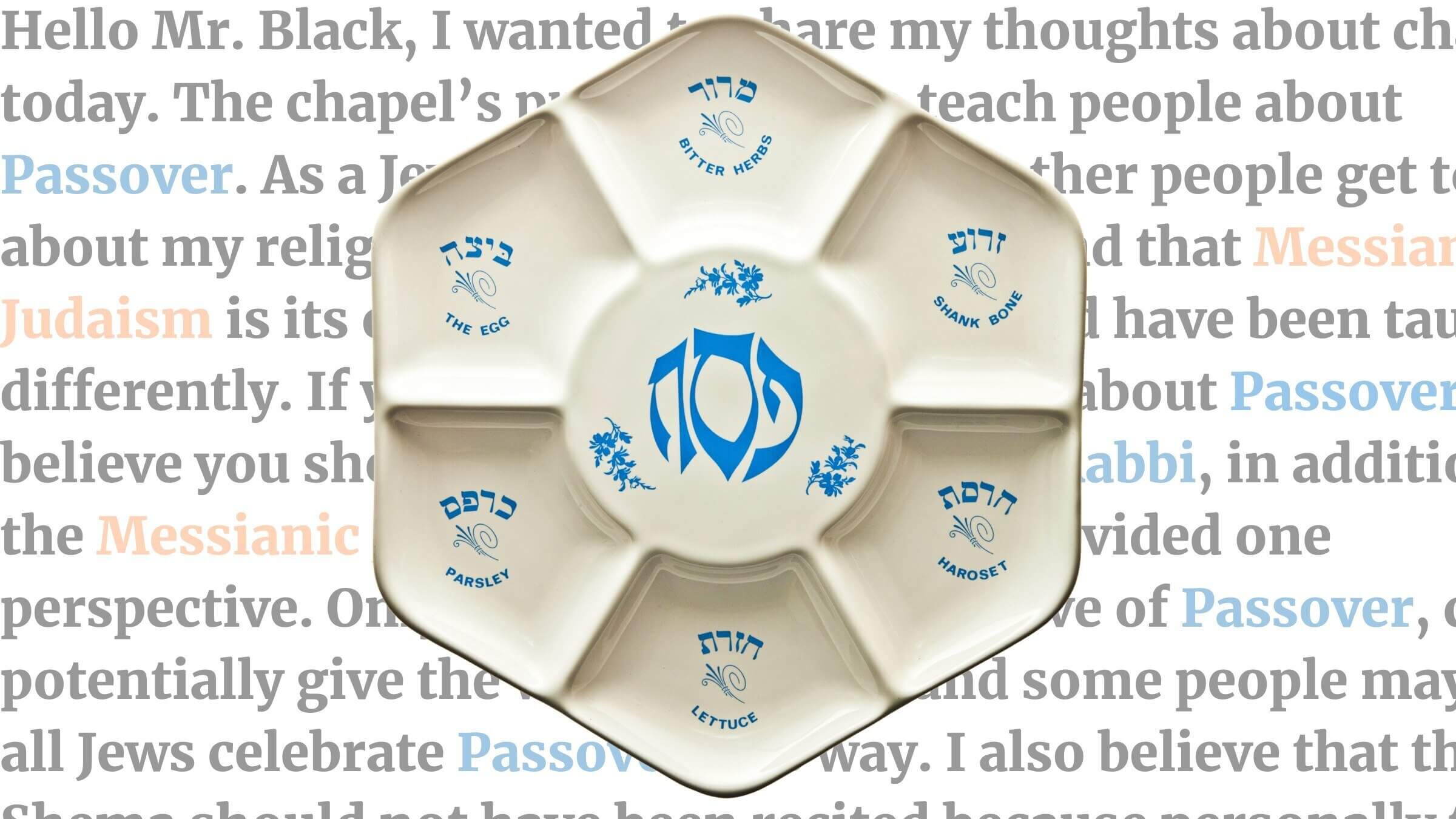 When Aden Kosoi, a Jewish student at  Oaks Christian School, learned that the school had invited a guest speaker to talk about Passover last year, he didn't know what to expect. The day school, located in Westlake Village, California, just outside Los Angeles, did not regularly host speakers from other faiths. But Kosoi was shocked when the speaker turned out to be a Messianic Jew, preaching about the divinity of Jesus Christ. 
"He was presented as a Jews for Jesus type," Kosoi said, but his talk last year also included a recitation of the Shema, the central declaration of Judaism. "I feel like it was cultural appropriation. I just didn't like it whatsoever."
Messianic Jews, including the group Jews for Jesus, celebrate Jewish holidays but also believe in the divinity of Jesus Christ, a teaching that Jews consider incompatible with Judaism. They offend many Jews for portraying their beliefs as Jewish, but also because they often try to convert them.
The speaker's message, however, aligned well with Oaks Christian's. The school on its website states that it welcomes non-Christian students, but also makes clear that "No matter how students arrive at OCS, our hope is to introduce them to Jesus Christ and to encourage them to follow Him."
Kosoi's experience raises questions. How much responsibility does a Christian school have to respect the beliefs of its non-Christians students? Kosoi said he was not only upset by the speaker, but by the school's response to his concerns, and felt he was treated as if he was "going to hell." The school, however, believes it treated him kindly and was simply delivering the education it promises.
Robert T. Black, the head of school at Oaks Christian, told the Forward in an email that while he understands Kosoi is "very uncomfortable and upset with what he views is 'my' judgmentalism, with due respect, he's missing what I'm saying to him. What I am telling him is not what he needs to believe, but rather what OCS believes … and teaches at this school."
"We have many, many students at OCS who are not of the Christian faith, hold to other faiths, or have no faith relationship," Black continued. "All are welcome here, however we try very hard to make sure that every student (and parent) knows who we are; what we believe; and where we stand."
Though the incident occurred last year, when Kosoi was a junior, he said he recently decided to post a blog about it because he only has a few months left at Oaks Christian, and wants Jewish and non-Christian prospective students to understand what his experience was like at the school.
Kosoi is speaking up at a time when Messianic Judaism is making headlines. Doug Mastriano, the Republican in November who lost a race for Pennsylvania governor, gave a spotlight to Messianic Jews at campaign events. A woman running to head Michigan's Republican Party, Lena Epstein, who once described herself as a proud Jew, now says she is a "Jewish Messianic believer of Christ." And The Washington Post last week raised questions about the religious background of Anna Paulina Luna, a newly elected Republican member of Congress from Florida who claimed she was raised as a Messianic Jew by her father, and that she has some Ashkenazi Jewish heritage. Some family members said she was raised Catholic. 
While there is no definitive count of Messianic Jews in the United States, most estimates put the population at somewhere between 100,000 and 200,000. More than 7.5 million people identify as Jewish.
'They shouldn't have done that'
Kosoi told the Forward he chose to go to Oaks Christian because it's one of the few private schools in the area, and provides a great education. The school, which charges about $40,000 a year, according to its website, is highly ranked. Private School Review states that its students perform in the top 20% among California private schools on the SAT and ACT tests, and that it offers a wide array of extracurriculars and AP courses. 
Aden's father Richard said the decision to send his son to Oaks Christian was entirely due to its reputation as "a really excellent school" and that the family was satisfied that, even though it is Christian, the religion would not be forced on Aden. 
Kosoi described a curriculum that includes twice-weekly Bible study. Students also go to chapel weekly, at which they sometimes hear from guest speakers. It was during chapel on April 12, just before Passover, that Rabbi Jason Sobel made his appearance. 
"They just introduced him, then he comes up, he starts talking and explains Passover but then introduces Jesus to it," said Kosoi. 
On his website, Sobel writes that he uses "prayer and scripture to include ancient Hebrew and contemporary wisdom informed by the Spirit," which allows his followers to "enrich our perspective of Yeshua (Jesus), His teachings, and His disciples."
Kosoi said he personally knows about seven other Jewish students at the school and estimates the total Jewish student body at between 15 and 30 out of Oaks Christian's roughly 1,300 students. Most who heard from Sobel, Kosoi said, had little context in which to understand Passover or the Shema. He blamed school officials for blurring the distinction between Jews and Messianic Jews by inviting Sobel to speak about the holiday.
"They shouldn't have done that. None of the kids understood it whatsoever," he said. 
Sobel did not reply to a voicemail or email requesting comment. 
Seeking understanding
After the talk concluded, Kosoi said other students asked him how he felt about it. He explained his dislike and texted his parents to tell them what had happened. He also decided to write an email to Black, outlining his grievance.
Kosoi politely expressed his belief that if the school wished to educate students on Passover, a Jewish rabbi should have been invited along with Sobel.
"Jews should be given a voice too and that unfortunately wasn't done today," he wrote. "I love this school and believe that diversity, equity, and inclusion are important in what we do daily."
He soon received a reply.
Black emailed Kosoi that he had not been present for Sobel's talk and that while he has "great respect" for Judaism, "Our desire at Oaks Christian is not to present other religions as God's redemptive pathway back to Him for a fallen people."
"Please know that I do not desire Oaks Christian to serve as a platform for other religions to have a voice," Black continued. "We are 'Oaks Christian School'. These are the beliefs that we hold to be true, and this is what we teach. And, with all humility, this is where we stand."
Kosoi told the Forward he felt Black did not address his argument. 
"He just shoots it down and just like, tells me I'm going to hell," he said. 
Kosoi brought his concerns to the Anti-Defamation League, but Dan Meisel, regional director of ADL Santa Barbara/Tri-Counties, said that while the organization is "disappointed Oaks Christian presented a one-sided view of Passover, a prominent Jewish holiday, rather than educating its students about the Jewish perspective in their midst and in the world around them," the ADL recognizes that "a private faith-based school has the prerogative to determine its own curriculum."
Kosoi told the Forward that his decision to go public with his grievances was fueled not just by the school's decision to promote Messianic Judaism and its response to him, which he said he considered antisemitic, but by other incidents in which he felt Jews were not respected.
Among them was a game of water assassins, which involves students competing with water guns, where one of Kosoi's fellow students named his team after Kanye West, following the rapper's highly public media tour in which he praised Hitler, denied the Holocaust and accused Jews of a wide array of conspiracies. Kosoi said he sent a direct message to that student on Instagram asking them to change the name but "they didn't ever reply to me."
Kosoi said he received a good education at Oaks Christian, but has decided it's not good place for Jews, and would warn other Jewish students away.
"I would tell them, learn from my experience and not to go there," he said.