News
A Michigan politician announced her baptism in Messianic Judaism. The rabbi of her synagogue says there's no such thing.
'Her beliefs are personal, and she's not going to be bullied into a box or forced to explain herself to a bunch of intolerant, politically motivated hacks,' Lena Epstein's political adviser said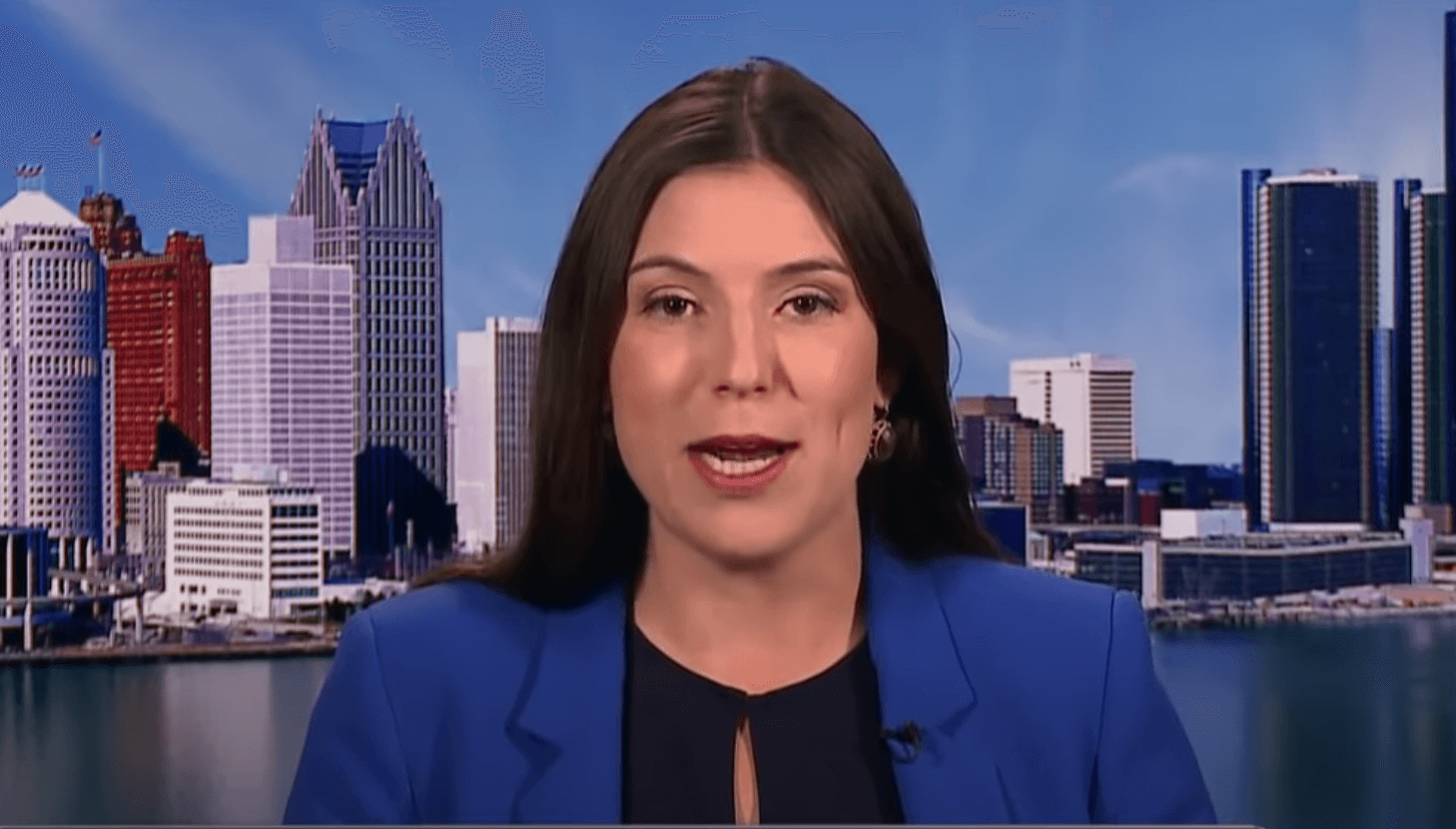 Controversy over the Jewish identity of a candidate running to head Michigan's Republican Party intensified Friday after the rabbi at her Reform synagogue took to Facebook to decry Messianic Judaism — a movement she days earlier announced that she embraced.
Lena Epstein, from a well-known Jewish family in the state, declared earlier this week she was baptized and now considers herself a "Jewish Messianic believer of Christ."
The announcement outraged many Jews and others because she had long touted herself as a proud Jew, and mainstream Judaism does not accept Messianic Jews because they believe in the divinity of Christ and try to convert Jews to Christianity.
Also on Friday, Epstein's political adviser said she would not answer questions about her religion. "Her beliefs are personal, and she's not going to be bullied into a box or forced to explain herself to a bunch of intolerant, politically motivated hacks," Ted Goodman, Epstein's political adviser, said in a statement.
A source confirmed that Epstein remains a member of Temple Beth El in Bloomfield Hills, the first Jewish congregation in Michigan, but would only speak on condition of anonymity due to the sensitivity of the matter.
Rabbi Mark Miller, the senior rabbi at the synagogue, declined to discuss Epstein's claim on Friday. But he roundly rejected Messianic Judaism on Facebook.
"THERE IS NO SUCH THING AS MESSIANIC JUDAISM," he wrote in all-caps. He said the term is used by Christians "who are camouflaging their identity in order to (1) suggest that they are Jewish [they are not], and (2) confuse unsuspecting Jews to convert them to Christianity." Miller added, "Jews don't believe in Jesus. Christians do."
Before and after
Confusion over Esptein's faith emerged on Tuesday when Epstein introduced herself to a conservative group, the Ottawa County Patriots, at a candidate forum held at the Lighthouse Baptist Church in Holland, Michigan. Standing next to her running mate for co-chair of the Michigan GOP was Pastor Donald Eason of Metro Church of Christ. Epstein said Eason baptized her "into the Christian faith" and that she now considers herself "a 41-year-old Jewish messianic believer in Christ."
She added, "Today I stand before you as a fourth-generation American with the religious freedom to be a Messianic Jewish believer."
Those remarks contrast with her embrace of her Jewish heritage when she ran for the open seat in Michigan's 11th District in 2018. In an interview with this reporter, who at the time worked for Jewish Insider, Epstein presented herself as "an unapologetic Republican Jewish woman" raised in an "incredibly loving Jewish family in southeast Michigan." She added that she observes Shabbat and that her "Jewish roots are everything in me."
"I would like to humbly ask for the support of the Jewish community around the country to rally around this campaign of a hardworking Jewish business owner," Esptein said during the phone interview. She expressed frustration with "some members of the Jewish community that have discriminated against me for my political views."
Epstein is a third-generation owner and the chief executive of Vesco Oil Corporation, the business her grandfather Eugene Epstein founded in Southfield, Michigan, in 1947. Her mother's family founded Winkelman's department store in Detroit.
Epstein, who served as a Trump campaign co-chair in Michigan in 2016, made headlines after a Michigan country club her family had belonged to for generations canceled a scheduled fundraiser. The club said it was because of her "political views." Epstein in an interview said she was informed about the cancellation by phone on Friday night and that irked her.
"It's Sabbath," Epstein recalled telling the club's board of directors' representative. "I'm holding my baby daughter in my arms. I just finished a Shabbat dinner with my family. I observe the Sabbath, and I'm very uncomfortable that we're on the phone right now."
In 2018, days before she lost her bid for a U.S. House seat to Congresswoman Haley Stevens, Epstein caused an uproar by inviting a "Jews for Jesus" rabbi, Loren Jacobs, to offer a prayer for the 11 victims of the Pittsburgh Tree of Life synagogue massacre.
Sharp words
Though Epstein refused to answer questions about whether she had rejected her Jewish faith, Goodman, speaking on her behalf on Friday told the Forward, "Lena Epstein is proud of her faith, and she'll never apologize for thinking deeply about her religious convictions."
Many Michigan Jews believe she has betrayed her heritage.
Ray Wert, a corporate public relations adviser who has known Epstein since high school and is a member of Beth El, said Epstein "has turned her back" on her community. "To say I'm disappointed in her is an understatement," he said. "There's no coming back from this for her or anyone who enables her." He posited that Epstein may have converted for "craven purposes."
Noah Arbit, a Jewish first-term Michigan state representative called Epstein "a craven, power hungry, pathetic individual" who "dispensed with any semblance of Jewish values a long time ago."
Goodman denounced Epstein's critics. "The attacks levied against her by the Woke Left and even some establishment Republicans who don't want an America-First leader are shameful and intolerant," he said. "Religious freedom is under attack in this country, and Lena won't be intimidated or silenced."