Forwarding the News
Suspect in custody in shootings of Jewish men outside LA synagogues
Soccer game between Jewish and Catholic schools ends in violent brawl, rabbi banned from Cleveland universities, George Santos mocks colleague over Israel & 'Bagel Wednesdays' return to White House.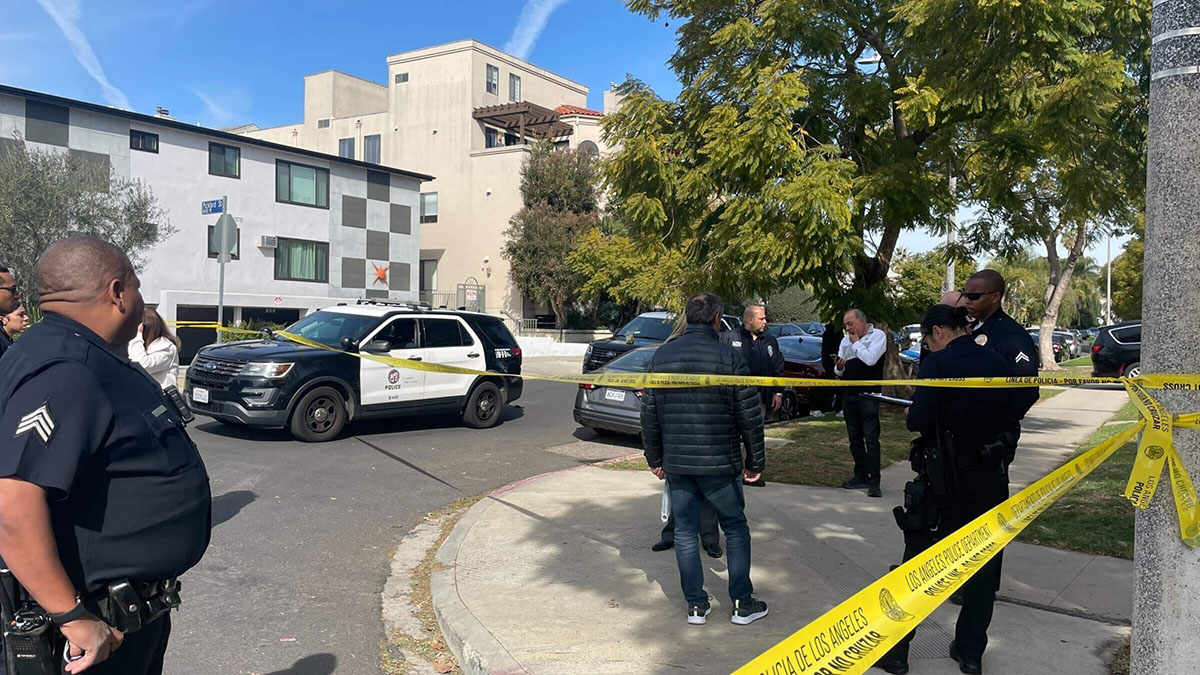 This article is part of our morning briefing. Click here to get it delivered to your inbox each weekday.
Man with 'history of animus toward the Jewish community' arrested in connection with two shootings outside Los Angeles synagogues
The suspect arrested Thursday evening was in possession of a rifle and a handgun when he was caught. Our California-based reporter, Louis Keene, has the details.
The incidents: The shootings occurred Wednesday and Thursday in Pico-Robertson, the largest Orthodox Jewish neighborhood in Los Angeles. In both shootings, which occurred within blocks of one another shortly after the conclusion of morning prayer services, a man driving a car shot a handgun out of the window. The gunfire struck one person at each incident and caused minor injuries.
Context: "At a time of increased antisemitism, these acts have understandably set communities on edge," said Los Angeles Mayor Karen Bass. Earlier this month, a man entered a Jewish community center in San Francisco and shot blanks at a group gathered for a study session.
Looking ahead: The LAPD said that the case is being treated as a hate crime. Police said they will continue to keep a heightened police presence and patrols "around Jewish places of worship and surrounding neighborhoods throughout the weekend" in "an abundance of caution."
Photographer Daniel Kramer said he and Dylan developed a rapport because they shared similar backgrounds and interests. They were "like cousins," he said. (Daniel Kramer)
He captured a side of Bob Dylan that hadn't been seen before: Photographer Daniel Kramer spent a year with Dylan from 1964-1965, and the two men came to an agreement: Kramer could take as many pictures as he wanted of the young Dylan — so long as he was willing to watch Elvis movies with him after. In the exhibit Don't Think Twice, now at Boston's Boch Center Wang Theatre, Kramer's photographs show the singer-songwriter with his guard down: The artist as a young man, right before he went electric and reached the peak of his fame. "Maybe it's 20/20 hindsight," Sullivan writes, "but the confident, playful air about Dylan then suggests a feeling that he knew he was on the cusp of something great." Read the story ➤
Pennsylvania's Jewish governor credits families of Tree of Life victims for his anti-death penalty stance: Josh Shapiro implored the state legislature this week to abolish the death penalty, calling it a matter of morality. Invoking the words of family members of the 11 victims of the 2018 synagogue shooting, he said, "They told me, that even after all the pain and anguish, they did not want the killer put to death. He should spend the rest of his life in prison, they said, but the state should not take his life as punishment for him taking the lives of their loved ones." Read the story ➤
But wait, there's more…
Spread the word! Invite someone
to sign up for this newsletter.👇
WHAT ELSE YOU NEED TO KNOW TODAY
An armed Ukrainian officer stands guard at the memorial at Babyn Yar in Kyiv, site of one of the largest massacres of Jews during World War II, prior to a Thursday visit from the Israeli foreign minister. (Getty)
🇺🇦 Israeli Foreign Minister Eli Cohen met with Ukrainian President Volodymyr Zelenskyy in Kyiv on Thursday. The two spoke of a shared enemy in Iran, who has been supplying Russia with drones used to attack Ukraine. Israel's top diplomat pledged to deliver a "smart early warning system" for airstrikes, similar to the technology Israel uses to warn civilians of rocket attacks, to Ukraine within months. (Times of Israel)
🇹🇷 The surviving Jews of Antakya, Turkey have been moved to Istanbul, where they are being temporarily housed in a Jewish nursing home. Antakya was one of the areas ravaged by the fatal earthquake in Turkey and Syria last week. (JTA)
⚽ A championship soccer game between a Miami Jewish day school and a Catholic high school ended with a mass fight on the field that caused at least one injury. Students at the Catholic school are alleged to have uttered antisemitic slurs. (JTA)
🔫 The father of the man accused of killing seven people in a a shooting at a Fourth of July parade in the heavily Jewish Chicago suburb of Highland Park was indicted by a grand jury. "Parents who help their kids get weapons of war are morally and legally responsible when those kids hurt others with those weapons," said county attorney Eric Rinehart. (CBS News)
🇵🇸 A part-time rabbi was arrested and banned from Cleveland universities over his anti-Palestinian activities, which he described as "civil disobedience." The rabbi confessed to stealing a banner belonging to a campus Palestinian rights group and reportedly targeted visibly Muslim and Arab students on campus, demanding to know their views on Israel and using "racial slurs and insulting language." (JTA)
🧵 Brooklyn's neighborhoods used to each have their own eruv: A wire that, attached to telephone poles, encircles a community, allowing Orthodox Jews within it to carry on Shabbat – like bringing a tallit bag to synagogue, or pushing a baby in a stroller to a neighbor's home. Now, a new expanded eruv encompasses most of the borough, allowing residents to move more freely between neighborhoods. (New York Times)
🫄 Congregants at more than 1,200 synagogues will discuss abortion and reproductive rights this weekend as part of Repro Shabbat, an annual observance spearheaded by the National Council of Jewish Women. The first Repro Shabbat took place three years ago; following the overturning of Roe v. Wade, this year's is expected to be the largest yet. (Religion News Service)
🥯 President Biden's new Jewish chief of staff, Jeff Zients, is bringing back "Bagel Wednesdays" for the White House staff. The bagels come courtesy of the "Call Your Mother" bagel shop, in which Zients is an investor. (Politico)
Shiva call ➤ Howard Bragman, a Hollywood publicist whose specialty was helping gay stars and athletes come out of the closet, died at 66.

Long weekend reads ➤ Chabad women come together once a year in person — the rest of the time, there's Instagram … Once a synagogue serving Jewish immigrants in a remote Australian mining town, it's now a reminder of a history many have forgotten … When a Nazi hunter and a Jewish mobster decide to join forces.
In this weekend's edition of our print magazine: Under Elon Musk's leadership, Twitter has reinstated numerous accounts that had previously been banned for violating Twitter's rules by posting hate speech, disinformation or language containing incitements to violence. Now, apparently, hate speech and disinformation are making Twitter a lot of money: A report from the Center for Countering Digital Hate estimates that Twitter is on track to make $19 million in ad revenue off of just 10 of the reinstated accounts. Our digital culture reporter, Mira Fox, has the details. Plus: How Hollywood found its Anne Frank — and why it wasn't Audrey Hepburn. Download your copy now ➤
Garry Kasparov ponders his next move during his match against Deep Blue. (Bernie Nunez/Allsport)
On this day in history (1996): Russian Jewish chess grandmaster Garry Kasparov, then the world's top-ranked chess player, defeated the IBM supercomputer Deep Blue in the sixth and final match of their first competition. Slightly over a year later, in May 1997, Deep Blue would defeat Kasparov, marking a turning point in the history of artificial intelligence. "No matter what human-like feat computers perform in the future, the Deep Blue match demands an indelible dot on all timelines of AI progress," a Wired magazine article noted in a 2017 look at the legacy of the matchup.
Laura E. Adkins, our opinion editor, joined me to discuss this week's headlines — including the staunchly pro-Israel Nikki Haley's entry into the 2024 presidential race, a new study that found Haredi Jews are more prone to nearsightedness and those bizarre Jesus Super Bowl ads. Plus, we were joined by culture reporter Mira Fox to chat about Netflix's You People, an interfaith romantic comedy starring Jonah Hill and Eddie Murphy. Watch the video ➤
—
Thanks to PJ Grisar, Lauren Markoe, Rebecca Salzhauer and Talya Zax for contributing to today's newsletter. You can reach the "Forwarding" team at [email protected].