Forwarding the News
Israel protests reach new heights + All the Jewish moments from the Oscars
A look at the pope's Jewish ties on his 10th anniversary, Miriam Adelson shuns Netanyahu, Team Israel wins at World Baseball Classic, and Mel Brooks on how Hitler motivated his comedy.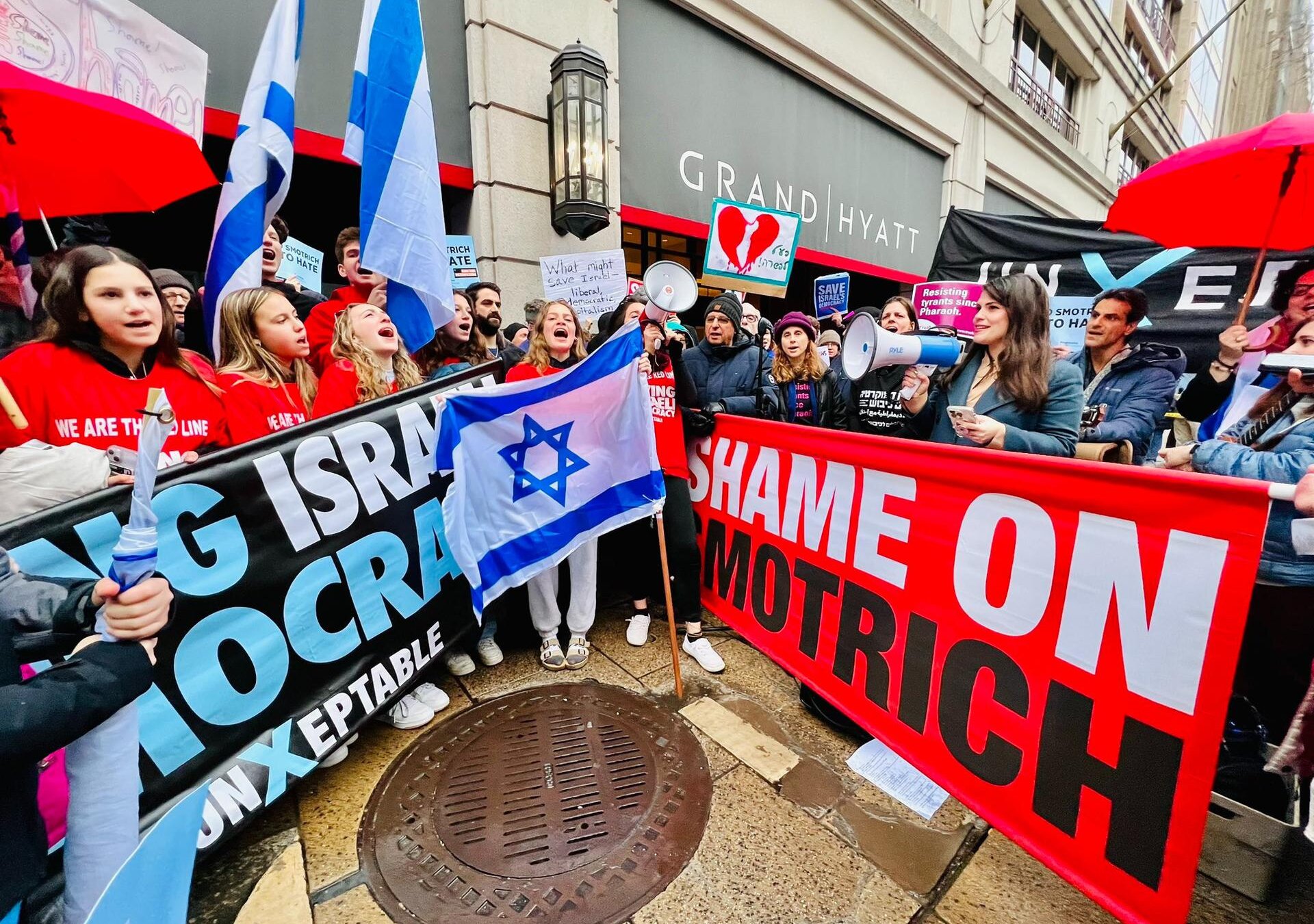 This article is part of our morning briefing. Click here to get it delivered to your inbox each weekday.
Hundreds decry Israeli minister at raucous Washington protests: In a remarkable scene with "little precedent in American history," our Arno Rosenfeld reported last night from the scene, parallel protests — one with the crowd waving Palestinian flags, the other Israeli — "delivered similar messages." The twin rallies outside the Grand Hyatt hotel in Washington, D.C. decried Israel's far-right government and Finance Minister Bezalel Smotrich, who was speaking at an Israel Bonds conference inside. Police seemed confused by the situation. When an older woman holding a combination Israeli and Palestinian flag tried to cross the street from one crowd to the other, a police officer said: "But you're always on opposite sides." Read the story ➤
Why more American Jews aren't protesting about Israel right now: Hundreds of thousands marched for Soviet Jews in the 1970s and 1980s, and huge crowds have turned out in defense of Israel over the years. But "it goes against the DNA of the diaspora political culture to protest Israel or the sitting Israeli government," said Scott Lasensky, who advised the Obama administration on Jewish issues. Read the story ➤

What should American Jews do about the assault on Israeli democracy? "When someone you love is in trouble, you don't pull away, you draw closer," Yossi Klein Halevi, a prominent American-Israeli thought leader, told our editor-in-chief, Jodi Rudoren, for her latest column. "The measure of the relationship is: Are you with us when we disgrace the Jewish people? And that's when you stand up and say: 'No, Israel is too precious. And we're not going to allow you to disgrace 4,000 years of the Jewish story.'" Read her essay ➤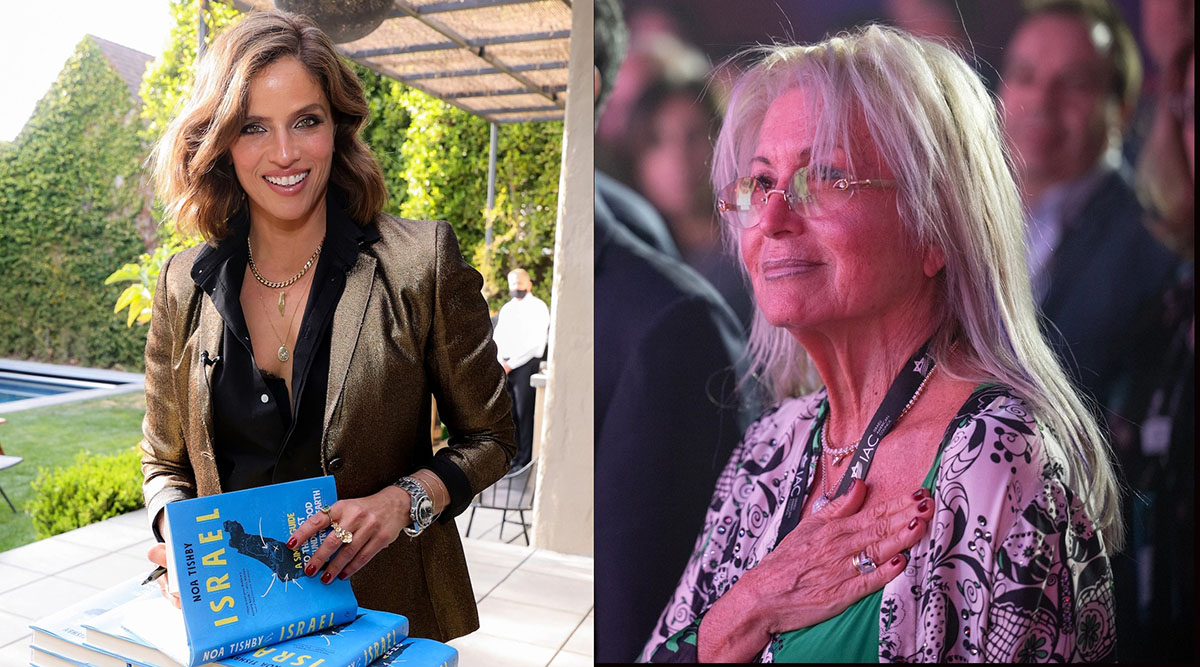 Noa Tishby, left, and Miriam Adelson. (Getty)
Two staunch Israel supporters join chorus condemning judicial reforms: Miriam Adelson is a native Israeli who has donated millions to charities in the country, and the widow of Sheldon Adelson, who bankrolled Israel Hayom, a right-wing daily that has long been supportive of Prime Minister Benjamin Netanyahu. But Miriam Adelson wrote in an OpEd in the paper this weekend that the Netanyahu government's "dash to ratify" a judicial overhaul "is naturally suspect, raising questions about the root objectives and concern that this is a hasty, injudicious, and irresponsible move."
Meanwhile, Noa Tishby, the actress who serves as Israel's envoy to fight antisemitism, wrote on Ynet of diaspora Jews: "With great pain they look and see how the country they fiercely defended — in Congress, in the media, on the networks or in front of foreign governments — is changing its face." Read the story ➤
And more…
An estimated 500,000 people took to the streets in Israel Saturday night, marking the largest turnout in 10 weeks of such protests. Yair Lapid, leader of the opposition in Parliament, told the crowd that Israel "is facing the greatest crisis in its history."


Julie Sandorf, head of an influential New York foundation, suggested in the Times of Israel that American Jews who oppose the judicial reforms should gather "up the Israel Bonds collecting dust in desk drawers and safe deposit boxes" and redeem them now.


From our partners at Haaretz: "Israel's Knesset advanced on Monday a bill that would make it effectively impossible for the attorney general to declare Prime Minister Benjamin Netanyahu unfit for office." Keep up with all the latest news from Israel by getting Haaretz's free Daily Brief newsletter delivered to your inbox.
Jamie Lee Curtis accepts the Best Supporting Actress for 'Everything Everywhere All at Once.' (Getty)
Host Jimmy Kimmel began the 95th Oscars evening with some light ribbing of Steven Spielberg and Seth Rogen ("the Joe and Hunter Biden of Hollywood") and a suggestion that Judd Hirsch might be Tom Cruise in a Mission: Impossible mask. But it was not to be a big night for The Fabelmans. Spielberg's semi-biopic was shut out, with Everything, Everywhere All at Once winning… well, basically everything, further securing its title as the most-awarded film of all time. Hope you shepped some naches from that movie's central everything bagel metaphor.
PJ Grisar reports the other Jewish highlights:
Jamie Lee Curtis won her first Oscar for her turn as IRS auditor Deirdre Beaubeirdre in Everything, Everywhere. Off the set, Curtis, is restoring her grandparents' home synagogue in Mateszalka, Hungary. She paid homage to her parents and credited her husband, collaborators, team and fans for the supporting actress win: "I am hundreds of people," Curtis said. "We just won an Oscar."


Daniel Roher won best documentary for his film Navalny, about Russian opposition leader Alexei Navalny, who is now in solitary confinement. "When I think of my work and how my Jewishness motivates me," Roher said in a 2019 interview, the aspect of my Judaism I really identify with are the social justice values of contemporary, progressive Judaism, like tikkun olam."


In an ad for the Academy Museum, a curator said "we bring important film histories to light, from the Jewish immigrants who founded the Hollywood studios to the early innovators of African American cinema." It was a nod to the new exhibit devoted specifically to the film industry's Jewish pioneers that was added after Sharon Rosen Leib, whose great-grandfather was one of them, wrote an article in the Forward highlighting the museum's original oversight of Jews' significant contribution.


Sarah Polley, who documented the discovery of her Jewish heritage in a 2012 film — won for Women Talking, about a female rebellion in a cult-like community. "The last line of our film is delivered by a young woman to a new baby, and she says 'Your story will be different from ours,'" Polley said. "It's a promise, a commitment and an anchor." And the story she wished to tell her own three children.



Jewish presenter Elizabeth Banks had the most notable gag of the evening, entering pursued by a (cocaine) bear.




Other winners included Daniel Dreifuss, a producer for All Quiet on the Western Front, whose family history inspired his push to adapt the classic World War I novel, and Mark Weingarten, sound engineer for Top Gun: Maverick.


On a personal note, my college acquaintance, Mitski, did not win original song for her contribution to Everything, Everywhere. However, Brendan Fraser and Ke Huy Quan were finally recognized by the Academy. Those actors were co-stars in the caveman comedy Encino Man, a film I watched the last third of with Mitski one night in 2011. (We were bored and it was on TV.)
Pope Francis places a prayer into the Western Wall in 2014. (Getty)
7 facts about Pope Francis and the Jews on the 10th anniversary of his papacy: The pontiff, 86, has arguably sought a closer relationship to Jews than any of his 265 predecessors – visiting Auschwitz and the tomb of Theodor Herzl, the father of modern political Zionism, and speaking out against a rise in antisemitism. But did you know that Francis once co-hosted a TV show with a rabbi? Read the story ➤
How Topol got to be Tevye: The Israeli actor was too young for the role and barely spoke English. "I could say 'please,' 'how do you do,' and 'I'm hungry'," he told Barbara Isenberg, who wrote a book about Fiddler on the Roof. The producers of the London stage production cast him anyway. "I was very lucky," Topol admitted. "I played 450 performances before I had the chance to do the film. Very rarely do you have the opportunity to rehearse a film." Read the story ➤
But wait, there's more…
State Rep. Esther Panitch, the only Jewish member of Georgia's legislature, told our Adam Kovac that pivotal experiences at Camp Ramah and high school debate club helped prepare her.


The sole survivor of the Alamo, laser beam swastikas in Florida and a dance troupe taking inspiration from Rube Goldberg. How well have you been following the Jewish headlines? Take our news quiz to find out.
Spread the word! Invite someone
to sign up for this newsletter.👇
WHAT ELSE YOU NEED TO KNOW TODAY
Abby Meyers is a star guard on the University of Maryland women's basketball team. (Courtesy)
🏀 Abby Meyers led the University of Maryland women's basketball team to a No. 6 rank in the nation as they enter the NCAA tournament later this week. Meyers, a guard, credits a trip to Israel to play in the Maccabiah Games for giving her the confidence to play at the college level. (JTA)
🛫 U.S. authorities arrested Yossi Engel at Los Angeles International Airport as he was attempting to leave the country. Engel, who fled to Israel in 2021 and temporarily returned to California last month, is accused of defrauding $47 million from Orthodox Jews in a Ponzi scheme. (Times of Israel, Justice Department)
🏥 Helping people wipe out medical debt has become an increasingly popular social justice project for synagogues, churches and mosques. Rabbi Ari Hart, who leads Agudath Jacob Synagogue in Skokie, Illinois, said his inspiration is the Book of Leviticus' discussion of shemitah, a year when lenders were obligated to cancel debts. "It's a wonderful way to take ancient biblical values and actualize them," he said. (Religion News Service)
💊 Just in time for Passover: Israeli researchers have developed a new pill that helps with chronic constipation. Its name should give you a clue to how it works: Vibrant. (CNN)
🎭 In a 90-minute interview with Maureen Dowd of The New York Times, Mel Brooks reflects on his career, the two great loves of his life and using comedy as a weapon. Brooks, who fought in World War II, said that afterward he "tried to get even with Hitler" by "making fun" of him. (NYT)
Shiva calls ➤ Traute Lafrenz, the last survivor of the White Rose, an anti-Nazi resistance movement in Germany, died at 103 … Raphael Mechoulam, known as Israel's "father of cannabis research," who helped destigmatize marijuana's medicinal use worldwide, died at 92.
What else we're reading ➤ New York Republicans go to all-out war against Rep. George Santos … Kanye and the troubling history of persistent antisemitism … These Minnesotans are combining faith and fitness in surprising ways.
On this day in history (2006): Jerry Moss, the creator of A&M Records, was inducted into the Rock & Roll Hall of Fame. Moss, a trumpeter, would later be inducted into the Southern California Jewish Sports Hall of Fame for his work breeding racehorses. Two of his horses, Giacomo and Zenyatta, won the Kentucky Derby and the Breeders cup.

Today at 4:30 p.m. ET: Our executive editor, Adam Langer, will be talking about how The Diary of Anne Frank helped shape millions of Americans' understanding of the Holocaust with Shana Stein, a Holocaust educator. Register here ➤
Dean Kremer pitches in Israel's first game of the 2023 World Baseball Classic on Sunday in Miami. (Courtesy)
Team Israel rallied in the eighth inning Sunday to win 3-1 over Nicaragua at the World Baseball Classic in Miami. "We're not just a show pony," Israel's Spencer Horwitz told our Louis Keene. "We're here to compete." Israel's second game in the tournament is against Puerto Rico, tonight at 7 p.m. ET. Read Louis' wrapup of the game ➤
—
Thanks to Rob Eshman, PJ Grisar, Louis Keene, Tani Levitt, Lauren Markoe, Arno Rosenfeld and Talya Zax for contributing to today's newsletter. You can reach the "Forwarding" team at [email protected].