Looking Forward
Fever dreams of bagels (and pizza) at the end of Passover
'Pizza is just something you eat,' says chef Brad Kent. Bagels are family, special occasions, tradition.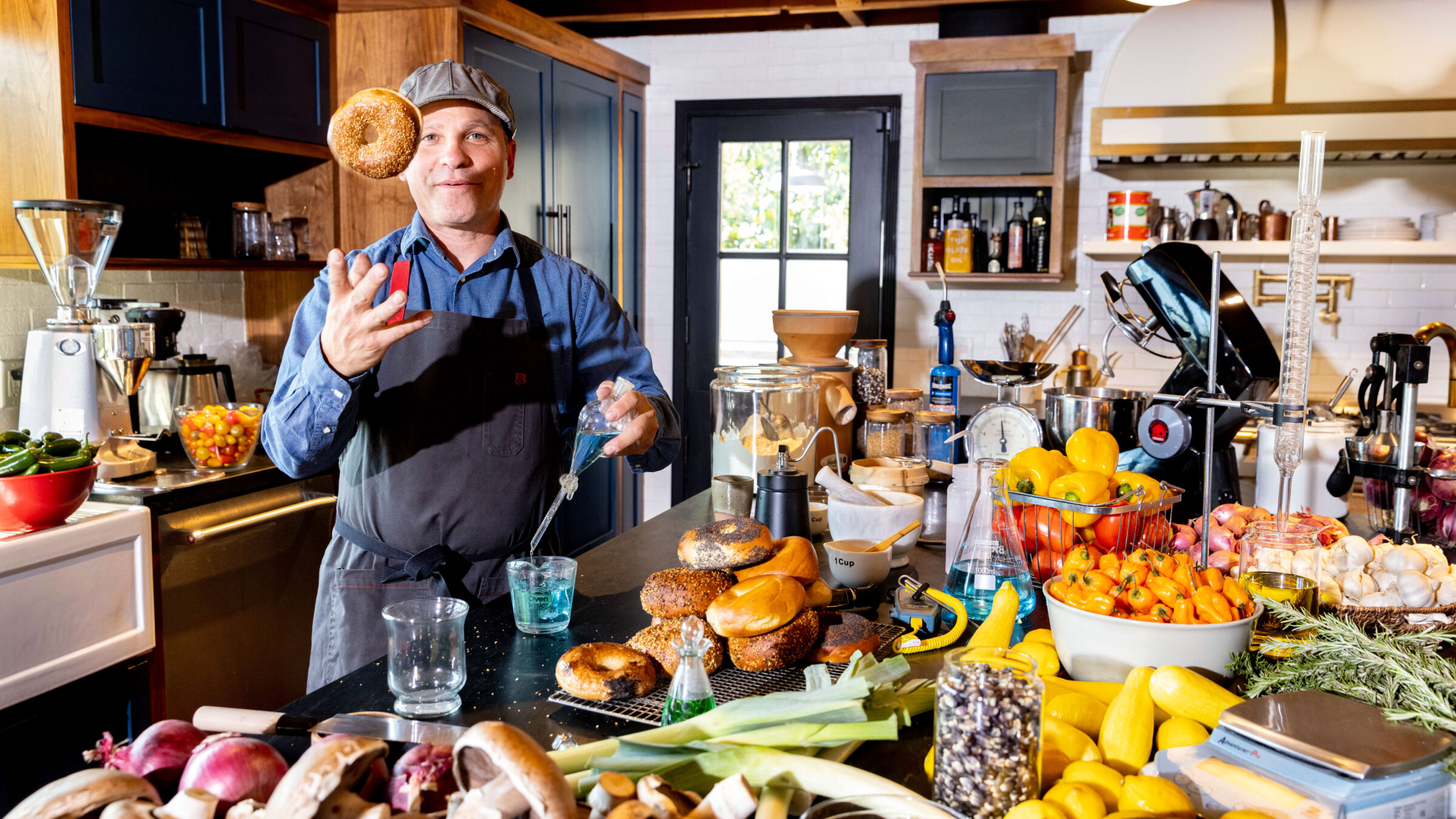 This is an adaptation of Looking Forward, a weekly email from our editor-in-chief sent on Friday afternoons. Sign up here to get the Forward's free newsletters delivered to your inbox. Download and print our free magazine of stories to savor over Shabbat and Sunday.
Sick of matzo yet? Let's talk about bagels. Better yet, let's listen to Brad Kent, a chef and culinary scientist, wax philosophic about what you may have mistakenly thought of as a simple, round, bready grab-and-go breakfast staple.
"I like a very simple bagel — like, a plain bagel is great because I can taste every element of effort that went into that," Kent told me when we spoke recently over Zoom. "I can taste the water. I can taste the flour, I can taste fermentation, I can taste malt, I taste baking, caramelization —all of that stuff.
"I think Everything Bagels are tasty, but I think it's a distraction for the palate," Kent continued. "There's so much goodness happening in a delicious bagel — if you have to add that, to me that means that there's something maybe inherently wrong with that bagel."
Kent, who is 52, is not known for bagels, but for that other beloved simple, round, bready staple: pizza. He is a co-founder of Blaze, which in 2015 made history as the fastest-growing chain of restaurants ever, and owner of Olio Wood Fired Pizzeria in downtown L.A., which Zagat has rated one of the country's top 10 "destination pizzerias."
But it is bagels that really animate the guy.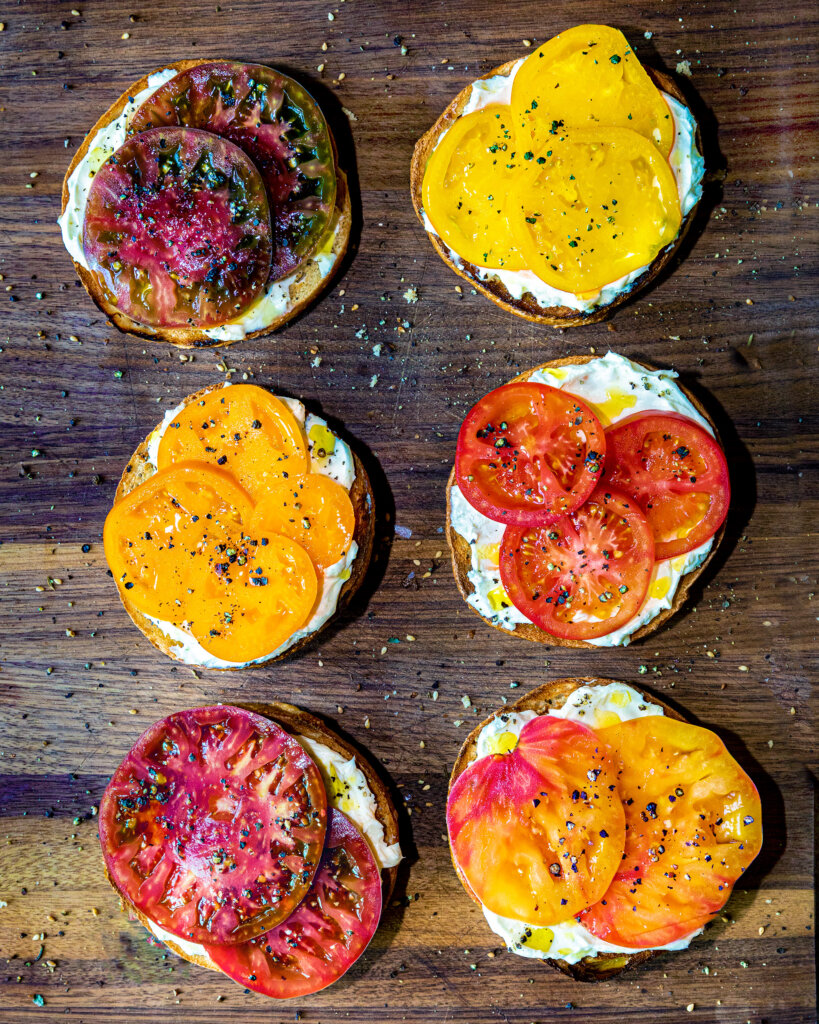 "Pizza is just something you eat — bagel is something you get the family together, you set up, it's like a big deal," he explained. "Bagels are something that you have every weekend, and it's also something that you have when somebody dies, or when someone's married — the bris, the bar mitzvah, the holidays. We would have people over or we go to someone else's house for breakfast or brunch, we'd stop and pick up the bagels. It's making a special event of something."
Hence: "Bagel + Slice," the new joint Kent is slated to open in L.A.'s Highland Park neighborhood early next month — not quite in time for a post-Passover binge (but good for a Shavuot spread!) And it's about a lot more than bagels (and slices).
'I don't even have a Jewish name'
Kent grew up in Southern California in a household he described as "lacking" Jewishly. He had a bar mitzvah, but he felt it was something of a sham — his family did not belong to a synagogue, so they made a $15,000 donation to an Orthodox one and hired a cantor who trained him to phonetically memorize the Torah portion. 
"I faked my way through it," he said. "We had yarmulkes made and it was like it was official, and I feel bad for that. It's probably part of the Jewish guilt. High Holidays, we celebrated with family and food, but we didn't do them to the fullest extent of Jewish tradition. I don't even have a Jewish name."
That's something that always gnawed at him. Kent's father was born Irving Kantrowitz, but changed his name to Bernie Kent while serving in the United States Navy, a move he always said was to make it easier to get into medical school. But that didn't sit right with Kent — "there are so many Jewish doctors who are even older," he said — so he recently asked his dad, now 90, if there was more to the story.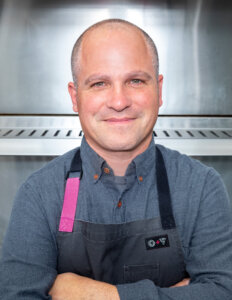 "He said, well, people used to chase him home from school and used to beat him up; he said he didn't want to have that for his kids growing up," Kent told me. "And I just learned this recently, too — he wanted to start his practice in La Jolla. But they didn't allow Jewish people to own land there in the early '60s — I didn't even know that was a thing. He said that he wasn't allowed to buy a house, that's why we ended up in East County San Diego. My life would have been completely different.
"My parents both said that because they were raised so religiously, that they didn't want to put us through that," he added. "They didn't want us to be separated from the rest of society."
Now, Kent has two kids of his own, ages 11 and 9, and they "love dong the prayer for the candles" on Shabbat, "so we do that together," he said. "They love Hanukkah, they love Passover. We don't do it the long, slow, boring way. But we have all the parts — and the food, they love the food.
"That's part of keeping the tradition alive, because food is such an important part of history and tradition and family," Kent continued.  "I can make my grandma's recipes because I remember how they taste — like stuffed cabbage and the poor people's soups, like cabbage soup — every form of cabbage soup — and borscht,  I can make that stuff. But she didn't do anything really with breads, and you know the breads are the ones that are really really craveable."
Bagels were 'too hard'
Which brings us back to bagels. I am not, actually, a big bagel person. Maybe it's because there are too many bad bagels out there, or maybe just because they have too many carbs. (I am a fan of the Flagel, which Kent said was "actually a mistake" invented when an over-proofed batch collapsed. I'd like to think of it as a "beautiful oops.")
We Rudorens tend to "break" Passover with pizza — this year, we are excited to be doing so at what my synagogue is calling "Bread-fest," a joint event with a local Muslim group, for whom it will be iftar — the celebratory feast after each day's fast during the holy month of Ramadan.
Kent said he started plotting a bagel shop two decades ago, but gave up "because it was too hard — I couldn't get it." That was both about the baking of the bagel ("I didn't have the right ingredients, didn't have the right equipment," he said) and the business model ("I mean, what can you charge for a bagel?"). He refused to join the masses making inauthentic, puffy, bland, big round bready things.
"Einstein's and what's that brand that Einstein's bought, Noah's — Noah's is responsible for ruining the bagel," Kent said. "Just like the bagel-forming machine, the bagel-rolling machine, in the 60s is responsible for ruining the bagel, and the bagel-makers union disbanding is responsible for ruining the bagel. People were looking for easier, faster, cheaper, less-labor ways of making something that's a very odd, very labor-intensive way of making a very inexpensive food."
He kept trying, building a special prototype oven in his home that used both wood and gas. Then, amid the spiraling climate crisis and the onset of the pandemic, he redrew his plans. The ovens at Bagel + Slice are electric, and the restaurant is virtually contactless, he said, with relatively low carbon emissions and organic, "regeneratively-sourced" ingredients. The bagels are vegan, whole-grain, hand-rolled, boiled and baked on burlap-lined boards.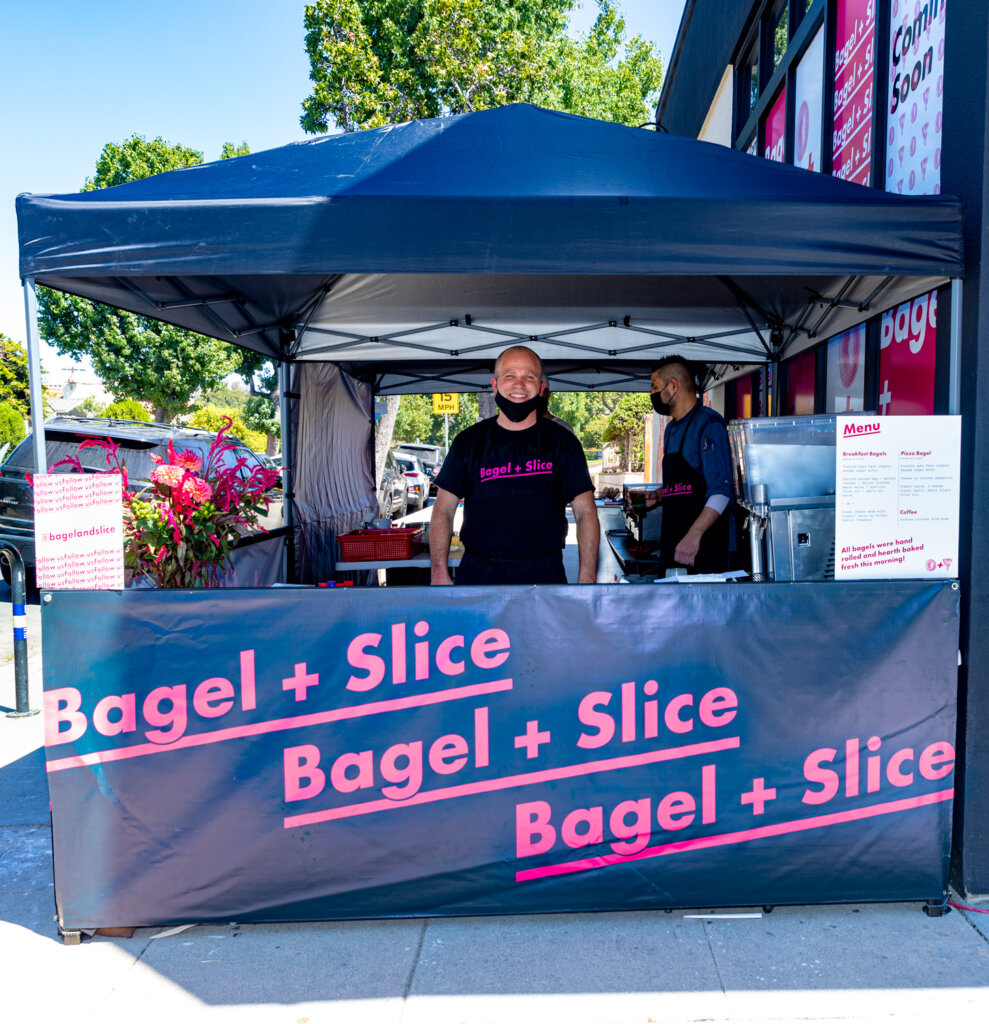 They're priced at $2.50 each, $4.55 with cream cheese, $14 with lox and the works. (A slice of cheese pizza is $3.25 and, yes, you can get a pizza bagel, for $5.25.) Kent said his business plan caps first-year profit at 15% and aims for 10% after that — far below the 22% he makes at Olio or the 20-25% most restaurants set as their goals.
"If I can make that kind of profit off of a restaurant that does more volume," he explained, "I can afford to pay people, maybe, a living wage. And maybe give them health benefits, and maybe work my way up to 401(k) and vision. So actually people could work in a restaurant and not have to have three jobs.
"I want to be responsible for fixing people's lives and their condition by serving really good food that fixes the planet at the same time," he said. "It happens to be bagels and pizza."
Mouth watering yet? Passover ends in about 30 hours….
Happy Birthday to Us!
The very first issue of the Forward was published on April 22, 1897 — a Yiddish, Socialist broadsheet that taught generations of Jewish immigrants what it means to be American. As we celebrate this milestone 125th anniversary, we are a wholly different publication: fully digital, mostly English, politically independent, reader-supported. But still telling the American Jewish story in all its complexity.
I can think of no more fitting tribute than this short video clip, from Padma Lakshmi's Hulu show "Taste the Nation." Lakshmi asks Ruth Zimbler, a Holocaust survivor, what it meant for her to be in America, and Zimbler told a story of being frightened to see her father reading the Forward openly on the subway.
"I can have a Yiddish paper to read in front of everyone because I'm in America," Zimbler recalls her father saying. "That was the feeling. I'm in America, I can do what I wish."
Your Weekend Reads
Download the printable PDF of our free magazine of the week's top stories here. Or, read them online at the links below.