Looking Forward
'The people's temple,' where condos now sell for $2 million
For the Forward's 125th anniversary, our editor went on a pilgrimage to the newspaper's landmarked headquarters on the Lower East Side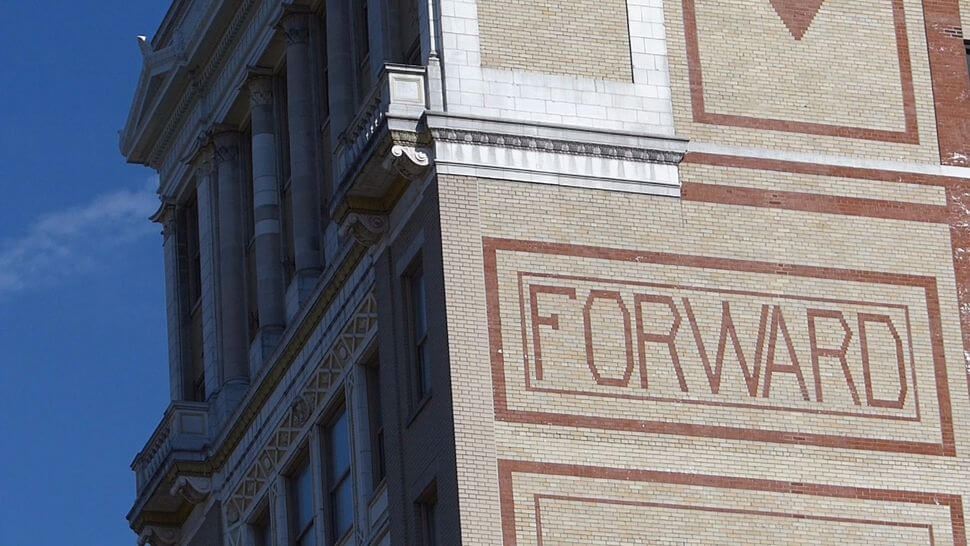 This is an adaptation of Looking Forward, a weekly email from our editor-in-chief sent on Friday afternoons. Sign up here to get the Forward's free newsletters delivered to your inbox.
It's hard to see the ghosts of our illustrious journalistic forebears at the old Forward building, especially in its second-floor condo that just sold for $1,995,000. The Beaux-Arts facade, with its Yiddish nameplate and busts of Karl Marx, Friedrich Engels, Ferdinand Lassalle and  Friedrich Adler, was landmarked in 1986. But the inside bears no remnant of the building's raucous history as a locus of the immigrant labor movement, laboratory for Nobel Prize-winning literature and hub of truth-telling and community connection.
I went to the Lower East Side edifice this week because it's our 125th anniversary year, and because, well, I love to gawk at apartments where I could never afford to live. Unit 2B is a two-bedroom, 2.5-bath triplex with 1,800 square feet that has been meticulously staged for sale, down to the cow-print rug in the study and jar of lemons on the kitchen island. There is a room-length span of built-in bookshelves, which I tried to envision filled with dusty tomes bearing famous Forward bylines like Isaac Bashevis Singer, Elie Wiesel and Ab Cahan.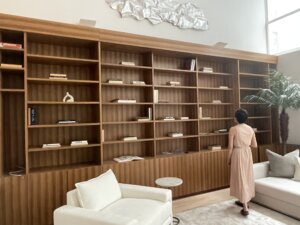 Not quite. You have to use a little imagination.
"My Long Trip Home" could have been the title for many an immigrant memoir. "Four Freedoms" and "Executive Orders" might hold collections of crusading editorials, "And the Show Went On" a compendium of our cultural coverage, "No Girl Needs a Husband" perhaps an early feminist manifesto. "A Series of Unfortunate Events" could just as easily be subtitled The History of the Jewish People.
"Not many people ask about the history," the broker, Lance Watson-Taffe, told me. "People walk in here and they're just mesmerized by the ceiling heights." But, he added, "I think people like knowing that a building has meaning."
The Forward bought the tenement at 175 E. Broadway in 1904 and the adjacent one at No. 173 in 1910. Two years later, in what a city landmarks preservation report described as "a deliberate response" to S. Jarmulowsky's towering new bank building around the corner, the editors and owners enlisted architect George A. Boehm to erect an even taller monument to socialism, planning to rent floors to fellow travelers to offset the cost.
Cahan himself declared it "the people's temple" in an editorial; the day construction workers broke ground, water spurted out, and "thousands of" folks ran over with mugs and buckets to gather up what the next day's front page declared as "holy water."
I am hardly the first Forward journalist to mark a milestone anniversary with a pilgrimage to the historic headquarters. As the newspaper turned 50 in 1947, the Yiddish writer Y. Fogel described it as "the epicenter of the hubbub of Jewish life," open 24 hours a day, where you'd meet in the elevator "the most important individuals who play a crucial role in various historic aspects of human development," including "survivors from overseas," "delegates of major countries" and "hundreds of folks who come seeking information or people who simply need to unburden their hearts."
"The lobby serves simultaneously as a debating arena where one continues what wasn't concluded on the subway or in the office you'd just exited," Fogel wrote in an article translated by our archivist, Chana Pollack. "Riding the elevator you'll be updated on all sorts of gossip. Items are whispered here and the biggest secrets are revealed."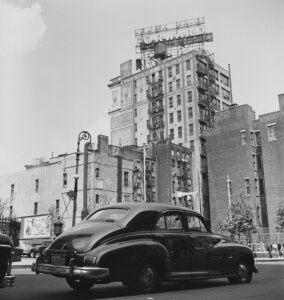 Fogel starts in the basement, with its whirring printing presses, and takes us floor-by-floor: the bookkeepers and switchboard operators off the lobby; the second-floor hall that hosted Workmen's Circle conferences and concerts; the third-floor office of the general manager, "Comrade Alexander Kahn"; the sixth-floor "kingdom of the Yiddish writer," home of the I.L. Peretz Writers' Union; the eighth-floor cemetery department (who knew?); and the ninth-floor newsroom — Fogel calls it "the nerve center" — where a ticker relayed the latest from around the world.
"You can often hear so much yelling going on there that you would simply think that blood is flowing and people are literally being killed." Fogel recounted of the spaces that held all manner of meetings night and day. "But no worries, after the meeting everyone goes to the cafeteria and all feuds are settled and drowned in a cup of coffee."
Seven decades later, and a decade after the condo-conversion, Forward reporter Sam Kestenbaum paid the place a visit. He found lines of chic young people waiting for a table at Mission Chinese Food next door, a woman whose parents used to read the paper pushing her grandchild in a stroller, a liberal Sephardic Jewish tenant from France who said that though he "came here on a plane," not through Ellis Island, he nonetheless felt "some connection to this place, like when I see the Hebrew letters outside."
"It was a New York City tableau," Kestenbaum wrote then, "the engines of change paving over a past that never quite disappears."
In the now-quiet lobby on the day I visited I met Joy Bryant, an actress who lived in the building for three years and had returned to see the doorman, Anthony Narvaez. Bryant and Narvaez knew the building had been home to "the first Jewish-language newspaper," as real estate ads generally describe it, but were unaware of its socialist roots, had never noticed the faces of Marx and Engels and the others on the facade.
"Wow, that's special," exclaimed Bryant, who is 47 and has had roles in films by Robert Townsend, Denzel Washington and Mario Van Peebles. "It was a really sexy spot," she said of her time in the building. "I love the fact that this pocket of New York feels more like New York than anyplace else. There's still an element of danger — sexy danger. This has become my favorite part of the city."
Narvaez, who has worked in the building since the condos opened, said tourists still stop by practically every day — "I could have been rich if I'd have let them in and charged them." Famous tenants have included Tatum O'Neal, Spike Jonze and America Ferrera, according to Kestenbaum's 2016 article; Joaquin Phoenix is said to own one of its 30 units now.
Also Rima Finzi Strauss, who had the Forward delivered to her door back when it was still in print. Strauss, who grew up in Queens but spent much of her adulthood in Washington, D.C., was drawn back to the city after 9/11, and was entranced by the building during a walking tour of the Lower East Side around the time the conversion was starting. She gave her card to a man sitting on the curb.
Strauss's mother grew up in the neighborhood. Her husband, Harlan Strauss, is from Cleveland but has "fond memories of his grandfather always having a Forward newspaper under his arm or on the sofa," she said. Their purchase of Apartment 3B, overlooking Seward Park, was bashert: On the day they were meant to sign a contract for a place on Park Avenue, a real estate agent who had gotten her card from that guy on the curb called to say the Forward Building was going condo.
"In the beginning, it's like wow, wow, wow, and then after some years you get used to wherever you're living," said Strauss, who is retired after multiple careers as a social worker, international banker, therapist and, improbably, Chinatown lounge and wedding singer. "I think we've largely taken it for granted."
Ron Castellano, the architect and developer who did the condo conversion — and who just completed a similar project at the old Jarmulowsky bank building on Orchard Street — told me that there was nothing beyond the facade and the original lobby ceiling to preserve by the time he bought the property.  The previous owner, the Ling Liang Church (now located next door), had gutted everything, so "I pretty much white-boxed it," he said. "I basically took it all out and started from scratch."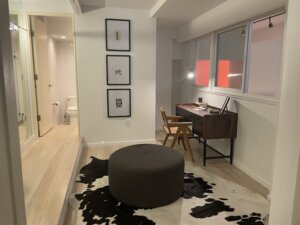 Castellano won the project in a bidding war that included a Buddhist temple around the corner and several foreign developers. He had just designed a vegetarian restaurant called The Garden Cafeteria a few doors from where a Schildkraut's vegetarian restaurant sat when the Forward Building opened in 1912. "How history repeats itself," he said.
"It's just so unusual and interesting," he said of the Forward Building. "To this day, I don't think there's another building in the entire city that has such characteristics."
Back upstairs in Apartment 2B, there's a modern, open kitchen, a stacked washer-dryer in the bathroom, those amazing bookshelves, closet space that would make the old socialists gasp, and a loft-style master suite. In a nook on the mezzanine sits a small midcentury modern desk where it's hard to imagine Ab Cahan working.
But the staging company seemed to have some sense of history. The lone book artfully placed on that desk was a biography of Philip Roth.