News
He was the head of Christians United for Israel. Now he's running as a Jewish candidate for Congress
David Brog is hoping his understanding of the Middle East and his advocacy for Israel will win him the primary for a House seat in Nevada
David Brog, a former executive for the largest pro-Israel evangelical group, is seeking to return to Capitol Hill, close to 20 years after serving on Capitol Hill as a Senate staffer to Sen. Arlen Specter. To do that he will need to win a crowded Republican primary in Las Vegas in a party dominated by Donald Trump. 
Brog, who is Jewish, describes himself as an economic nationalist and a believer in Trump's America First policy agenda, but with a history of working across the aisle to pass key legislation and to foster bipartisan support for Israel. He served for close to a decade as executive director of Christians United for Israel (CUFI), a Texas-based evangelical pro-Israel group.
"Despite all this cynicism about politics, I still think that elected officials and legislators who are there for the right reasons with the right values can and do make a difference," Brog, 56, said in an interview. 
He is one of eight candidates running in a GOP primary to challenge the incumbent Democratic Congresswoman, Dina Titus, in Nevada's 1st District, which includes most of Las Vegas and has become more competitive as a result of redistricting. Brog has raised more than $300,000 since he launched his bid in mid-February and has more cash-on-hand than any of the other candidates – which includes Mark Robertson, an Army veteran; and Carolina Serrano, a former Trump campaign staffer – according to the recent first quarter FEC filings. 
Trump has yet to pick a favorite candidate in the June 14 primary, and the Republican Jewish Coalition traditionally doesn't intervene in intra-party contests. But Brog has received the backing of former Trump administration officials David Friedman, the U.S. Ambassador to Israel, and Elan Carr, the special envoy to monitor and combat antisemitism, who co-hosted a virtual fundraiser for him last week. The National Republican Congressional Committee placed him on their list of seats it hopes to pick up in the midterm elections. 
If elected, Brog would increase the Republican Party's Jewish representation. There are currently only two Jewish members in the Republican caucus, Lee Zeldin from New York and David Kustoff from Tennessee. Zeldin is retiring from Congress and running as the Republican candidate for governor of New York. Max Miller, a former Trump White House aide, won the GOP primary in Ohio's 7th District last week. Brog's goal is to form a group of Jewish House members to fight back against the rise in antisemitism and work together on issues of mutual interest. 
Jewish upbringing and family background 
Brog was born and raised in Margate City, outside of Atlantic City in New Jersey, to secular parents. His father, Eugene, went to Temple Beth El synagogue only twice a year – on Rosh Hashanah and Yom Kippur. Eugene's parents were immigrants from Poland and Lithuania, who lost family members in the Holocaust. That trauma made Eugene lose some faith, yet he instilled in his children the pride of being Jewish. 
Brog is a little more observant. He doesn't work on Saturday to mark Shabbat as a day of rest, a commitment he is keeping during this campaign. He occasionally goes to the local Orthodox synagogues, Young Israel Aish HaTorah and Chabad. "I feel like I'm carrying on my dad's search and trying to succeed in the mission he gave me of connecting with my faith, being a Jew who practices and takes his faith seriously," he said. 
After graduating from Princeton University and Harvard Law School, where he was classmates with former President Barack Obama and Supreme Court Justice Neil Gorsuch, Brog spent a few years in Israel working for a law firm – Meitar, Littman Nechmad (now Meitar Law Offices) – which specializes in commercial law and hi-tech. 
Brog discovered that he was a third cousin of Ehud Barak, the former prime minister of Israel, in the late 1990s. The two shared a great grandfather, Simon. Brog had already admired Barak, who was Labor leader at the time, a distinguished soldier in Israel's history and an advocate for peace in the Middle East. Barak changed his surname from Brog to Barak in 1972, using the Hebrew word for lightning.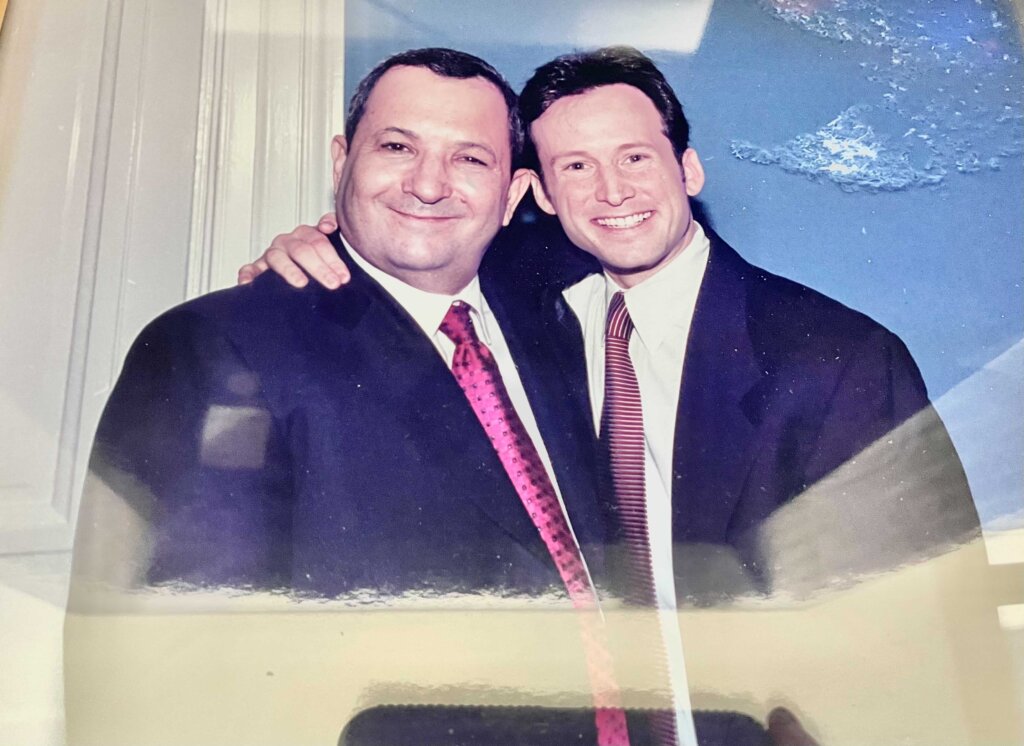 The two first met when Barak visited the U.S. as prime minister in July of 1999 and met with a group of Jewish members of Congress and their staffers. As Barak was greeting everyone, Brog introduced himself as his cousin. Barak "put his arms around me, points at me and just says to nobody in particular, 'This is my cousin, my cousin,'" Brog recalled. Brog has stayed in touch with his family in Israel, including Barak's brother Avinoam, who still carries the surname Brog. 
Brog began studying Zionism as a student at Atlantic City High School after reading the book "The Revolt" by Menachem Begin, who was the leader of Irgun, the Zionist paramilitary group, and later became Israel's sixth prime minister. He found it in his school's library after searching for an autobiography of former President John F. Kennedy for an assignment. "That really impacted me and turned me into a Zionist," he said.
Leading America's largest pro-Israel group
After serving as policy director during Specter's short presidential campaign in 1996, as well as the senator's chief counsel and chief of staff, Brog wrote a book "Standing with Israel: Why Christians Support Israel," which was based on his experience traveling through central Pennsylvania and meeting evangelical Christians. In the process of writing the book, Brog visited pro-Israel churches across the country and listened to a series of speeches given by Pastor John Hagee, a televangelist and founder of Cornerstone Church in San Antonio, Texas. 
Brog became friends with Hagee, who asked for his help in launching Christians United For Israel (CUFI). Brog saw it as an opportunity to change the way Israel was being perceived in Congress as merely a Jewish issue and broaden the base of support for Israel.
At the time, the Republican Party was at a crossroads, with Pat Buchanan and Ron Paul, isolationists on foreign policy, attracting a lot of conservative support that could have influenced the party's stance on Israel. Brog and Hagee saw it as their mission to strengthen evangelical support for Israel as a way of winning conservatives for at least a generation. CUFI now has over 10 million members and has lobbied successfully for pro-Israel legislation, including the passage of the Taylor Force Act, which cuts U.S. funding to the Palestinians as long as the Palestinian Authority pays subsidies to the families of terrorists. 
In July 2015, Brog left CUFI and was tapped to head a new group called the Maccabee Task Force, an initiative launched by the late Sheldon Adelson and Israeli-American media magnate Haim Saban, to combat antisemitism on college campuses. Brog said Adelson was determined to provide students with the support and resources they need to fight antisemitism and took it on as a personal project.
Brog is still serving as chief executive of the Maccabee Task Force, with the blessing of Dr. Miriam Adelson, and said he will take a leave of absence if he wins the primaries and the campaign heats up. 
Brog wants to become a leading voice on Israel in Congress
Brog said that he brings a lifetime of dedication and a depth of knowledge to lead on pro-Israel causes. "I don't just want to be a friend of Israel," he said. "I want to be a leader on Israel and a champion of Israel." 
He said both parties lack people who understand the issues sufficiently and have the ability to get into the details of the Israeli-Palestinian conflict so that they can push back against anti-Israel statements and organize their caucuses to defend Israel when needed. "We have to be very quick to reach out and broaden our coalition to all people of goodwill who love Israel and hate antisemitism," he said. 
He eyes Ritchie Torres, a first-term progressive congressman from New York who has become a leading voice on Israel, as a potential friend in Congress. 
David Krone, head of global public policy for Apollo, said he found Brog as a key ally in an attempt to convince House Republicans to support legislation known as the Antisemitism Awareness Act that the Senate passed in 2016. The bill was blocked in the House by former Rep. Bob Goodlatte, then the House Judiciary chair. Brog introduced Krone to CUFI leadership who came on board in support of the legislation that later became the federal International Holocaust Remembrance Alliance (IHRA) definition to combat antisemitism on campuses.
Krone described Brog as "a thoughtful conservative" who "will sit and talk to people and listen to them." He that one "can't ask for more than that" and that it's a qualification missing in America.
Brog said he's not actively seeking Trump's endorsement in the primary, but would welcome it if given. He said he supports Trump's policies and credits him for bringing the Republican party in the direction he wanted to see it, standing up for the working class. But Brog made it clear that he has a very different personality than Trump. "I'm more of a consensus builder and I'm not fond of attacking people," he said. 
Brog said he told his wife he wants to be a congressman, "but I don't want it badly enough to compromise my family, my faith or my integrity."