News
New poll: Israelis have confidence in Biden, but less than they had in Trump
The Pew survey, conducted ahead of Biden's visit to Israel, also shows that Israelis are more likely to hold favorable view of the US than Americans hold of Israel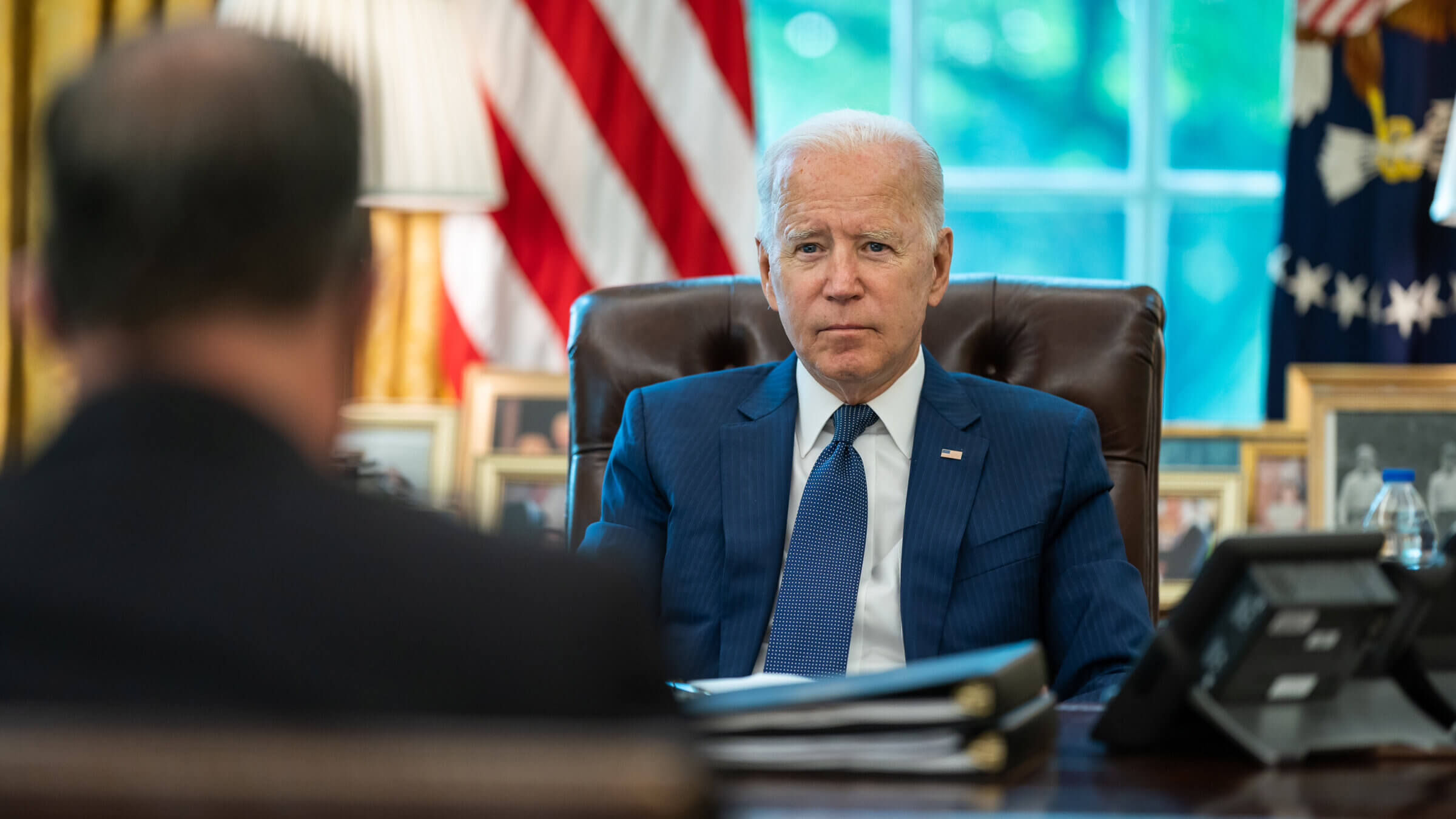 As President Joe Biden embarks on his first official visit to Israel this week, a new survey from the Pew Research Center shows most Israelis have confidence in his handling of world affairs, though less than they had in former President Donald Trump at the same time of his presidency. At the same time, Israelis are divided over whether the Democratic president favors Israelis or Palestinians more in the Middle East conflict. 
The Pew Research Center poll, of 1,000 Israelis — from various religious and racial groups — reached from March 16 through May 1, found that 60% have faith in Biden's leadership. That's down 11 points from the assessment Israelis gave of Trump in 2019. Biden also rates far lower than his predecessor on whether he is a "strong leader" and "charismatic." 
A minority of Israelis — 27% — consider Biden charismatic, compared to 71% who apply the term to Trump. And 41% see Biden as a strong leader, compared to 69% for Trump. Biden fares better than Trump, however, when Israelis are asked whether he is "arrogant" or "dangerous."
Though Biden trails Trump overall in Israelis' assessment, his approval rating tops that of former President Barack Obama — 49% — measured when Biden as vice president in 2010 visited Israel, a trip overshadowed by a rift with the Israeli government over settlement construction. Confidence in Biden today matches the numbers Obama received in a 2013 Pew survey following a trip to Israel when relations between the countries were better. 
The Pew poll has a margin of error of plus or minus 4.2 percentage points.
No sharp turns in policy
Biden has largely continued Trump's policies in Israel since taking office. He hasn't rescinded U.S. recognition of Jerusalem as Israel's capital, he put on hold plans to reopen the U.S. consulate for Palestinians in East Jerusalem that Trump closed, he's far less critical of Israel than many others in his party, and he is expanding the group of Arab countries normalizing relations with Israel (which began during Trump's administration). 
A U.S. official said Biden will reaffirm his commitment to reopen the consulate but won't announce any progress on the matter during his trip. The survey found that 55% of Israelis disapprove of the Biden administration's intention to reopen the consulate, and 26% approve.
An overwhelming majority of Israelis — 89% — see current relations between the U.S. and Israel as positive, but the share of those describing the relations as "very good" fell from 63% in 2019 to 39%.
The conflict
On Mideast policy and the Israeli-Palestinian conflict, 34% of Israelis think Biden is striking the right balance, 31% said he favors the Israelis "too much," and 26% say he overly favors Palestinians.
A poll released by the Israel Democracy Institute Monday found that 54% of Israelis do not trust the Biden administration to take Israel's interests into account in shaping overall relations between Israel and the U.S. And they are evenly divided — 44% on either side — on the question of Biden's ability to broker a normalization deal between Israel and Saudi Arabia.
The Pew survey was conducted before the current coalition government fell apart and Naftali Bennett handed over the premiership to Yair Lapid. A plurality of respondents disapproved of Bennett's policies toward the U.S., a reflection of the deep divisions in Israeli society and widespread disapproval of the then-Bennett-led government. Lapid, who will host Biden as interim prime minister, is more closely aligned with Biden and the Democratic Party. 
American opinion
Pew also surveyed 3,581 U.S. adults from March 21 to 27 about their views on Israel. 
A majority of respondents — 55% — view Israel favorably, though 53% of those who identify themselves as Democrats, and most younger Americans, hold a negative view of the nation. 
In contrast, Israelis have a much more favorable view of the U.S. Among Jewish religious groups and those who are ideologically on the right and center, 83% say they have favorable views of the U.S. On the left, 66% view the U.S. favorably, and 59% of Israeli Arabs view the U.S. unfavorably. 
More Americans have a favorable view of the Israeli people — 67% — than of the Israeli government — 48%. And most Americans — 74% — say relations with Israel are good — and 62% are not sure whether Biden is more favoring Israel or Palestinians. Among those who have an opinion, more Republicans and conservatives believe Biden is favoring the Palestinians too much. 
The survey also asked about the Boycott, Divestment and Sanctions movement, which targets Israel for its occupation of the West Bank and accuses it of human rights abuses. A plurality of Israelis — 47% — said boycotts are a major threat to the country and 36% consider them to be a minor threat. Few Americans, however, have heard of the movement. Among respondents who have heard at least something about BDS, more say they oppose than support it.