News
When the Saudi Crown Prince interrupts your Seder – and more things we learned from Jared Kushner's new memoir
Kushner's book, 'Breaking History: A White House Memoir,' is due out on Tuesday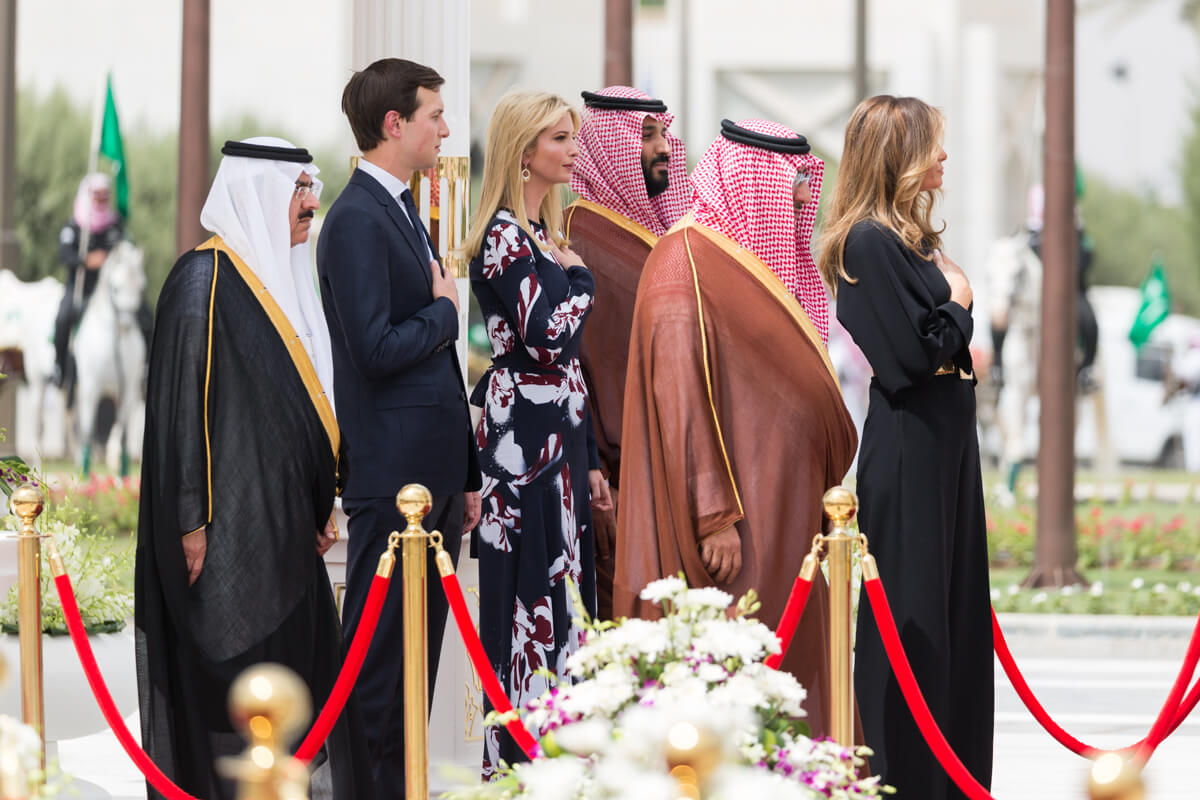 It was April 8, 2020, the first night of Passover. Jared Kushner had finally sat down for a Seder with his children when a phone call from abroad interrupted his recitation of the Haggadah. On the line was Saudi Crown Prince Mohammed bin Salman who called back to negotiate a deal between Saudi Arabia and Russia to stabilize oil prices.
The Seder was Kushner's first family meal in weeks amid intense work at the White House with the outbreak of the coronavirus pandemic. "As we practiced the sacred rituals and partook in the Passover meal, it almost felt as if life was normal again," Kushner writes in his new book, "Breaking History: A White House Memoir," slated for publication on Tuesday and obtained early by the Forward. "Never mind the weeks of sleepless nights, missed family moments, and returning home long after the kids had gone to bed. I was savoring every second."
Kushner was joined by his close aide Avi Berkowitz, who also worked on the normalization agreements between Israel and Arab countries in the region.
"As we sang my favorite Passover song, 'Vehi Sheamda,' a prayer about God's promise to deliver each generation of the Jewish people from their oppressors, the familiar sound of my phone broke the serenity: it was MBS, and I had to take it," Kushner recalls. "Ivanka nodded knowingly, of course, but I couldn't help but notice the kids' disappointed faces as I walked out of the room."
Kushner's book is billed as a behind-the-scenes account of his work as a senior adviser to his father-in-law, Donald Trump, and the role Kushner played in brokering the Abraham Accords. But the book also provides a closer look at the couple's work in the Trump administration and personal life outside the West Wing.
The following are more key moments from Kushner's memoir:
If I forget thee, O Jerusalem
Kushner reveals that during internal deliberations about moving the U.S. embassy from Tel Aviv to Jerusalem, then-White House Chief of Staff Gen. John Kelly refused to let him or Jason Greenblatt, who was the Mideast peace envoy, into the situation room because of their Jewish faith.
Kelly told David Friedman, the U.S. ambassador to Israel, who was part of the meeting with Trump that "he didn't want history to show that three Orthodox Jews, who might be biased in favor of Israel, had participated in such a consequential meeting." Kusher called it one of Kelly's "power plays."
At one of the meetings, Kushner writes that then-Secretary of State Rex Tillerson, who opposed the move, wrongfully claimed that Israelis had controlled Jerusalem since "'the war in 1996"' and that it wouldn't dramatically improve U.S. standing with the Israelis. When Friedman accused Tillerson of "just reading from talking points that someone wrote for you" and suggested that person be fired for the embarrassing mistake, "Tillerson looked down his nose and over his reading glasses at Friedman, slammed his notebook shut, and stated, 'I've said my piece.'"
Make AIPAC great again
In March 2016, Trump made waves with his first-ever teleprompter speech at the American Israel Public Affairs Committee annual policy conference in Washington, D.C. The Trump campaign had sought to put to rest doubts about his Israel policies as the race narrowed between the brash real estate mogul and Sen. Ted Cruz, a staunch supporter of Israel.
Kushner writes that a day before his anticipated speech, Trump wanted to cancel his appearance after it was reported that leaders of the Reform movement planned a protest. Kushner told Trump that he would look weak by opting out at the last minute and would "isolate" his pro-Israel supporters.
"As Trump took the podium the next day, I paced back and forth behind the stage," Kushner writes. To his surprise, Trump mostly stuck to the script. But it was the one ad-libbed line that earned him thunderous applause and a standing ovation. The then-Republican presidential frontrunner expressed joy over 2016 being President Barack Obama's last year in office, adding one exclamation: "Yay."
Trump walked offstage delighted, Kushner writes, and gave his son-in-law a rare compliment: "Good job," he said.
But the remark irked AIPAC leadership, who fielded angry calls from the White House. Howard Kohr, AIPAC's executive director, called Kushner to let him know the pro-Israel lobby was going to put out a statement condemning Trump. "You're making a big mistake," Kushner said he warned Kohr. "Trump just made AIPAC hotter than ever, and he now has a one-in-two shot of winning the nomination. Why would you alienate someone who has that much potential to be president of the United States?"
The next day AIPAC president Lillian Pinkus read a statement from the stage disavowing Trump's remarks. "Trump didn't forget it," Kushner writes. "During his four years as president, he never returned to address the AIPAC conference, despite being a hero to its attendees."
Family values
In 2019, Kushner met with Turkish President Recep Tayyip Erdogan on a mission to seek support for the Trump administration's peace plan.
While Erdogan wasn't rushing to endorse the plan, he thought of a creative way to grow the Jewish population outside of Israel. "Before our meeting concluded, Erdogan encouraged me and Ivanka to have more children, and expressed his sincere love for his own," Kushner writes. The Kushner couple has three children. The youngest, Theodore James, was born in March 2016 as Trump was racking up delegates to get the Republican nomination for president. Trying to make Kushner feel more comfortable, Erdogan joked that he encourages all his supporters to expand their families.
Kibud av v'em, honoring one's parents
Kusher recalls the moment he found out his father was granted a pardon by his father-in-law in the waning days of his presidency. Charles Kushner was convicted in 2005 of illegal campaign contributions, tax evasion and witness tampering, and was sentenced to years in prison. Kushner writes that Trump told him in a Dec. 23 phone call: "Jared, I just signed a full pardon for your dad."
"I was so overwhelmed, I didn't know what to say," Kushner recalled.
The senior Kushner, out of prison since 2006, initially declined an offer for clemency, a privilege given to the commander in chief and often used before leaving office. "I am at peace with what happened and have rebuilt my life in a way where I have all of the right priorities and am comfortable with who I am. I didn't want to cause Donald any controversy," he told his son. "But truthfully, hearing this news makes me realize how much I really did want one but was too proud to ask. This brings me closure to a very hard period of my life."
Kushner, who visited his father in prison every week, said he never dreamed he would be having this conversation after 15 years. "I certainly never imagined that the president of the United States would grant my own father a pardon," he writes. "In that moment, I felt that only God's hand could have written this real-life script, and that His plans are always bigger than ours."
Earlier in the book, Kushner writes about the positive treatment his dad received from fellow inmates in jail. He recounts one time he sat on the benches in the yard when an inmate yelled, "Hey, it's Charles the Great!"
"My dad turned to me and quipped, 'Maybe I don't want to leave here — no one in my company ever called me that,'" Kushner writes.
Two sides to the story
Kushner doesn't extensively address the controversy that ensued after Trump's "both sides" response to the 2017 deadly "Unite the Right" rally in Charlottesville. But he criticized the perception of the remarks as he highlighted the numerous times Trump was called a racist by the Democrats, especially during the Black Lives Matter protests in 2020. "The Democrats and the media took Trump's words — 'very fine people on both sides' — out of context," Kushner writes. "Trump was referring to peaceful protesters, some of whom supported, and others of whom opposed, tearing down the monument to Robert E. Lee. Time and time again, Trump had forcefully denounced the heinous violence of neo-Nazis and white supremacists, but the media seized upon every opening to call Trump a racist. I knew from my personal relationship with the president that the charge was nonsense."
Attack on the Capitol
Kushner writes that when supporters of Trump stormed the U.S. Capitol on Jan. 6, 2021, he was in the air on a flight heading back from Saudi Arabia.
"The violent storming of the Capitol was wrong and unlawful," Kushner writes. "It did not represent the hundreds of thousands of peaceful protesters, or the tens of millions of Trump voters, who were good, decent, and law abiding citizens."
He said his impression was that nobody at the White House expected violence that day, and if they had, "they would have prevented it from happening."
Kushner writes that the morale in the White House sank to an all-time low that day, but he still encouraged the staffers who came to his office prepared to offer their resignation, to stay for the good of the country. "This is a moment when we have to do what's right, not what's popular," he said. "If the country is better off with you here, then stay. If it doesn't matter, then do what you want."
The Forward initially previewed key excerpts from the book last month, including about Ivanka Trump's conversion and Kushner's dealings with former Israeli Prime Minister Benjamin Netanyahu and his work on the Abraham Accords.