News
'Shabbat Shalom and Sayonara': Loyalists tried to oust Kushner via Shabbat meeting with Trump
Former White House advisor Peter Navarro details in new book an effort to replace Jared Kushner with Steve Bannon as head of the 2020 campaign amid dismal polling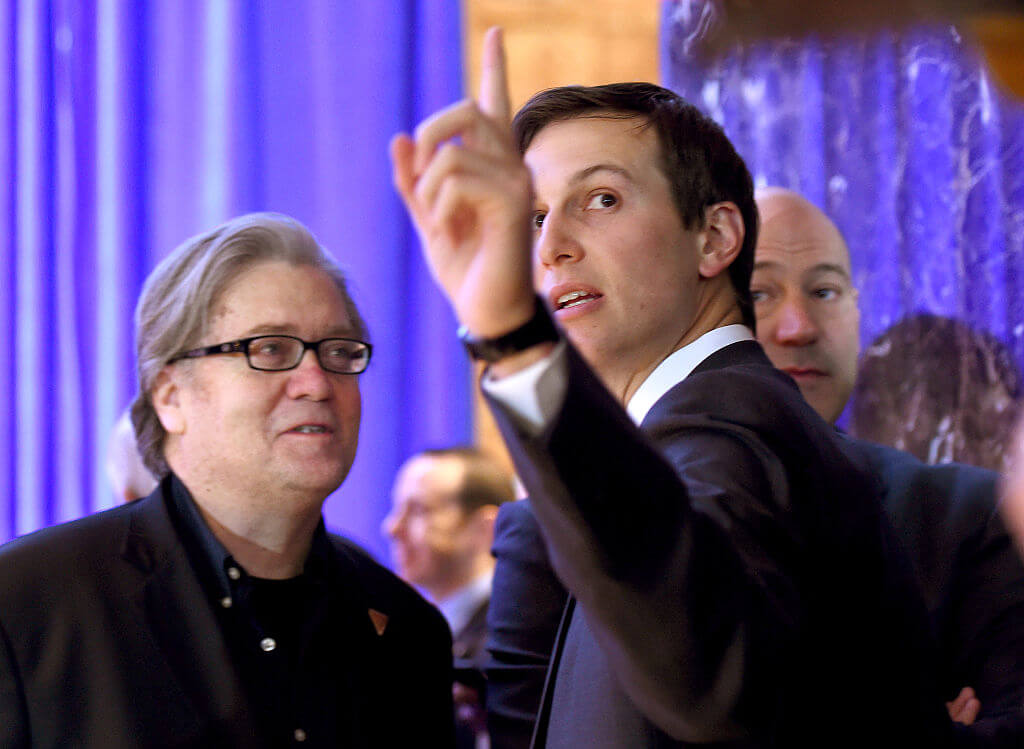 A group of President Donald Trump's loyalists and donors, angered by Jared Kushner's control of his father-in-law's 2020 reelection campaign, picked a Saturday to carry out a "coup d'état" so Kushner, who is Shabbat observant, would not be at the White House, Peter Navarro, former trade adviser to Trump, details in his forthcoming memoir.
"Whenever Donald J. Trump wanted to meet with somebody beyond the prying eyes of Kushner, he always scheduled the meet on Saturday," Navarro writes in "Taking Back Trump's America: Why We Lost the White House and How We'll Win It Back." "Saturday is the Jewish Shabbat or Sabbath, and the Boss knew Kushner would be home, offline and off the grid."
The Forward obtained an early copy of the book, whose publication date is Sept. 20.
Bad blood with Bannon
Navarro said he and Bernie Marcus, co-founder of Home Depot and a GOP megadonor coordinated the effort to replace Kushner with Steven Bannon, who served as the Trump campaign's chief executive in 2016.
Marcus, who is Jewish, blamed Kushner for the president's plummeting poll numbers. But Bannon, who clashed earlier on in the administration with Kushner, insisted that he would only agree to take helm of the stumbling campaign if Kushner was "completely out of the picture," Navarro writes.
Since "Kushner himself would never go quietly into the good night," Navarro writes, the group decided to arrange a private dinner between Marcus and Trump at the White House on a Saturday.
On Thursday, June 25, 2020, Bannon met with Marcus and a number of Trump whisperers — including Ronald Lauder, the president of the World Jewish Congress, and Keith Frankel, a dietary supplement executive — in the Hamptons to plot the move.
"The plan was simple," Navarro writes, in a chapter titled "Shabbat Shalom and Sayonara." Marcus had to let Trump know "in no uncertain terms that he was going to lose the election unless he handed the helm over to a more experienced operative."
Trump agreed that Kushner had to be replaced with Bannon, but he asked that Marcus be the messenger. Trump "indicated to Bernie that there would be 'family troubles' if Trump himself had to deliver the bad news to his son-in-law and the father of his grandchildren," Navarro writes.
Marcus "grudgingly" accepted the mission, Navarro says in the book, and had his aide set up a phone call with Kushner for Sunday afternoon. "In what was the ultimate insult, the young whippersnapper Jared Kushner stood up the old sage Bernie Marcus for that Sunday appointment," Navarro writes. When the two finally spoke a few days later, Kushner resisted the push to step down. "And that was that."
In his own recent book, Kushner wrote that, despite the bad blood, he supported Trump pardoning Bannon, who had been charged with duping thousands of donors. (Bannon was pardoned on the federal level, but is now being charged by New York prosecutors.)
"Bannon single-handedly caused more problems for me than anyone else in my time in Washington," Kushner wrote. "He probably leaked and lied about me more than everyone else combined. He played dirty and dragged me into the mud of the Russia investigation. But now that he was in trouble, I felt like helping him was the right thing to do."
Boasting about a Nazi analogy
In "Taking Back Trump's America," Navarro also details a 2018 confrontation he had with Steven Mnuchin, the former treasury, over trade negotiations with China. He describes a screaming match that was reported at the time by the Daily Beast, and says that he compared Mnuchin to the infamous British Prime Minister Neville Chamberlain, who pursued a policy of appeasement towards the Nazis and Adolf Hitler in 1938.
Navarro, a hardliner on China, refers to Mnuchin as "Stevie," and says the treasury secretary invoked his Jewish ancestors killed in the Holocaust to complain to Trump about the comparison.
But Navarro says he did not back down. ""Knowing what you know about what the Nazis did to the Jews," Navarro quotes himself retorting to Mnuchin, "how is it that you don't give a flying puck about what the Chinese Communists are doing to two million Uighurs in the concentration camps of Xinjiang Province?"