News
The last schnitzel: End of an era for Israel's famed Penguin restaurant
In town founded by Jews fleeing Hitler, The Penguin is among the last public vestiges of Nahariya's German roots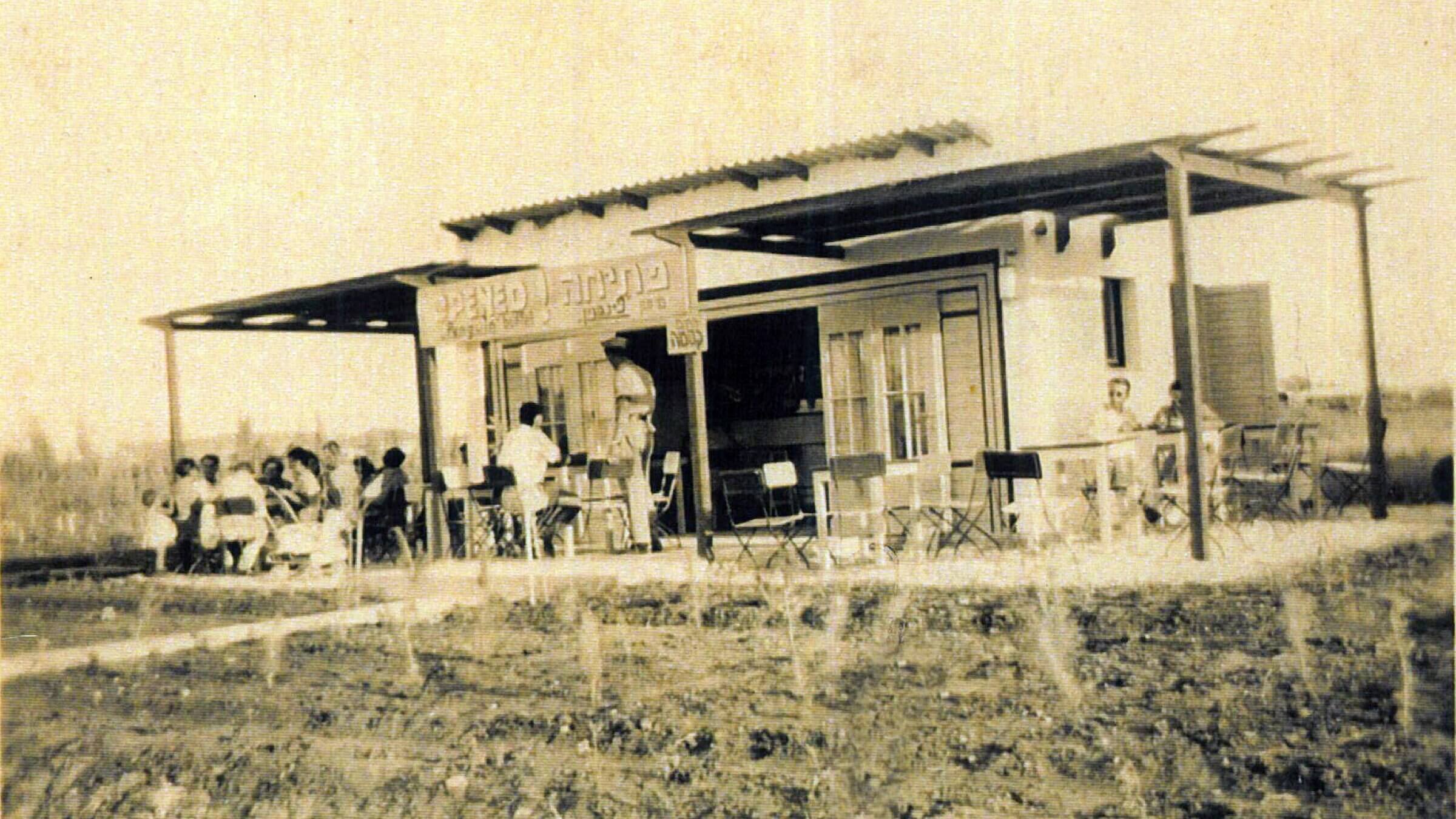 NAHARIYA, Israel — The Penguin's backyard once hosted fashion shows, weddings and concerts by the country's leading singers. On its patio, British Mandate-era soldiers drank cold beer, unaware that the young women making conversation were sent to distract them from nearby ships that were discharging arriving Jews. Out front, along eucalyptus-shaded HaGaaton Street, horse-drawn carriages ferried summer tourists to their hotels.
Visiting the restaurant today conjures these decades-old images of a landmark that's occupied the same spot for 82 years.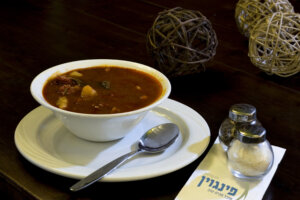 But come Jan. 1, The Penguin will exist only in sweet memories in this remote coastal town, its property slated to become a nine-story residential building. No more Ilan Coffee — the owner's layered, white-black-white concoction of warm milk, espresso and froth. The end of signature dishes like schnitzel (a thin, fried and breaded chicken cutlet), goulash and Bavarian bratwurst with cabbage.
Changing tastes or decreased business aren't prompting The Penguin's demise, since people of all ages continue patronizing the restaurant. Rather, owner Ilan Oppenheimer, 75, is selling out to apportion the proceeds to his children while he's alive and well, intent on ensuring harmony in the family — shalom bayit, domestic tranquility, is the Hebrew term he used.
Oppenheimer mentioned local families that splintered in their third generation of running a company. His late father, Ernst, established The Penguin in 1940, soon after emigrating with his wife Mariana, from Offenbach, Germany. Ilan and his eldest child, Amir, 42, now run the business.
Nahariya's German roots
The family's gain is the community's — and Israel's — loss, for more than an institution is closing with The Penguin. It's among the last public vestiges of Nahariya's German roots.
Jews fleeing Hitler founded Nahariya in 1935. They tried farming family-size plots, couldn't make a go of it and reverted to their white-collar professions. The following decades saw the establishment of still-operating companies, all of them German-Jewish: Soglowek meatpacking, Strauss dairy products and toolmaker Iscar, which founder Stef Wertheimer famously sold to Warren Buffett — the American tycoon's first foreign holding.
But all of those companies abandoned Nahariya in recent decades for other northern locales. Little of the old-country flavor remains in the town, with German-born residents almost completely dying off and their children long ago moving to the country's center. Danny Ohayon, whose parents are Moroccan, fondly recalls German families on Balfour and Sokolov streets to whom he delivered meals from The Penguin in the 1980s. German would be heard in the streets, but no longer is; Russian and Hebrew are Nahariya's lingua franca. Low-rise nursing homes are everywhere, transformed from mom-and-pop hotels — most owned by German Jews — that once catered to Israeli tourists. The owner of one nursing home, The Jordan, told me a few years ago that shifting from the hotel business was more profitable. I've seen just one horse-drawn carriage — another Nahariya hallmark — here in five years.
What remains, outlasting even The Penguin, are the symbols of those roots. Most of Nahariya's sister cities are in Germany: Alzey, Bielefeld, Darmstadt, Offenbach, Paderborn and the Berlin borough of Tempelhof-Schoneberg. Their flags fly on a podium along the main road.
All in the family
Over an Ilan Coffee on a late August afternoon, Ilan Oppenheimer, an otherwise subdued man, makes like he's performing at the Improv.
"I've been working here my whole life. I like to say that I was born because my father and mother had sex on this table," Oppenheimer says early in our interview by The Penguin's bar.
"My father had a customer who came here every morning. One day, he didn't come, and my father saw him walking on the far side of the street and enter another restaurant for lunch. He returned here the next day, and my father asked why he'd gone elsewhere. The guy said, 'I had pain in my mouth, and my dentist said to eat on the other side.'"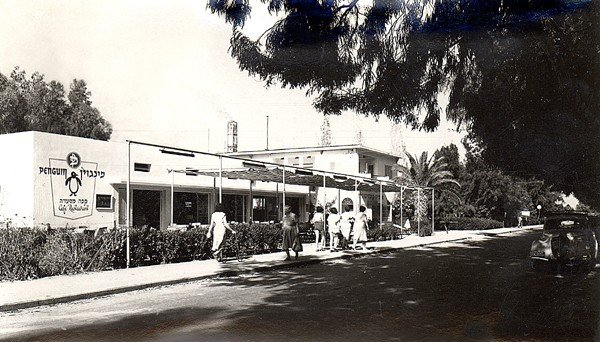 Maybe the shtick steels its teller against the impending separation from a place where memory pervades. Oppenheimer began working at The Penguin peeling potatoes and sweeping floors as a child. Even his paternal grandparents, Hugo and Recha, put in their time here.
Recha "was smart," he said. "She said, 'Close while you're on top.' She also said, 'Money is easier to divide than property.' I have five kids. They're all married. That's 10 opinions. Interests differ. You hear it every day."
Oppenheimer said he's happy to discuss the restaurant, even approaching its closing, rather than be interviewed about disasters. Occasional missile strikes, terrorist attacks and flash floods — HaGaaton Street is named for the stream flowing through town — killed several Nahariya residents over the years. Residents fled in 2006 during the Second Lebanon War. Except for certain holidays, though, The Penguin never closed. Even during the coronavirus crisis, Oppenheimer offered his full menu for pick-up or delivery.
Final farewells
What he's acknowledging, really, is that The Penguin has seen it all. Mention Nahariya to many Israelis, and they'll reflexively offer these two associations: fond memories from childhood visits, invariably followed by a version of, "I haven't been back since, I should go," and The Penguin.
It's a restaurant where generations have eaten — and begun. Ohayon, who would establish his own eatery, Chumus Danny, in an alley across the street, chatted up a Penguin coworker, Nurit, in 1988; she became his wife and the mother of their three children. Computer science professor Nissim Francez wrote two books here, always at a corner table on the balcony level, ordering coffee and sometimes a bite to eat. On Saturdays, he brings his wife for lunch.
Maya Barlev's father, Willy Benjamin Rausnitz, immigrated from Vienna and ate at The Penguin; Barlev and her husband come regularly for the schnitzel. Most weekends, they meet friends at The Penguin for coffee.
"It's our place. It's the habit of going there. The price is good. I was there just last week," says Barlev, the director of the Lieberman House, a stone mansion housing the town's history museum. "Nahariya will lose a symbol, and you'll only be able to put up a sign: 'Here stood The Penguin.'"
Since word spread about the restaurant's imminent demise, some longtime patrons have given Oppenheimer a piece of their minds. He gets it. The restaurant never seems to be empty, and it's become more popular with the end nearing. Those let's-go-back-to-see-Nahariya intentions are finally materializing. National newspaper and TV reporters have come to offer their farewells.
"It's hard for me. People are angry I'm closing. Someone told me, 'You're lucky. They're eulogizing you while you're still alive,'" Oppenheimer said.
"I knew it would be hard for Nahariyans. Some said, 'Nahariya without The Penguin is like Jerusalem without the Kotel.' I knew it would resonate here. I didn't know it would echo nationally. People are coming for the last schnitzel."