Sports
Meet the American Jewish goalie who will try to stop the great Messi
Maccabi Haifa snuck into the Champions League. Its reward: Facing one of the greatest soccer teams ever assembled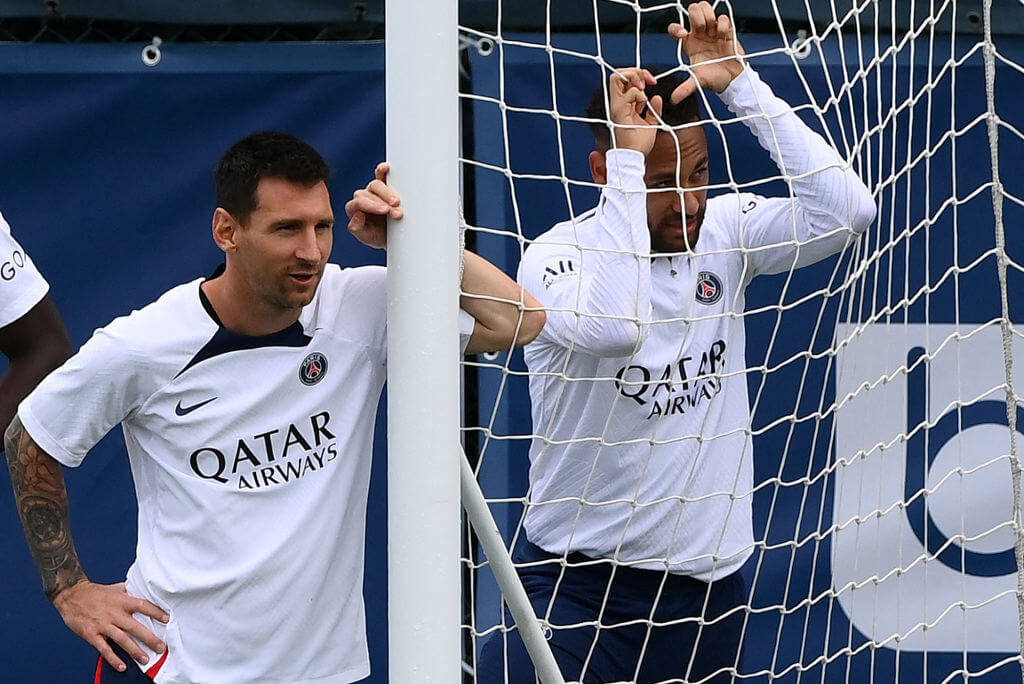 Soccer demigod Lionel Messi is coming to Israel this week for a high-profile match — and bringing with him one of the most impressive (and expensive) teams ever assembled.
Paris Saint-Germain, the club that pried Messi from Barcelona last year, will face Maccabi Haifa FC on Wednesday in the group stage of the UEFA Champions League, the top tournament in European soccer.
It won't only be Messi, the Argentine forward considered one of the greatest to ever play the beautiful game, popping flashbulbs upon his arrival. Partnering with him on Paris' front line are Kylian Mbappe — the crown jewel of reigning World Cup winner France — and Neymar, the Brazilian wunderkind considered Messi's heir apparent.
Messi visited the Western Wall in 2013 (famously donning a yarmulke) and played in an exhibition in Tel Aviv in July. But it will be his first time playing against an Israeli professional team in a match that counts. 
In the Champions League group stage, four teams in each of eight pools play each other home and away in a round-robin format. The top two finishers in each group advance to a round of 16.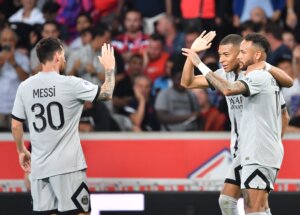 How did Haifa — whose most expensive player acquisition in its history was $1.6 million — wind up facing a Qatari-owned juggernaut that spent $160 million on players just this summer? It snuck into the group stage on a last-minute own goal — and as a late arrival, it got grouped with three titans: PSG, Italian titan Juventus and Benfica, a perennial contender in Portugal.
Haifa lost to Benfica, 2-0, in its Sept. 7 opener in Lisbon.
Though most of its players are Israeli natives, Maccabi Haifa will turn to an American Jewish keeper to stop the French superteam.
In his fourth season with Haifa, Joshua Cohen, who won Israeli Premier League's player of the season award in 2021, is arguably the team's best player. He's also undoubtedly their only player to have built a 3D printer from scratch.
Born in Mountain View, California — where Google is headquartered — Cohen graduated from University of California, San Diego, with a degree in biomedical engineering. According to his LinkedIn page, where he describes himself as "an athlete, engineer, maker, and student," Cohen's international pro career is putting a master's in mechanical engineering on hold.
"For most of my collegiate career I had no expectations of playing professionally," Cohen told the Sacramento Bee in 2018. "But then I had a solid junior year and a really great senior year, and I started thinking that there may be an opportunity somewhere."
Cohen's greatest influences, he once said, were Peter Schmeichel — the Manchester United legendary keeper — and Neil DeGrasse Tyson.
Does Haifa, which hasn't won a Champions League group stage match in nearly 20 years, stand a chance against Paris? You could certainly make a lot of money betting on the underdog hosts to pull off the upset. PSG is favored by 3.5 goals; as of Monday, a $100 bet on Haifa to win outright would return $1,738, per gambling site Action Network.
Maccabi Haifa FC versus Paris Saint-Germain will kick off Wednesday at 3 p.m. ET at Sammy Ofer Stadium. The game can be streamed live on Paramount+.