As a child, I shunned my Asian identity. As a Jewish adult, I embrace it
Learning about what makes Chinese and Jewish cultures different from each other made me appreciate both more deeply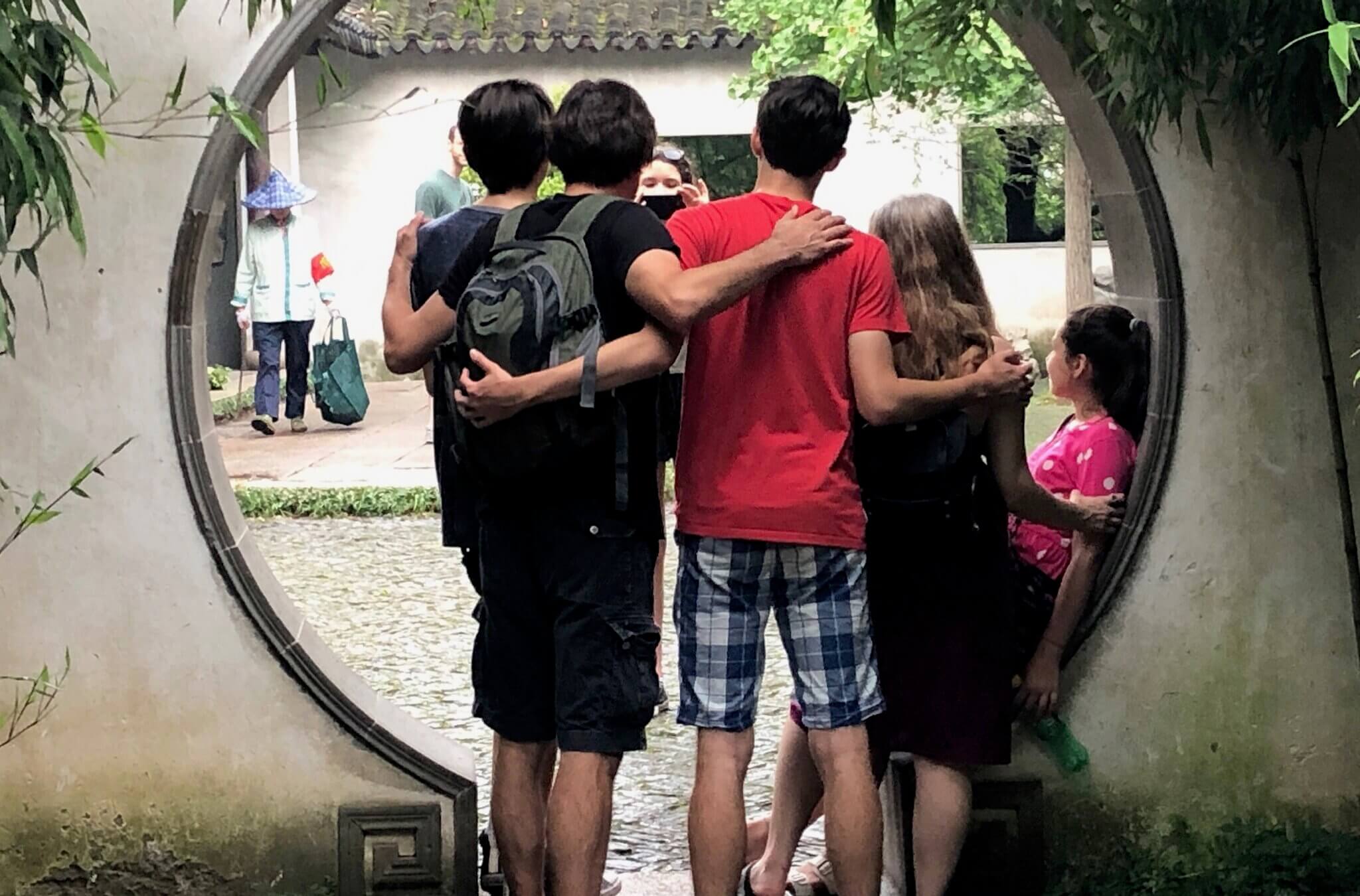 Years ago, when I first told my mom I was converting to Judaism, she worried that I would become less Chinese. More recently, when I told her I was legally changing my name, she wondered if "Christopher" was not Jewish enough, not realizing that I meant I was adopting her surname, Wong, as my middle name.
Growing up in a majority white, Christian community in the Upper Midwest, I did not fit in as a multiracial kid in a sea of Caucasian faces. I was neither white enough to fit in with my classmates, nor Chinese enough for Chinese school classes on the weekends, where my sister and I were the only half-Asian students. 
While studying for my doctorate in philosophy, I fell in love with a Jewish woman and traded my secular identity for a Jewish one. As an adult, I am part of the new math of the Jewish American Diaspora — a world where increasingly more Jewish families look like mine. Between 12% and 15% of American Jews identify as Jews of color.
When my wife Beth and I were engaged, family members on both sides speculated that our marriage would work because her Jewish and my Chinese cultures shared the same family values. Journalist Rachel Gross joked that being part Asian American and all Jewish means "I really, really like Chinese food."
In my experience, both of these claims — about family and food — may be true, and yet, of course, not quite so simple. As well-meaning as the search for common ground between cultural and religious identities can be, discovering our uncommon ground is also critical to our appreciation of the diverse histories that we each bring to the changing faces and futures of Judaism.
Jewish and Chinese cultures do both revolve around familial bonds. Our wedding procession honored four living grandparents, including my Gong-Gong (maternal grandfather) and both of Beth's bubbes. Through them, we learned the oral histories, which our children now know by heart, of the improbable series of events that allowed our lives to intersect. 
My wife's ancestors had emigrated from Eastern Europe to the United States, while my mother's journey to the same destination began in China and went through Brazil. Both families fled threats in their respective homelands, one from antisemitic persecution, the other from wartime enemies. Many nights, I feel grateful to fall asleep listening to my wife retelling to her mother every detail of her and our children's days, continuing the oral tradition and cementing the intimate knowledge of each other's lives.
There is also truth to the cliche that Jewish and Chinese familial bonds are both strengthened by food. Before every Rosh Hashanah, my wife and her cousin spend a full day making their grandmother's potato knishes from scratch. These re-creations of inherited recipes for matzo ball soup, cheese bake and poppy seed cookies are our children's comfort foods and our most tangible connection to Jewish tradition.
Much like my wife grew up having Shabbat dinners at home with her family, our children put eight-course Chinese banquets at my mother's home ahead of most other social activities. We eat noodles for long life on birthdays, fish to symbolize the abundance we hope for in the new year, and we always go home with bags of mantou (steamed bread), baozi (filled steamed bread) and jiaozi (dumplings). The filial piety our children exhibit by prioritizing family is inseparable from their gastronomic self-interest.
Notwithstanding these parallels, our family conventions are as different as our food traditions. After our engagement, my in-laws asked that I call them "Mom and Dad" instead of "Mrs. and Mr. Winnick." 
I understood this to be not only a personal gesture of affection but also a celebration of the growth of the Jewish population by one. My Chinese inclination to dutifully accede conflicted with my sense of loyalty toward my own parents, whom I already called "Mom and Dad." My in-laws and I settled on "Ma and Pop."
By contrast, at a Wong family reunion, the spouses who married into the family are more likely to take the pictures than appear in them. My Chinese relatives do not love my wife any less than her Jewish relatives love me, but being left out of photos can come across as insulting for the uninitiated.
Family bonds are not all alike to my Chinese family, whose story of constant physical separation due to war and its aftermath leads them to hold blood relationships in especially high esteem. 
Perhaps these different yet strong familial ties in Chinese and Jewish culture are informed by their experiences with loss. Nazis killed six million Jewish people in the Holocaust (including relatives of my wife's ancestors), and at least 10 million Chinese civilians (including my step-grandmother's sister) were killed in the war with Japan between 1937 and 1945.
Although the absolute scale of loss of Jewish and Chinese people was comparable, the relative scale of loss was not. On the eve of the Holocaust, the global Jewish population was only 16.6 million people, whereas China's population around the same time was estimated to be half a billion. Our Jewish family gatherings are often intimate celebrations of individual births and accomplishments, whereas our Chinese reunions bring as many of us together as possible to exalt the family. I have wondered if this is typical of others with my mixed heritage and if the relative scale of loss has influenced history's remembrance of these tragedies and how our cultures balance the relative priority of individuals within collectives.
As part of their b'nai mitzvah, my children each lit candles in memory of specific Jewish children killed in the Holocaust, to whom we were related by religion but not by blood, who did not live to reach their b'nai mitzvah. The only time in my childhood that I can remember ceremonially lighting candles was during a large family homage to my maternal grandmother, who died when my mother was an infant during the Second Sino-Japanese War. 
I have also wondered whether attitudes toward cultural assimilation have been affected by these historical tragedies and cultural orientations. Expressing Jewish identity is a sacred duty to my wife's family in significant part because some of their ancestors were persecuted and killed for expressing theirs. In contrast, since my physical appearance is not conspicuously Asian, expressing my part-Chinese identity can be a choice.
As a child, I yearned to assimilate into the majority culture. Even within my extended Chinese family, there used to be a social hierarchy among my generation that favored cousins who were perceived to be more Westernized. While my mother succeeded as a high school teacher who taught thousands of non-Chinese students how to speak Mandarin, I rebelled against learning her family's native tongue. Ultimately, my mother could not force me to continue my Chinese education, and I gave it up until I chose to take Chinese art and history classes in college.
As an adult in an era in which both antisemitic and anti-Asian violence are rising, I am ever more concerned about the threat that extermination and assimilation pose to the histories of peoples who do not belong to the dominant culture. At the same time, as a part Asian American and all Jewish person, I am inclined toward optimism about the new math — that the inverse of not fitting in anywhere is the hope of fitting in everywhere.
To contact the author, email [email protected].