Opinion
Jewish tradition compels us to not become numb to gun violence
Our nation is held hostage by its worship of guns. Jewish teachings point us toward action.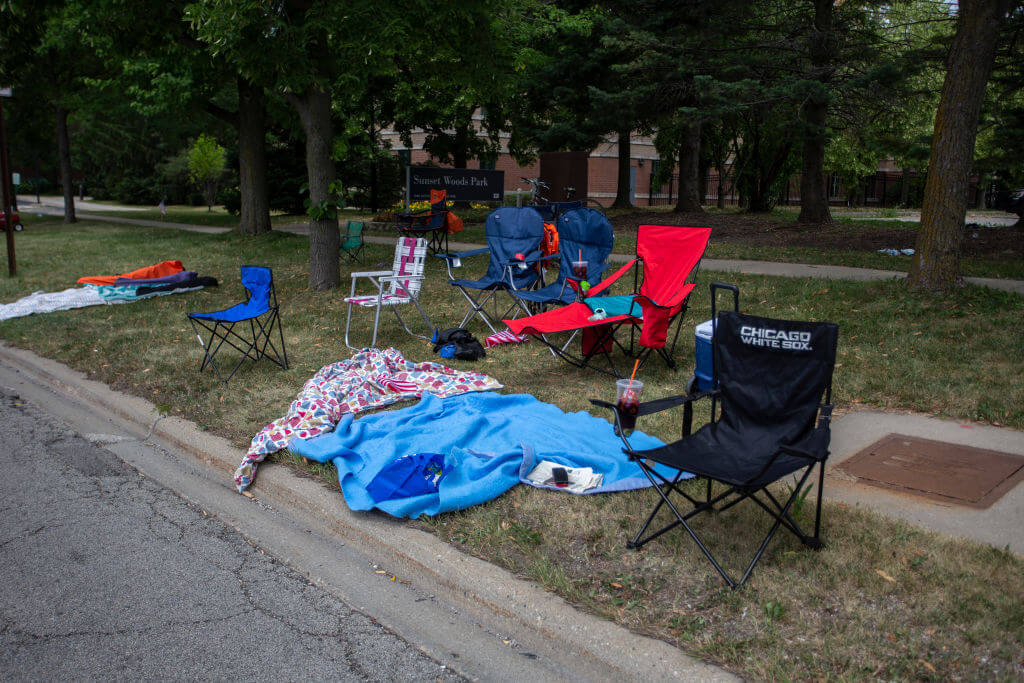 I just don't want to write any more pieces like this one, responding with words to bloodied American pavement. 
It's been too much for far too long. 
As of 11 a.m. on July 5, less than an hour after seven people were murdered in Highland Park at a Fourth of July parade, there were already 314 mass shooting events in the United States in 2022, for an average of about 1.7 per day. Six of them occurred throughout the nation on July 4th — the day when we are supposed to be celebrating our nation's liberty — killing children and adults in Virginia, Illinois, Massachusetts, California, and Missouri. 
A shooting at a Fourth of July Parade embodies a terrible irony. Gun violence is a uniquely American disease that has worsened into an addiction. We are a nation holding itself hostage.
But our nation's intransigence in addressing gun violence has been true for a very, very long time, and is the cumulative effect of countless legislative and cultural causes. What then, can we do? 
Judaism's adjuration to "not stand idly by when one's neighbor's blood is shed" is cried out in grief whenever a shooting happens. Countless rabbinic responses have been offered in equally countless sermons (including four Rabbis Against Gun Violence anthologies published to date). What might we offer at this moment that stands any chance of changing the conversation from mutual recrimination and suspicion? 
What might free America from the bizarre belief that gun reform is a partisan concern and not a national emergency?
Jewish tradition recommends applied wisdom over prophetic rhetoric. Yes, when the Messiah comes, we will beat our AR-15s into plowshares and not study war anymore. But this world is not yet the world to come (may it come soon and in our days). Our all-too-real American moment is one in which discussing the responsible use of necessary weapons has fallen out of the discourse and must return if we are to save the fabric of society.
The Constitution's notion of the right to bear arms does have Jewish support. The Talmud teaches that if someone comes to kill you, you must rise up and kill him first (Sanhedrin 72a), a recognized ethical right based on a real need for self-defense. But where the U.S. has gone horribly wrong is the dangerous notion that guns are to be admired. 
In the ancient rabbinic idiom, "weapons are not adornments; they are only ugly." (Shabbat 63a) There are over 400 million guns in America.  There are only 329.5 million people.
This is, at best, dangerous excess, the worship of a weapon over the well-being of the collective. More accurately, this colossal amount of available guns is an invitation to widespread societal violence, however unintended. 
In addition to the 59% of all gun murders by handguns, more than 54% of the total annual American gun violence deaths each year are suicides. Limiting access to guns would save many lives. Universal background checks would both protect those struggling from mental illness from hurting themselves and also stop others (though, of course, not all) from acquiring guns used to kill others. 
Mass shootings have plagued our nation twice daily this year (so far). The weapons of choice by many of the murderers — AR-15-style rifles — were banned by Congress in 1994 and should be banned again. As Rep. Seth Moulton of Massachusetts wrote in 2016, "There's simply no reason for a civilian to own a military-style assault weapon. It's no different than why we outlaw civilian ownership of rockets and land mines."
Saving one life is akin to saving a universe, tradition teaches. If not now, when?
Just two weeks ago, a bipartisan group of senators ended nearly three decades of congressional inaction with a bill expanding background checks for those under 21 and increased funding for mental health initiatives and red flag laws. This is an important first step in countering the gun violence that riddles America's landscape and our children's psyches with bullets. Perhaps there is hope. There must be.
The demand for sensible gun reform is not a detached, messianic vision of a weaponless world. It is the recognition that Aiden McCarthy, a 2-year-old in Highland Park, Il, lost both his parents at Sunday's parade because a violent young man had easy, legal access to high-velocity rifles. 
Irina and Kevin McCarthy should be alive. 
So should Jacki Sundheim, a beloved staff member and lifelong congregant at North Shore Congregation Israel in Glencoe, Il. 
So should all those whose needlessly spilled blood cries out from the streets and schools and shuls and grocery stores and theaters and parks and churches and malls and mosques of the U.S. because of a lack of sustained and responsive political will. 
Rabbi Abraham Joshua Heschel, a prophetic voice who made America his home after fleeing Nazi Germany, would have been the first to demand that "thoughts and prayers" offered in lofty speeches be replaced by a bodily commitment to justice. 
In one of the final interviews Heschel gave before his death, he articulated an essential commitment we must internalize for the sake of our wounded nation: "I don't accommodate myself to the violence that goes on everywhere; I'm still surprised. That's why I'm against it. We must learn how to be surprised. Not to adjust ourselves."
May we remain unadjusted to violence as we cultivate within our communities the pursuit of justice, and together, lift this broken world of ours one inch closer to the one we dream about for our children.
To contact this author, email [email protected].