Most of the victims of Highland Park were Jewish. Why is their memorial filled with Christian imagery?
Even in death, Jews can become subsumed by the ubiquity of American Christianity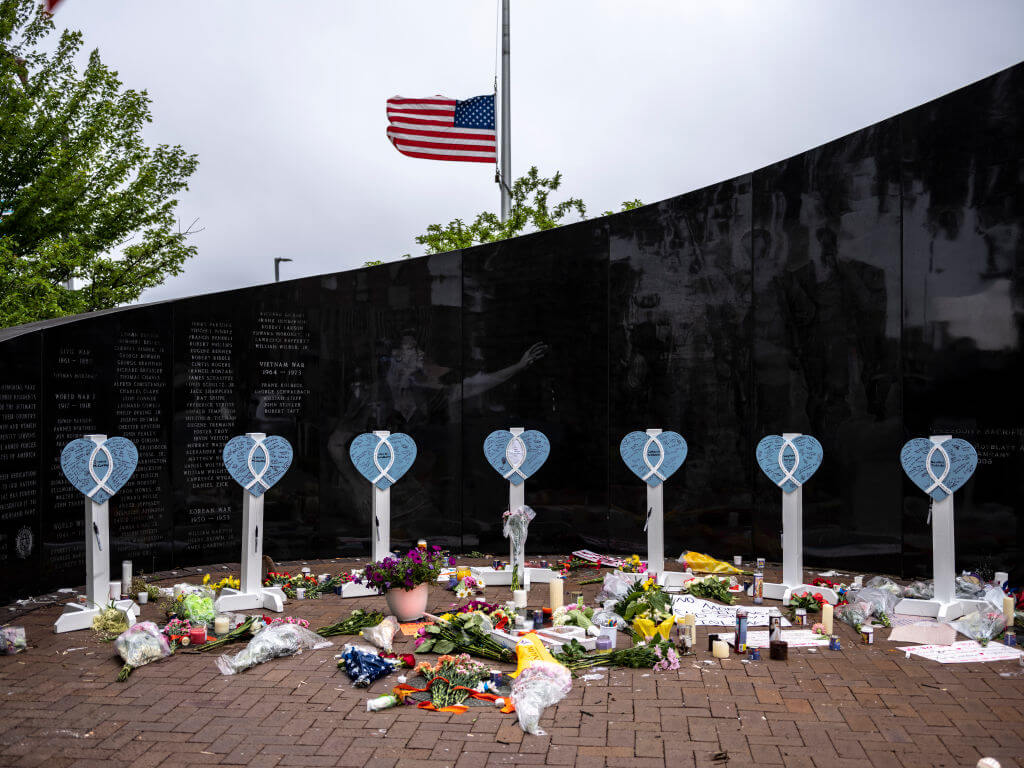 Ten years ago, the Church of Latter-day Saints caused a stir by posthumously baptizing Anne Frank, arguably the most well-known victim of the Holocaust and one of the most recognizable Jews in world history.
Though Mormons represent only a minority sect controversial to Christendom — in fact, even Jews outnumber Mormons in the United States — the bizarre co-opting of the religion, identity and legacy of a girl who was killed for nothing but being Jewish represents a larger and persistent pattern of Jews' very Judaism being glossed over or even erased completely.
I bore witness to this phenomenon while standing at an impromptu memorial assembled in downtown Highland Park, Illinois, for the seven victims of the tragic shooting there earlier this week.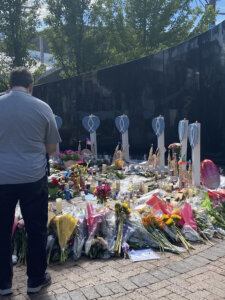 I grew up two towns over from Highland Park in Glenview, where I attended high school for several years. I recall breakfasts at Walker Bros. — a popular pancake house the shooter would later aim at — and dozens of meditative drives up and down Sheridan Road through the intersection of St. Johns Avenue and Central Avenue, where the memorial is located.
At the time of my visit, the memorial was 30 feet away from the nearest police tape. It consisted of bouquets and hand-drawn signs addressing gun violence piled deliberately in front of seven white-painted vertical beams, arranged in an inward-facing semicircle. Atop each beam was a single electric tea candle and mounted on each were blue hearts on which victims' names and brief, heartfelt messages were written in Sharpie. Orange ribbons, a symbol of gun violence prevention advocacy, were tied to nearby trees and bushes.
I initially thought nothing of the display beyond its obvious disconcerting solemnity. It struck me as a typical assemblage of things and people in response to a type of event which also has become all too typical in the United States. But for a notably Jewish suburb (estimates range from 30% to 50%), any evidence of Judaism or Jewish memorial practices was absent.
Not one stone. Not a single "BDE" sign. No printed copies of the Mourner's Kaddish.
In fact, in front of each of the seven white poles were small wooden model imitations of church facades, each replete with two tiny crosses on miniature spires and an American flag front and center. On each pale-blue heart were vertical ichthys — colloquially known as "Jesus fish." Amid the heap of flowers, signs, notes, and the occasional stuffed animal were Christian devotional candles, with images of Christ, angels and various saints on the glass cylinders surrounding the candle wax.
Seeing such explicit Christian imagery in a public space in such a Jewish town initially confused me, then annoyed me. Ari Glassenberg, a cousin of one of the victims, Jacki Sundheim, had a similar reaction upon seeing the mini churches and crosses two days after the shooting, when she visited to leave flowers in memory of her relative. "It kind of shocked me," Glassenberg wrote to me in a text message.
"It made me a little mad that someone who cared enough to make all those little churches didn't care enough to Google search Jacki's name and see that she was Jewish."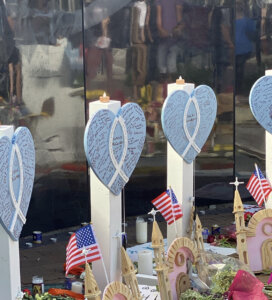 In addition to Sundheim, Irina McCarthy (nee Levberg), the daughter of Soviet Jewish immigrants, and her husband, Kevin, were killed while sheltering their two-year-old son, Aiden, from the volley of bullets. Stephen Straus, a father and grandfather who at 88 years old still worked full-time as a financial advisor, was also Jewish. Another victim, Katherine Goldstein, was raised Catholic but married a Jewish man with whom she raised their children in the Jewish tradition.
In all, five of the seven people fatally shot on Monday were either married to Jews and the parents of Jews, or Jews themselves.
As Jews living in the United States, we are accustomed to having our traditions and beliefs put in overtly Christocentric terms. It isn't uncommon to hear Hanukkah referred to as "Jewish Christmas" or bat and bar mitzvahs labeled erroneously as the Jewish version of baptisms or confirmations.
The ubiquity of Christian imagery, ranging from the explicitly religious like crucifixes and Nativity scenes to the more secular like Christmas trees and Easter eggs, is unavoidable to American Jews. These symbols and cultural norms are generally non-threatening, but they still perpetuate a sense of Jewish otherness.
But at the memorial, with its abundance of Christian symbols and votives, Jewish symbols were completely absent. Even stones, which to most non-Jews wouldn't even be recognizable as posthumous honorifics in the Jewish tradition, weren't visible among the cardboard signs, the tiny churches, and the wilting flowers.
This persistent and sinister trend represents an uncomfortable and damaging American norm whereby Jews are Christianized even in death — whereby Christianity is at best assumed or at worst forced upon dead Jews. Even in a predominantly Jewish suburb. Even for people with names like Sundheim and Goldstein.
Jews should not have to forcefully assert their Jewishness in order to prevent the erasure of their identities. Though it seems that both in life and even in death, we must do just that.
To contact the author, email [email protected].