I'm a junior in high school. Why do I need to apologize for Israel?
'Israel can't do this; let's stop Israel from doing that.' It's berating and relentless, and too much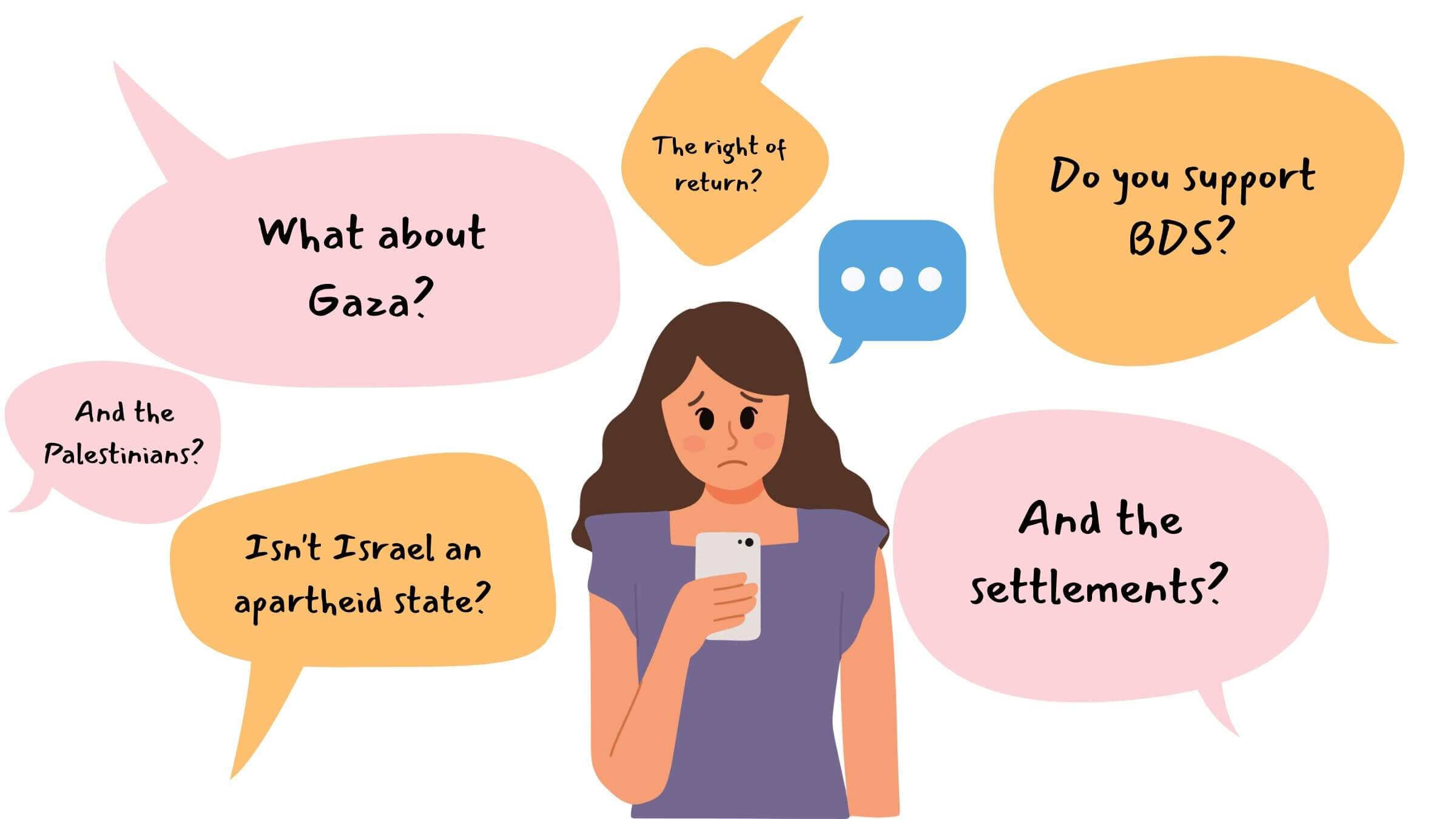 Whether they are about Prime Minister Benjamin Netanyahu's proposed judicial reforms or an IDF raid in the West Bank, everyone has thoughts about Israel.
While I don't mind discussing Israel with my family, the conversations I have with my peers can be grating, the posts I see on social media are burdensome, and learning about student activism against Israel feels oppressive. Flyers at the college campuses I visit as a prospective student advocate for a Boycott Israel week. Some of my fellow classmates' profile pictures on social media show an outline of Israel, the West Bank, and Gaza with a Palestinian flag overlaid on top.
Waves of opinion crash into me: Israel can't do this; let's stop Israel from doing that. It's berating and relentless, and too much. My own complicated relationship with Israel feels on display, poked and prodded by those around me. And for some reason, I end up apologizing for Israel.
"It's not all Israelis," I say. "I'm sorry."
I want to stop apologizing for Israel, however, because I'm not qualified to do that. I'm just an American high schooler —my family has lived in the United States for generations, and I've never visited the Jewish state. Yet, as a liberal teenage Jew, I still feel guilty about its actions.
My Jewish community in Worcester, Massachusetts, is strong, but it is small. There is something lonely about being the only Jewish student in a class learning about the Holocaust. When I have had opportunities to be surrounded by other Jews, including at sleep-away camp and Jewish youth programs, it is amazing how different it is. We are bound by similarity and camaraderie, having grown up with the same prayers, values and experiences. It feels safer and easier to confront the world's antisemites when I'm surrounded by people like me. There is a strength in our numbers.
In my mind, that is how Israel appears: a fantasy land, a place where I someday hope to visit. There, I imagine I could always have a home full of Jewish history, Jewish culture, and Jewish pride, far away from the painful hatred that infects the edges of my life. Israel is important to me because it represents an ideal where I am free from persecution and surrounded by my community.
But then I feel bad, because I know that Israel is not a utopia, and that the reality of the Jewish state is much more complicated. It is impossible not to hear about the occupation: the Israeli settlements in Palestinian territories, the Palestinian civilians killed by Israeli soldiers. It hurts, because I cannot justify many of these acts, but they occur again and again in the place that I dream about, and are reported regularly on the news.
It hurts to hear about Israel doing things I disagree with, but it's not my place to say sorry because Israel isn't mine to apologize for. I have no influence over the actions of its military or its government. I don't control what it does.
I have grown up hearing stories of the discrimination and hatred my ancestors faced, from the pogroms to the Holocaust, and I continue to see those issues in my own life. Antisemitism lurks in American society — it hides in the words of a classmate, and in the comments of celebrities and politicians. It isn't bound by the political spectrum, either; while some far-right Americans in Charlottesville chant "Jews will not replace us," another American at an anti-Israel protest in Miami held a sign that said "Jesus was Palestinian, and you killed him, too."
I'm scared that people think I'm different because I'm Jewish, and that they believe this difference justifies hatred and violence. Antisemitism spreads quickly, and it is easy to feel alone, especially living in a city with not many Jews. When I see Kanye West spreading hatred of Jews on Twitter, or politicians using antisemitic stereotypes, I feel alone, targeted because of my identity. I want to imagine Israel is a haven from this hatred.
My relationship to Israel is unique and complex, influenced by my Judaism, my politics, and my values. In a messy, complicated way, Israel is important to me. I shouldn't feel the need to explain that importance.
I want to be entitled to my own complicated feelings about Israel, without feeling as though I must justify them to my classmates and those around me. I can feel happy about Israel, and I can feel sad, and those are my feelings.
I am not responsible for Israel. I cannot apologize for it. All I can do is be myself.
To contact the author, email [email protected]