Why do so many conversations about Israel exclude more than half of the Jewish population?
The maleness of the American Jewish conversation on Israel is becoming a problem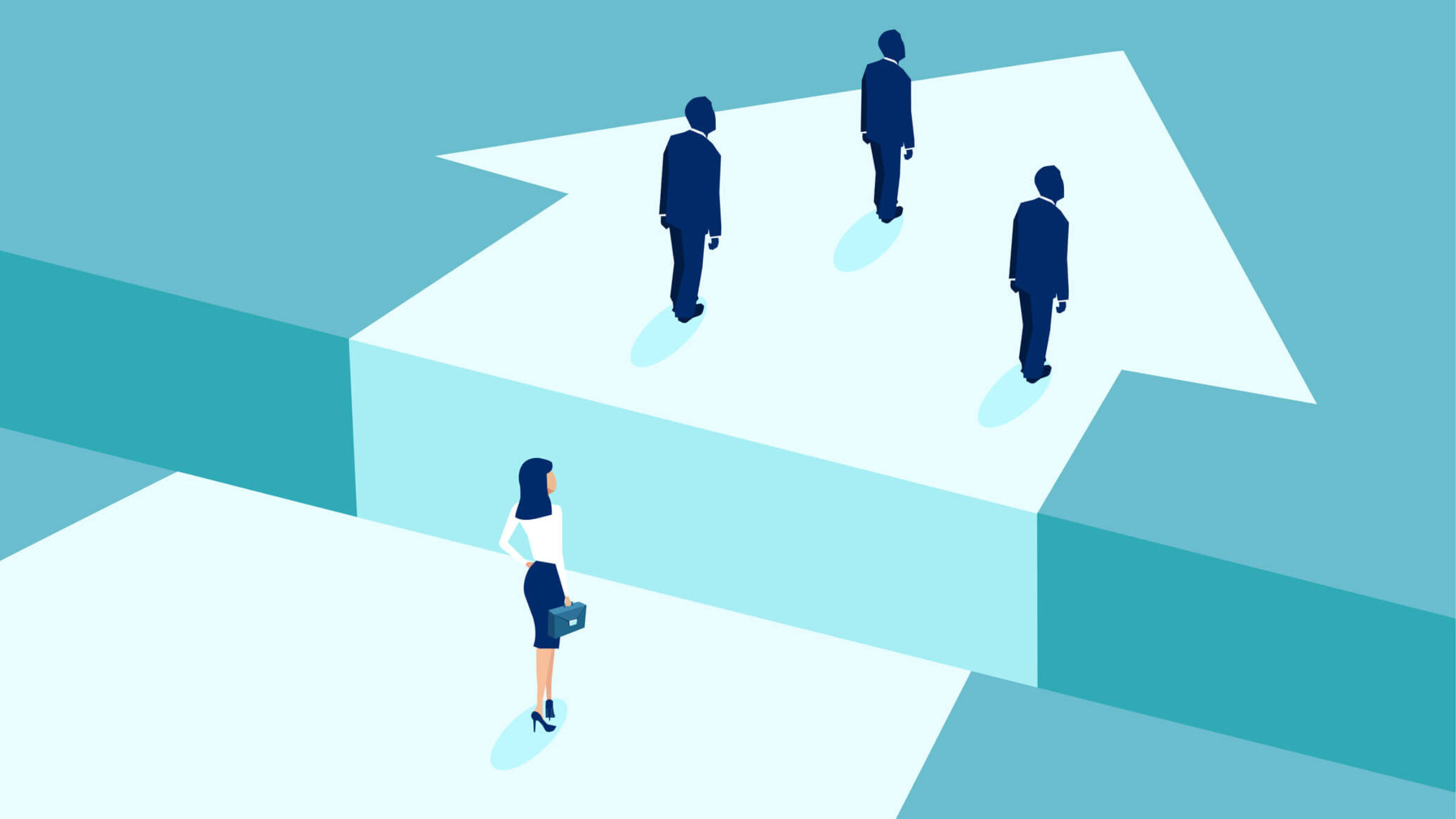 Four out of four. That's how many of the panelists were men at a session titled "21st Century Zionism: How to Talk About Israel in 2023." The moderator? Make it five.
This panel, at the recent Jerusalem Post conference in New York City, was hardly an aberration. Of the 71 speakers at the conference, only 16 were women. Apparently, the way to talk about Israel in 2023 is to exclude more than half of the Jewish population.
Nor is this gender imbalance unusual for the American Jewish conversation about Israel. At this month's American Jewish Committee conference in Tel Aviv, a session called "Should Diaspora Jews Have a Say in Israeli Affairs?" featured two speakers, both men. Secular media generally does no better with gender parity: A recent New York Times article about how Jewish Democrats are relating to Israel quoted 10 men and two women, the latter appearing only toward the very end.
In my 12 years as one of the few women leading a Jewish organization — T'ruah, a rabbinic human rights group — that addresses Israel, I have noticed this dynamic over and over. When I speak on any Israel-related panel, I am almost always the only woman. When synagogues, conferences and media feature experts on Israel, these experts are almost always men.
The maleness of the Israel conversation may not be unique within the foreign policy space, an area where there are crucial efforts to lift up female experts. But American Jewish conversations about Israel tend not to be wonky foreign policy conversations, but intracommunal Jewish conversations, and the invited experts are generally not foreign policy professionals, but rather rabbis, journalists and pundits from the Jewish community itself.
Some efforts to compensate only compound the problem. Trying to avoid the appearance of a "manel," or all-male panel, event organizers will invite a woman to moderate an all-male panel, which merely puts a woman in solicitous service to the important opinions of the men. Even as more men in the Jewish world commit to not sitting on all-male panels, Israel conversations remain a notable bastion of presumed male authority.
Organizers most often defend themselves by arguing that they couldn't find any women experts on the topic, or that this particular man has exactly the right expertise, or will draw a big crowd. But this argument is circular. There is no lack of women experts on Israel, including scholars, practitioners, and policy experts. But when the same men keep speaking in public Jewish spaces, or being cited by journalists, they keep getting invited to speak again, and their profile grows.
The gender imbalance is hardly the only gap in the American Jewish conversation about Israel. Also glaringly absent are the voices of Palestinians, both Israeli citizens and those living under occupation, as well as other minority citizens of Israel. These perspectives are especially crucial in light of the current government's dangerous policies targeting marginalized and vulnerable people of all kinds.
The rare woman who does get the opportunity to speak on Israeli foreign policy also suffers consequences from speaking publicly that her male counterparts do not. T'ruah, the organization I lead, addresses human rights violations in the U.S., as well as Israel and the occupied Palestinian territories. I've noticed a glaring difference in the response to my speaking out about these two places. When I talk about U.S. immigration or incarceration, either in person or online, people might disagree, even rudely. But when I talk about Israel, the tone turns to condescension, and even outright misogyny.
At best, men with far less experience in the field talk over me or tell me that I don't understand how "complicated" it is. At worst, I and other women who dare talk about Israel are subject to crude language about women's body parts, as well as threats of physical and sexual violence.
If we are not threatened with bodily harm, then women who speak critically of Israel are treated with a disdainful, patronizing attitude. A prominent male rabbi publicly attacks professional women who critique the choices of the Israeli government by noting that one used to babysit his children, and calling the other a product of poor parenting. My male colleagues in the progressive space may be called kapos or self-hating Jews (as are women), but they are not talked down to or called derogatory sexual terms.
Perhaps it's not surprising that the Israel discourse in the American Jewish community is largely a male space. From its early days, Zionism sought to replace the perceived emasculated diaspora Jew with a strong "new Jew." In a famous speech to the Second Zionist Congress in 1898, Max Nordau coined the term "muscular Judaism," declaring, "The history of our people relates to the fact that we were once strong physically, but today that is not the case … We will renew our youth in our aging years. We will develop wide chests, strong arms and legs, a brave look. We will be warriors."
Accordingly, the symbols of the new Israeli state became the buff kibbutznik and the sweaty young soldier toting his gun in the sun. Early Zionists claimed as their core text not the Talmud, associated with weak men ruminating indoors, but rather the Bible, with its direct connection to the land and its stories of conquest. David Ben Gurion assembled a study group to read the Book of Joshua, reclaiming a largely ignored, and especially violent, account of warfare. The Maccabees, sidelined by the Talmudic rabbis in their own retelling of Hanukkah as a celebration of a divine miracle, assumed new prominence as early Zionists emphasized the military nature of the holiday. A 1949 ad for a Hanukkah "Torch Race" features a muscular new Maccabee carrying a torch that will eventually light the Knesset menorah.
As Daniel Boyarin wrote in Unheroic Conduct: "If the political project of Zionism was to be a nation like all other nations, on the level of reform of the Jewish psyche it was to be men like all other men."
The turn to muscular Judaism, and the rejection of what was seen as weak Diaspora Judaism, effectively gendered Israel as male and the diaspora as female. It is little surprise, then, that men are considered the only legitimate experts on Israel, and women who speak out are condescendingly — or violently — told to go back to their place.
Some might argue that it's petty to complain about this gender imbalance when Israel is in crisis. But hearing only from men weakens the discourse. To build a real democracy in Israel, end the occupation, establish a Palestinian state side-by-side with Israel and ensure the human rights of both Jews and Palestinians, we need to expand the range of voices in the room. When women's groups take part in peacemaking, there is almost always an agreement, and those agreements are 35% more likely to last fifteen years or more.
The good news is that every single person engaged in the Israel discourse can help end this imbalance. If you are organizing an event or writing an article, make sure at least half of the included voices are women or non-binary people. Start your process by recruiting women, rather than scrambling to find one after lining up the men.
If you are a man who is called upon as an expert, ask whether women will be on the panel before accepting, and pledge not to join all-male panels (including panels in which the only woman is the moderator). If you are being interviewed for an article, ask "who else are you talking to?" and insist that the reporter reach out to non-male contributors as well.
If you notice your Jewish organization is hosting only men to talk about Israel or reading only books on Israel written by men, speak up. If a news article only quotes men, write a letter to the editor or email the author.
Excluding the full range of expert voices impoverishes our debate about the path forward for Israel and the occupied territories. It's past time to address this glaring absence.
To contact the author, email [email protected].
Editor's note: The original version of this article misstated the number of male speakers on the American Jewish Committee's panel "Should Diaspora Jews Have a Say in Israeli Affairs?" Though the event was advertised as featuring three male speakers, the actual event included two male speakers, not three.