I'm a Jewish day school student. We need to learn Palestinian history.
Young Jews are increasingly alienated from Israel after receiving a one-sided education about the Jewish state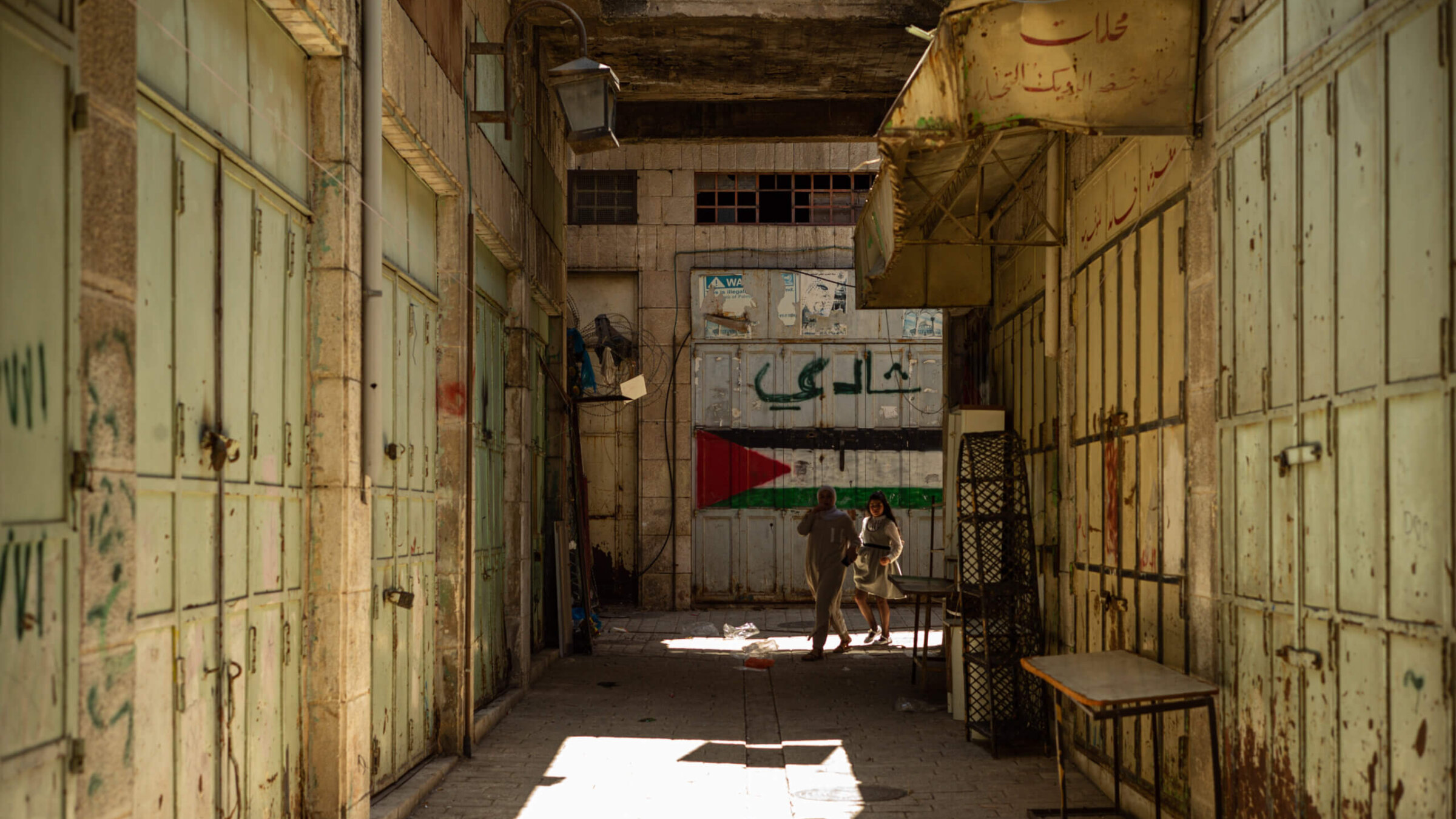 Walking in a market in Hebron, I was unable to focus on the beautiful art and handmade goods. All I could see were the small Palestinian kids cowering in fear, afraid I was just another Israeli settler who would throw rocks at them. All I could see were the bullet holes in metal gates. All I could see were the doors boarded up by Israelis, so Palestinians would have to climb in and out of windows and over rooftops to access their own homes.
I visited Hebron in the summer of 2022. It is a Palestinian city with a rich Jewish history, the place where the Cave of the Patriarchs (Maarat Hamachpela, the burial place of many of our ancestors in the Torah) is located. 
Returning to my Jewish day school after that trip, I was filled with questions: How did Hebron become segregated? Why were Palestinians going through checkpoints within their own city? I turned to my teachers to help explain some of the complicated political issues I had seen in real life. Yet, when questioned, my teachers seemed to grow uncomfortable, and, rather than answering, would deflect. Instead of giving me ideas about where to find the answers to my questions, they urged me to take it up with someone (anyone) else.
I am a rising junior at a Jewish day school in New York and have attended Jewish day school for 12 years. As I return to school this year, I hope that my teachers will one day be able to answer my questions. Jewish educators must find a way to marry a love of the idea of Israel with an exploration of multiple perspectives of the different people in the land.
In my Jewish school setting, there has never been mention of the Palestinian people. I've been taught nothing of their history in what is now the state of Israel, nor anything about the dual meaning of Israeli Independence Day and Nakba Day, which recognizes the removal of Palestinians from their homes upon the creation of the Jewish state. Learning about Nakba and Palestinian history should be a formal part of the curriculum at all American Jewish day schools.
As social scientist Sivan Zakai describes in her 2022 book My Second-Favorite Country: How American Jewish Children Think About Israel, Jewish children are often taught to love Israel first, and learn about the details later. It is the responsibility of Jewish educators to delve more deeply into those details and avoid simplistic conversations about Israel.
My Jewish day school's website lists core values, which are likely shared by most other American Jewish schools: tikkun olam, betterment of the world, gemilut chasadim, acts of loving kindness, and, of course, ahavat yisrael, a love of Israel. While my school has tried to instill the latter value through observance of many Israeli traditions and learning about Israeli history, a vital history of another people in the land has been missing: that of the Palestinians.
Ironically, Jewish day school students have been found to have a decreasing connection with Israel. As they grow up, only 48% of the youngest generation, according to the 2020 Pew Research Center's survey, feel attached to Israel. I would guess that the reason for this decline is that, after receiving an incomplete Israel education, these students go to college and are presented for the first time with competing truths about the state of Israel and its actions. Maybe they meet Palestinians for the first time, who open them to new ideas and challenge their previous beliefs.
Unsure how to respond, they either double down in their pro-Israel beliefs or swing wildly anti-Israel. This harms one side or the other by generalizing entire populations, and is due to a complete lack of nuance in the Israel curriculum curated by day schools.
The traditional party line of American Jewish leadership was always that a decline in connection to Israel meant that schools must reinforce support for the country, not add talk of the country's flaws to its discussions.
I think, however, that students are pulling away from Israel because they do not understand it. By teaching students a nuanced picture of Israeli politics, they will learn that the situation is not black and white. They will understand that it is okay to have fluctuating views and that Israel will be and will always be complicated. Educators must leave it up to their students to form their own opinions on the issue by providing unbiased and transparent learning.
Many of my peers and I are deeply committed to the Jewish state, but that doesn't mean we don't have concerns about its government. James Baldwin wrote in Notes of a Native Son: "I love America more than any other country in the world, and, exactly for this reason, I insist on the right to criticize her perpetually." A similar idea holds true for American Jews and Israel: It is possible to teach students to love Israel, and to question it.
I was born in Israel and have returned to the country most years of my life. I have been lucky enough to have teachers outside of school, my parents, who have brought me to meet Palestinians and to visit sights of importance to multiple religions. I have asked questions and been allowed fluctuating beliefs and continued to love and want to engage with Israel. I hope that my classmates will be given the same expanse of opportunities to wrestle with the complex issues which are intertwined with any discussion of Israel.
My family has an apartment in the French Hill neighborhood of Jerusalem. When I look out its living room window, I see the Dome of the Rock, multiple synagogues and a Palestinian refugee camp. I wonder whether my Jewish day school will ever teach me the history of each of those locations, and the lens through which they would be taught.
I hope that my school, as well as other American Jewish day schools, can alter their curriculum to include not only Israeli history, but the history of Palestinians, and of all groups who have connections to the land.
To contact the author, email [email protected].