First PersonIsraelis are back on the streets Saturday nights, only it's quieter now
Protests have become rallies to support the families of those lost and missing — and each other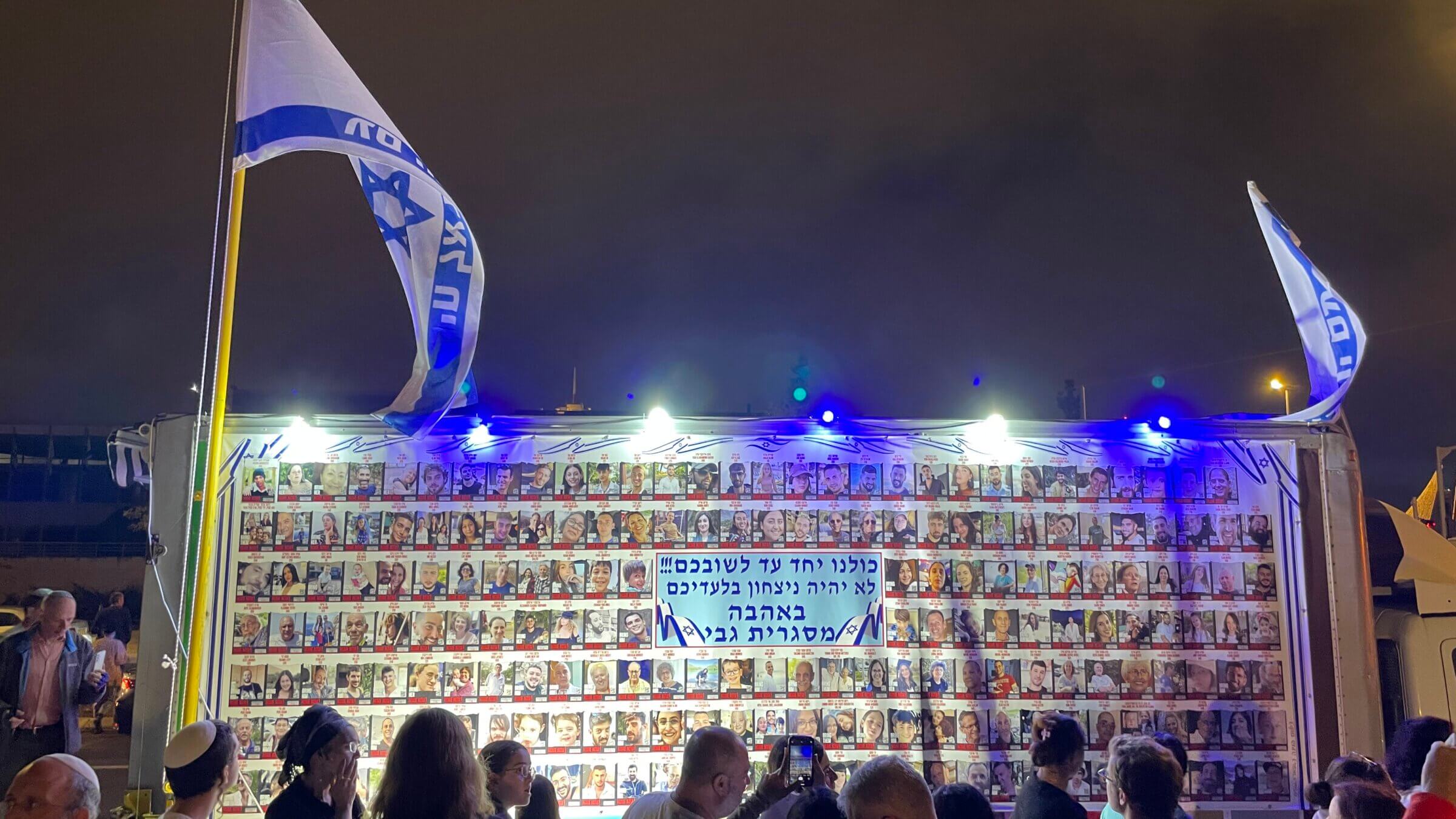 JERUSALEM — We went to a rally Saturday night, which felt almost normal, because that's what we've done on so many Saturday nights since January — 40 weeks of protests against the judicial overhaul put forth by Prime Minister Benjamin Netanyahu and his far-right extremist government.
Back then, before Oct. 7, we joked about what we might do with our Saturday nights once the judicial plan ever passed or fell apart. Now, the gatherings have resumed outside the Knesset in Jerusalem and at the newly renamed Hostages Plaza in Tel Aviv. They are called rallies, not protests, and they're meant to be gatherings of support, to mourn those killed in the Hamas massacre and hold up the families of those kidnapped.
Saturday night's rally was silent. The organizers asked people not to bring bullhorns or drums, not to shout or chant. One speaker told the crowd about his younger brother, Amir, a soldier who attended the Saturday-night protests outside the president's residence when he was home for the weekend, and who was killed Oct. 7.
"We need to fix our reality," Amir's brother, Eitan Zur, said. "Our reality won't change if we don't find a new direction."
Other speakers calmly but consistently brought up the government's complicity in this war and hostage situation.
The rally was organized by Shomrim Al Habayit ("Safeguarding Our Home"), a group that came together in January, pretty much out of thin air, to protest Netanyahu's judicial plan. They're Jerusalemites, students and adults, religious and secular, a movement that gathered in force as the weeks added up.
It's one of several groups that instantly pivoted from protesting to support the mourners and the families of the hostages, because that's what's needed now. These organizations have also helped the 200,000 evacuees who landed in Jerusalem and Tel Aviv from the south and the north, and helped harvest the produce of the Gaza-area farms whose migrant workers returned home after the attacks.
But there is a lot of anger and anguish that's bursting the seams of society, and the Saturday-night rallies — mostly quiet so far — are where it emerges.
So many faces at the rallies are familiar — from the pre-Oct. 7 protests against but also because they're friends and neighbors. And as the weeks pass, the rallies are getting a little louder.
When people gather at the tent erected near the Knesset by two bereaved people, Maoz Yinon and Yaakov Godo, the pain is palpable as they call for Netanyahu's resignation.
Yinon was one of the creators of Abraham Hostel, where so many American young people stay; his parents were killed in their home in Netiv Ha'asara, a coastal moshav very close to the border of Gaza. Godo, a retired IDF veteran and peace activist, lost his 52-year-old son Tom, who lived with his family in Kibbutz Kissufim.
The two also have a WhatsApp group called Shifts of Shame where people post real-time updates on where Knesset members who are part of Netanyahu's governing coalition may be seen in public — at restaurants, conferences, events — so critics can go find them and point a finger at them. Shifts of Shame regularly gather outside a North Talpiyot home on Caspi Street, near my own, where Netanyahu has been staying, because — unlike his own residence in Rehavia — it has a bunker in the basement.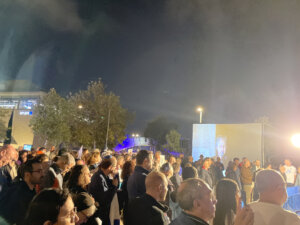 The mood at those gatherings is grave, solemn and silently, viciously angry, every person livid at what happened in Israel on Oct. 7 — and every day since.
I, too, am livid, when I allow myself to review it all, usually as I wake up and before I fall asleep, and many times during the day. I think about all these people — grandmas and grandpas, moms and dads, 20-somethings and teenagers and kids, babies, so many killed and another 240 in the dark, probably in tunnels burrowed deep underground, without any clue of whether it's day or night — it's unfathomable, unreal, a nightmare.
A friend told me she was already angry during the first week. I wasn't there yet, but my anger has built, day after day, and now week after week. So I went to the rally on Saturday night.
I see my friends, Jon Polin and Rachel Goldberg, Rachel with her handwritten sticker on her shirt showing the number of days since their son Hersh was taken, and I feel sad and angry.
I hear the mother of Noa Marciano, the 19-year-old soldier taken hostage by Hamas whose body the Israel Defense Forces found in Gaza a few days ago. She and her husband, good citizens, express anger and resentment, and who could blame them?
I speak to families of those missing, interviewing them about their terrifying experiences on Oct. 7, and some are quietly, silently livid while others aren't ready to talk about it yet.
There has been this sense of a dam about to burst. Then on Sunday, it began raining, finally bringing Israel's winter season and the short, dark days.
It feels like a kind of release, allowing anyone and everyone to express what they're really feeling and thinking. It won't keep us away from the rallies, the protests.
This essay was adapted from the author's Substack newsletter.