The Schmooze
WATCH: Amy Schumer and Seth Rogen Cheer for Gay Marriage in Bud Light Ad
Amy Schumer and Seth Rogen's latest Bud Light commercial features the pair celebrating at a same-sex wedding. Because, love is love.
"Bud Light proudly supports everyone's right to marry whoever they want," Rogen says before guests raise their beer bottles in a cheer to the two grooms.
The Jewish comedic duo also make fun of an overly emotional speech giver and a woman who aggressively fights to catch the wedding bouquet.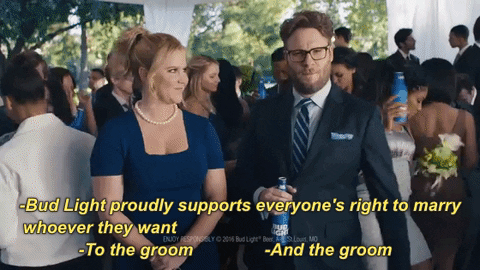 Like this Instagram video below, the new ad comes on the heels of Bud Light's strong outpouring of support for marriage equality on their social media channels.
Schumer and Rogen premiered their Bud Light campaign for the Super Bowl, featuring a commercial where the pair mocked bombastic political rhetoric, campaigning for the "Bud Light Party."
Watch the full commercial here:
Contact Josefin Dolsten at [email protected] or on Twitter, @JosefinDolsten