The Schmooze
Get Ready For "The Hamilton Mixtape" — With A Jewish Note!
This morning, Lin-Manuel Miranda announced his long-promised "Hamilton Mixtape" is available to preorder, and will be out December 2nd. It will include new takes on songs from "Hamilton" by a diverse array of artists, as well as previously-unheard material. And one of its songs — "Dear Theodosia" — will be performed by beloved Jewish songstress Regina Spektor, featuring Ben Folds.
With this smashingly joyful news on top of the Cubs' win (sorry, Cleveland), is it possible that, only a few days out from the election, we're actually having a collective good day?
Dare to hope. Catch your breath at the awesome prospect of Sia's take on "Satisfied" (featuring Miguel and Queen Latifah, natch). Learn more about the mixtape and its staggering lineup of artists here. How lucky we are to be alive right now.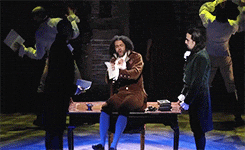 Talya Zax is the Forward's culture fellow. Contact her at [email protected] or on Twitter, @TalyaZax