The Schmooze
It's siblings day, so we ranked the siblings from the Torah
'How good and how pleasant it is for brothers to dwell together in unity!'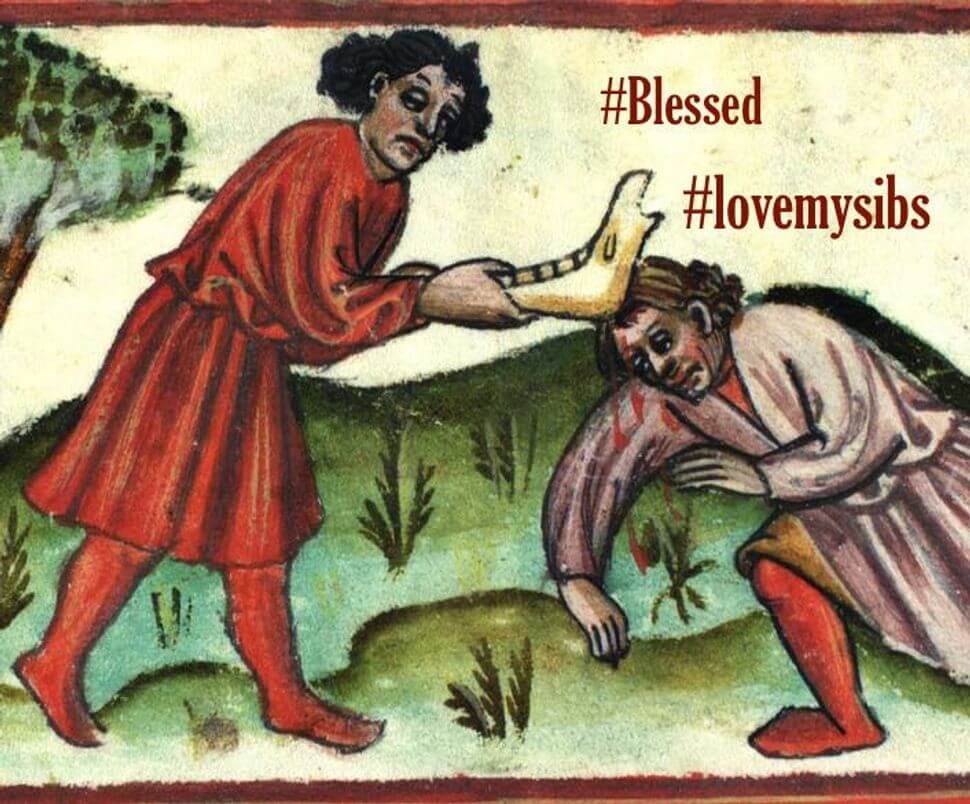 Hinei mah tov umanaim shevet achim gam yachad — How good and how pleasant it is for brothers to dwell together in unity!
Unless those brothers — or sisters, or siblings — are in the Torah.
It's International Siblings Day, such a made up holiday that the only thing for it is to list every biblical sibling in order of most-to-least horrifying. Cheers! Now go fall upon your sibling's neck and compare her face to God's.
11. Cain and Abel
Famous for murder and being murdered. Notably not each others' keeper. When they keep in touch, it's by way of one brother's blood crying out from the earth to the other. It's a pass, from us.
10. Lot's daughters
If you don't know why Lot's daughters are bad, don't worry about it. It's spring outside, just move on with your day. Remember, these girls had a pillar of salt as an example.
9. Shem and Ham
Noah's sons are pretty typical, as boys go — they get married, have kids, spend a lot of time with family, and then look at their dad's genitals when he's drunk. They had been doing very well until this last one! But you know how these things go — they never remember the time you went on a 40-day family cruise, they only remember you for the time you violated your dad's privacy in the wake of the giant flood.
8. Reuben, Simeon, Levi, Naftali, Isachar, Asher, Dan, Zebulun, Gad, Joseph, Judah, Benjamin, and Dina
As you probably know, these folks get a 10/10 for throwing their brother in a pit, staging his murder, and selling him into slavery. But don't forget that under the guise of brotherly concern for their sister, they also perform a mass murder of her rapist and his entourage! And that later on, pit-slave brother Joseph performs a sociopathic experiment to determine whether his brothers have changed or not.
And yet, in the end, the brothers have the most heart-stopping demonstration that they've grown, and their reconciliation is one of the Torah's best. Of course, there's no justice for Dina. We never hear about her again. That's showbiz, kids! And by showbiz, we mean difficult gendered biblical texts.
7. Jacob and Essau
In another timeline, the events of the Torah are concurrent with Instagram, and Rebecca builds an entire Insta-mom brand with cute pics of her opposites-don't-attract twin sons, which goes dark the moment one tries to kill the other. This, friends, is a soup-based brotherly dynamic, and we can't help but enjoy its whimsy (notwithstanding the attempts at fratricide.)
And yet! Their reconciliation scene gives us true epic, Les Miserables-meets-Game-of-Thrones-meets-Brokeback-Mountain vibes. "Esau ran to greet him. He embraced him and, falling on his neck, he kissed him; and they wept…I pray you, Jacob said. If you would do me this favor, accept from me this gift; for to see your face is like seeing the face of God." Straight to the heart! Of course, don't forget that Jacob is so scared to see his brother that he uses his wives and children as a human shield, putting them earlier or later in line based on how much he loves him. But like we say — showbiz!
6. Rachel and Leah
A classic fairytale story of a hottie with reproductive issues, her less hot but extremely fertile sister, their monster of a father, and a man named Jacob who had honestly too much time on his hands. We defer to the lyrics of "JAP Battle Rap," from "Crazy Ex Girlfriend." Who can blame Rachel and Leah for fighting? Their hate was "Created by our [father] pitting/Us against each other for accolades and grades/We were egged on like Seder plates!"
5. Isaac and Ishmael
Who could blame one of these poor, traumatized boys if he had beef with the other? Isaac and Ishmael never really get the chance to chill — we like to think if they did, they would have a distant but intense relationship, based on mutual daddy issues.
4. Nadav, Avihu, Eleazar, and Itamar
Tasked with carrying on the family business, Aaron's sons have mixed success. Specifically, some of them are incinerated by God for creating a "weird fire." The other two become movers and shakers in the priest world, but then get reamed by their uncle for not eating old meat that's meant to represent the community's sins. People are really tough on rabbis' kids.
3. Nahor, Haran, and Abraham
Picture this: your brother starts hearing voices. He says that a god comes to him and says that if he moves down South he will be made the leader of a great nation. Would you still encourage your nieces and nephews to hang out with him? So strong are the family dynamics here, that Abraham's brother Nahor says yes to this. Haran is dead at this point, but we like to think if he'd been around, he would have been googling "Polite things to say to Jewish in-laws," too.
2. Moses, Aaron, and Miriam
The first-ever Avengers! A talker, a singer/dancer, and a leader! A priest, a prophetess, and a guy who likes to take a lot of solo hikes! Firstborn, middle, and baby. A family man, a single lady, and a guy who doesn't want to take crap for his intermarriage, thank you. A bitty James Bond, Miriam risks her life to see her infant brother delivered into safety, then arranges for her grieving mother to care for him. When Moses needs to do the hardest thing in human history, his brother Aaron is there to make it happen, even when it means facing down death. When after decades of partnership the two sibs slip up and have a gossip fest about Moses' wife, and Miriam is struck with a deathly sickness, Moses does not spend a single second in anger, but begs God to save her. And, of course, when she dies, Moses ends up sacrificing his chance to see the promised land for the opportunity to get out his grief on a rock. These are #SiblingGoals.
1. Ephraim and Menashe
The only siblings on this list — the only siblings in the Torah — who are just pure and good. They're descendants of the pit/faux-murder/slavery debacle, and yet, they seem whole. When we bless our children, we bless them that they will be "Like Ephraim and Menashe." Perhaps as reward for their good relationship, their grandfather makes them a tribe on par with his own children — they go down in history as equals with their uncles. Of course, they are the only two grandchildren selected for this honor. Their cousins must be pissed! And so, the rivalries live on…
Jenny Singer is the deputy life/features editor for the Forward. You can reach her at [email protected] or on Twitter @jeanvaljenny