Culture
One jalapeno cheddar with schmear — inside Mexico City's hand-rolled bagel renaissance
Remote workers, a long-standing Jewish community and COVID lockdowns sparked a bagel boom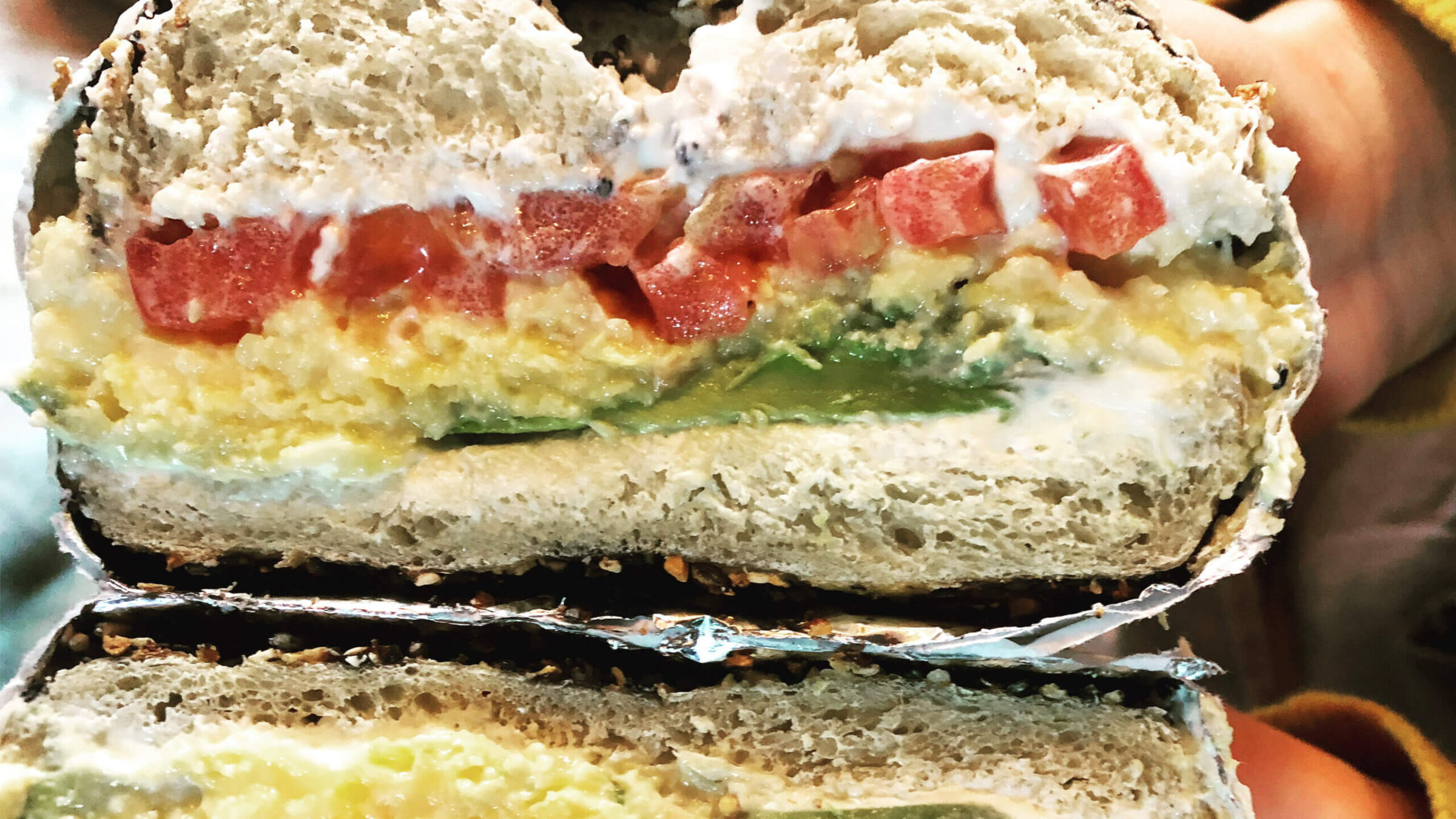 When I lived in Mexico City in 2018, I spent my mornings wandering the streets, sampling sugar-coated pan dulce with coffee; warm chicken tamales hawked on street corners; and refreshing smoothies of mango, oats and milk. As a Jewish Long Islander in this breakfast paradise, I missed only one delicacy: a decent bagel with a schmear of cream cheese.
If only I had stuck around for a few more years.
Mexico City is experiencing a bagel boom: From the suburbs of Santa Fe to the chic, walkable Art Deco neighborhood of La Condesa, bakers are forming mounds of dough into puffy, twisted rings just blocks away from where artisans press masa into flat tortillas. The art of hand-rolling the dough — a skill that requires practice and back strength to master — is part of what bagel mavens say separates bready, machine-rolled supermarket bagels from fluffy, chewy treasures. Since 2020, at least five Mexico City bakers have taken up the challenge.
Along the way, they have all modified time-tested New York recipes to meet the particular challenges posed by Mexico City's ingredients and climate. Mexican flour and water has different properties from New York's; the city sits more than 7,000 feet above sea level, an altitude that makes bagels ferment at high speeds; and the often-hot climate threatens to spoil bagel dough if it sits out for too long.
But no matter: Topped with cream cheese — and sometimes, cheddar, avocado and jalapeño — the results of their tweaking are good enough to satisfy a New Yorker's deepest craving, say sources on the ground.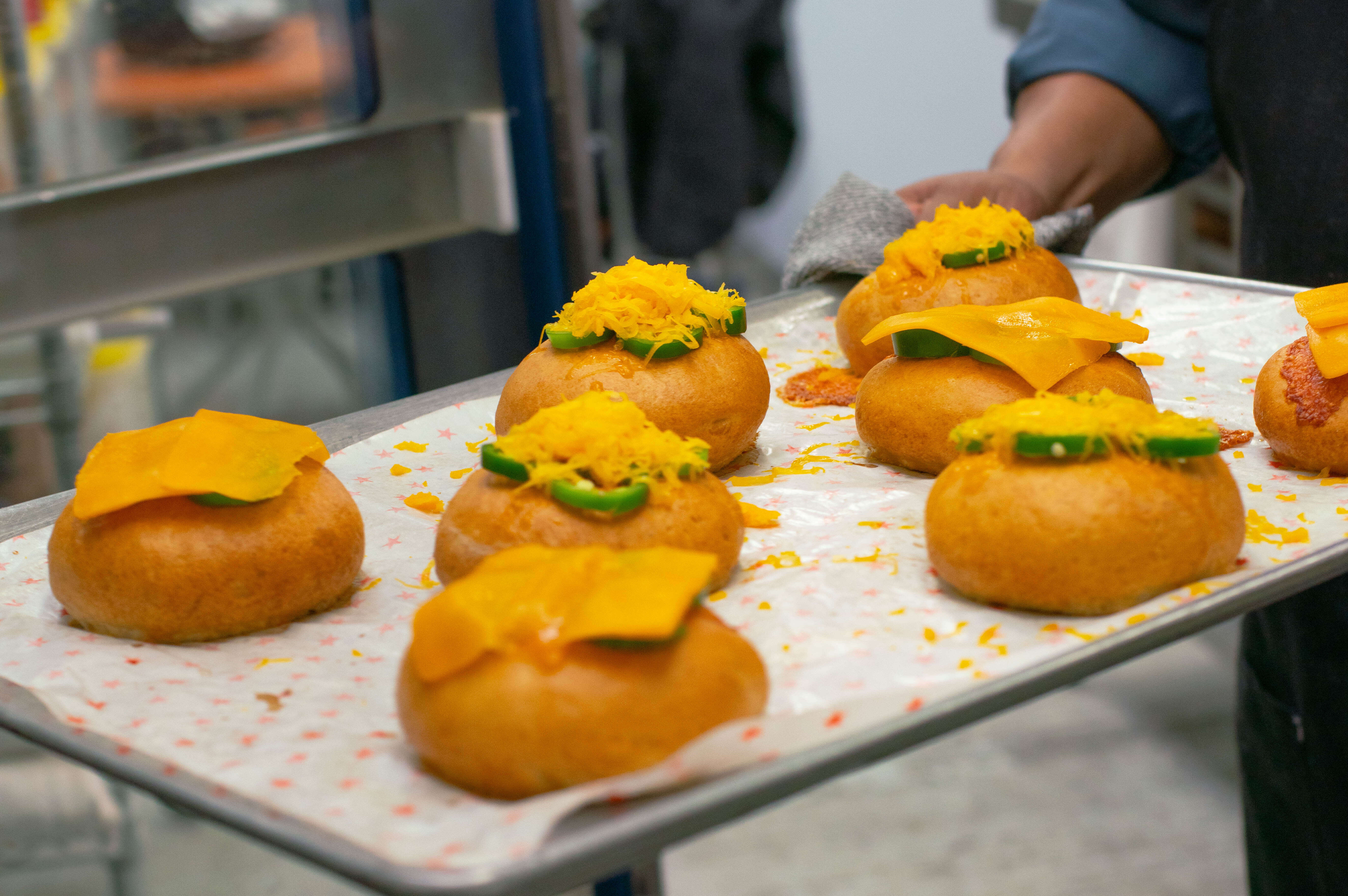 David Abramovich, a 41-year-old Ashkenazi Jew and self-proclaimed "bagel snob," has a deep love of bagels stemming from his childhood in Boston and later years in New York. In 2016, he moved to Mexico City to put some distance between himself and U.S. politics, and has been bouncing around Latin America and Europe ever since.
He has struggled to find bagels abroad, he told me, and the ones he finds are often in stores that do not specialize in making them. Those are "almost guaranteed to be bad," he said.
A pandemic boost
In spring of 2020, homebound in the early days of the pandemic, he caught word of a baker named Fahrünnisa Bellak making bagels in her apartment and delivering them around the city. He reached out to her via WhatsApp, and gave them a try. "They weren't like, 'eh, this is okay,'" he remembers — they were legitimately good. "I was, like, very happy." He became one of the first fans of her bakery, Bagels Lepu, an early pioneer in the city's hand-rolled bagel movement. During the bakery's early days, Abramovich lent his New York-trained palate to Bellak as an occasional taste tester, helping her bridge the gap between decent bagels and great ones by sending her texts such as "they're a little more…doughy than previous versions. Flavor is there, but the consistency is off."
Bellak, the Scottish-American owner of Bagels Lepu, worked at several bakeries during her years living in the United States, and developed a passion for bagels while living in New York. She moved to Mexico City in 2013, and during the early days of COVID-19 lockdowns in 2020, she came up with the idea of making bagels for homesick foreigners and donating the proceeds to people who were out of work.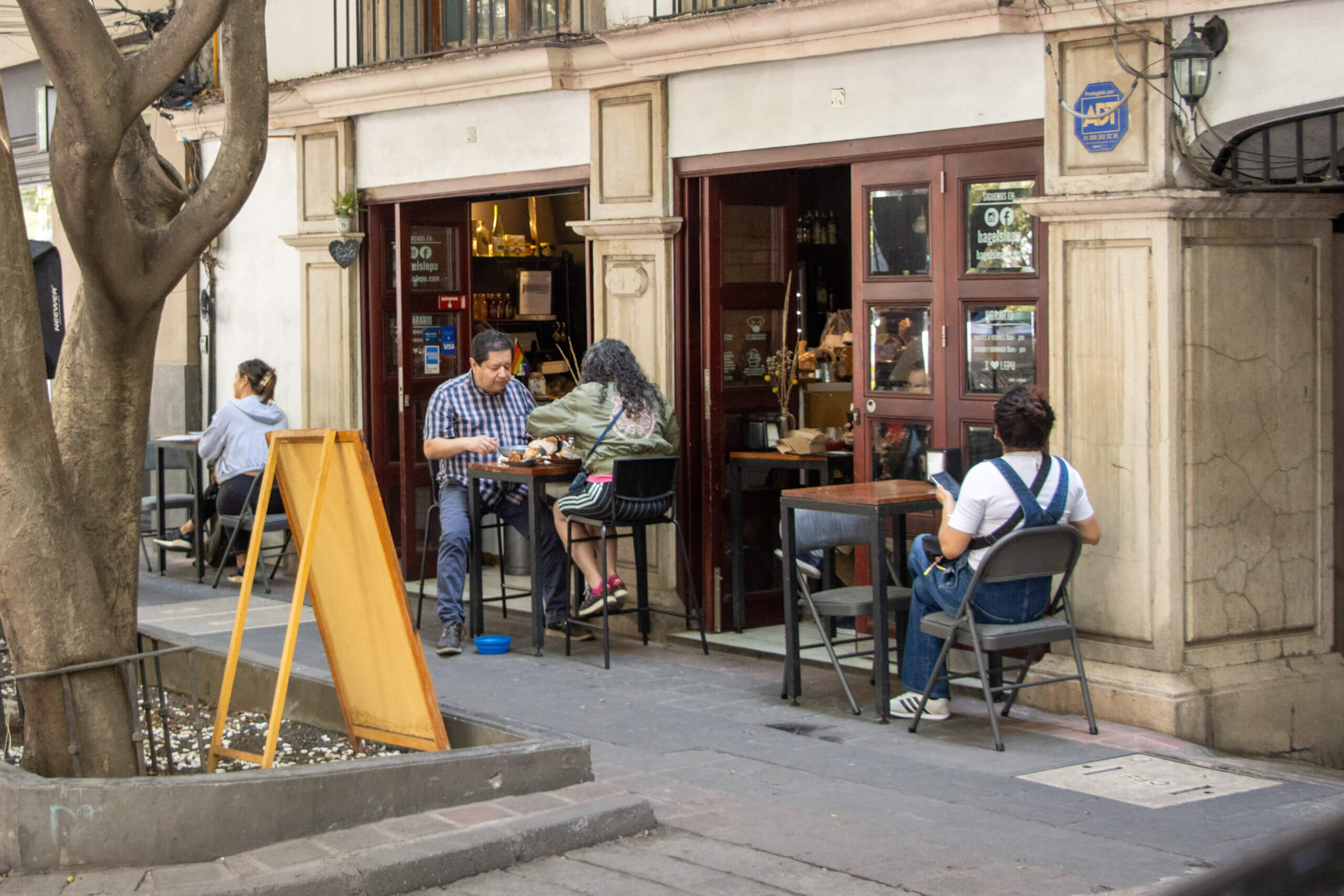 Bagels are "what people miss when they're abroad," she said. "That just kind of popped into my head and I was like, 'Oh my God, it's a genius idea.'"
There was just one problem, she realized: "'I have no idea how to make bagels.' So I just set about studying it."
She initially taught herself by poring over books, articles and YouTube videos in her apartment in April of 2020. She began to spend her weekends baking bagels in her small oven. Mexico City-based foreigners homesick for New York, London and Montreal quickly mobbed her with orders, and at first, she donated all profits to charity.
The following August, after she lost her day job at an international education company, Bellak expanded the hobby into a business, and began selling out of a stately storefront with wide, wooden French doors opening onto a tree-lined street in the neighborhood of Juárez. Customers formed a line out the door on opening day, and have been clamoring for Bellak's everything bagels with lox and cream cheese ever since.
When Bellak and I spoke, she had just returned from a jaunt in New York, where she sampled bagels from seven stores. In her eyes, she said, Mexico City's best bagels are on par with New York's.
Bellak wasn't alone in finding, in the early days of the COVID-19 pandemic, an opportunity to begin exploring the art of the bagel as the perfect deliverable meal. In March of 2020, brothers Gabriel and Jonathan Weintraub, now 18 and 28 respectively, and their parents Jackeline and Sergio started delivering bagels and Jewish deli sandwiches, calling their operation Schmaltzy Bros Delicatessen. (Their family had owned a kosher catering business in the city for 40 years.) Roberto Rabinobitz, owner of a Jewish delicatessen called Neiman's in the suburb of Santa Fe, began delivering bagels via Buch Bagels around the same time.
This year, at least two more bagel rollers have opened up shop: Mendl Delicatessen, a hipster Jewish deli in La Condesa, and Valhalla Bagels, a Nordic bagel mashup that delivers bagels alongside beer and smoked meats around the city.
There's no single model for this new wave of Mexican bagel shops. Bellak also sells buttery scones and shortbreads that draw on her British heritage, and Mendl Delicatessen sells bagels alongside Reuben sandwiches in a gleaming, haute-Ashkenazi deli akin to New York's revamped Russ & Daughters. Buch Bagels, located in the suburb of Santa Fe, has a boutique, brightly colored storefront and a delivery service, while Schmaltzy Bros and Valhalla Bagels have no storefront at all, working solely through delivery.
A bite of the Big Apple
Mexico City is known internationally for stretchy, thin, flat corn tortillas and the endless array of fillings that sit perfectly atop them.
So what makes it such a welcoming home for bagels —dense, chewy hunks of gluten that share little with the city's native culinary specialties?
One answer lies in the United States' outsize influence on its Southern neighbor. "Every Mexican wants what America has," said Roberto Rabinovitz, owner of Buch Bagels. Many of his customers have visited New York, and jump at the chance to relive the glory of eating at its bagel stores without leaving home.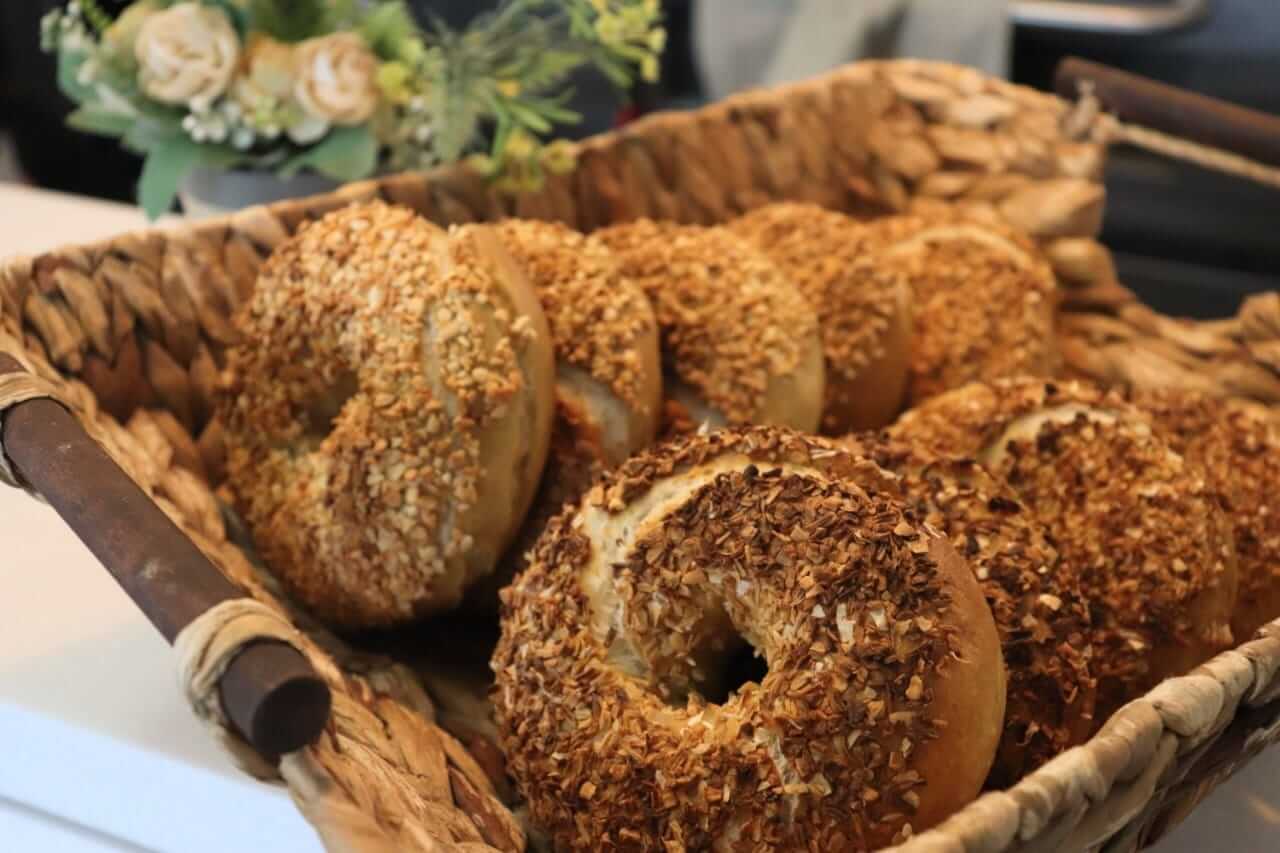 Plus, these days, even Mexicans who have never set foot in the Big Apple are more likely than ever to be familiar with its most famous baked good thanks to social media sites like TikTok, where cross sections of doughy bagels stuffed with gooey cream cheese, onions, tomatoes and lox generate millions of views.
Many of the shops also do swift business with Mexico's exploding community of Americans. Remote workers, many of whose offices closed at the beginning of the COVID-19 pandemic, have descended on Mexico in droves since 2020, leading to a 70% increase in the number of Americans living in the country, and sending rents and food prices skyrocketing in hip Mexico City neighborhoods like La Condesa, where Mendl Delicatessen churns out poppy seed bagels.
Plus, Bellak said that a substantial number of her customers are Mexicans who have lived in New York — and, more than she would have expected, have even worked in New York's bagel shops.
Gabriel Weintraub, co-owner of Schmaltzy Bros, said that many of his customers have lived in the Big Apple: "They'll tell us, 'This takes us right back to our memories of New York.'"
A quintessentially Jewish food
Another source of the bagel's success in Mexico City is the metropolis' substantial Jewish population — it's home to the majority of Mexico's 40,000 Jews, with significant Ashkenazi, Sephardic and Mizrahi communities. Jews make up the majority of Buch Bagels' clientele, and a chunk of Bagels Lepu's, according to the shops' owners, and the owners of Mendl Delicatessen, Buch Bagels and Schmaltzy Bros are all Jewish. Young Jews often pick up Bellak's goods for Jewish holidays, and Bellak recently learned that Bagels Lepu is on the Israeli Embassy's list of favorite restaurants.
The bagel is, after all, a quintessentially Jewish food, brought to the Americas by Jewish immigrants from Eastern Europe. It grew into its modern form in cities like New York and Montreal, but it was only in the 1970s that the ring-shaped treats spread outside of Jewish communities.
Today, Mexico's Ashkenazi Jews have a special connection to the culture of their American counterparts, said Nili Blanck, an Ashkenazi, Mexican-American journalist based in Mexico City.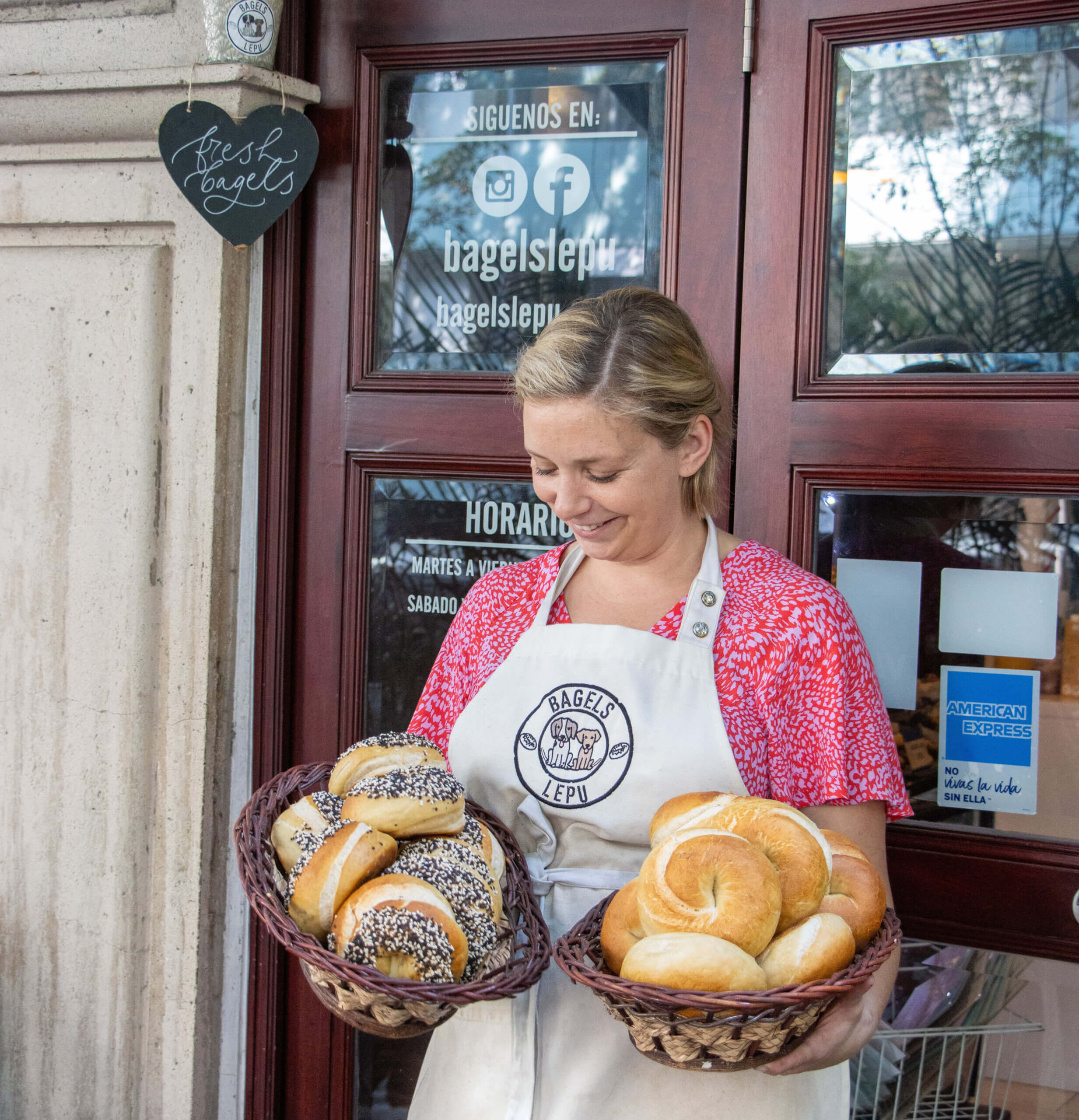 The bagel's rise comes as Jewish cuisine in Mexico City — from pastrami-slinging delis to diaspora-spanning fine dining — is seeing a resurgence; in a recent article for Eater, Blanck detailed a Jewish culinary "renaissance" in La Condesa, an area that was once the center of Ashkenazi life in Mexico City. At the same time, Claudia Sheinbaum, a Mexican-Jewish politician who served as Mexico City's mayor from 2018 to earlier this year, and is the governing Morena Party's candidate for the 2024 Mexican Presidential election, has made Judaism more visible than ever in the public sphere.
All of this is especially significant in a city where, Blanck said, Jewish culture has long flown under the radar, and where, in comparison to places like New York, people tend to be ignorant about Judaism — and at times, downright prejudiced. Blanck said that she encounters more antisemitic comments in Mexico than she did when she lived in the States. "Like, 'Oh, they look Jewish,' you know. 'They're Jewish, they know how to negotiate.'"
Still, despite bagels' Jewish roots, most of the Mexicans jumping on the bandwagon think of them as a New York food first. "Whether they associate them with Jews, I don't know," Blanck said.
Bellak, who is not Jewish but calls her business a "labor of love" dedicated to faithfully reproducing Jewish classics — including challah that local Jews pick up for their Shabbat dinners — thinks that bagels were always bound to be embraced outside of the Jewish world.
"If you've got a good bagel and you give it to anyone, they connect with it at an emotional level," she said.
That universality is not an accident, but rather a testament to the fact that Jews, and their food, have been all over the globe, and have influenced myriad cuisines along the way, Bellak said. "Jewish food is in every food."
Correction, September 12: A previous version of this story incorrectly gave the name of Jonathan Weintraub, and misstated the ages of him and his brother, Gabriel.