Fast Forward
Ben Platt wears 'Choice' button to sing anthem at MLB All-Star Game
Proud product of L.A. Jewish education belts it out before game featuring two Jewish players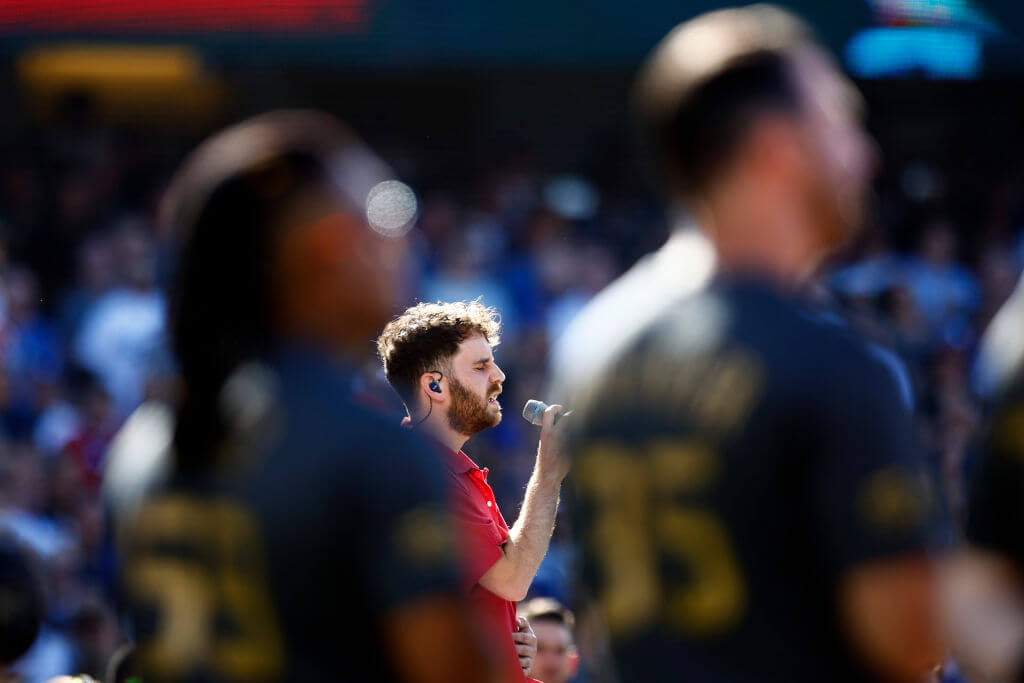 Ben Platt, the star of Broadway-hit "Dear Evan Hansen" and its 2021 film adaptation — and a proud product of Los Angeles Jewish education — sang the national anthem at Dodger Stadium before Major League Baseball's All-Star game on Tuesday. 
Platt delivered his 99-second rendition wearing a fuschia button-down shirt and a button that read "Choice," while players from both teams — including two Jewish all-stars — watched on the field. (The American League won the game, 3-2.) 
"Hey thanks Ben Platt for standing up for reproductive rights," tweeted one of the many users who praised the performance in real time online. 
Platt, 28, attended Sinai Temple and its related school, Sinai Akiba, in the Westwood neighborhood of Los Angeles, as well as Camp Ramah in Ojai, California, and has credited his Jewish upbringing with keeping him calm in big moments on stage. His parents are Marc Platt, a lawyer and producer of theater and film — "Wicked," "La La Land," "Legally Blonde" — and Julie Platt, who was recently named chairwoman of the Jewish Federations of North America.
Ben, one of their five children, burst onto the scene in 2015 as the lead in "Dear Evan Hansen," a musical about a high school student with social anxiety. The New York Times said his performance was "not likely to be bettered on Broadway this season;" indeed, the show won six Tony Awards, including best actor for Platt.
Platt's anthem performance was also received well online by fans, though a few offered some snark.
Spectacular national anthem performance by superstar Ben Platt. I even tried to get the flyover. It's not great. Please don't yell at me. 😉 pic.twitter.com/lRw8UjZ0SF

— Marly Rivera (@MarlyRiveraESPN) July 20, 2022
i would love to know what ben platt thinks the time signature of the national anthem is

— あや ניומן ✌🏼 (@jewishbuttercup) July 20, 2022
Ben Platt totally disheveled with a homemade "choice" button is honestly my vibe this summer

— Sarah Marian Seltzer (@sarahmseltzer) July 20, 2022
I love that Ben Platt has a pro-choice button on while singing the national anthem on a prime time national broadcast.

— Amanda (@aaamanda) July 20, 2022
I hate that Ben Platt is so horrifically annoying because he's honestly so talented

— Sophie ⚾️ (@GausSupremacy) July 20, 2022
The game included two Jewish players — Max Fried, a pitcher for the Atlanta Braves, and Joc Pederson, a San Francisco Giants outfielder — for the first time since 2015, when Pederson and Ryan Braun of the Milwaukee Brewers both made the cut.
Fried, 28, who grew up in Santa Monica, wore No. 32 in high school to honor that other Jewish southpaw, Sandy Koufax. Pederson, who is descended from a charter member of Temple Emanuel of San Francisco, grew up in Palo Alto and, like Fried, has played for Team Israel in international competition.
Platt, for his part, has also done this before — in 2015, he sang the national anthem before a July Fourth game at Nationals Park in Washington, where he was introduced as "the breakout star of 'Pitch Perfect' and wore a "Dear Evan Hansen" T-shirt. But no button.