Fast Forward
Marjorie Taylor Greene blames unabashed ignorance for her Jewish space lasers post
Donald Trump Jr. told the congresswoman her theory that solar panel satellites caused California wildfires was 'not unreasonable'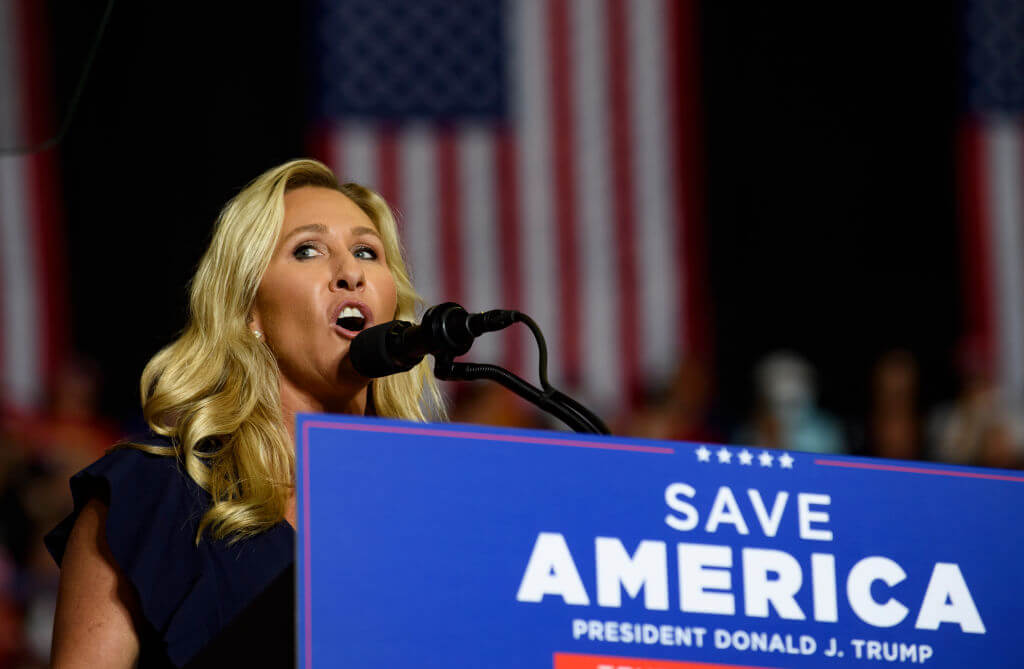 Marjorie Taylor Greene doesn't think Jews have space lasers. In fact, she says, she didn't know that centuries-old antisemitic conspiracy theories were actually about Jews.  
That's the new defense the QAnon conspiracy theorist-turned-congresswoman rolled out on Thursday's episode of Donald Trump Jr.'s podcast Triggered with Don Jr. 
While discussing the purported antisemitism of Democrat Ilhan Omar, the pair pivoted toward Greene's new talking point when referring to a 2018 Facebook post in which she postulated that space-based energy-collecting satellites may have caused devastating California wildfires. In the post, Greene named several people she believed may have been behind the devious plot, including members of the Rothschild family, prompting many to mock her "Jewish space lasers" theory. Even her fellow right-wing conspiracy-believing congresswoman, Lauren Boebert, zinged her with a Jewish space laser joke. 
The backlash against Greene led to many condemning her antisemitism. Democrats voted to remove her from her committee assignments for her support of conspiracy theories around the 2020 election.
But Greene, a Republican from Georgia, told the ex-president's son that she "had no clue" what Jewish space lasers were. 
Greene accurately pointed out she never used those actual words. Trump said he believed she was merely speculating that an experimental technology that was in no way connected to the wildfires had caused a tragedy that, once again, was completely unrelated.
In other words, a conspiracy theory. 
"The names I mentioned, I didn't know anything about the people," said Green. "I didn't know anything about their religion or anything about that."
Greene did not explain how she concluded the wildfires were the result of a scheme to literally incinerate vast swaths of California forest given that she didn't know anything about any of the people she thought were involved. 
But Trump said Greene's interpretation was "not an unreasonable question."
Unapologetic ignorance is a defense that Greene has rolled out before. In 2021, she told a Brooklyn Orthodox Jewish group that she hadn't even known that the Rothschilds, one of the most famous Jewish families in history, were Jewish. In recent months Greene has said that her past acceptance of the antisemitic QAnon conspiracy theory was not her fault, but rather that of "the internet."
As of Friday morning, the podcast was solely available via video format on Rumble, a right-wing alternative to YouTube that is best- known for being home to an accused human trafficker.