Fast Forward
Months after Mastriano loses the governor's race, Pennsylvania lawmakers form a Jewish caucus
Gov. Josh Shapiro, who is Jewish, won in November against a candidate accused of trafficking in antisemitic tropes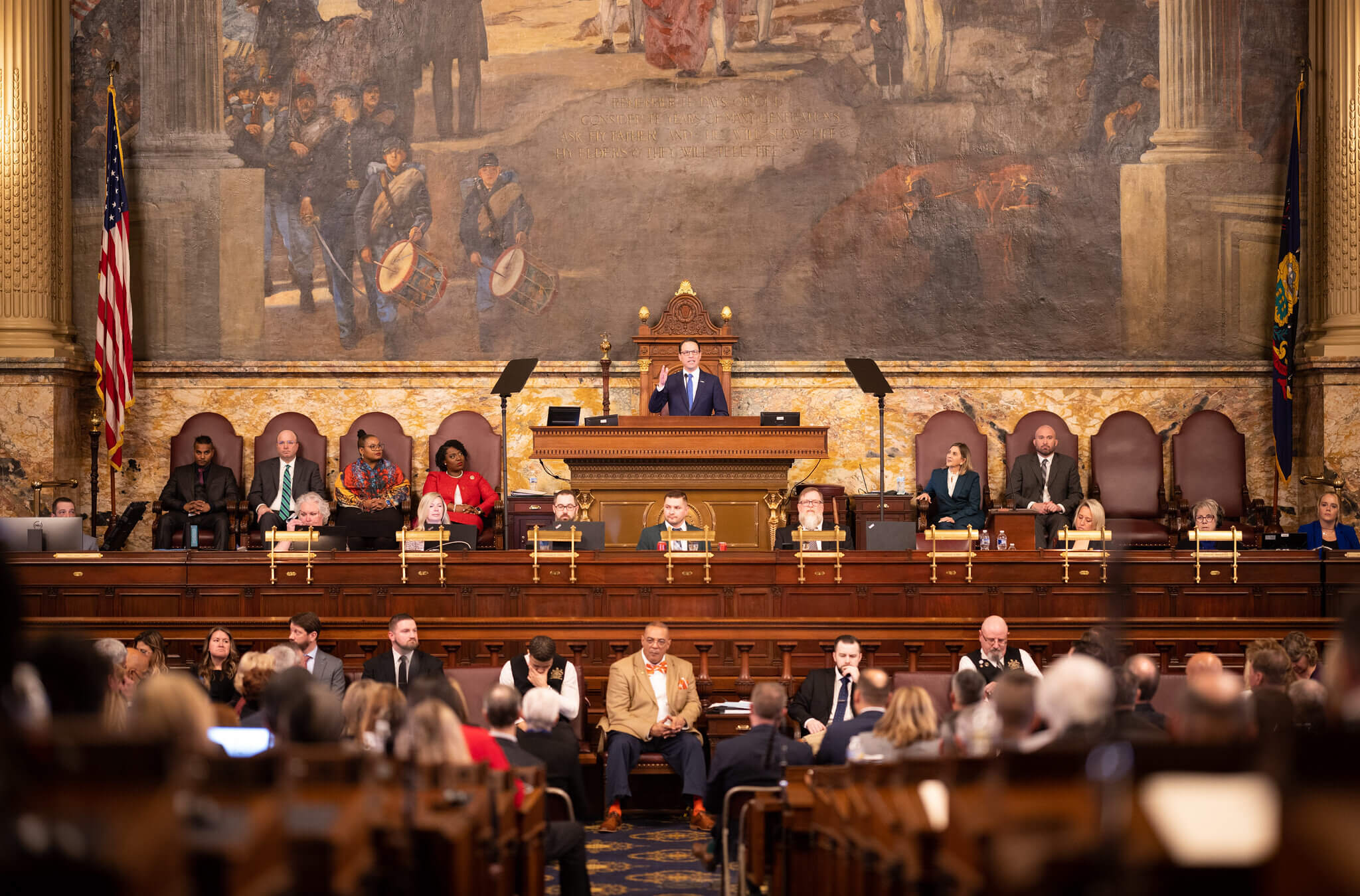 Jewish members of the Pennsylvania legislature announced the formation of the state's first Jewish caucus on Tuesday, modeled after similar groups in states including New York, California, Florida, Michigan and North Carolina.
The launch comes months after a contentious statewide election campaign rife with antisemitism and the swearing-in of Pennsylvania's third Jewish governor. Jews comprise an estimated 3% of the state's electorate.
State Rep. Dan Frankel, one of the co-chairs, said that given that Pennsylvania "continues to be growing as a hotbed for ultra-right, antisemitic racist hate groups, it would be helpful to have a caucus of Jewish members and members who represent Jewish communities in the state to come together and be a voice against those expressions of racial hatred."
Frankel is the longtime representative of the Squirrel Hill Jewish community in Pittsburgh, which includes the Tree of Life synagogue, where worshippers were gunned down during Shabbat morning services in 2018. The man charged in the Tree of Life attack had posted neo-Nazi propaganda on Gab, an online echo chamber for white nationalism, and called for violence against Jews before the attack.
Doug Mastriano, a Christian nationalist state senator, associated himself with Gab and trafficked in antisemitic tropes in last year's race for Pennsylvania governor. He is considering a run for the U.S. Senate in 2024.
The are 21 members in the caucus, of which eight are Jewish, including the body's only Jewish woman. Others include lawmakers who are Muslim, have at least one Jewish relative, or represent districts with a sizable Jewish population.
Frankel said the goal of the group is to confront antisemitism with one voice, "whenever it rears its ugly head," and to introduce legislation and advocate for policies that protect vulnerable communities in the state. The group will also host events to celebrate Jewish heritage and holidays. Frankel said he spoke with Gov. Shapiro about the caucus on Tuesday. "He was thrilled that we were doing this," he said. 
As the caucus's first order of business, Frankel plans to reintroduce a package of hate crime bills around Passover, which begins in about two weeks. "I just thought it would be something that members would want to be engaged in," he said.
Mastriano didn't respond to a request for comment about the caucus's formation.